On the outskirts of Invercargill is one of the most complete collections of falcon GTs in the country. And its most recent addition is a real highway star.
When you start collecting things, it always feels good when you complete the set. For Southland man, Roger Whyte, that feeling must be grand; he's a bloke with a shed containing the complete set of Ford Falcon GTs. From Taranaki originally, the Whytes moved south 25 years ago to farm dairy cows.
As Whyte says, "I've had a few farms, and every time I sold a herd of cows, I took the commission out for myself, and the cars have been a reward for the hard work." The new home for the collection is the original covered area where he and his wife Diane fed the calves for years. It's now reroofed, lined, with a concrete floor and a dust extraction fan to keep the GTs clean and dry. Whyte says he's always had a thing for V8s.
<iframe src="https://www.facebook.com/plugins/video.php?href=https%3A%2F%2Fwww.facebook.com%2FNZAutocar%2Fvideos%2F1719245098106479%2F&show_text=0&width=560" width="560" height="315" style="border:none;overflow:hidden" scrolling="no" frameborder="0" allowTransparency="true" allowFullScreen="true"></iframe>
As a mechanic he did his time on Fords in the early 70s with the XA, XB and XC Falcons. "I pre-delivered most of the V8s in our area. I always had a passion for them. I ran saloon cars for a few years, rotaries too, and when we came down here I bought an old vintage car, but then a Falcon GT came up for sale, and that started it all off." That first GT for the collection was the first Falcon GT, the XR of 1967, which he bought in about 2004 he reckons.
"It was once a drag car. The former owner pulled the motor and trans out and put a big 460 in it but before he sold it he returned the car back to its original state." With the number plate, 1ST GT, it's back to its former glory with the Mustang-sourced K code 289 V8 and four-speed manual, wearing its striking GT gold hue and chromed hub caps. The collection then grew slowly with Whyte keeping tabs on online auction sites both here and in Australia and adding the models as they came up for sale. Most have been sourced from around New Zealand, with a few plucked out of Australia.
There's an XY, complete with the shaker hood, which he bought at an auction in Auckland fully restored. It's in showroom condition, right down to its original specification tyre. This one doesn't have any race history, other than being driven around Pukekohe by Allan Moffat, who signed the dash. One of Whyte's favourites is the XW GT HO (above). It's what's known as the Phase 1.5, making it the rarest of GTs. It's the model that marks the change from the Windsor 351 to the stronger Cleveland engine.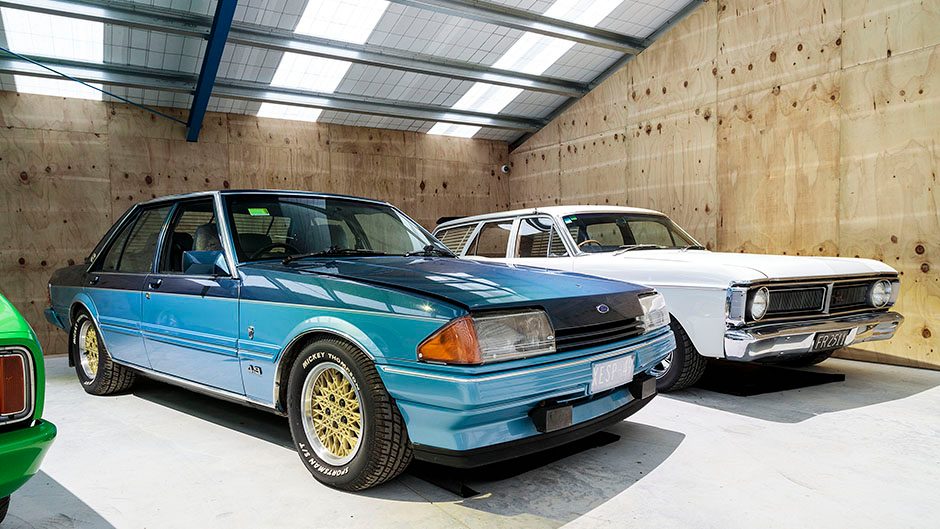 The car was bought in Pukekohe where it had been for 26 years, and it had never seen a wet road in that time. "It's been dynoed at 400-odd horsepower, and it goes rather well," says Whyte. "Everyone just loves this car, the young fellas drool over it. It's got the widened five slots which helps with the stance, and so people tend to like it more than the XY, but those two are the cream of the crop." A couple of other interesting members of the collection include an XA GT coupe (below) described as a barn find. "The original owner wanted the Red Pepper colour, but Ford couldn't supply one. After a minor accident, he got it sprayed red, right over the original yellow. But as you can see, it wasn't a flash job.
The car's only done 39,000 miles and it drives well. I'm not sure whether to restore it, or leave it as is." Another Australian car is the blue XE ESP (top), this with the 4.9-litre V8 and its unique colour combination. Whyte says "a young guy inherited it from his grandfather and bastardised it a wee bit. I've taken the engine back to standard and removed all the other bits he added, and it now goes a lot better than it did." The brown XB (right) looks innocuous but was the first XB GT registered in NZ. "It was owned by the MD of Ford NZ, so it has all the boxes ticked. It's an unusual colour combination, there are no black stripes on the bonnet and it has chromed bumpers and a painted grille along with an upgraded centre console, electric windows, the lot."
There's a line-up of modern GTs too, with an example of the 15 EB GTs sold in NZ, and the EL (right), which Whyte isn't alone in thinking is "the ugliest GT Ford did." This was one of two owned by the Van Gisbergens, Shane using it to tow his race car around the place.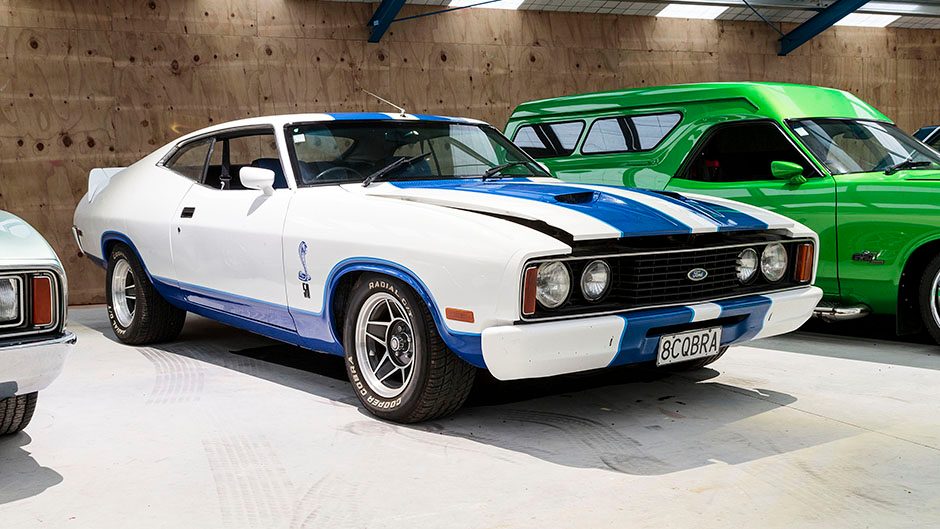 "It's been well thrashed this one," says Whyte, "and it's still got his stickers on the back of it. It's got a bit of NZ history to it and makes it worth five cents more than anyone else's." There's a BA, a manual model that's done a few miles as it was used as a family car for a while, and a couple of R Spec variants too. The 40th anniversary edition has only travelled 1200km, and there's the BF2, which is the first of supercharged examples. "Just 10 came here and that's the only black one."
The GT-F is a manual car, number 37 of 50 for NZ. Is there anything he's missing? Whyte says he's happy with this lot, but maybe a TE50 could be added, the short lived Tickford engineered AU with the 5.6-litre stroked Windsor. Whyte is a qualified engineer and has restored a few other interesting Falcons too, including a wild green panel wagon, with its drop spindle front suspension, which he says required a bit of engineering to sort, as did the fitting of large Brembo brakes.
It's running a big Cleveland with a wild cam that Whyte says 'gets going about 5000rpm'. The collection remains a private affair but Whyte is happy for viewings by appointment. He's the vice chairman of the South Island Falcon GT Club and he hosted the GT Nationals last year where he unveiled his latest project to the members. The Interceptor holds pride of place currently in the shed.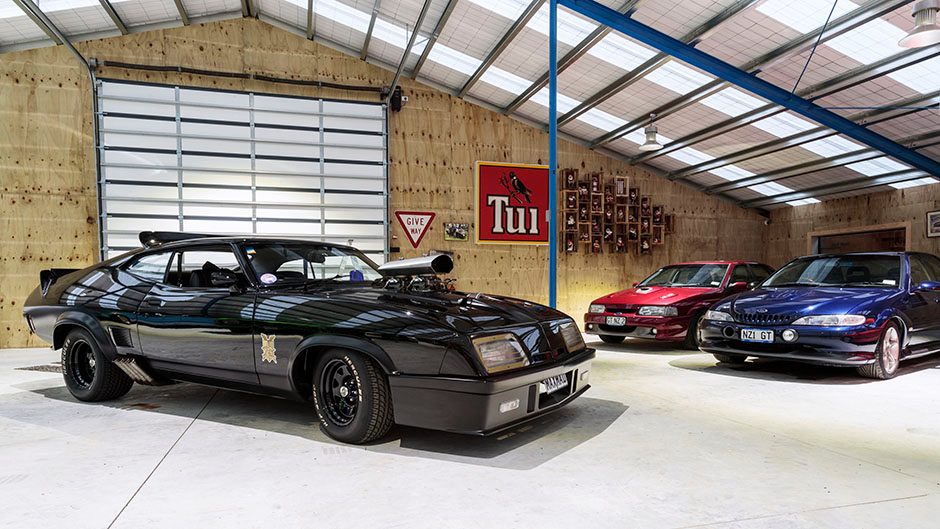 After restoring the panel van, Whyte talked himself into building a replica of the Mad Max movie car. "I found a good car in Kaiapoi, and bought a fibreglass Interceptor kit. There are about two places you can get the kit, and I got it from the wrong one. It was all over the place so I got in there with a grinder, cut it all up and put it back together properly." says Whyte.
"I watched the movie ten thousand times to try and get all the details right. It's not 100 per cent because the supercharger on this one works. It has twin 750s on top, rather than fuel injection, and it knows how to suck petrol!" The whole project took just 18 months to complete and it caused a bit of a stir at the Beach Hop last year. It's powered by a Cleveland stroked to 393CID and runs a tweaked C4 with a nine-inch diff, but Whyte reckons the tyres start spinning long before the diff takes a hit.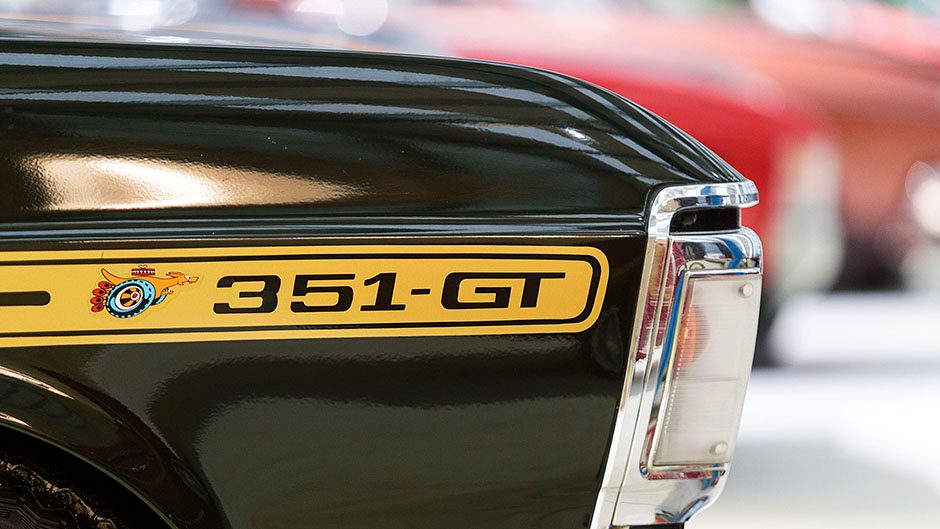 Along with flashing disco lights and siren, the licence plate can disappear up into the bumper and it has variable mufflers with a butterfly bypass to make it sound as menacing as it looks.
He's already working on the next project with a four-door Interceptor in the build. "I've only just backed out of the dairy farming side of things so I've got a bit more time on my hands, and I want to build something great for the Beach Hop." We can't wait to see what emerges from the shed, Roger.