Invercargill is fast becoming the destination for classic automotive collections. We recently tripped to the far south to check out the city's star attraction, Bill Richardson Transport World.
When we told people we were venturing to Invercargill to check out a few of the city's classic automotive collections, most asked 'are you going to check out that truck collection down there?'. We should state upfront that Bill Richardson Transport World is much more than a truck museum, though big rigs are at its core.
It stems from the man whose name is on the front door and his love of trucks. Richardson formed the HWR Group, one of the largest privately owned companies in New Zealand with interests in transport, concrete, petroleum and contracting, though it has its roots in the Southern Transport trucking company, formed by his grandfather and father in the 40s. Richardson grew his empire, though suddenly passed away in 2005, but by then he'd amassed quite a collection of trucks. Until recently, his accumulation of rigs could only be viewed by appointment, but in 2015 Transport World opened its doors.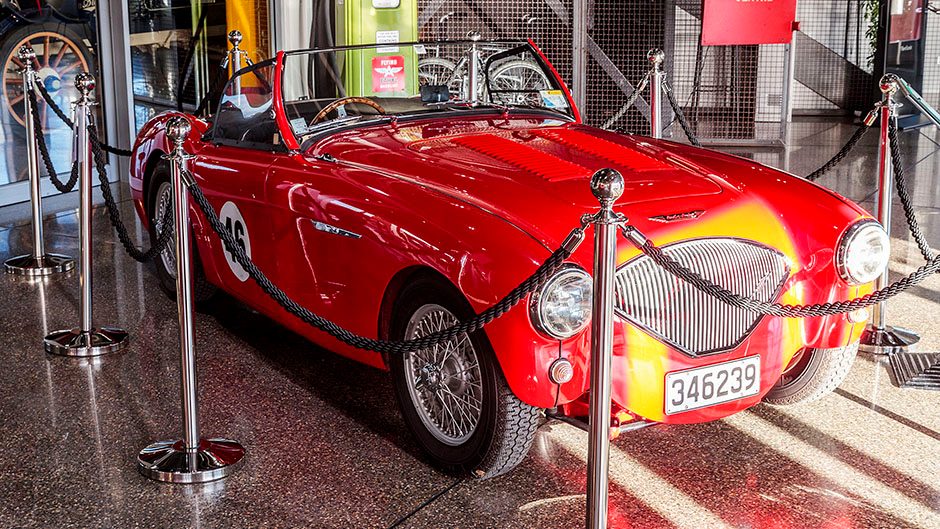 This 15,000 square metre facility takes up a whole block off Tay Street, the various 'sheds' as they like to call them housing the vast collection and much more. The genesis of the fleet started with Richardson tracking down a few trucks that had a connection to his family. His first truck for the collection he bought in 1967, that being the remains of a 1933 International Model D1 once owned by his grandfather.
In '76 he tracked down his father's old 1938 International DS216T, saving it from being converted into a trailer, and then came a 1939 Diamond T truck, bought because his grandfather had owned one. And then the collection grew. By the time he'd passed, he had over 150 vehicles and a lot of other stuff that automotive gatherers will relate to, with a raft of petrobilia, and all sorts of transport collectables.
The collection now hosts some 300 vehicles as Richardson's daughter, Jocelyn (who is a director of the HWR) seems to have inherited the collecting the gene. She likes VW Kombis with a few of those on display, including some very early ones, and one of the last Brazilian-made, water-cooled Type 2 models. A limited run of 1200 of these were made in 2013, ending 63 years of production. There is all sorts of stuff on display, like Bill Richardson's old workshop from his house on Ingelwood Road.
This is said to be where his first restorations took place before the growing collection led to the acquisition of bigger sheds, which now make up Transport World. There's even the remnants of an old shearing shed wearing its famous in Southland Erg Battery Company advertisement. It's a suitable back drop for the agricultural equipment shed, some of the tractors restored to new, while others wear their decades-old patina proudly. There's a huge number of petrol pumps on display, including original Bowsers.
The first 'petrol pump' was invented by Sylvanus Bowser in Indiana in 1885 not to pump gas for cars but to dispense kerosene. It wasn't until 1905 that Bowser designed a pump specific to pumping gas or motor spirit for automobiles. There is a lot to see, you could easily spend a few hours snooping around. There's a large collection of pedal cars, display cases full of toy trucks and machinery, old household appliances, it's attraction with something for everyone. There's a kids construction zone with a heap of Lego to play with and models on display including a Texaco tanker built by a Lego master builder.
There's a collection of garments from Southland's FibreOctave Wearable Art and Musical Extravaganza, and a replica of Invercargill's old Majestic cinema. If you visit in winter, best to rug up. They are sheds in name and nature but there a few 'heat stations' positioned about the place giving northerners a chance to defrost. Even the toilets are worth a visit, each themed and unique.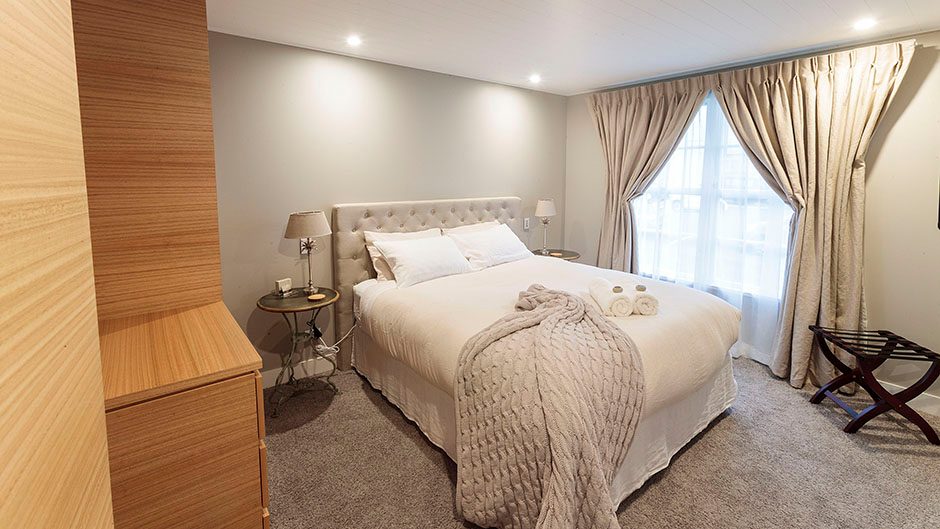 The jewel of the collection is the 1940 Dodge RX70 Airflow Texaco tanker. Some 303 of these Dodge Airflows will built, 75 ordered by Texaco. This one was one of the last built in February, 1940. After it's days as a Texaco tanker were done, it spent a hard life as a water cart for a contracting company, before being sent to the scrap yard in in the seventies. It was saved by a trucking enthusiast in Chicago, who intended to restore it, but never did. It was purchased by Richardson in 1992, and a restoration was undertaken in Invercargill.
The bodywork was badly damaged, and to assist with the restoration Richardson visited the Henry Ford museum, where one of the few existing Texaco tankers is displayed, to research the measurements. The truck was restored in November 1996, and is now the only working Airflow left. The legend says that Chevron tried to buy the truck back with a blank cheque though the offer was obviously declined. There's a shed of largely British trucks, and one for the American rigs. Most are immaculately restored, others remain in there as is where is condition. There's a workshop on site where some of the restorations are undertaken, with a Chrysler Airflow present when we peered in through the window, which will make a nice complement to the tanker.
In 2013 a collection of Ford cars was purchased from a friend of Richardson's in Australia. This includes an almost complete line-up of Ford letter cars from 1903 to 1908, though the Model B is missing. These include the first Model A of 1903, a two-seater with a 1.6-litre, 6kW horizontal twin and a two-speed planetary transmission. The Model N came in 1906, progressing to a straight four up front, the Model R being a more luxurious version, while the Model S was the last of the early Ford's to feature a steering wheel on the right hand side.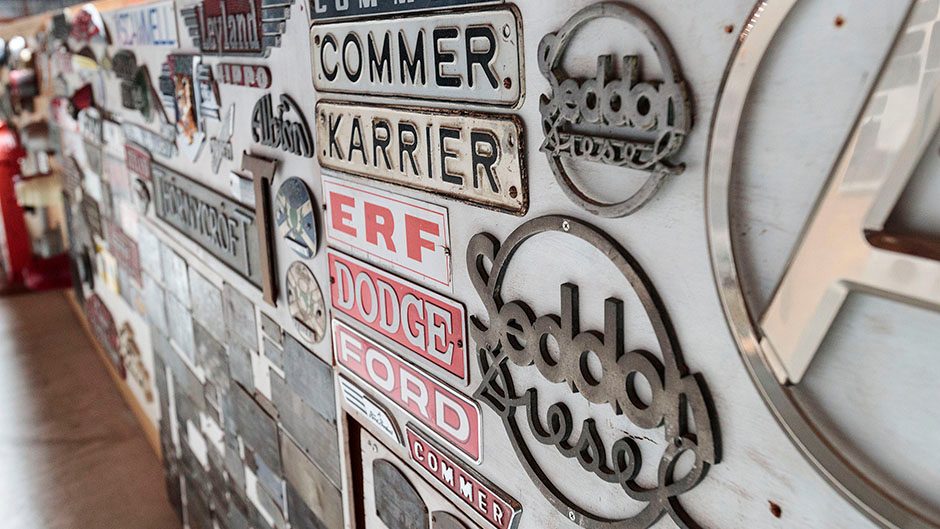 The Model T arrived in 1908 and was produced until 1927. There are three on display from 1910,1915 and 1922. There's also a Model T Truck Maker, which was built from a kit to convert your Model T into a truck. This included a frame extension for the rear, and with the rear wheels now positioned further back, instead of extending the drive shaft, a chain drive system was used to drive the rear wheels. The Ford Model TT, the factory built truck, came in 1917 featuring the same engine and gearbox as the car but with a longer wheelbase and different rear axle.
There's a great line-up of Fords from the 30s and 40s, including a 1946 V8 convertible, made famous in the Back to the Future movie, driven by Biff Tanner. There is a 1953 Austin Healey 100/4 which was raced by Bruce McLaren in the '56 and '57 NZ Grand Prix. It was first driven by Ross Jensen in 1954, and then bought by Len McLaren. His entry in the 1955 New Zealand GP ended in a DNF, while in '56, Bruce took the seat due to his father's poor health, but his race ended with a blown head gasket.
After proving to be a faster driver than his father, Bruce would again use the car to contest the NZ GP in '57, only for mechanical failure to put him out. The rest they say is history. The Austin Healey was restored in 2004. One of George Begg's racers is on display too. Begg formed his engineering business in 1957, but his talents turned from agricultural equipment to the challenge of building race cars and in 1964 he turned out the Begg 650. The Begg 018 F5000 is the last of his 18 racer models that the Southland engineer created. It was raced by Jim Murdoch from 1974 to 1976.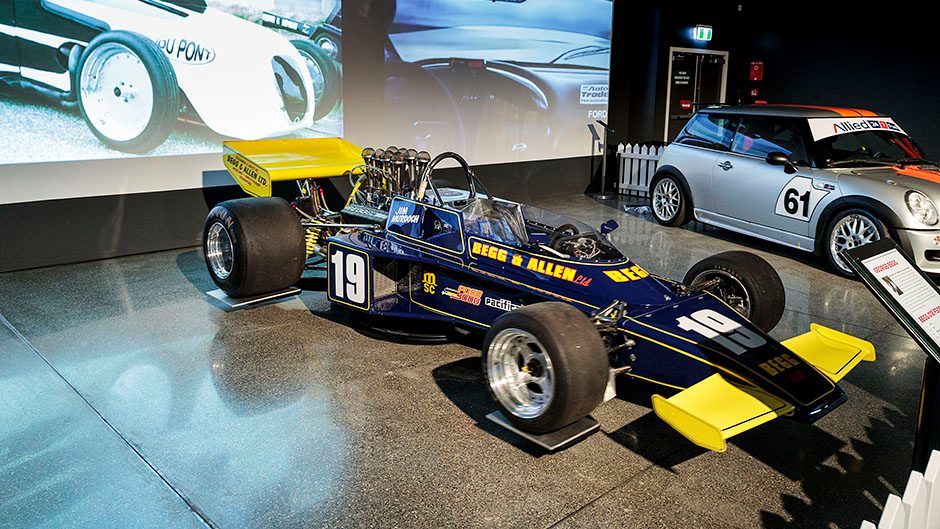 Overall, the collection is well curated and look out for the little details about the place like the camshafts, and other mechanical bits used for such things as door handles. If you're looking for somewhere to eat, The Grille is on site. It too has an automotive vibe, we had breakfast in front of a replica of Henry Ford's first workshop, and there's a retro themed lounge and kitchen where you'll likely spot a few things from your past, or present depending on your home's decor.
As we said in the intro, Transport World is much more than a truck collection, and a genuine reason to visit our southern-most city. Transport World is open 10am to 5pm daily, but last entry is at 4pm. Tickets are $25 for adults, seniors get $2.50 off, and kids are $15. Or you can buy a turbo pass for $40, which gets you into Motorcycle Mecca, which we'll tell you about next month.