Another of Invercargill's automotive drawcards is the superb collection of two wheelers at the recently opened Motorcycle Mecca. We discovered that even if you're more a car type, it's still worth checking out.
Even if you're not a mad keen biker, the collection of single trackers presented at the Motorcycle Mecca in Invercargill is worthy of the entrance fee. Situated at the city end of Tay Street, the refurbished site houses some 300 bikes from the century past. The oldest bikes are from 1902, the newest a 2007 Vincent Black Shadow, the only one in the world. The majority of the bikes wear Triumph, Harley-Davidson and Indian badges, but there many more, some you've likely never heard of, and some with large six-figure values.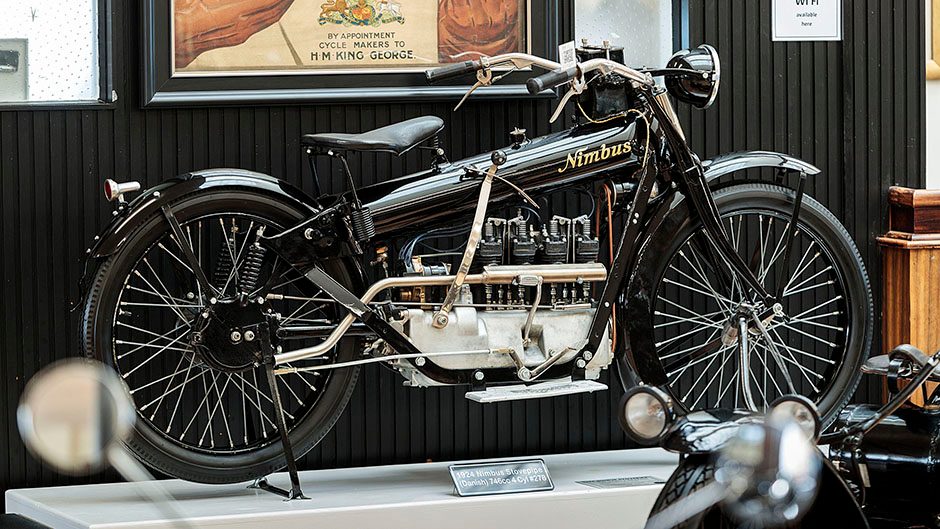 The collection was amassed by an entrepreneurial Texan farmer, Tom Sturgess, and was previously housed in Nelson. It grew quickly, Sturgess buying his first bike in 2008, a 1965 Triumph Cub, and within eight years it had swelled to over 400. Health issues forced Sturgess to sell the collection and while there was plenty of interest from overseas buyers, he wished for it to stay in New Zealand. HW Richardson, owners of Transport World, were lobbied to purchase the collection, and they clearly thought it would make another fine transport-related attraction for the city, so bought it in its entirety in early 2016. While 100 or so of the bikes were sold off, there are still some 300 on display at Mecca, a refurbished, two-storey department store on Tay Street.
The HWR Group already owned the disused building and it was transformed in just three months to ensure Mecca was open for the Burt Munro festival in November 2016. Dave Roberts, the collection manager, was originally employed by Sturgess to oversee the bikes and moved from sunny Nelson to Invercargill. He says Sturgess collected the motorcycles as if an art form, buying bikes initially because he liked the look of them. He also purchased those he liked from his youth but could never afford back then. He got a bit carried away Roberts muses, "but he knew the values of the classic bikes would rise, and they were looked on as both an investment and a passion". Along with the bikes, there are various sidecars on display and a few three-wheeled, bike-engined cars too.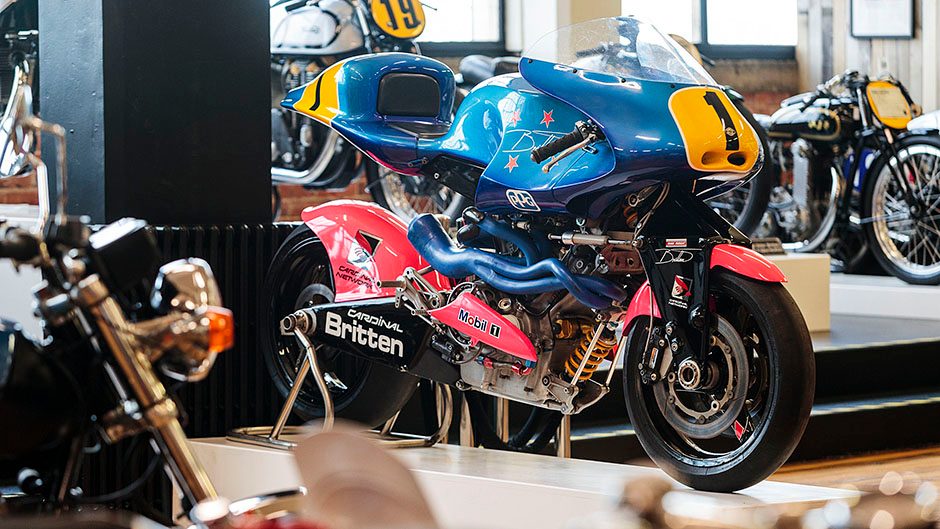 The walls are adorned with much of the bike-related artwork that Sturgess had collected as well. Just as they are in Transport World, the toilets are worth a visit, while many of the fittings and fixtures around the joint have been crafted from mechanical bits and pieces; chains, camshafts, con rods, that sort of stuff. It's a fascinating place to spend a couple of hours. Roberts is a key aspect of the collection. The vast majority of the bikes are well restored runners, and he's about the only one who knows just how to get them all started – which levers need manipulating – and keep them running.
Amongst the collection are a few loaners, in particular the Brittens. These are owned by the Britten Trust but Motorcycle Mecca presents a perfect place for them to be displayed. Along with the first V1000 made, the Aero-D-One and The Precursor also live at the Mecca. Aero-D-One was the second bike John Britten designed, powered by a NZ-made engine. As the name suggests, aerodynamics were key, the bike featuring a slippery fairing. It used a kevlar carbon composite monocoque chassis with the engine attached via its cylinder heads, that being a V-twin, made in Christchurch by Denco Engineering. Originally designed for Speedway, with some offshore development, it made 120bhp at 9000rpm from its 999cc capacity. The bike initially had winglets up front but these made for unstable handling on the straights, so were removed. The blue Precursor employed a liquid-cooled engine of Britten's own design, and again it was used as a stressed member of the chassis.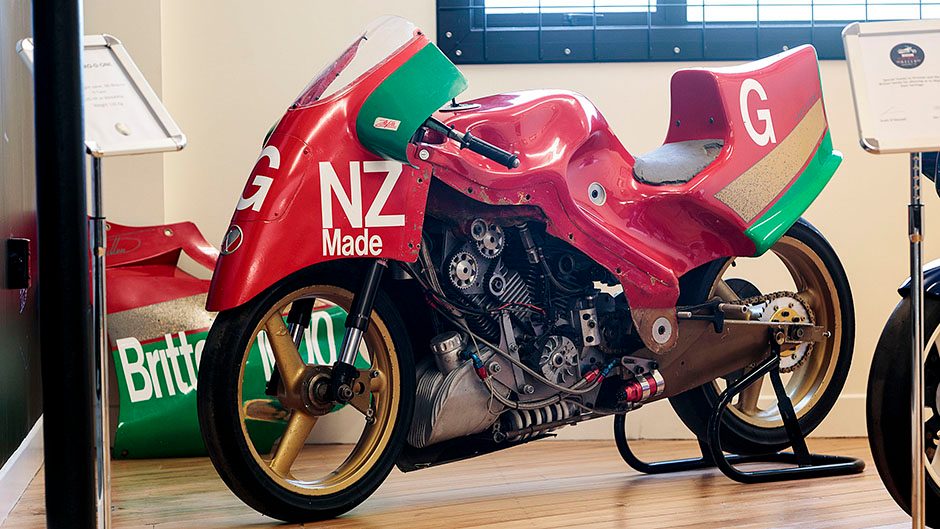 There's a line-up of Brough Superiors said to be largest in the Southern Hemisphere, including a 1937 SS100, a near seven-figure machine apparently. Regarded as the 'the Rolls Royce of motorcycles' they were renowned for their exemplary build quality, reliability and speed, each guaranteed of being capable of 100mph. They also had fearsome price tags, even back then. Triumphs feature prominently and it was a 1965 Triumph Cub that kicked off the collection, bought in January 2008, and restored in Christchurch.
A Vincent Black Shadow is unique, constructed from new old parts in 2007 and is the only one in existence. The Swiss firm Motosacoche started making small four stroke engines that could be attached to bicycle frames in 1899, and one of its engines powers the oldest bike in the collection. The 1902 Motosacoche (which translates to engine in a bag) has a 147cc engine featuring an atmospheric inlet valve. Also from 1902 is the Peugeot Perfecta, a Peugeot bicycle with a 208cc Perfecta clip-on single-cylinder engine, and it was said to be good for 50km/h. There are also great line-ups of BSAs, a few BMWs, and many Indians and Harleys too. While some bikes are accompanied by a brief description, others are marked out by their model name alone.
The collection however is well documented on the nzmuseums.co.nz website (search Motorcycle Mecca) with most of the bikes given a full blurb. There's also the Story app for further information as you make your way around. Mecca is open from 10am, and tickets are $20 for adults, $10 for kids and seniors are $18.