Chinese firms resurrecting Italian motorcycle manufacturers has become a thing. First Benelli, now SWM. No, we'd never heard of them either.
It wasn't what you'd call an auspicious start. We arrived along at the importers of SWM and were told the flagship of the range, the SM 650 R, has 'a bit of a starting issue', only when cold mind you, and that a software fix is arriving 'any time soon'. Sure enough, it took the best part of a minute of starter motor grinding to get the big single fired up. Eventually, it caught and settled into an idle. Exactly the same thing happened next time we tried to start it cold; lots of grinding away until finally it catches.
This didn't augur well. Failing to notice that your top model doesn't start properly before booting it out the door smacks of a lot of things, none of them good. The fact the sidestand is almost impossible to use when seated on the bike I'm more loathe to forgive; this is a supermoto and a damned tall one at that. But it's a right pain getting off of if you're not that flexible and leaning it on the sidestand is kind of a requirement. Even sitting astride it will be too much for those much less than 180cm.
Anyhow, we chatted with the distributor about the company, products of which are new here to New Zealand; there's a couple of retro machines – the Grand Milano 'Café Racer' and the Silver Vase 'Scrambler' that will front up against Royal Enfield, Scrambler by Ducati, and various Moto Guzzis. And there's also the R 650 RS Dual Sport machine, not too dissimilar to this SM model, with dual purpose rubber, and a big front wheel. Racing, Street and Adventure models are evidently in the grand plan, with a multicylinder 900cc engine proposed.
Evidently, it began operations in the 1970s did SWM, which stands for, and I kid you not, Speedy Working Motors. Sounds like a Chinese operation, yes? Actually, that's somewhat correct in that it is now financed by Daxing Gong, a Chinese businessman, head of the Shineray Group. There's a bit of a trend at present for Chinese motorcycle manufacturers to seek out and revitalise European and in particular Italian moto ventures that have operated successfully for a time but then fallen on hard times. SWM made and raced offroad machinery in Italy, but went out of business in 1983 when enduro racing went off the boil.
The company was resurrected through a partnership between Dr Apelio Macchi and Daxing Gong in 2014. Macchi has occupied positions in Cagiva (former technical manager), Aprilia and Husqvarna. Mention of the latter is relevant because the revitalised SWM operates out of the same plant in Lombardia, Italy, where Husqvarna, then owned by BMW Motorrad, produced bikes like the 650cc Strada and Terra, upon which the SWM SM 650 R you see here is based. Only some of the parts are produced in China and sent to Italy to keep costs in check. And that's the thing about the SWM 650 R; it competes on price not with the $17k Husqvarna 701 we rode midyear but with $10k supermotos like Suzuki's DR-Z400. That's a LAMS machine, whereas the SWM 650 R is not; it produces in excess of 37kW, or 40kW depending on who you believe, and using the LAMS formula develops roughly 160kW/tonne, just above the permissible 150kW/tonne.
The SWM ethos is 'clean, flowing, functional and light' and the SM 650 R displays at least three of those; the jury is still out on functional, but it sure is light. At just 160kg brimmed it is a true featherweight. What's also rather remarkable about this bike, in view of its $10,990 asking price, is the quality of its significant components. The engine is not exactly a known quantity; it's not the same fuel injected liquid cooled 650cc single as found in the $13,300 Terra we rode early in 2013. It can't be because that bike started first touch of the button. Rather, this is a 600cc mill designed by Dr Macchi, twin-cam, multivalve, fuel injected, different then from the BMW-designed Rotax-made 650 single good for 36kW, and in the Terra was putting out 43kW. Performance figures for the SWM are similar to those of the Terra so around 40kW seems about right.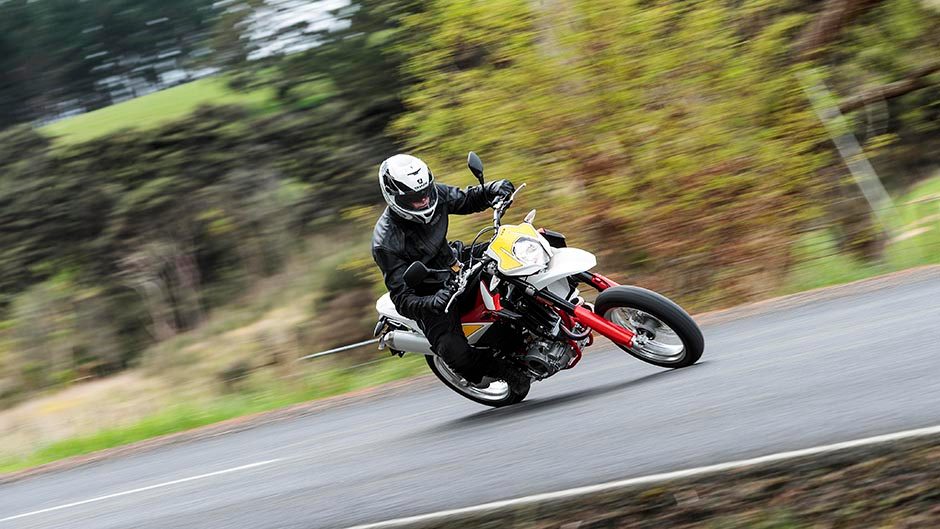 So back on quality bits. The company has managed to save a fair wedge by using some Chinese parts, and it also comes without ABS. Yet for the important bits it doesn't skimp; USD forks by Marzocchi, rear shock by Sachs and radial caliper by Brembo. Pipes resemble those of the Terra, which were by Arrow. The Terra had only five cogs in its gearbox, this one gets six, but the crunchy, obfuscating 'box feels at odds with the rest of the quality offerings, perhaps because of a paucity of kays or perhaps because it's Chinese in origin. Turns out the latter is correct. Some of the switchgear is also of patchy quality, too, and after a few days of rain the lone instrument had condensation build up under the glass. So some of the minor aspects aren't quite right either, which I guess can happen when you build it to a price.
Starting issues aside, the engine isn't bad, and while it isn't that happy below 3000rpm what single is? At legal highway speeds there's a bit of buzzing through the bars, seat and pegs, though the the jumbo-sized mirrors remain reasonably clear.
Once you're up and running, seat comfort soon becomes a bit of an issue, a common problem on bikes with huge amounts of suspension travel; adding extra foam makes them nigh on unridable. Right from the outset the SM's seat feels light on foam. The Terra's seat was similar, but the SWM's is worse and things don't improve any the longer you ride it.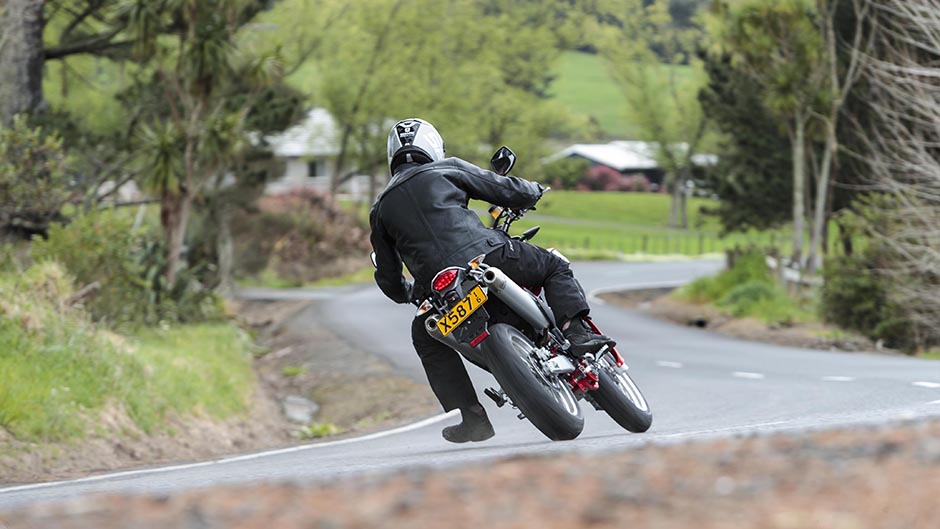 That wasn't really what limited our riding time however. The engine intermittently decided it didn't want to start when hot either, and on one particularly untimely occasion coughed out in the middle of Spaghetti Junction during the Friday afternoon rush hour. Stopped on the white line with traffic passing by either side, grinding away on the starter, I felt I was largely over all the beta testing of this machine.
Pity because it looks pretty amazing, many aspects resembling the Husqvarna 650 we rode a few years back. Styling is similar in general, particularly around the headlight and in the use of red cylinder heads, it apes the Terra. Bright colours suggest big fun too. In typical supermoto fashion, it handles beautifully, stops wickedly, albeit with some fork dive. Gearbox operation and lack of seat comfort aside, it's rather satisfying to ride, especially in really tight going. It thrives on tight switchback turnagain-type roads, and with decent rubber you can lean it over forever without touching down. The ride quality is more than passable too, the typical vibration of the single notwithstanding.
Overall, I guess we'd probably describe this as a work in progress. No doubt the software update will prove an engine fix, and turn it into an actual Speedy Working Motor. You can understand how the investors want to make a return on investment as soon as possible but how a machine that won't start or run properly could even leave the factory is beyond me.
Hopefully the heritage models with the 440cc single cylinder engine will be sorted from the outset.
| | | | |
| --- | --- | --- | --- |
| Model | SWM SM 650 R | Price | $10,990 |
| Engine | 600cc, liquid-cooled, fuel injected, single, n.a. kW/Nm | Drivetrain | 6-speed, chain final drive |
| 0-100km/h | 4.65sec | 100-0km/h | 41.68m |
| 80-120km/h | 3.55sec (98m) | Weight | 160kg |