It says 3.4L/100km on the side of the can, er, the vehicle that is, and BMW describes it as electrifying performance from its latest plug-in hybrid.
We didn't manage that, it has to be said, and shockingly we didn't even come close, but there are good reasons for that. The latest addition to BMW's popular X5 range, the xDrive40e, is so big it didn't really fit in our internal garage, so that made overnight charging a bit difficult. And in fact if you don't go about doing the overnight charging of the 40e, it behaves just like a regular petrol-powered vehicle in terms of fuel efficiency.
Whether or not you will be able to achieve its 3.4L/100km – equivalent to 78g/km – also depends largely on how far you need to travel on a daily basis. BMW reckons it takes four hours to charge the battery pack which is located under the boot floor. By the by, that helps imbue the 2.4 tonne X5 with a race car-like 45/55 front/rear balance. Anyhow, we left it on the charger for about five hours which juiced it to 87 per cent charge, but the battery was promptly depleted in 13.5km of urban driving. And that's why you really do need to fill 'er up each night or you won't get near to the possible 3.4L/100km combined figure. We averaged around 10L/100km, sometimes a touch less, others a little more. Most of that involved uncluttered urban motorway travel at 80km/h, so in fact for a vehicle weighing this much – roughly 200kg more than an equivalent 3.0-litre turbodiesel – fuel economy isn't too bad. Even when the battery is quite depleted it will assist with take-offs and this is where most fuel is burnt up, overcoming the inertia of almost 2.5 tonnes.
The addition of the electric motor, which offers 250Nm of torque from a standstill, cancels out any minor turbolag evident in the four-pot petrol motor. Yes, it uses the 180kW/350Nm 2.0-litre turbo four, like that in the 328i, as its internal combustion engine. And yes, it makes a four-cylinder engine noise from a standing start, not quite what you might expect in a vehicle costing the best part of $150k.
Despite that, performance is surprisingly gratifying. You never really seem to feel shortchanged, even when the battery isn't chiming in to bolster performance. And when it is you can expect rather satisfactory acceleration, to the tune of 6.8sec for a 0-100km/h run. It was damp when we undertook performance tests, but with xDrive divvying up the output to all four wheels, our best of 6.84sec is pretty much on the money. That said, an X5 40d is a second quicker to 100; it has 630Nm to call upon vs 450Nm for the 40e while power outputs are identical. And it sips diesel at a rate of 6.3L/100km. But of course it can't run an emissions-free tailpipe where the 40e can…for a bit.
That short stint is admittedly covered off with extreme grace, the mechanical silence all pervasive. But we reckon the electric range, theoretically set at 31km, is pie-in-the-sky stuff. I made sure not to 'gas it' hard away from a standstill and eased my way up to 50km/h on electric-only running and still it managed not to get anywhere near 30km of silent running. It might have scraped half that had I charged the battery for even longer. Public charging evidently takes only three hours, providing you find one with the right sort of plug. EV running distance will be even less when you take to the motorway, where it will evidently do up to 120km/h, as higher speeds and added wind resistance take their toll on battery charge.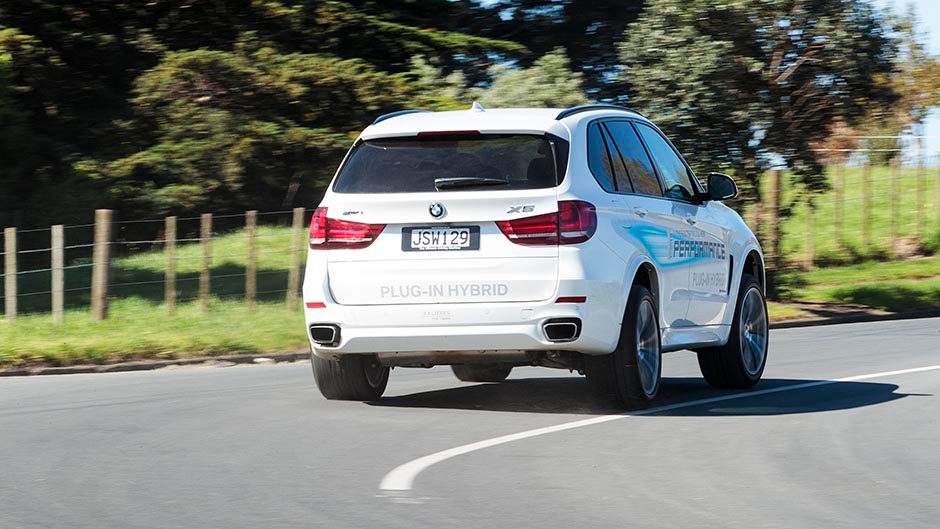 In other ways, the X5 is pretty much like any other X5. There's a bit less luggage capacity, only the 500-1720L. We still managed to fit a metre of clean dry firewood (after laying out the tarpaulin, recall the hounds) back there after split folding, no problem whatsoever. And it still drives pretty well thanks to that unusual weight bias, though we thought ESP was rather keen and eager on occasion in Sport mode, probably because of torque vectoring intervention. Moving to Sport+ improves things as ESP backs off to an intermediate setting, but then how often are you going to bother trying this? Almost never. The ride comfort is still pretty decent in Sport mode, but for the most part it didn't leave the Comfort setting. On the mode front, there are three electric settings, one to conserve battery power for use later, one to optimise electric drive and the final one the vehicle goes about using battery power and recharging as it sees fit. But in this mode, the battery still depletes to single figure percentages rather quickly. Like we said, to get the best out of the 40e, you need to recharge often and always.
So overall, even if you plug in assiduously, it's hard to understand the point of this vehicle, other than to help defray corporate average fuel economy. Unless you only had six or so kays to travel each way to work or on the school run, and were fastidious about plugging in at every potential downtime, we'd say get the lighter, quicker, cheaper and still rather frugal 40d instead, particularly if you're doing any out of town or motorway running. It just makes more sense for Kiwis.
| | | | |
| --- | --- | --- | --- |
| Model | BMW X5 xDrive40e | Price | $149,900 |
| Engine | 1997cc, IL4, T/DI, 180kW/350Nm | Drivetrain | 8-speed auto, all-wheel drive |
| Fuel Use | 3.4L/100km | C02 Output | 78g/km |
| 0-100km/h | 6.84sec | Weight | 2425kg |