Honda has been making CBs for years, the letters signifying standard bikes. How does the rejigged CB500F LAMS machine fare?
It has been three years since Honda launched its trio of CB500s here, and the company has recently undertaken a total refresh of the bunch, aiming for a bit more menace and refinement. Given the chassis and engine are largely unchanged, the intent is essentially visual, but the changes do amount to a bit more than mere colour alterations. Certainly the naked and faired bikes look better, not so meek and mild mannered as before. While the engineers have managed to cull a few kaygees, overall weight is essentially unchanged.
But the minor improvements don't go unnoticed. For example, the brake lever is now adjustable to five different positions, where before it was a matter of one size fits all. That makes quite a difference for those whose mitts aren't gorilla sized. A big single disc up front works well too, with nice lever modulation. We wish the shift lever was repositioned slightly rearward, however; you tend to upshift with the toes rather than the metatarsals. Still, the upgraded gearbox with a new shift drum slots from gear to gear swiftly and easily.
Other changes? The lights are now of the LED variety, evidently raising output by around 40 per cent, and the fuel cap no longer comes apart from the bike, hinged as it is from the rear. There's also a new 'wave style' ignition key, which I'm led to believe is smoother to insert in the barrel.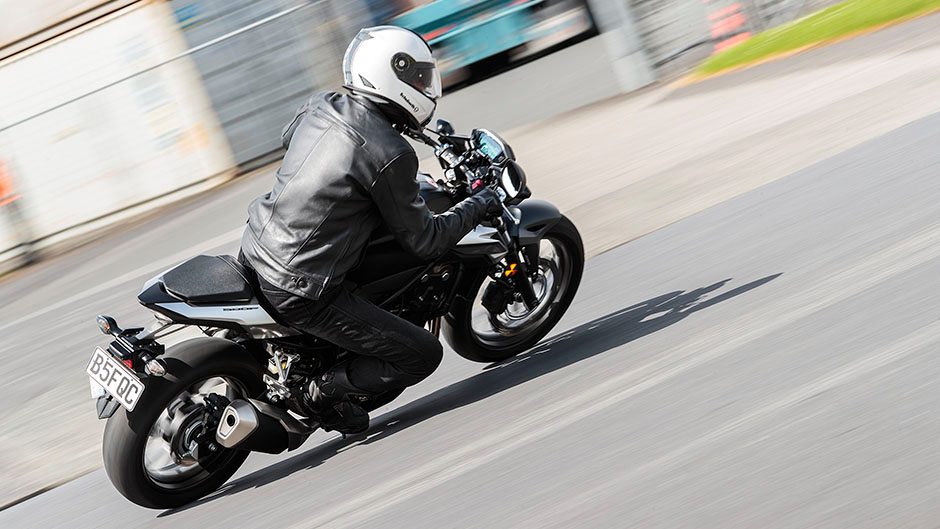 And on refinement, the forks are now preload adjustable, and there has been a damping upgrade for the rear monoshock.
What else? A slightly larger fuel tank, at 16.7L, and with a claimed combined fuel use figure of 3.4L/100km, that's in theory almost 500km per tank. You might even manage that if you're a legend in the thrifty way with the throttle. While the tank grows in size, the fat muffler of the original is replaced with something that's lighter and stubbier which is better for mass centralisation. It sounds a bit gruffer than before but recall refinement was a key aim, so it's still all but inaudible on the go.
Back in 2013, the new LAMS concept had just gotten underway, and everyone was scurrying to launch learner-approved machinery. In the same issue we tested the CBR500R costing $10,500 (sans ABS), Paul also rode the Ninja 300. We reckoned both of these represented the best value available at the time, one for under $10k, the other for under $10,500. How things have changed though. You can even buy 650cc LAMS machinery with ABS at under $11,000 now like, for instance, Suzuki's SV650.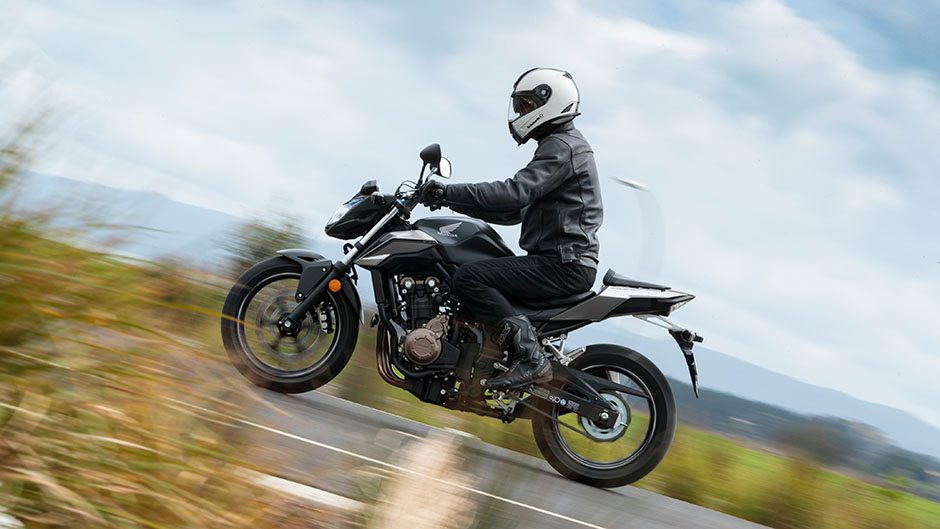 At the value end of the scale, leading them all is – who else? – Yamaha, its MT-03 completely re-establishing what's possible in the class, costing $6700 including ABS brakes. It is the learner benchmark for bikes under $10k, just as the MT-07 remains the leading LAMS bike for under $12k, heading the bunch for performance, dynamics and value.
Things in the $10k-$12k bracket for LAMS bikes are now incredibly competitive. Not helping the CB500 range is a price rise, up from $11,495 for the 2014 model to $12,295 for the CB500F, meaning it is more expensive than sector value leaders like MT-07 and SV650. How then does it compare with these value front-runners?
Well, it doesn't nudge the performance bar any higher, but then you might not expect that either for it is not at the dizzy limits of the LAMS formula. The two that spring to mind there are the LAMS version of the Street Triple and the MT-07, both nudging the 150kW/tonne permissible limit (147 and 143kW/tonne, respectively). Doing the math, the Honda is down around the 125kW/tonne mark. However, unlike the bigger displacement bikes, its 35kW output isn't nobbled so there are no flat spots or hiccups in power delivery across the rev band. It all builds very smoothly and progressively, with best performance from 7000-9000rpm, but output is usable from 4500-7500rpm before vibration becomes noticeable. Across the midband it's as smooth as the best parallel twin out there, with next to no vibes and pristine clear mirror images the result.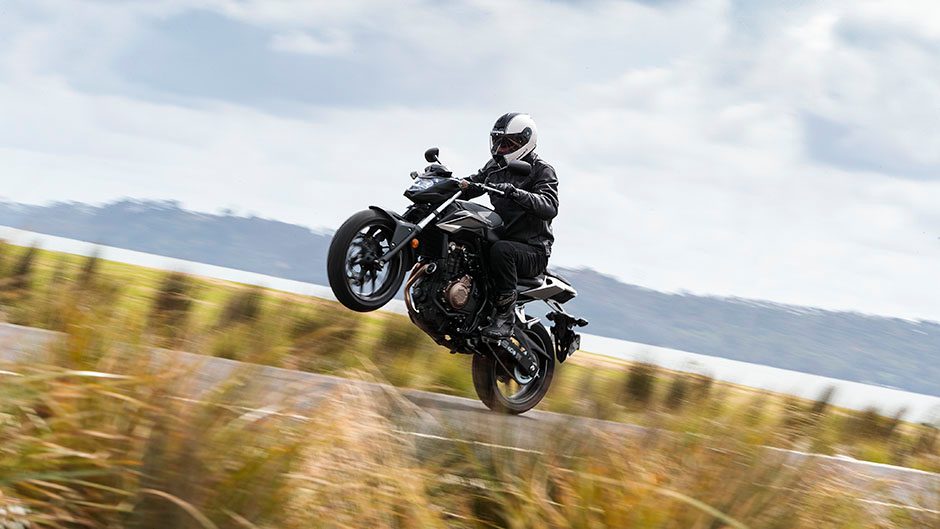 Moreover, with an essentially square design, unusual in the motorcycle world, its low end responsiveness is gratifying. It doesn't have quite the muscle at everyday revs of the MT-07 but it eases around suburban streets in top gear, sipping away in the 2s at 50km/h. And out in country running it doesn't ever feel stretched like some of the smaller LAMS offerings. With pick-up coming on strong from 4500rpm, this will accelerate up moderately steep hills from about 85km/h in top gear, and will also overtake without a downshift, or with one to fifth if there's not too much spare road on the dangerous side.
For quantitative aspects of performance this is about 0.3sec behind the MT-07 on both acceleration criteria we use, which isn't that much in the scheme of things. The MT feels a bit stronger at around 4000rpm where its peak torque is produced, but then with extra capacity and lighter weight that's to be expected. On the flip side, some might like the extra feeling of security and stability afforded by the heavier Honda. But you're less likely to nail that stunting gig by learning on the CB than the MT.
It is remarkably easy on gas though, averaging 4.2L/100km in a mix of urban and extra-urban riding. Of note, the CBR500R we also rode afterwards managed 3.8L/100km overall, the added aerodynamic effect of the fairing responsible for the better figure. If you do a fair amount of open road riding, the extra $500 on the CBR is money well spent.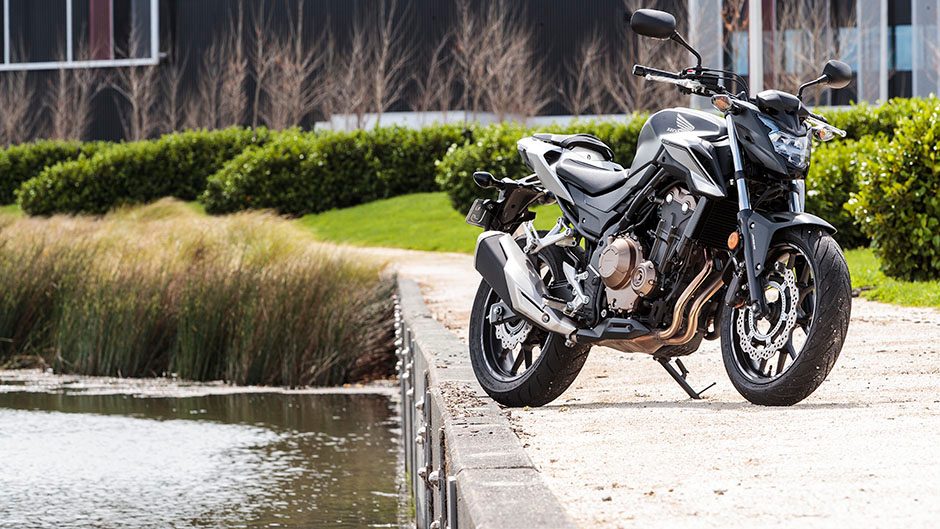 Its lone instrument includes information on gas remaining, revs are displayed in bar graph fashion, and there's a large figure for digital speed readout. Trip data you can file through easily enough. Why Honda didn't upgrade data to include gear position is beyond me. It's helpful for learners, especially when speeds like 100km/h don't equate with round numbers (in this case 4600rpm, 5000 is 107).
Both bikes ride nicely indeed. The Honda's new preload adjustable forks and revamped rear end seem to iron bumpy roads into submission and the well padded seat and quite neutral riding position make this an accommodating ride for a range of body sizes. We didn't fiddle with suspension settings at all; it felt right straight out of the crate. This is amongst the most comfortable LAMS bikes I've ridden. And it handles securely too, the averagely decent standard rubber allowing you to lean it over until the peg tabs touch down.
The CBF with its lighter front end and added bar leverage darts into corners a wee bit keener than the CBR500R we also rode, but we'd still opt for the faired bike, given its better wind protection, and resale later on. However, if you're mainly using the CB for town running, the slightly more upright riding position of the F makes more sense. Both are narrow enough to be handy lane splitters, and have sufficient performance to drag off pretty much anything from the lights on four wheels, unless they're committed to punishing you for nabbing their position at the head of the pack.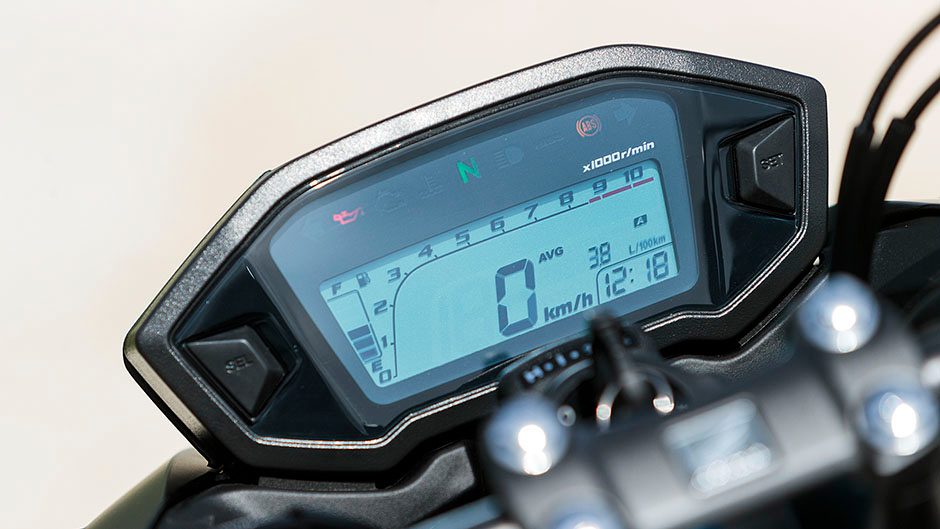 It's a decent upgrade to the CB range, but does it do enough to knock off the likes of the MT-07? Had it not been subject to a price increase then it might well have stood a shot, but as it is, it doesn't quite. Still, the high level of build quality and finish inspire confidence; these feel like they'd stand the test of time well. And the genuinely fine balance between ride and handling makes these machines well suited both for learner and more experienced riders.
So these nice bikes certainly have their place. For this sort of money, you need to ride SV650 and MT-07 before making a decision. As we said, it's a highly competitive sector, and you shouldn't buy before checking out all the major players at your particular price point.
| | | | |
| --- | --- | --- | --- |
| Model | Honda CB500F | Price | $12,295 |
| Engine | 471cc, liquid-cooled, fuel injected, IL2, 35kW/43Nm | Drivetrain | 6-speed, chain final drive |
| 0-100km/h | 5.13sec | 100-0km/h | 42.8m |
| 80-120km/h | 4.02sec (115.3m) | Weight | 190kg |