The top of the new Swift range, the RS, goes forced induction for the first time, with a 1.0-litre direct injection turbo mill mated to a six-speed auto. It is set to give the sector a hurry along.
When designing a $25k car compromises are key, and in Suzuki's new top-of-the-tree Swift RS I reckon they've got things about bang on. This is the least expensive car to get active cruise control (but without stop and go), and it also features lane keeping, LED headlamps, and auto headlamps with high beam assist (auto-dipping). It's a sophisticated baby.
People will laud the fact that this comes with sat nav, and Apple CarPlay and Android Auto, along with comfort entry and pushbutton start, but it also gets paddle shifters for its six-speed auto and that's important in something with an RS badge. Okay, so it has no blind spot eliminators, so owners will just have to think laterally and use their mirrors.
It foregoes engine modes (sport, normal, eco) and tends to shift to high gears early for economy, but you can override the transmission any time by using the paddles. There's no idle-stop either but then it uses so little fuel (5.1L/100km the claimed average) that it simply isn't needed. And on that, when the fuel level started to get low, we stopped and put in $20 of the good stuff – it runs on 95ULP – and that brought it back up to an indicated three-quarters full. Put another way, the distance to empty figure rose from 80km to 380.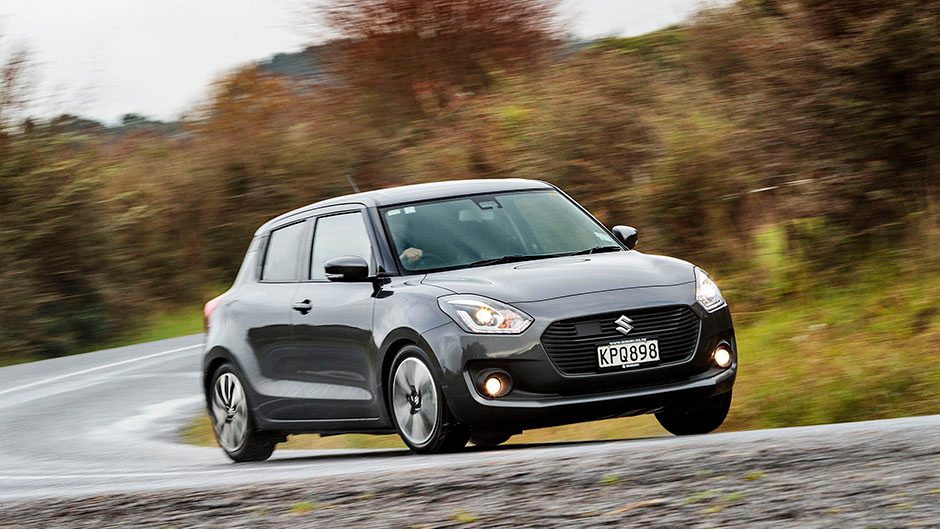 A real RS
Suzuki has offered Swift RS models before, but they've been faux hot-ups, using the same atmo 1.4L engine as the lesser Swifts. Not any more. For the first time in a Swift, a direct-injection turbocharged engine is available, a 1.0L 'Boosterjet' triple, producing 82kW of peak power, and 160Nm from 1500rpm. Think of this as being almost as quick as the existing Swift Sport – there's about a second in it 0-100, though they're lineball on the overtake – but for less money ($25,990 vs $28,990 in auto trim). And it therefore begs the question – who needs a Swift Sport when you can have this instead? Simple answer: the Swift Sport is being replaced next year and is getting the 103kW/220Nm turbo engine of the go-hard Vitara. It should be a flyer.
The RS engine is actually based on the bigger 1.4-litre engine, and Suzuki reckons the 1L unit outputs as much as an atmo 1.8. Hmm. We'd question that; a 1.5 atmo output is closer, the Jazz RS is good for 97kW and 155Nm. See how these two RS models compare next month!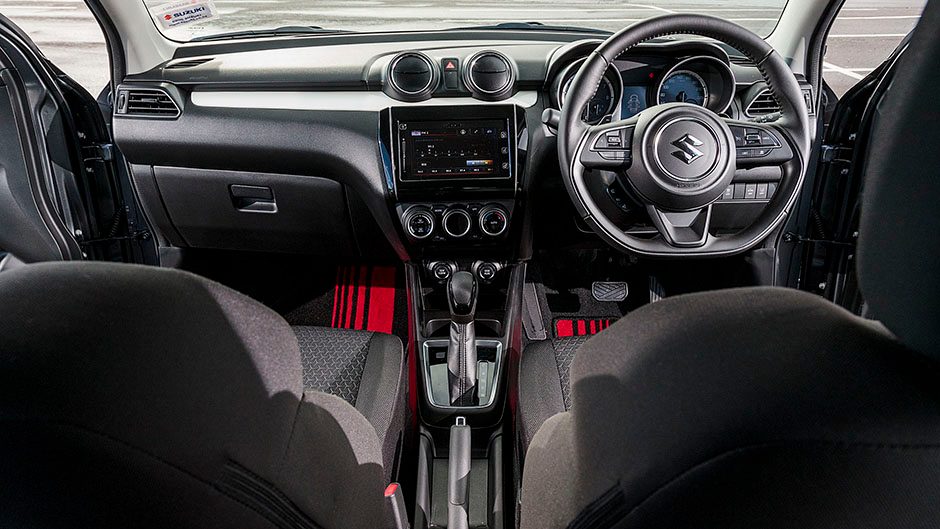 Anyway, power is only part of the performance equation. Suzuki managed to subtract up to 175kg of weight by moving to the new platform which debuted in Baleno. Mention of which, an RS variant with the same powertrain as Swift RS is now available for the same price so you can choose between the cuter Swift or the larger, less lovable but more practical Baleno, though the latter misses out on the active safety kit.
On the weight reduction, the 175kg relates to the base $20k car. It's closer to 100kg down for the RS which weighs in at 960kg whereas previous Swifts scaled up at around 1060kg. Weight savings are thanks mainly to increased use of high tensile steels, now comprising 41 per cent, meaning fewer reinforcements are necessary.
With power to weight improvements, this promises to be a proper little RS terrier.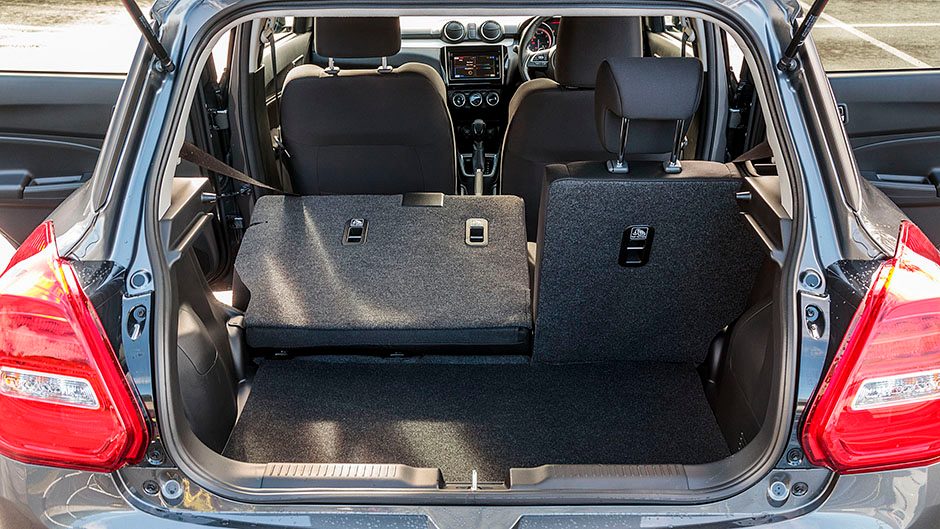 Important to get it right
This, the sixth-generation Swift (or the third generation of the 21st century Swift) is obviously an important model for Suzuki locally, given as how it has been the most popular light car in New Zealand for more than a decade. Over 20,000 have been sold since 2011, and 32,000 since 2005. Back then, the Swift was Suzuki's first international model, and globally the company has produced and sold over 5.4 million since 2005, one quarter in Europe.
Styling and engineering of the latest model were undertaken on the Continent, and over 90 different suspension tunes were tested. As to design, it is recognisably Swift, but there's quite a change from the last generation with a totally new fascia this time around, featuring a single large grille and U-shaped bumper. Towards the rear there's a funny little upkick to the C pillar and the rear doors get high-mount semi-concealed latches, while there's a floating roof design. New taillights accentuate width and indeed the new car is 40mm wider than before. Swift is also shorter by 10mm but the new chassis sports a 20mm longer wheelbase, with wheels pushed further to the corners, and the engineers have managed to find 32L more hatch space, now up to 242L which is about line-ball for the sector but is still well below Jazz at 354L. There's added interior space too, thanks to moving the seats about slightly, and with lower hip points headroom also rises. Evidently some of the space gain derives from a more compact engine bay.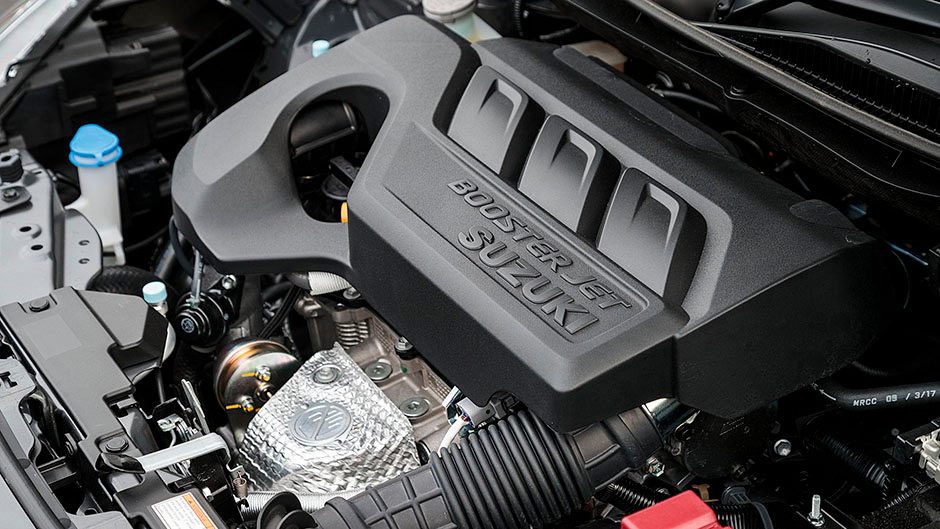 Like slate off a shovel
Without further ado then, how goes it? For the most part, extremely well. Certainly it's the year's second contender for the sub $30k category winner for it goes harder than most other things costing more, and even beats out the Skoda Fabia 81TSI which has a dual-clutch transmission. Fast shifting the six-speed auto of the RS isn't but having the manual paddles is its saving grace. We used these any time a bit more pace was needed, as the auto tends to seek higher gears naturally.
Crikey, it is quick though, its six-second overtaking time seeing to the Fiesta and Skoda competition, both $2k-$3k more expensive. With tall gearing and light overall weight it is also easy on gas, with a worst in the sixes and a best in the low fours. Any time the engine is spinning in excess of 3000rpm, you're up and away, but beware of speed increases in this; 100 is only 2000, so 120km/h is a trifling 2500rpm. There's the usual three-cylinder thrum but overall it's really quiet, and the same for road noise, the average in cabin SPL around 71.5dB.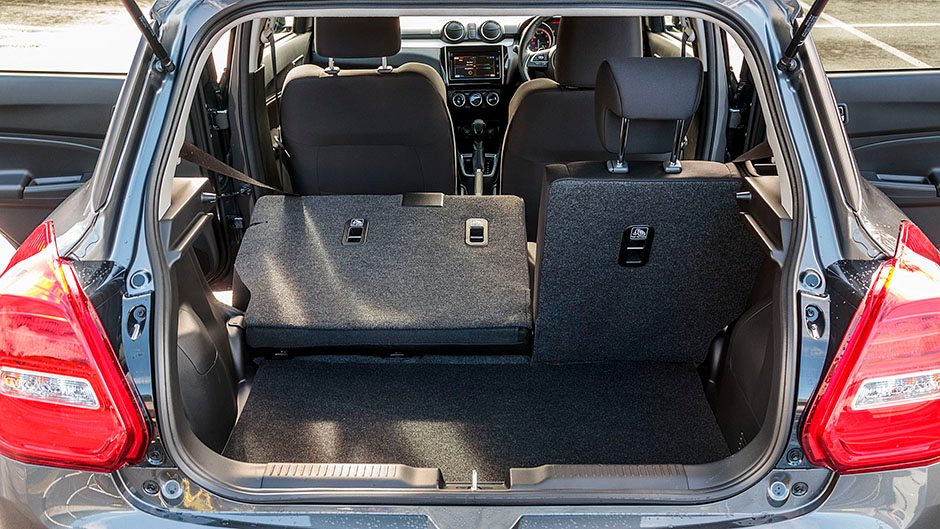 Through corners it's also up to speed, sorted as it is for European and UK surfaces. The ride is most agreeable at highway speeds, suspension surprisingly compliant, and body roll kept nicely under control. Understeer is reasonably unforthcoming. One of its great strengths, again partly a result of its light weight, is its braking system, all four wheels getting discs, ventilated up front. Gentle trail braking into turns loads up the outside wheel nicely, for even better midcorner grace and balance.
It's easy to overlook the lesser points of the Swift, because they're relatively minor, hard plastics and the like. To achieve this sort of performance for this price is astounding and the RS to us feels like the new junior bang for buck machine. It almost reminds of a shrunken Golf GTI, at roughly half the price. Next month we find out whether another cool wee RS, the Jazz, can keep pace with the fiery Swift.
| | | | |
| --- | --- | --- | --- |
| Model | Suzuki Swift RS | Price | $25,990 |
| Engine | 998cc, IL3, T/DI, 82kW/160Nm | Drivetrain | 6A, FWD |
| Fuel Use | 5.1L/100km | C02 Output | 119g/km |
| 0-100km/h | 9.50sec | Weight | 960kg |