Wagons aren't big movers in the luxury market but add a dose of SUV-ness to their mix and you're bound to sell a few more of them. Well, that's what Volvo is hoping for with its V90 Cross Country, a good foil to the mass of SUVs out there.
Volvo has been in the Cross Country game for 20 years, the XC70 dating back to the late nineties, and the formula hasn't changed much. The V90 Cross Country is the SUV-lite version of the V90 wagon, and it features the usual stuff you'd find on a jacked up wagon; front and rear skid plates, plastic cladding and airier wheel arches. There's 65mm extra ground clearance than the V90, giving 210mm in total, and greater wheel travel. Figure on AWD too to substantiate the look. While Volvo's S90 is fighting an uphill battle in the luxury sector where buyers continue to turn away from large cars, the Cross Country at least might get a sniff thanks to its SUV-esque cues. So why would you buy this when you could have a XC90? It's about choice, as in not choosing not to buy an SUV. It's one for those with no need for seats in the boot they'll never use, and who prefer a wagon to a bus.
The Cross Country is a good fit for the longtime Volvo faithful, as is its D5 power unit, the only option here. Though we'd probably prefer the petrol T6, the 2.0-litre D5 does impress. While the four pot has a pair of turbos, making 173kW and 480Nm, it's Volvo's novel approach to helping alleviate turbolag that enlivens its character. The PowerPulse system uses a compressor to suck air into a pressurised tank and when the turbos need help spooling, the air shoots into the exhaust manifold to minimise turbo lag. Its two-litre air tank is continuously topped up and so the turbodiesel never really feels laggy as a result. It's quickly making torque, and feels good from 1500rpm to just past 4000. At two tonnes, the V90 is no rocket but it's quick enough, and though the official fuel use average of 5.3L/100km is something reproducible only in a lab, the 8.7L/100km average on this test car is more than acceptable considering. The eight-speed auto is generally well sorted given its brief to be more refined than sporty, though occasionally it's slow to drop a gear, but if you're running late a manual approach sorts this. While you might find the idle stop/start a tad active in its duty, it's switchable and then the V90 goes about town duties in an unfussed manner. There's light steering, a cushy ride and that easy torque which all see to the chore of commuting, while the active cruise is functional in stop-start traffic too. The only issue? It's a little hard to judge just where the extremities of V90 lie when manoeuvring, and though there's a 360-degree camera, the view is somewhat distorted.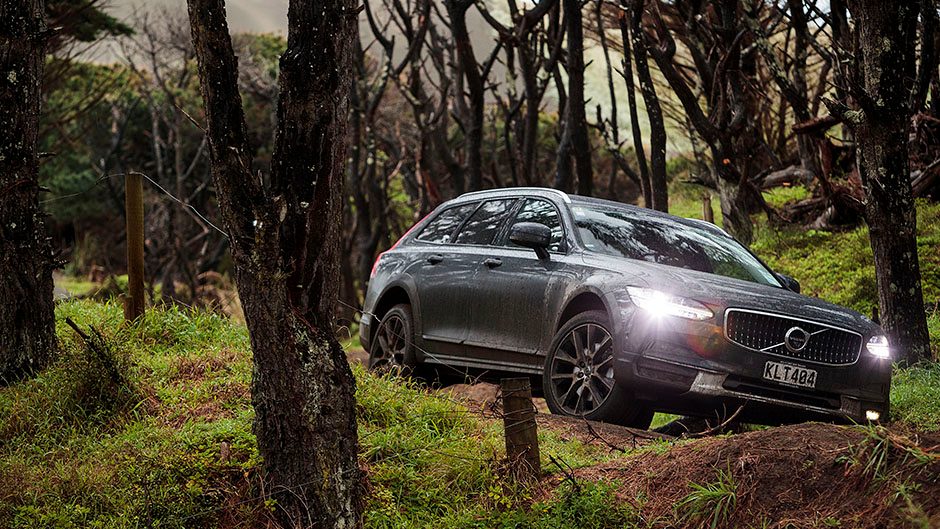 Variable drive modes help extract the best from the CC. The Eco setting might help you get closer to that claimed fuel use figure, Dynamic adds a slight spring to the step by improving the usual parameters and the on-demand AWD feeds the rears with more torque. Rarely will be the occasions owners will activate it though, as the V90 is not trying to topple Jaguar in the quest for sportiness; it's more a case of relaxed luxury and refinement here. And in any case, it's likely there'll be a labrador in the boot which won't appreciate being thrown about. The V90 CC handles the rigours of the less travelled route, the ride comfort being notable, especially on beaten up gravel roads, while the roll control should keep Fido from messing the upholstery, cornering aided by torque vectoring. Progress would be smoother still if there was some life in the helm, which is overly obsessed with getting back on centre.
The tester was fitted with adaptive dampers which also means rear air springs are added to the AWD set-up. Its on-demand system (Borg Warner Gen5, formally known as Haldex) can send up to 70 per cent to the rears, and AWD is always engaged from a standstill so there's no scrambling front wheels when you gun it off the mark. There's an off-road mode too, effective up to 40km/h and this remaps the throttle and ESP, while more torque is supplied to the rear. The air springs don't lend any extra ground clearance; they are employed for their load levelling performance, and ride comfort.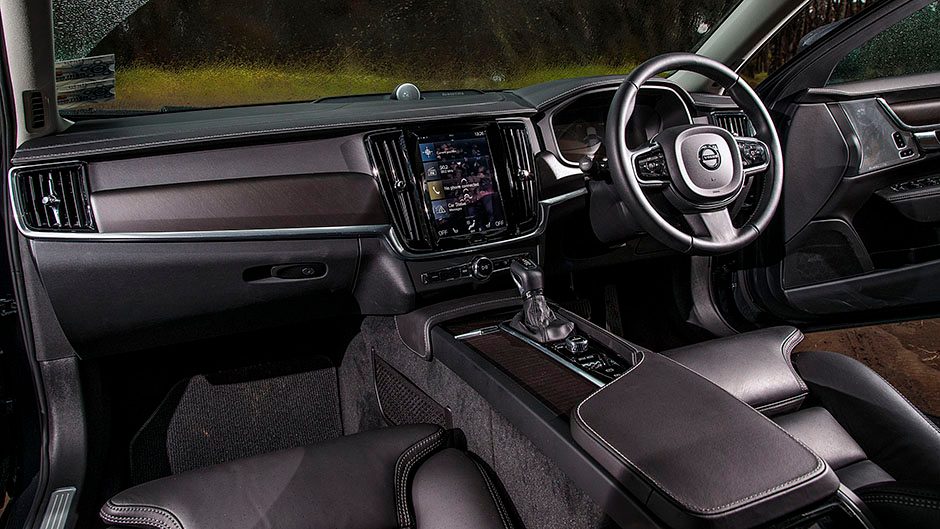 That's something all on board can enjoy, and there's room enough for five adults too. The back seat is spacious, and complete with Volvo's integrated booster seats for younguns. These have dual settings for differing heights and weights to keep everyone safe.
The boot space is impressive. Volvo's integral-link rear suspension set-up is compact, even with the air springs, and so the load area is long, wide and well shaped. Rear seats fold at the touch of a button and there's a through-loading hatch too.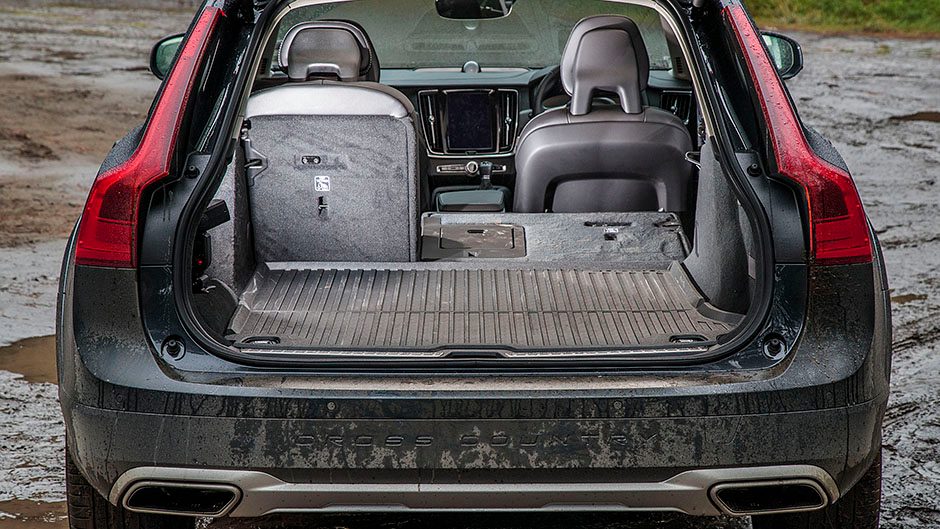 These new Volvo interiors never fail to impress, the linings and fixtures as good or better than those in the E-Class and 5 Series. The finishing really is grand, and Volvo offers as many safety and convenience fittings too, most of them as standard. Its lane keeping system still feels like a fight for ultimate control so we generally disengaged it, but the forward collision warning has been improved. It rarely sounds alarms at parked cars on the roadside,whereas it used to when it debuted.
Volvo's Sensus touchscreen infotainment system works so much better than any of the German offerings with their confounding mouse controllers. Some functions take a few clicks to initiate but the system responds quickly and you soon have it mastered.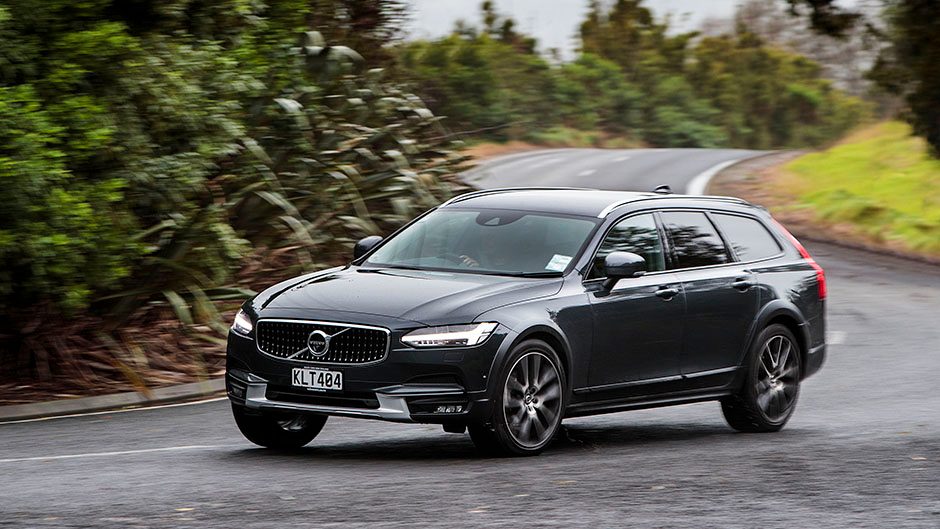 The V90 Cross Country costs $103,990, and is available in one grade, Inscription. And yes, if you want a plain old V90, Volvo NZ can source you one of those. As tested the CC was $114,285 for it had a few options, including the $7100 Premium Pack which everyone will likely want for it adds the active chassis with rear air suspension, Bowers and Wilkins sound, sunshades for the rear windows, and better trim for the dashboard and doors. Standard fare includes the parking camera, adaptive cruise, and AEB which can detect pedestrians, cyclists, and large animals, and is functional at night. There's a smart key, powered tailgate, and smartphone compatibility for the nine-inch touchscreen, while the instrument panel is a 12-inch TFT with configurable display. The seats are trimmed in Nappa leather, are powered and heated up front, and there are four zones of air con, a head-up display and active LED lights.
While large car sales continue to stall, the Cross Country version of this V90 might help it find a few adopters unwilling to buy an XC90. Want a big, luxurious wagon? This we can highly recommend.
| | | | |
| --- | --- | --- | --- |
| Model | Volvo V90 Cross Country | Price | $103,900 |
| Engine | 1969cc, IL4, TDI, 173W/480Nm | Drivetrain | 8A, on-demand AWD |
| Fuel Use | 5.3L/100km | C02 Output | 149g/km |
| 0-100km/h | 7.50sec | Weight | 1966kg |