Boxster in a bomb. A weather bomb that is, but Porsche's entry level convertible still proves a riot, even in the wettest, coldest months of the year.
It seemed like a good idea at the time; a drive in a Porsche Boxster has to be a good one, even in the depths of winter. But our stint with the talented two-seater coincided with a storm that brought snow to the South, and plunged temperatures to, gasp, single digits for us Northerners. Still, there were a few hours of dry weather while we had the Boxster, which now comes complete with seat warmers and a heated steering wheel to keep you from freezing. It had been a while since I'd piloted a Boxster. Though Louisson covered the Boxster S when the renamed 718 range debuted back in 2016, a drive in the base model gave me the chance to better acquaint myself with Porsche's new flat-four. I quite like the philosophy, Porsche back to its roots, the company's first car being a roadster with a flat-four mounted in the middle. Much has happened in the 69 years since, yet the recipe remains the same.
Compared with the S, the 718 Boxster has a smaller engine, a 2.0-litre versus a 2.5 and while both have a single turbocharger, the one utilised on the S has Porsche's variable geometry technology, which debuted on the 997 Turbo, but has been in nothing else since. Charged downsizing brings the usual benefits, a bit more power, lots more torque and a better lab test result in terms of fuel use. Though only 2.0-litres in size, it's outputting 220kW with 380Nm of torque. For comparison, the S does 257kW and 420Nm.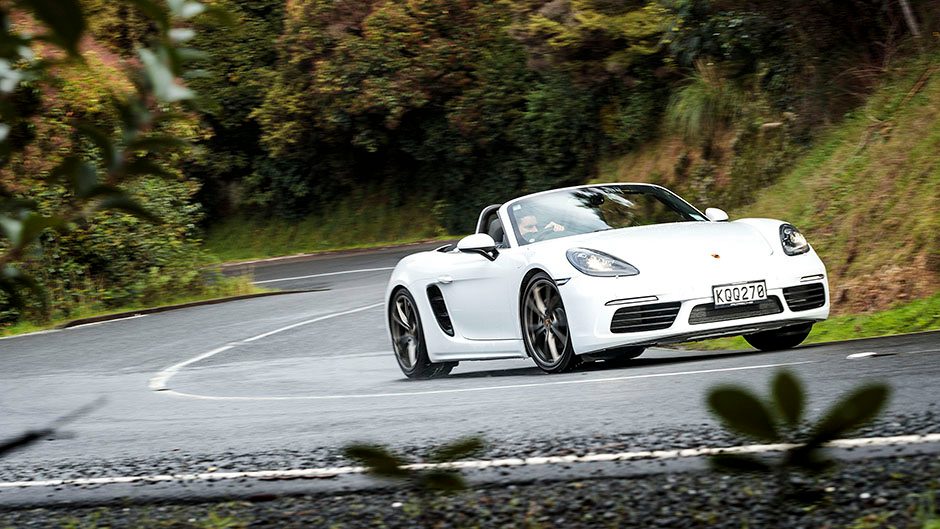 But Porsche charges handsomely for the S, $25k the premium and, as we found, the 718 Boxster's 300 horsepower soundly suffices. Porsche quotes a 0-100km/h of 4.7sec with the PDK and sport chrono pack combo as fitted to this tester and it repeatedly met and bested the mark, a combination of cold, dense air helping the turbo engine make good power and the optional, wider rear treads making it all stick. Even though the 718 Boxster is quicker than the rapid little Golf R, it's not just the straight-line, flat-out prowess that impresses. Turbocharging gives the Boxster genuine low- to mid-range pull, making it a happier commuter. It's tractable down low, so feels plenty strong enough despite its paucity of cubes. And it will average in the nines for urban cruising, which is what Porsche quotes, although it's more of your expected average rather than the 6.9L/100km combined figure they publish. Porsche has also ensured the little unit revs like a proper sportscar engine should. This spins sweetly, the power curve not falling off as it races to just past 7000rpm. It's a responsive engine, part throttle or a brief lift not a problem as it's ready to go when you punch the gas again. On the other hand it can be a grumpy guts below 2000rpm but soon perks up and is in the mood any time there's more than 3000rpm dialed up. Best performance is extracted from 4000 to 7000rpm, but the Boxster can still groove on its midrange, keeping revs below 4000rpm and using the torque. It's quite a versatile engine, proficient at both cruising and blasting. It sounds satisfyingly mechanical in operation, reminiscent of a Subaru BRZ in the midrange before it breaks out into a yowl up top, which is best heard with the top down as it reverberates off the scenery.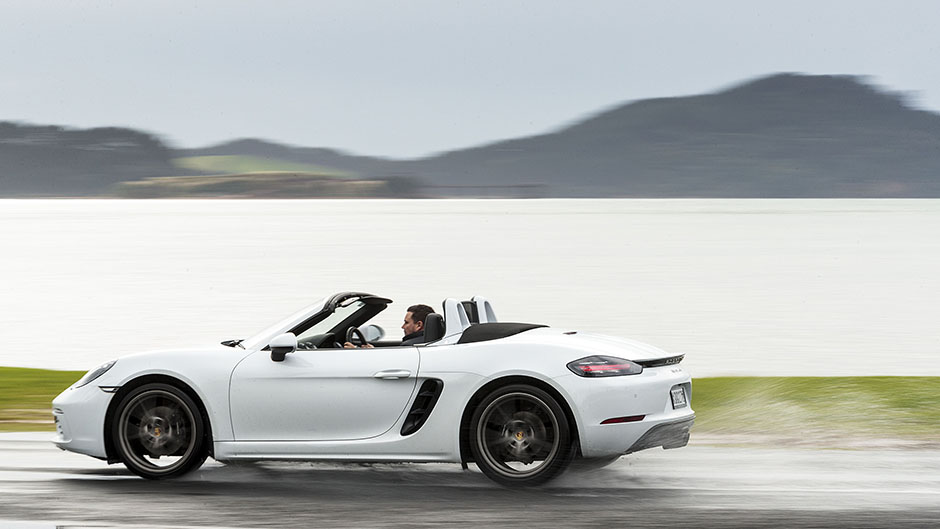 The engine's only quirk is some odd vibration below 2000rpm, most noticeable around town, and on the motorway, where 100km/h in seventh equates to 1800rpm. For those who option the Sport Chrono with its drive modes, they can dial in Sport which quickly sorts this by activating its racier programming. And it kills the hyperactive stop/start function which will cut the engine even before you actually stop.
As with just about every Porsche sportscar bought in New Zealand, this is fitted with the twin-clutch 'PDK', a $5300 option. It works wonders though, flat out with rapid shifts but smooth enough in traffic and when parking. This Boxster was optioned with bigger 20-inch wheels, but not the the adaptive 'PASM' suspension and we didn't really miss it either. The in-town ride impresses, progress quite remarkable on big hoops and a short wheelbase, with enough give to cope with speed bumps and driveways.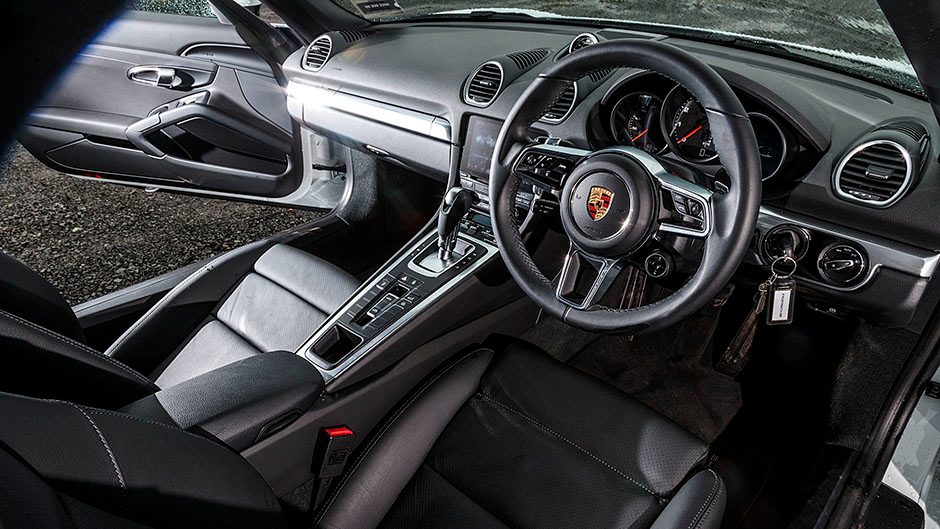 But as it has always been, it's the Boxster's ability in bends that leaves the best impressions. Even with single digit temperatures bringing cold, slick roads, the Boxster generates gobs of grip. With it's mid-engined balance freeing the front of excess weight, this dives into bends and the front end is all but impossible to unstick. The steering is a model of accuracy. You're quickly locked on line and there's never the need for mid-bend adjustments. Coursing the corners on our usual loop at this time of the year, it's not unusual to come across a slip or two. And rounding a bend we were met by a tree partially blocking the lane; it proved no problem in the Boxster, we simply steered around it without drama, not even a blink from the ESP. It highlights how unflappable the chassis is, tolerant of power added early out of bends and well capable of brushing off horrid mid-corner bumps. The standard, passive suspension set-up is well versed on road, body movements kept tight and the bumps handled too. You wonder if you really need the optional PASM set up ($3280). Only if you wanted to ace those track days, we guess. And the brake pedal is sensational as you might imagine, powerful in response but also sensitive when needed. And as we mentioned you can always cruise on the turbo-derived torque, but it's more gratifying to work the 2.0-litre to its full extent in the lower gears.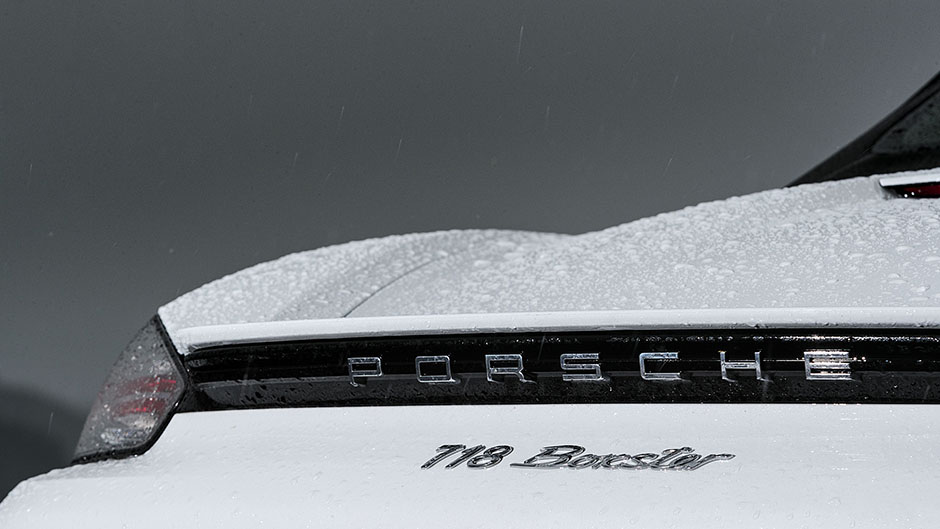 As far as two-seat roadsters go, the Boxster is reasonably practical. The rooftop operation is quick with one button pressed and it can do its thing on the move. The cabin is wide, there's good adjustment at the seat and you're unlikely to strain a muscle getting in and out. And with a boot front and rear, it's surprising just how much you can squeeze in if you pack thoughtfully. Being the base model, full leather trim is extra, and don't expect it to cover the dash or door tops either, that's a cost option. The plastics used are quality however, as is the build. While you get a powered steering column, and seats with memory function, there's no smart key, reversing camera or standard active safety bits. And, like every other Porsche bar the Macan, there is no Euro NCAP rating. Cabin storage is scarce and all the blank switches remind you it's the base model, but the heater works well, and it's not too blowy inside with the top down and windows up.
Boxster starts at $125,600 for the manual, the S at $150,200, before you add the options, most parting with a further $20k on average. So as per, the Boxster is expensive but even this entry level drive experience is worthy of the premium.
| | | | |
| --- | --- | --- | --- |
| Model | Porsche 718 Boxster | Price | $130,900 |
| Engine | 1988cc, flat 4, T/DI, 220kW/380Nm | Drivetrain | 7D, RWD |
| Fuel Use | 6.9L/100km | C02 Output | 158g/km |
| 0-100km/h | 4.59sec | Weight | 1418kg |