Honda NZ has consistently rejected importing the Civic Type R. Too radical for its customers? Under new management they've relented.
We get a fang in the new FK8.
It's an iconic model name, reserved for some of Honda's most worthy machines, but because of conservative (and some would say ridiculous) management decisions, the Civic Type R has been banned from Honda showrooms. Until now at any rate. Honda New Zealand has done an about-face and decided to import the scorching new Civic Type R. That decision has been over two decades in the making, or five generations of the Type R, 10 of the Civic.
Why they had a thing about the Civic Type R – who knows? Likely as not a transmission issue, being six-speed manual only. Whatever, the situation has always been frustrating because Honda engineers, like those from Mazda, think outside the square and pride themselves on innovating, especially when it comes to their engines.
NSX is the pinnacle model but it sold in minuscule numbers, whereas Type R variants have at least been a realistic aspirational car for regular folk. Fourteen years ago we drove a second-generation Type R, and still have vivid memories of its blood-red seats (still a thing), the milled aluminium gear knob (likewise) and the spectacular nature of its naturally aspirated 2.0L twin-cam i-VTEC engine (similar but now turbocharged). We reckoned then that its mill was state of the hot hatch art, revving like crazy at the top end, producing a peak of almost 150kW at 7400rpm. Yet the car was capable of trickling around town in top gear with just 1500rpm showing. At high revs it truly rocked out. It was pretty quick back then, and the drive was entertaining but not quite in the league of the Focus ST or WRX of the time. It's slow speed ride wasn't great either.
Famous for its 'Ring time
Fast forward to the now and the latest version, a Nürburgring terror, is officially here. On a need to know basis the five-door flyer costs $59,990 and comes up against various hot-shot Golfs (GTI and Golf R), Focus ST/RS, Subaru WRX STI (same money) and the Megane RS 265. And in the near future, Hyundai's incoming i30 N model.
One other thing potential buyers should understand is transmission choice. It's a six-speed manual or nothing. Perhaps that's because Honda hasn't really gotten behind dual-clutch transmissions yet. A watch and wait attitude is admirable given the growing pains VW and Ford have experienced with their DSG 'boxes.
The latest Civic Type R is based on the tenth-generation Civic, said to be the most expensive new model programme ever undertaken by Honda. It's a five-door body style again, and while it still runs a 2.0L engine, it uses forced induction simply because it has to. In this era, it's almost impossible to be competitive (power, torque, emissions) without turbocharging, though Mazda might disagree.
Being a five-door it's bigger and heavier than the one we drove in 2004, but at 1399kg with a brimmed tank, it undercuts much of the opposition like Focus RS at 1565kg, ST at 1437kg, Golf R at 1499kg, and also Golf GTI at 1432kg. Only the hot Meganes deliver similarly on the weight front.
On the other side of the power-to-weight ledger, the 2.0L twin-cam VTEC direct injection turbocharged engine produces 228kW of peak power at 6500rpm, and maximum torque of 400Nm from 2500rpm to 4500rpm. If the figures suggest there's no turbo action below 2500rpm, forget that because you can feel the effect of the blower from about 1500rpm.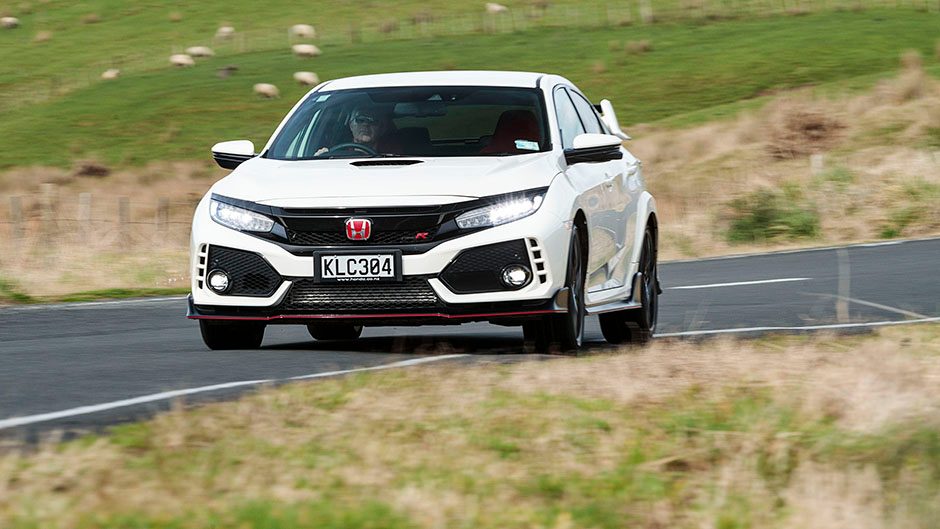 Performance first
We should allude to performance right from the outset because the latest Civic Type R currently holds the front-wheel drive record for the fastest ever lap of the Nordschleife, wresting the record back from a hot Golf with a time of 7min 43.8sec, seven seconds quicker than its predecessor. It may not mean much but the bragging rights are nice, if temporary. Much of the handling development work was done at the Green Hell.
On the speed front, Honda reckons that the Civic Type R will accelerate from 0-100 in 5.7sec. Several car makers have made similar sub 6.0sec claims for their front drivers but only one, a Golf GTI 40th Edition, has actually ticked that off, though many have come close.
The Type R limits launch revs to 3500rpm in first gear, presumably to prevent excessive wheelspin and clutch abuse but unless you have a perfect surface for launch the car tends to bog slightly. Our efforts were further stymied by half worn rubber, the preproduction vehicle we drove – its chassis number was 00000 – had been busy doing track hot laps. Lame excuses, agreed, but it explains why we couldn't quite match the 5.7sec claim. Hampering things further, there's no way the Type R hits 100km/h in second, meaning two shifts are required. To achieve 5.7sec we reckon would require everything aligning just so. We did manage one run in the 5s, however, making it just the second front driver to achieve the feat.
Its 80-120 overtaking time is more telling. The 4WD Focus RS managed a best of 3.26sec, auto versions of WRX are closer to 4sec, and the VW Golf GTI 40th Edition ticked off a 2.99sec run. The Type R shaded those with a best of 2.89sec. On road and up to speed, it's most definitely quick, and the engine is a honey, with action zones aplenty. On twisting back roads, you're milking the midrange in this but when longer straights appear and you can rev it out, the Type R is monstering from 5500 to nearly 7000rpm where it also makes the best noise from its trio of central exhausts. But being a turbo the output is a bit hushed; more noise would be better to counter the road roar off the racy SportContact6 rubber. It's not loud in cabin, but a mean dB figure of 75.3 isn't hushed either. Similarly, fuel use when pushed on uncluttered wilding roads hit 14L/100km but cruising on the motorway at 100, an easy 2400rpm in sixth, the computer suggests consumption of 6.4L/100km.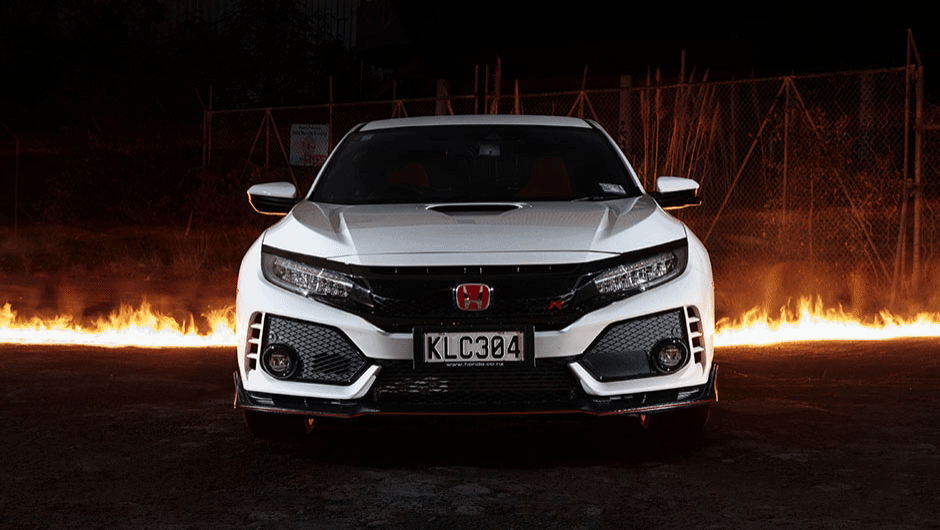 Diverse dynamics
The latest Type R, like the regular Civic range, masters on being a generalist, albeit a quick one. Unlike the Focus RS which is best on smoother surfaces and can be a little unforgiving as a daily drive, the Type R revels in all environs. And that's mainly due to its three-stage adaptive damper set-up. Start 'er up and Sport mode is automatically selected, the mode that delivers firm steering and suspension for control of twisting, undulating roads attacked at pace. If they're also smooth, you can dial up +R, with the firmest damping and even more steering heft. 'Round town, Comfort is ideal, the dampers backed off, and engine responsiveness too, but it's not so laid back as to be annoying.
Through roads uncluttered by traffic but littered with tractor spoor the Civic Type R is a true joy, thanks to a chassis that's 40 per cent more rigid over its predecessor (uses extra welds and adhesives), a ride 10mm lower and Dual-Axis front suspension developed to dial out torque steer, all contributing to its agility. Also helping is a new fully independent multilink rear end. Out on hidden gem wop wop roads it corners flat and level, its sticky sport rubber refusing to squeal, and turn in is rapid thanks to its variable ratio steering. Add in the dual effects of torque vectoring and the helical limited slip diff up front, and it clears out from corner exits as hastily as it enters them. Helping the cause is a rev matching downshift function so you don't need to heel and toe if you don't want to (switchable) while uprated brakes comprising Brembo four-piston calipers up front bite into 350mm ventilated and cross-drilled discs. With well contained kerb weight the Type R can stop in a big hurry, and excess speed dissipates in a jiffy. Given how quick it is 80-120 this would give any of the 4WD hot hatches mentioned a hurry along in the dry, especially with such compliant suspension; there's no pinging off lumps and bumps here. It's not the most informative steer of the bunch – Focus RS is hard to better – but it's quick and accurate enough to satisfy.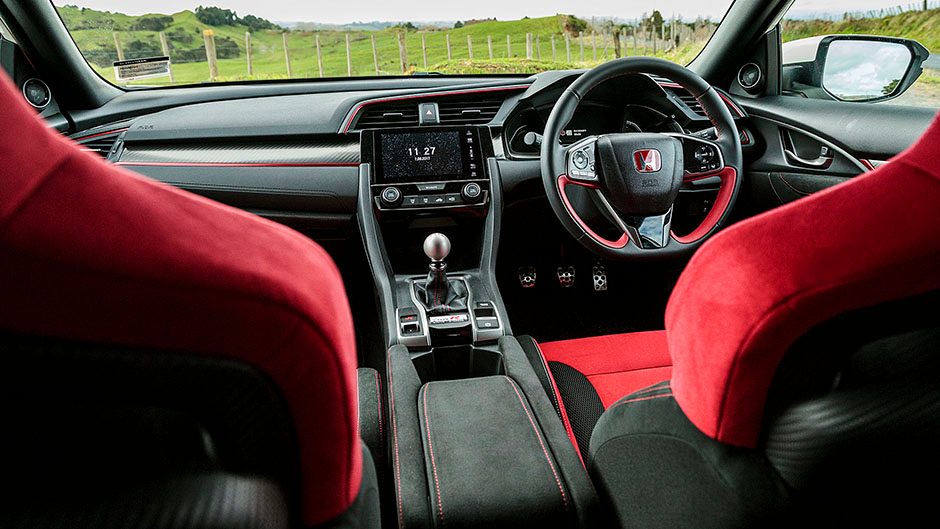 Rounding it out
The driving position is decent too, you're seated low and the sports seats keep you secure, the bolsters easy enough to avoid when entering the car. Some form of lumbar adjustability would be nice; more is needed. Upholstery is suede in a tasteful mix of red and black. Safety belts are red, like the tacho outline in +R mode.
It's well enough specified with collision mitigation, active cruise is a godsend, as is active lane keeping, with partial self-steering. There's also the left-sided blind spot camera to help with lane changes, LED headlights, and a seven-inch touchscreen compatible with Apple and Android systems. Practically speaking it's also on the money with 420L of expandable luggage space, and while it's a five-door there's only seating for four.
Where the early Civic Type Rs were almost apologetic visually, the latest generation is simply wild, and fairly busy, especially at the rear. Huge air intakes up front are faux but there's been lots of aero work done, and stability at speed is pretty decent. On that, a top whack in excess of 270km/h is said to be highest in class. There's no missing what this is and it didn't go unnoticed in our travels, even a one-eyed Commodore owner commenting favourably before exiting in a haze of smoke.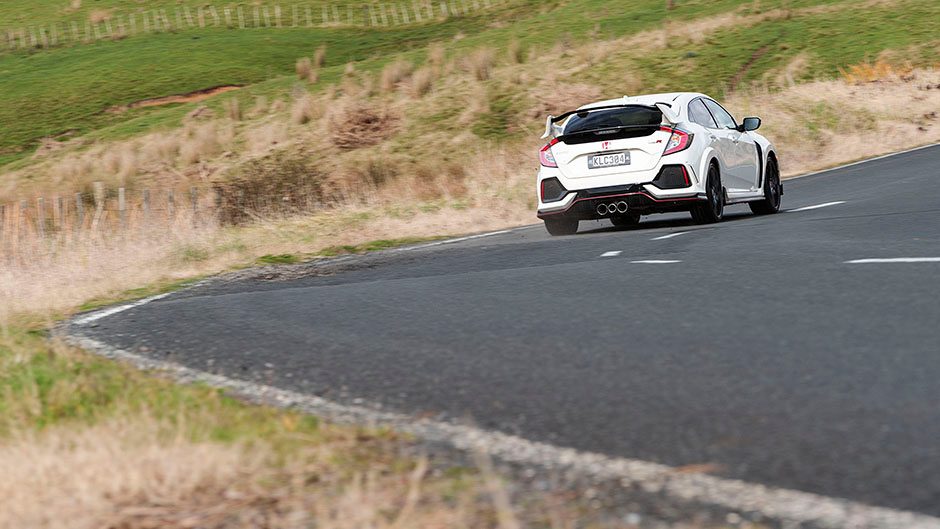 Worth the wait?
Why Honda NZ sidestepped the Civic Type R for so long is as much a mystery as a disappointment, but better late than never. It's less expensive than the 4WD competition but as quick on road, and handles the day-to-day grind well, even as a manual. Like the Civic RS we also drove this month, the Type R covers the bases well and doesn't seem to have any real issues, so long as the styling is up your alley.
| | | | |
| --- | --- | --- | --- |
| Model | Honda Civic Type R | Price | $62,990 |
| Engine | 1996cc, IL4, T/DI, 228kW/400Nm | Drivetrain | 6M, FWD |
| Fuel Use | 8.8L/100km | C02 Output | 202g/km |
| 0-100km/h | 5.95sec | Weight | 1399kg |