On the wane their light may be but there's still plenty of life left for the humble hatchback. We assemble three class acts and let them duke it out.
Conventional five-door hatches should suit most of us nicely. They're practical with space for five and their gear, they drive smartly and are a handy size for both town and country living. This type of car, represented here by the Holden Astra, VW Golf and Honda Civic, used to be one of the most popular amongst Kiwis. But lately, people seem to need more air between themselves and the tarmac. The so-called 'small segment' is still the most popular form of car in New Zealand, but it's slipping. Last year, it was the second biggest segment with 13 per cent of the market, yet half way through 2017 it's fourth on 11 per cent, surpassed by large SUVs and 4×4 utes, and is soon to be overhauled by compact SUVs.
But for similar money asked of those small SUVs, hatches still have their merits; the Astra is a vastly superior drive to the Trax, Civic is much better than HR-V, and VW will have a smaller SUV soon that will erode Golf sales further. For those who have a hatch on the list, you should be interested in one of these three. Each has European roots, the new Civic hatch being built there, and each is a recent arrival to the market, the Golf having just been facelifted. So which should you be looking at?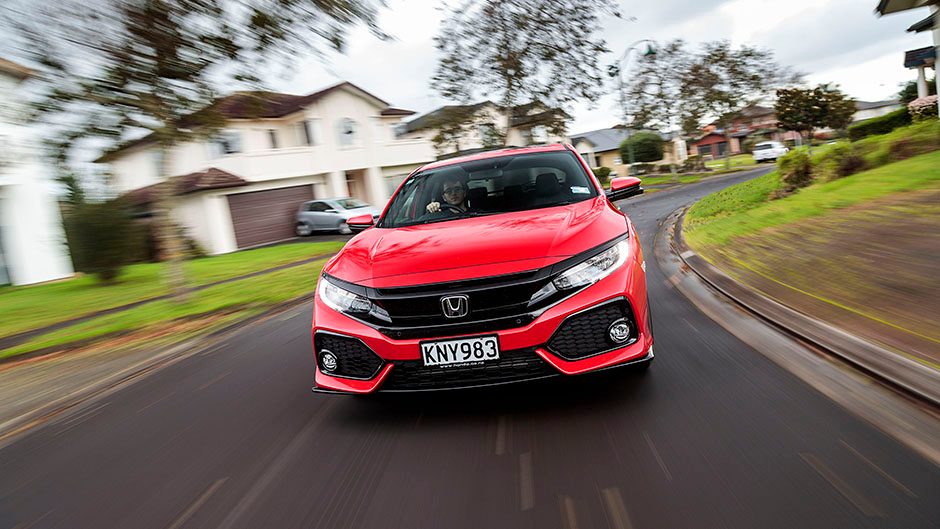 The money or the badge?
Each model range has at least three variants, entry level models with lower power outputs and fewer features, but the three featured here are the range toppers. The Volkswagen wears the most desirable badge, (if you can forgive them for Dieselgate and sales suggest most have) but also the highest price. The R-line is a Highline TSI ($40,890) with a dress-up kit. It's $43,390 and adds 18s, a subtle body kit, and sports suspension, seats and steering wheel. The Civic hatch starts at $32,900, but the RS Sport Turbo you see here costs $40,900. Astra kicks off at $30,990 while the the featured RS-V is $38,490.
Common features include a reversing camera, parking sensors both ends, touchscreen infotainment (Astra with voice control), smartphone compatibility for both tribes (Civic lacking in-built nav), smart key operation, and dual zone climate air. Civic and Astra gain leather trim, front seat heaters (a heated rim in Astra too), and the Honda has a powered driver's seat. Civic wears 17-inch rims to the others' 18s but adds LED headlights, a sunroof and premium audio.
The Golf can be optioned up with cost extras. VW has added more active safety to the Golf range, all models with low-speed AEB and lane keeping, Highline and R-line featuring BSM and active cruise. There is no active safety for the Civic hatch, other than the lane watch camera. Astra gets low speed AEB for RS and RS-V, the latter also with BSM, while active cruise is an option. All have a five-star crash rating. Honda gives the best warranty, five years/unlimited kays, VW with three years/unlimited kays, Holden the usual three years/100,000km.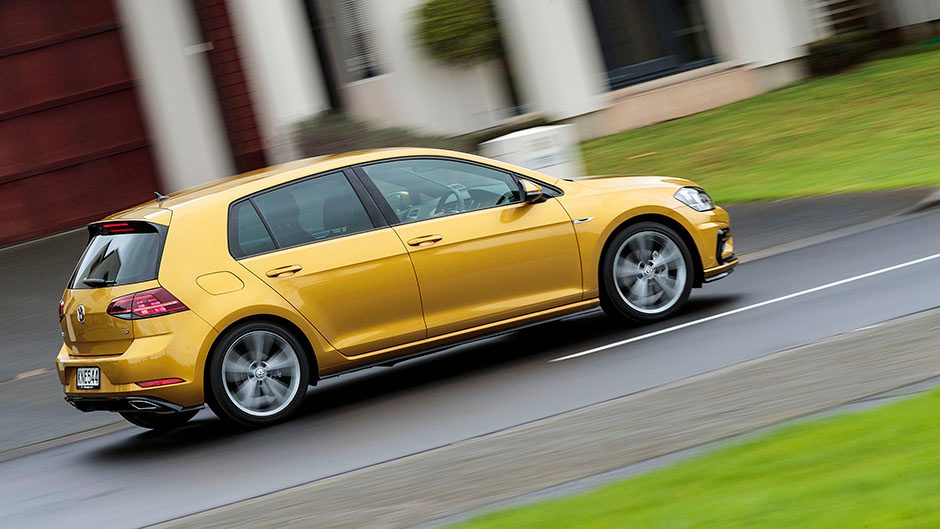 Nuts and bolts
All three employ a turbo to boost low end torque and help ace those laboratory fuel tests. The R-line uses the carryover 1.4 TSI, with 110kW, and 250Nm on tap from 1500-3500rpm. It is claimed to return 5.4L/100km. The new 1.5-litre 'Evo' engine with reduced emissions is for Europe only.
The RS Turbo uses Honda's new(ish) 1.5-litre VTEC turbo with 127kW and 220Nm from 1700-5500rpm. Honda claims 6.0L/100km, and it can run on 91, the others requiring premium. The Astra RS-V brings the sword to the knife fight, it's 1.6 delivering 147kW and 300Nm on overboost, fuel use averaging a quoted 6.3L/100km.
Each uses an auto, but all three are different, the Golf with a seven-speed twin-clutch, the Astra a six-gear slushbox and the Civic with a CVT. The latter might rule the Honda out for some, but don't be quick to judge it before sampling.
Each hatch rides on a sporting suspension tune, the Golf and Civic have an independant rear end, the latter's with fluid-filled bushings for improved NVH. Astra uses a torsion beam, with an added Watts linkage. Basically, this keeps the torsion beam from moving side-to-side under load, improving rear camber stiffness. It means the rear doesn't wander about the place as with a conventional torsion beam can, and that in turn sharpens the steering.
The five-door Civic brings a much shorter rear overhang than the sedan, and they've revised the front bumper, and added side skirts and centre-exit pipes. The Civic was described as racy but also a bit busy. Styling updates to Golf include new bumpers and lights but even with its R-line kit, the Golf was viewed as too conservative, leaving the Astra, blending sport and style, as the looker of the trio.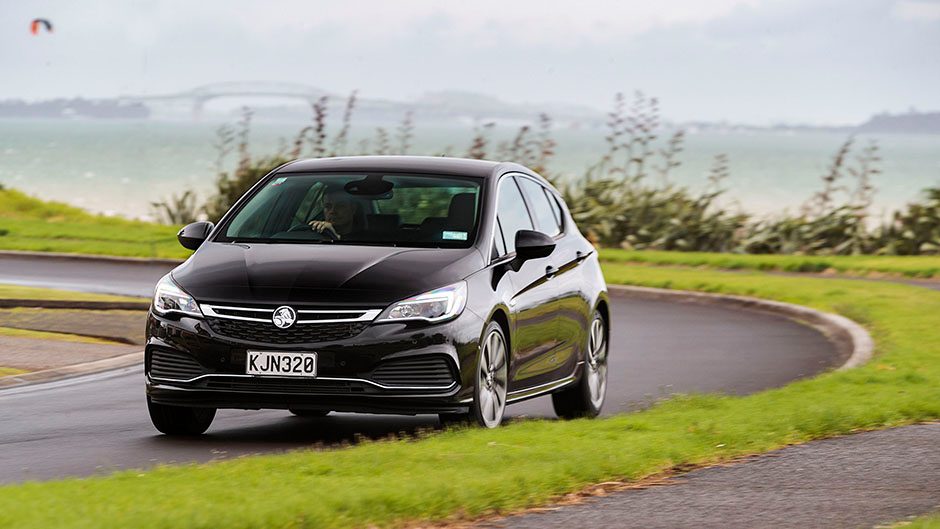 On the loose
While none has a particularly bad gait, the Astra RS-V is the most sporty and its ride the least settled. The Golf picks up a few road blemishes along the way too, which is more noticeable in town and you wonder whether it would be better sans the sports springs. Civic is the most fluid over bumps, both in and out of town. Astra wins the sports handling prize, for it's quick to turn into corners and holds on for longer too. The front bites nicely while the rear is stable, as long as the corner's not too bumpy. RS-V feels more lively with its Sport mode activated, everything sharpened up, but the steering, while responsive, has some annoying self-centring aspects along with a slightly iffy vibe off centre. Torque steer rears its unsightly noggin too and the ESP is needed to pacify wheelspin in the tight bends. Astra is also a bit louder over coarse chip surfaces.
The Golf looks racy but isn't quite as keen on the turn as the others. It has a fluid feel to the helm, with sorted assistance, but with more body roll it can't turn as sharply or hold on as long, despite good rubber. The ESP and torque vectoring are well tuned to help progress.
But it's the Civic that we prefer by managing to strike the middle ground. It regulates the bumps best, while controlling the roll sweetly. This turns easily, the steering with its quick rack gets the front tucked in with minimal effort, there's just enough feedback and there are no electrical assistance gremlins to speak of. It holds on well too, torque vectoring compensating for the so-so Turanza rubber. That quick steering is also a boon in town running, making parking a breeze.
Talking torque
The Astra, with its big block 1.6, is the lustiest here and gives its TC the most trouble. It's responsive from just above idle and has the meatiest midrange. The six-speed auto is not the smoothest ever, slightly jerky when cold. Its shifts seem casual, and it's a little slow to stir things up when a bit more go is required. The trans could do with a Sport setting, but there's only the overriding Sport mode for the entire driveline, which is all too much for commuting. For fuel use, it nudged into the 10s at one point, but settled on a 7.5L/100km average.
The Golf feels less urgent in this company; it doesn't pull quite as well as the other two from low down, despite having a larger torque count than the Civic. Its fuel consumption mirrored that of the Astra, as it needs a few more revs occasionally. The double-clutch trans is the best on the fly, with faster changes, more ratios, and a slick Sport mode. This is easily engaged with a tug on the lever, and it's all that you need to give it a poke along when required. Like most twin-clutchers it still wobbles a little on low speed manoeuvres, and slurs its clutch as it tries to haul away from an intersection in second gear. While the Civic's 1.5 is not as potent as Astra's 1.6, there's a good blend of low- to midrange torque and power up top. Some CVTs are better than others and this is a good one. It's smooth in D while selecting S keeps the engine spinning above 3000rpm to ensure a quick response for overtakes and the like. Yet even in D, when 'kicked down' it goes from the top of its ratio to the thick of the power as quickly as the others will drop cogs, and does so without the shift shock. Fuel use ranged from a high of 12, to settle on an average of 6.8L/100km.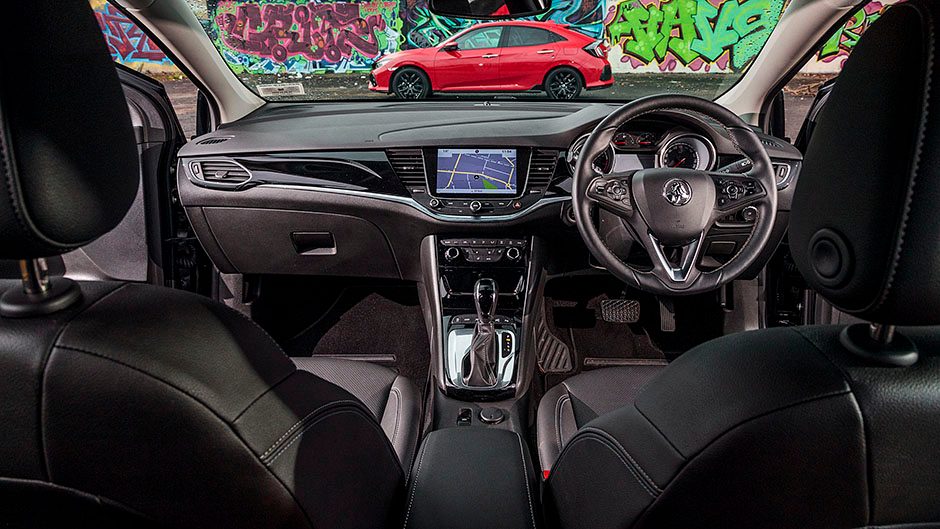 Inside jobs
Looking for a heightened sense of quality appeal in your hatch? Go Golf. With higher grade materials and finishing it imparts a semi-premium feel. The update inside concerns the revised infotainment system, the best here with its seamless integration into the centre stack, and its general ease of use, quick responses and graphical display. The Civic presents a modern cabin, everything located up high within easy view. The plastics aren't up to Golf standards but are far from harsh. Honda's infotainment system is the least likeable, insistent with its safety messages, and slower to respond. You'll want to plug your phone in, which you'll need to do as there is no hardwired nav. You can find a good, low driving position though, seats electrically adjusted with just enough support, and we like the digital dials, allowing for a raft of trip info to be easily displayed. The cabin offers the most storage, and the majority of the hidey holes are generous and well conceived.
The Astra's interior is its least appealing feature with too many hard surfaces about, and it was the only one here with a rattle evident. Seats too could do with softening, and the leather is not as appealing as that used in the Civic. The infotainment system is user friendly, with a good resolution and response.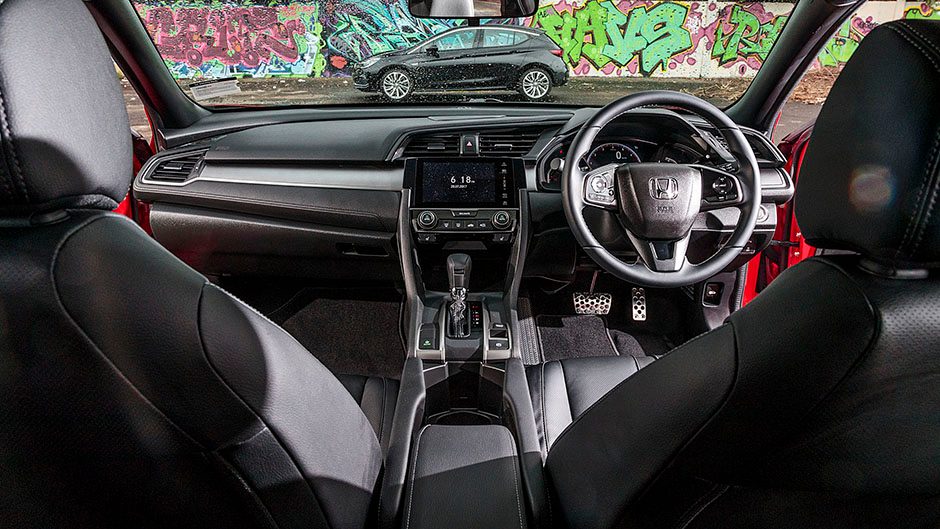 Want space?
Civic's the one, no question. There's more back seat room, where it's comfier with softer padding, while it offers the best entry. You'll be least comfortable in the Astra, the seat too hard and upright, but both this and Golf fare well for room. The Honda offers more usable boot space too, again with the best opening. There's not much separating the other two. All feature a 60/40 split rear seat, folding easily with the Civic presenting the flattest space, and more of it. Civic has a novel cargo blind rolling up and away to the side. It's a good solution; you use it only when you need it. All have space savers.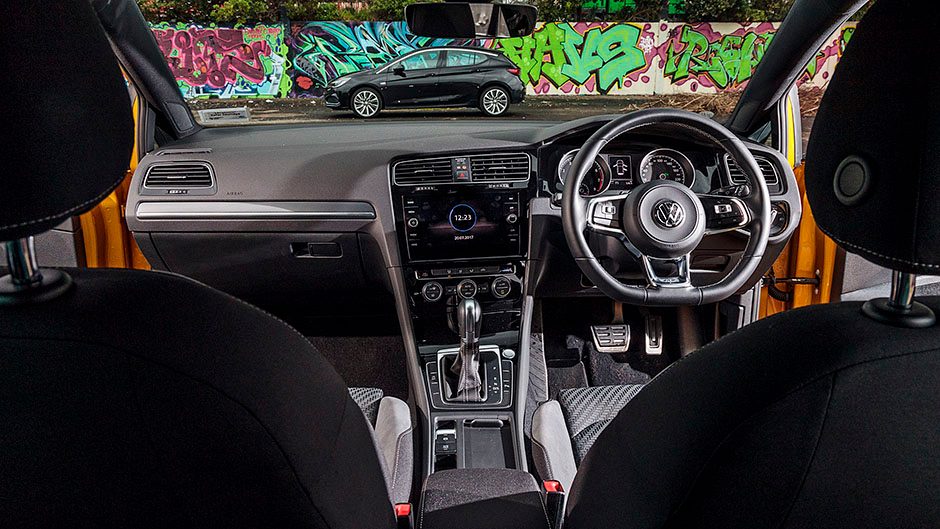 Summing up
None is a real loser car here, and they're genuinely difficult to separate. The Golf is a class act, and very easy to live with, if a tad staid. In this company it has a premium, though not a substantial one. Astra looks the goods, and is priced right but aspects of the cabin quality, powertrain refinement and ride aren't as polished amongst this trio. The Honda manages most things well, has lots of room and comfort and save for its lack of active safety, is the one we liked most overall.
| | | | |
| --- | --- | --- | --- |
| Model | Holden Astra RS-V | Price | $38,490 |
| Engine | 1598cc, IL4, T/DI, 147kW/300Nm | Drivetrain | 6A, FWD |
| Fuel Use | 6.3L/100km | C02 Output | 148g/km |
| 0-100km/h | 7.50sec | Weight | 1356kg |
| | | | |
| --- | --- | --- | --- |
| Model | Honda Civic RS Turbo | Price | $39,900 |
| Engine | 1496cc, IL4, T/DI, 127kW/220Nm | Drivetrain | CVT, FWD |
| Fuel Use | 6.0L/100km | C02 Output | 140g/km |
| 0-100km/h | 7.41sec | Weight | 1312kg |
| | | | |
| --- | --- | --- | --- |
| Model | VW Golf TSI R-Line | Price | $43,390 |
| Engine | 1395cc, IL4, T/DI, 110kW/250Nm | Drivetrain | 7D, FWD |
| Fuel Use | 5.4L/100km | C02 Output | 128g/km |
| 0-100km/h | 7.99sec | Weight | 1357kg |