RS used to be reserved for fireball models but not any more, as there are now mildly wild RS versions of Swift and Jazz. Are they worthy of the hallowed badge?
Overseas in big European cities small cars rule the roost. They're sized about right for tight spaces, and fuel is expensive. Here though, the situation is somewhat different. While small cars remain relatively popular for similar reasons – Swift GL kicks off for under $20k – compact SUVs are now stealing the limelight.
How come? Traditionally small cars lacked boot and rear seat space, Jazz being the main exception. Honda took the unusual step of resiting the petrol tank under the front seats in Jazz, freeing up an extra 100L of boot space. The company went a step further, developing the 'Magic' seat which permits carriage of tall items in the rear seat area (the squab lifts up and locks in place against the seat back). And the compacted rear seat can also be folded over creating a totally flat load space. In the Swift there remains a step.
So if practicality is high on your priority list, and you don't fancy driving a compact crossover, then Jazz should be your first port of call.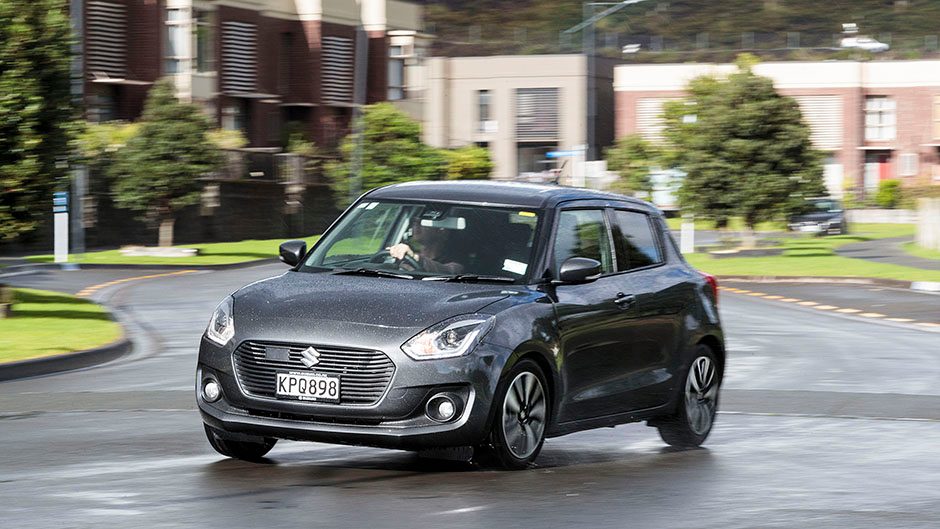 Smaller and bigger Swift
Swift has traditionally lost out to Jazz in this regard but the latest model partly makes amends. Only partly mind. Despite being shorter than before by 10mm, the wheelbase increases by 20mm but that's not the primary reason there's 32L of added luggage space. Up front, the RS model totes a compact three-cylinder turbocharged engine displacing just 998cc. This means less space is needed in the engine bay and the remainder has been gifted to the cabin and luggage areas. The latter rises from just over 200L to 242L. That's still well shy of Jazz's 363L (expanding to 884L) but puts Swift on a par with others in its class. The split-folded Suzuki hold space is 556L. In the rear seat area, there's been a much needed expansion for Swift, displaying more knee room and an extra 40mm of width so carting three is possible, preferably kids over adults. Lowered hip points mean more headroom too. Jazz is still roomier in the rear seat area, but not by much.
Price favours Swift
The third Jazz iteration debuted in 2014, while Suzuki has just unveiled the latest version of its perennial best seller. It didn't go unnoticed that there's an RS (for RennSport or Racing Sport) variant in each line-up and they cost roughly the same amount, at least if you're comparing Jazz RS Sport manual to Swift RS auto, and even then the Honda is more expensive by $710 ($26,700 vs $25,990). Comparing autos, there's almost a $2000 difference.
As mentioned, the Swift is a brand spankers new generation, the seventh but really the fourth if you consider the 2005 version, Suzuki's initial global offering, the first modern Swift. On the face of it, there's not a whole lot of difference from the previous version apart from the face, and that's wise considering its popularity. Cue the usual Swift styling features then. The taller Jazz looks almost unwieldy, a bit nerdy, alongside the new wide bodied Swift, a bit of a jock.
Underlying mechanical updates are significant in the Suzuki. Swift picks up the stiffer, lighter body structure underpinning Baleno. At 961kg it's comfortably under the one tonne mark. Jazz too is hardly heavy, but it's not in the same bantamweight category as the Suzuki, scaling up at 1075kg. RS gets a special suspension tune.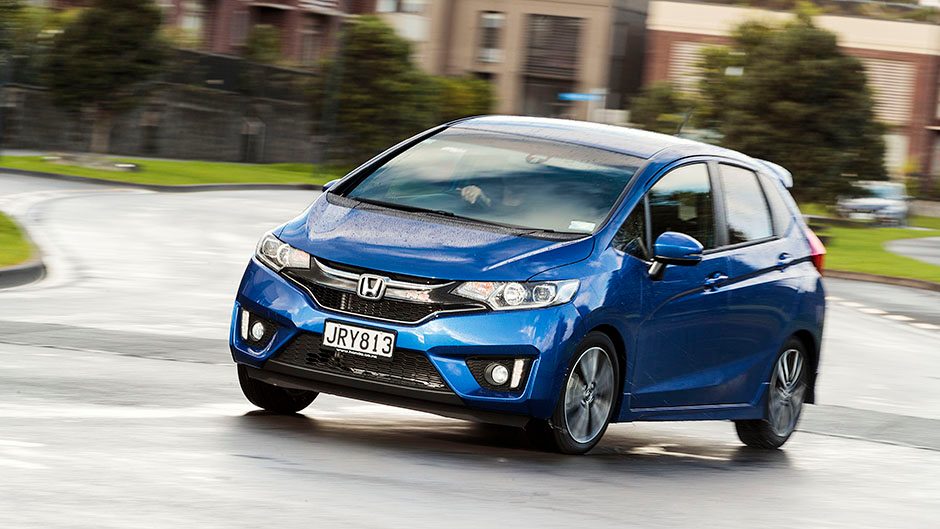 Spec goes Suzuki's way too
Suzuki needed to add something special to attract buyers to new Swift and elected to introduce some game-changing safety items to the sector. The Swift RS is the first small car to get active cruise control as standard, and it also comes with lane departure warning, auto on LED headlamps (ditto for Jazz) with an auto-dipping feature. Count also on fatigue warning, a seven-inch touchscreen, smartphone connectivity, and Apple CarPlay (Jazz adds Android Auto). There's also a dual sensor brake support system that's essentially a collision mitigation system. And one other thing; the Suzuki gets a flat-bottomed steering wheel for that genuine RS finishing touch.
Jazz RS isn't without its charms either but it launched three years ago. The main active safety system is city brake assist, a low speed collision mitigation system. Otherwise, passive safety spec is similar to that of Swift, both with six airbags, ABS and ESP. The Jazz alone gets idle-stop fuel saving technology. Each comes with a proximity key, ensuring comfort entry and push button start, fog lamps, climate air, sat nav, a reversing camera, electric folding mirrors, all-wheel disc brakes, hill start control, 16-inch alloys and a multifunction steering wheel. The central screen in the Jazz is a bit mean.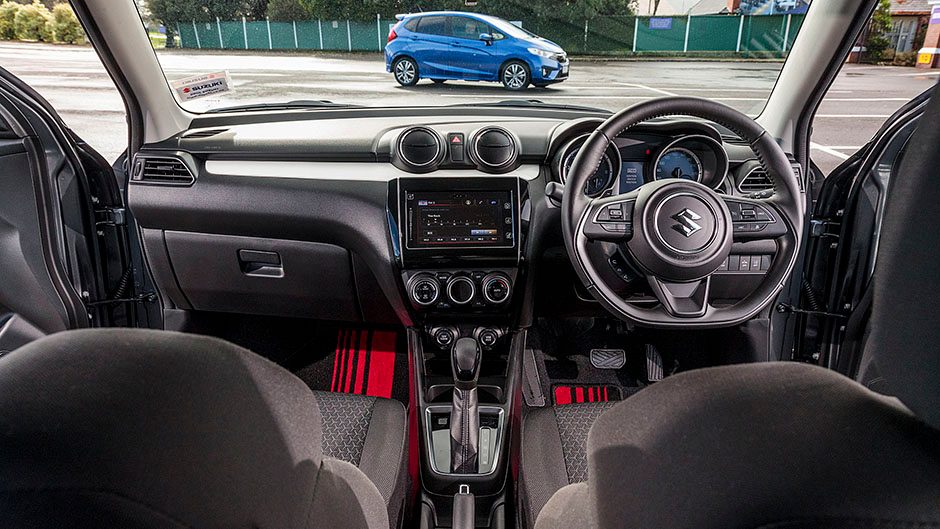 Different strokes
Getting to the heart of the matter, the powertrains. The pair now differs markedly in approach. For the first time (in the modern era) Swift gets a turbocharged engine, the three-potter essentially a scaled down version of the 1.4 engine in the Vitara Turbo. Like Jazz, it features direct fuel injection, and peak power and torque figures are 82kW and 160Nm, the latter from 1600rpm. The naturally aspirated 1.5L four of the Jazz, which features different cam profiles for high and low rev operation, develops 97kW of peak power, and 155Nm of torque at a much higher 4600rpm. Power to weight figures of 11.1 and 11.7kg/kW favour the Honda.
And that's how it pans out in acceleration. The auto in the Suzuki isn't as snappy on the upshifts as the slick Jazz manual so a 0-100km/h time in the high eights compares with mid-9s for the Swift. However, the gap narrows for the overtake with less than 0.2sec in it. There's little difference in stopping prowess, both with figures in the 36m area, and average in cabin SPL figures are in the 71-72dB range for each.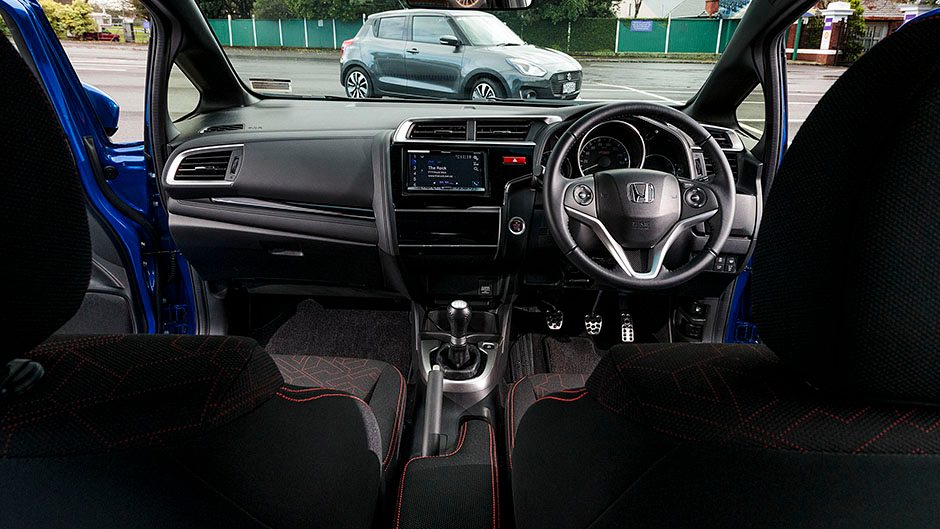 Strong midrange, meagre fuel use both
To drive, they both deliver RS junior performances. The Jazz manual transmission is almost MX-5-like in character, full of feel, speedy, and it never baulks. Clutch operation is lightweight and the uptake point exacting. For the handful of manual diehards out there this is sweet, the taste soured slightly by a tendency for the engine to hold revs during upshifts. Gearing is also quite low in top, meaning the intervening gears are close ratio. It's not labelled RS for nothing.
Both vehicles have mean fuel use figures rated in the low 5s; trip data saw ranges of 4-7L/100km from both units. Not often you can say that a turbo matches an atmo mill for fuel use but displacement of 50 per cent less explains that.
They each have decent pull from down low, hauling away merrily from 1500rpm at town speeds, and from 2500rpm or so in rural running. Helping the Jazz is lower overall gearing, 100km/h bringing up 2900rpm in top. Best performance resides above about 3500rpm, the four developing a bit of a snarl as revs rise, and short shifting at 5000rpm utilises the best of its vibrant midrange.
The Suzuki tends to want to slug it out, left to its own devices – which is handy during warm up – but with the paddles available you're never far from a pep-up in performance when it's needed. And then it quickly reverts to auto mode again. Best power resides above about 3000rpm, and engine noise is well muted. With taller gearing there's a gap evident between second and third, but the latter proves useful for hill work in the 80-110km/h area. With 100 equating to 2000rpm in top, speed creep is a bit more of an issue with Swift. The Suzuki has better brake pedal feel but both helms have typically inert electric steering. At least weighting no longer feels artificial in either of these.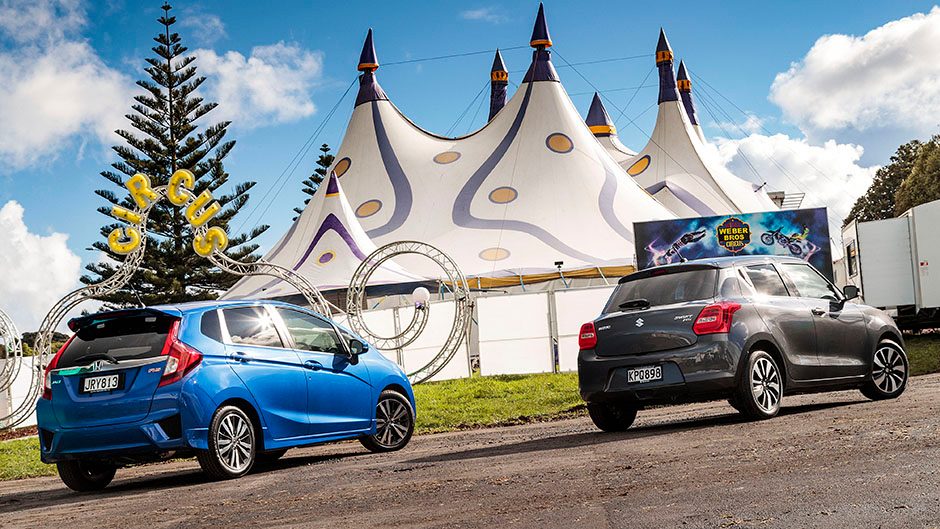 Swift hustles better
Dynamically the Swift RS offers a slightly better balance between ride and handling, the suspension being more compliant than that of the Jazz RS. Both resist understeer well in the dry, and can be hustled along easily, though the Swift always feels slightly more hunkered down than the Jazz. Again, not a whole lot in it, but the added ride comfort in the Suzuki is appreciated. We preferred seat comfort in the Swift too, it also has better ergos; the stop-start button is better placed and trip info easier to access. Its centre screen is bigger too.
It's hard for a three-year old vehicle to compete with something brand new in the marketplace but the Jazz compares well generally, falling down mainly on safety specification. That the Swift RS bests it in most areas except for straightline speed (where it's close) and luggage capacity (where it isn't), and is less expensive (almost $2000 less if you compare autos) gives it the win here. It's a strong contender in the sub$30k COTY category.
| | | | |
| --- | --- | --- | --- |
| Model | Honda Jazz RS Sport | Price | $26,700 |
| Engine | 1498cc, IL4, DI, 97kW/155Nm | Drivetrain | 6M, FWD |
| Fuel Use | 5.3L/100km | C02 Output | 120g/km |
| 0-100km/h | 8.85sec | Weight | 1075kg |
| | | | |
| --- | --- | --- | --- |
| Model | Suzuki Swift RS | Price | $25,990 |
| Engine | 998cc, IL3, T/DI, 82kW/160Nm | Drivetrain | 6A, FWD |
| Fuel Use | 5.1L/100km | C02 Output | 119g/km |
| 0-100km/h | 9.50sec | Weight | 960kg |