Honda's new CR-V arrives packing turbo power and more tech. Can it challenge the SUV front runners? We drive the range-topping AWD Sport Sensing.
Honda's CR-V is one of the original soft-roader set, debuting way back when no-one would think about calling it an SUV. Now, no one really knows what an SUV is, but everyone wants one. While Honda was in early with its CR-V, it's been the company's lone SUV offering in our market until the HR-V came along last year, and the latter's now Honda's best seller. But there's not a lot else. With Kiwi buyers obsessed with SUVs and utes, Honda's overall success is ultimately limited, but a broadening of the CR-V's appeal will help it regain Honda's best selling status here.
Though there are only four models, the line-up is well conceived, and better value thanks to reduced pricing and increased content. CR-V gains a new platform, driveline and tech suite, this fifth-gen model being a little longer, wider and taller, for improved cabin width, rear legroom and boot space. All variants use Honda's 1.5 VTEC turbo, a development of the engine powering the Civic. In CR-V it makes 140kW, and 240Nm from 2000-5000rpm. While it's not quite as powerful as the old 2.4, there's 18Nm of extra torque, and the sum total is all flowing much earlier. In the CR-V, the 1.5 has new pistons to lower the compression ratio, which allows the turbo, with its modified impeller, to run more boost. The intake and exhaust system are freer flowing, the head featuring cast exhaust ports, while piston and exhaust cooling helps manage excessive fuel consumption, Honda claiming 7.3L/100km for front drive models and 7.4 for those with AWD. All CR-Vs get a CVT, while updated is the on-demand AWD. It's now able to send up to 40 per cent of drive to the rears thanks to an improved electro-hydraulic pump which activates the multiplate clutch on the rear diff. The system always activates the AWD from a standing start to ensure traction.
Other mechanical improvements include wider front and rear tracks, along with broader tyres for a better on-road footprint, while the steering adopts Honda's variable ratio rack with its dual pinion set-up to ensure more consistent electric assistance. Agile Handling Assist is Honda speak for brake-activated torque vectoring. Honda has added fluid filled suspension bushings to the lower front control arms and rear trailing arms to help improve NVH, while there's more in the way of sealing and sound deadening too. The styling is familiar but new, the chrome smile of the old model now more of a scowl to emphasise width while the curve of the roof and the glasshouse are not so pronounced.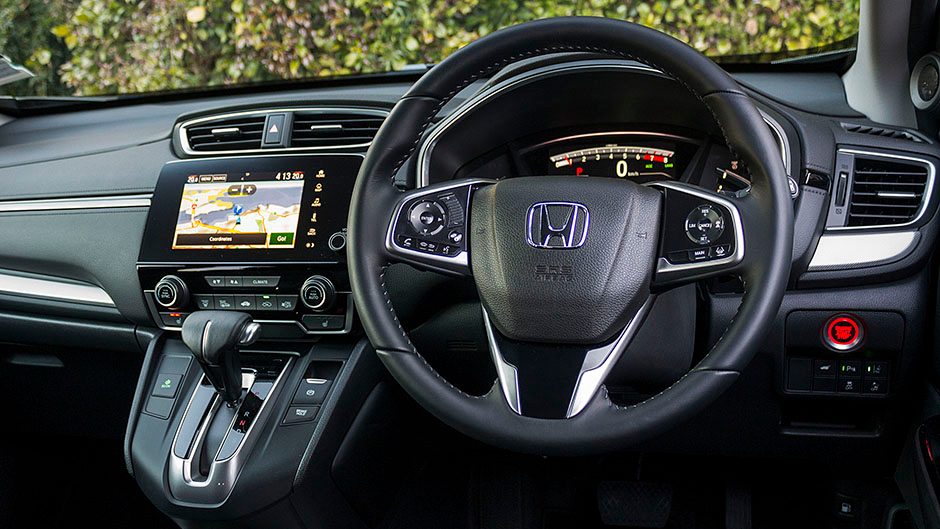 The question is: how does a 1.5 move a sizeable SUV? Thanks to the well matched turbo tuning and CVT, there's enough go down low for mooching through the suburbs below 2500rpm. You'll occasionally feel the need to prod the gas harder to get it moving, but usually 3500rpm does the trick before the CVT settles things back down to well below 2000rpm for steady state cruising.
Overtakes require a flat foot, the CVT responding quickly enough to squeeze the engine for more go. You'll need to extend it past 3500rpm to boogie though, and while it gets a little rowdy, the long stroke engine isn't shy to rev out to 6000rpm. There are no drive modes (save for an Eco button to help conserve gas) but a quick pull of the gearlever puts the trans in its Sport setting, where it keeps the VTEC turbo churning above 3000rpm, which helps response when you request extra go. There are shift paddles too, but we never felt the urge to flap them. Spurred along, fuel use rises into the 12s, but expect an average in the high eights overall.
The CR-V steers in a likeable manner. It's quick ratio is handy both in bends and car parks with just 2.2 turns lock-to-lock and while the assistance and response are sorted, more feedback would be good. CR-V progresses into inevitable understeer when you probe the chassis, but the torque vectoring does a nice job of keeping it on line longer. There's no untoward rolling or pitching and while progress remains smooth, CR-V won't challenge the CX-5 for dynamic honours in this class. Any suspension clunking is well suppressed but some road roar is evident on coarse chip. Roaming off tarseal, it mops up most of the corrugations and potholes on gravel, the ESP quick to calm any slides on the loose surface, but the traction control is best switched out on the beach; a little wheel slip helps in the sand and it can otherwise slow things right down to a crawl.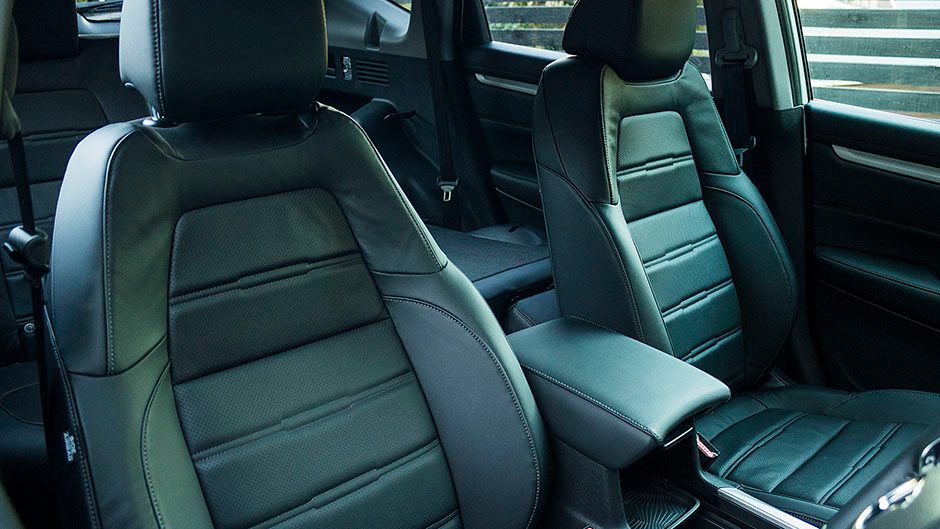 Back in the bustle, this Sensing model has all the safety helpers using camera and radar tech. The active cruise operates in crawling traffic quite well yet won't keep your speed in check when descending a hill. The lane keeping system will steer you back straight if you wander out of your lane, and it gives the wheel a little wiggle to wake you up. But it also tries to drag you back across the line when you're merging from a slip road; you either need to remember to indicate always, or turn it off. All this stuff however is only available on the top model with AEB a glaring omission on the lesser models.
Apart from the fake plastic stitching on the dash, the cabin should please. The instruments are much like the Civic's with a speed readout, a strip tacho, and a large display for the trip information. The seven-inch touchscreen has a vibrant resolution and is both Apple and Android ready. While it's an improvement on the system used in the Civic, it takes a few too many touches and confirmations to get things done. At least it has a proper volume knob, and while the sat nav is integrated, the Garmin graphics seem cartoonish. You can of course circumvent it all by plugging your phone in. The seats have American frames in mind being wide and comfy but the steering wheel could do with a wider range of adjustment to help find a better driving position. There's no lack of useful storage though with a big centre bin and door pockets and plenty of USB charge points too.
A longer wheelbase adds legroom in the rear, though the panoramic roof robs headroom in this model. Still, it's otherwise roomy, the seat is soft and reclines for added lounging. The rear doors open up wide where space allows, although the middle seat belt hangs from the roof rather than the seat back where it should be. The powered tailgate is slow in operation but the space inside is well shaped and plentiful, and expands easily via remote levers, the seat base sinking down to allow for a flat load area. There's a full size spare under the floor too.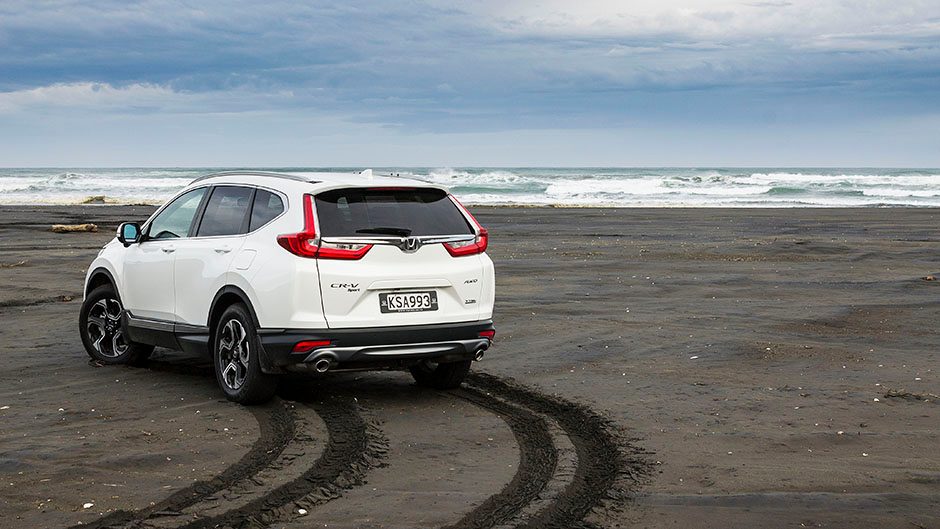 As to the model mix, the 2WD Touring at $37,900 (AWD version is $41,700) is $1000 cheaper than the old 2.0-litre S, with better power and torque, and improved economy. Standard on all models are 18s, front and rear parking sensors, the powered tailgate, smartphone integration, Garmin nav, a reverse camera, smart key, dual zone and cruise. The 2WD Sport 7 is $44,900 and adds leather trim, heated and powered front seats, a panoramic roof, climate control and seven seats. The Sport Sensing (five-seat, AWD only) as tested is $47,990 (previously $55k) and gets the lot with LED lights and the Honda Sensing safety features. All come with the added peace of mind that Honda's five-year, unlimited kay warranty affords.
Honda's CR-V has always been quite good at most things, and this model continues in that regard. That it's better value than its forebear and many of its key competitors should see it sell well.
| | | | |
| --- | --- | --- | --- |
| Model | Honda CR-V AWD Sport Sensing | Price | $47,900 |
| Engine | 1498cc, IL4, T/DI, 140kW/240Nm | Drivetrain | CVT, on-demand AWD |
| Fuel Use | 7.4L/100km | C02 Output | 168g/km |
| 0-100km/h | 8.84sec | Weight | 1608kg |