In a sanitised world, Suzuki is sticking with a rugged approach for its new Jimny Sierra, a 4×4 that's as tough and capable as it is cute and teensy.
With every new model launched, car makers like to lay on the tech advances. That's true even for cars on the affordable end of the spectrum. Like Suzuki's Swift, the range topper with a peachy turbocharged engine, a six-speed auto and a decent lashing of active safety that embarrassed a few higher priced Euros when it launched. So on paper, Suzuki's new Jimny should be a sales disaster.
Imagine marketing a vehicle with three-doors, a four-speed auto and a three-star NCAP crash rating. But the Jimny is a unique little jigger. Some say safety sells, but Jimny's rating is proving no hindrance to sales here. Suzuki can't spit them out fast enough, with every example they can make having been sold. Place your order now and it'll likely be Christmas before it'll turn up. It's been 20 years since Suzuki did a new one of these and many things remain true to the original.
Despite a rapidly urbanising world, Jimny remains an SUV in the traditional sense. Everything is new, but the song remains the same. It rides on a full chassis with solid axles, coils and control arms at both ends. Steadying the ship is a sway bar up front and a panhard rod on the rear. It has superb off road credentials with approach and departure angles of 37 and 49 degrees, respectively, the ramp over angle is listed at 28 degrees, and there's ground clearance of 210mm. Jimny is still a wee thing, and is now actually 30mm shorter than the old one.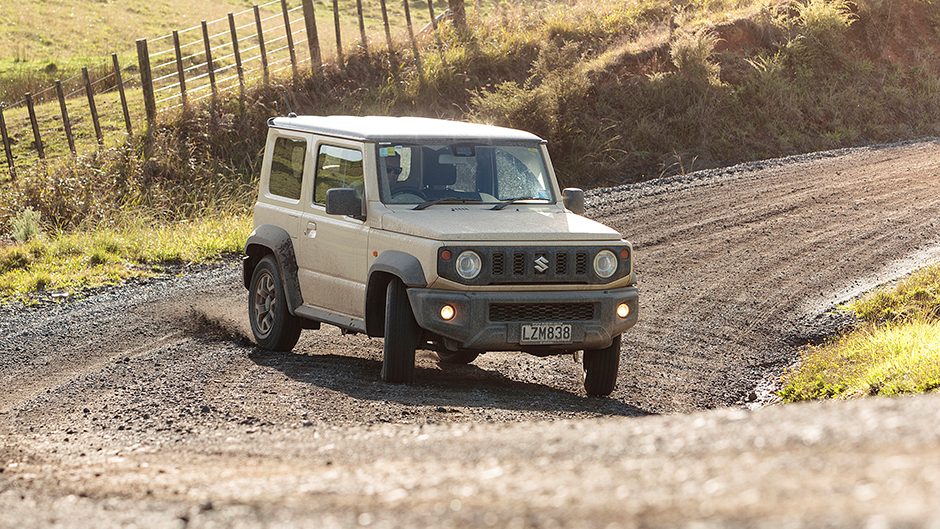 The wheelbase is unchanged but it's 45mm wider, and 40mm taller. The four-pot petrol is still facing north in the engine bay, but it's a new 1.5-litre unit delivering 75kW and 130Nm of torque at 4000rpm. It sends drive rearwards via a five-speed manual, or a four-speed auto. Switchable 4×4 is still on the menu, slipping into 4H on the go up to 100km/h and there's a low-range. There are no diff locks but rather brake-activated traction control which nips away at spinning wheels. And so this still goes bananas in the rough.
The Jimny's petite dimensions and accompanying lightness (just under 1100kg) are a boon off-road. With minimal overhangs, it can bump up and over decent obstacles and apart from the deep ruts, it has plenty of clearance too. There's grand articulation considering its short wheelbase and it takes bumpy paths in its capable stride. Its ability to turn around in tight spaces is handy, and the driveline doesn't bind up nastily on full lock when in 4H mode.
Lean out the window and you can see exactly where the wheels are heading, making it easy to place. It chews up gravel roads, the suspenders smoothing ruts and the stability control not too fussed over the loose surface. Until you try to 'hang it out' that is, when it's on the case quickly. Hoons won't like that you can't fully disable the electrics either, reactivating above 40km/h, but that's today's H&S-obsessed world, we guess. So does such a utilitarian approach still have merit in today's automotive landscape?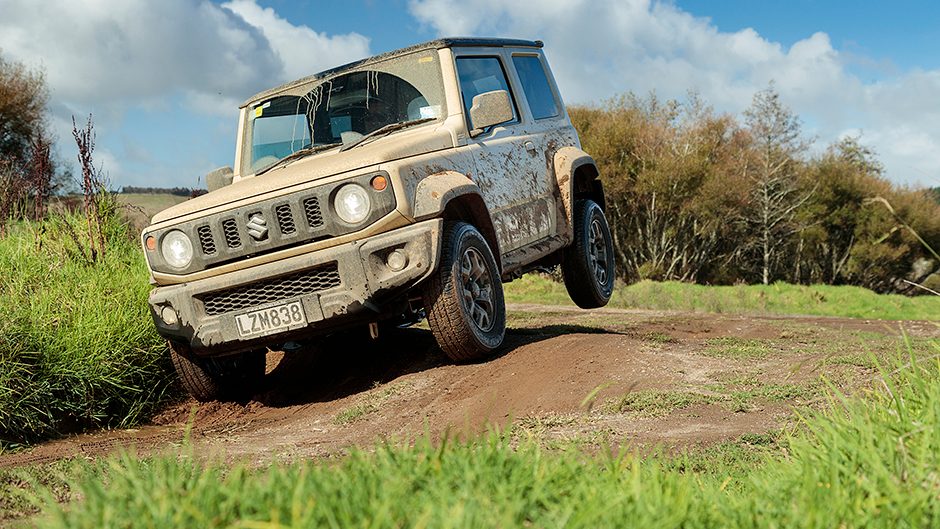 A cynic would argue in the negative; a modern approach is more refined, spacious and able on-road. But that's forgetting the Jimny is designed for a life off-road. It's just that most choose it as a town car. And this is better on road than we remember. The Jimny's suspension is strangely competent for what it is. It's softly sprung so the round-town ride is actually okay, and at open road speeds too. There's a nip of the usual solid axle jiggle, you just can't isolate that, but it's not annoying.
On city streets, most decent lumps are soaked up but you'll need to cool the approach to speed humps as the front end can crash over these. In the boonies, the turn-in is dulled with a generous dose of roll and sidewall flex, the tyre squeal a good indicator of cornering hooliganism. The steering is well isolated and with four turns between the stops, it's slow to boot.
Expect it to dive like a dolphin under brakes, and take more road than usual to stop. So it's no back road warrior, and with a four-speed auto, it's buzzing away at 3000rpm at 100km/h. Still, it's quieter than we remember the old Jimny being at such speeds, the driveline with only a slight whir and there's much less road and wind clamour.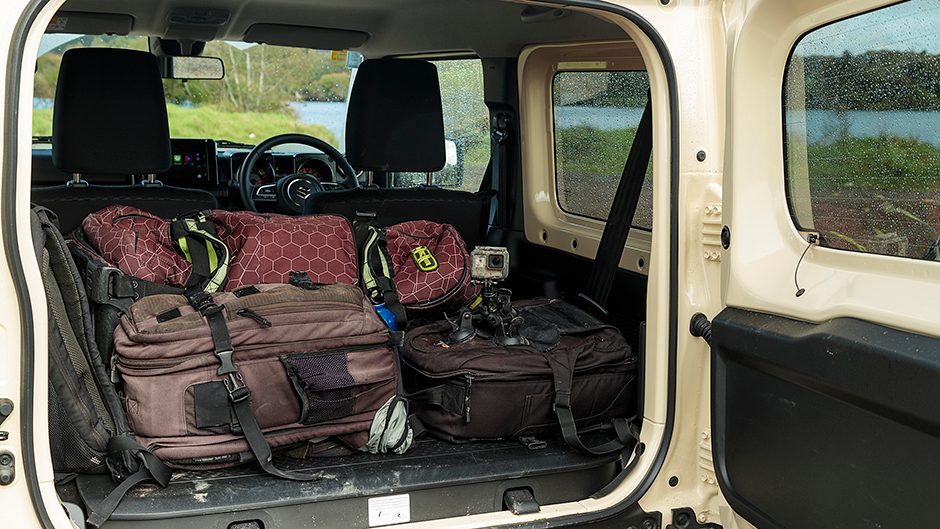 We can't remember the last four speeder we drove and above 80km/h the gaps are fairly yawning by today's standards when six cogs is really the least anything should have. And yet in urban running the Jimny goes okay. It gets off the line smartly, the auto quick with the changes both up and down the ratios. While 6.9L/100km is the claimed average for the auto, the trip computer for our tester was reading 8.9 for a mix of motorway and urban driving, with some low speed off-roading thrown in. Its redeeming features as a city vehicle include its sound all-round vision, a slightly elevated driving position, small dimensions and a good turn around.
This is about the same as a small car, but if you run out of space you can just mount the kerb without worry as it's a tough little nut. It's Jimny's unique styling that wins it the fans. The throwback styling to the Samurai is beefed up with the wider stance and flared arches, giving it mini-Land Cruiser 70 appeal. And it looks military grade in this desert storm hue. As to that safety rating, the three stars have more to do with not so great results for pedestrian protection and active safety features. Jimny does receive AEB and lane departure and weaving warning, high beam assist and six airbags with a full length curtain bag.
While there's more plastic in the interior than in your tupperware drawer, it suits Jimny's utilitarian character. It's screwed together tightly and there are no sharp edges about. After bumping it around for a few hours in the rough, the cabin remained squeak free. Just the basics of modern motoring are present; remote locking but no smart key, and Suzuki's simple but easy to use sat nav infotainment with smartphone hook up.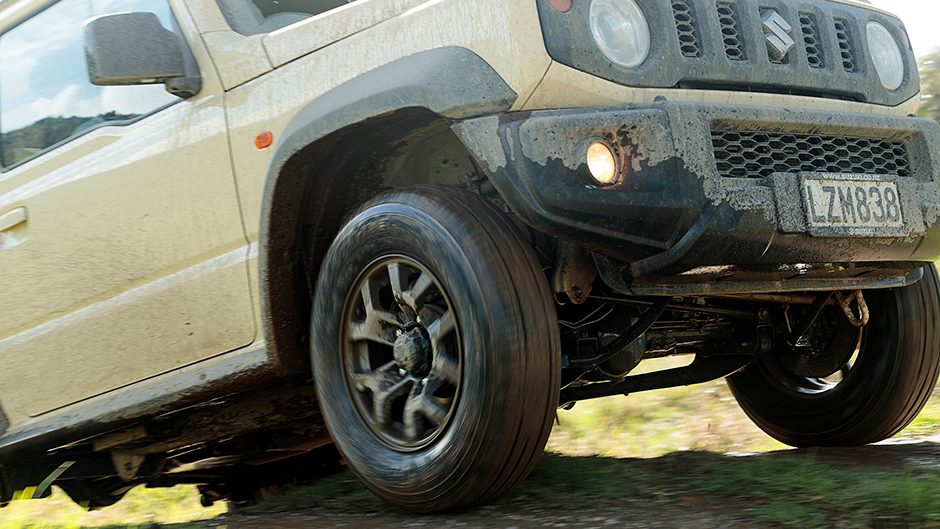 A reverse camera didn't make the list, nor any reach adjustment for the steering wheel. Storage is pretty scarce with a small glovebox, no centre bin and the door pockets are good only for an empty A4 folder. There's the usual SUV ease of access to the front seats, and these slide forward far enough for reasonable entry to the pair in the rear. Another retro-cost cutting feature is the exposed tin in the back, where there's just enough space for two adults thanks to your feet being able to slip under the front seats.
Leg room is passable, and there's headroom to burn. With both seats in use, you'll fit a couple of backpacks in behind, as long as you haven't overstuffed them, but in reality, there is no boot space. The rear seat splits 50/50, and will likely spend its life folded flat, where there's 377L offered with the seat backs lined in hard plastic for durability and ease of cleaning, we suspect. The side-hinged tailgate is another retro cue but there's a reason most open upwards as this yesteryear aperture is impractical; it won't stay open when on certain inclines.
Jimny's great redeemer is its price tag, the manual at $25,990, the auto $27,500 while the black roof option adds $500. For all of the Jimny's foibles, it remains a charmer, and is superb at what it's been primarily designed to do.
It'd be a great thing to go adventuring around the less travelled corners of the country, at a sedate pace. It also works as an urban warrior, but there are better, if slightly staid, and generally more expensive solutions out there.
| | | | |
| --- | --- | --- | --- |
| Model | Suzuki Jimny Sierra | Price | $27,500 |
| Engine | 1462cc, IL4, EFI, 75kW/130Nm | Drivetrain | 4-speed auto, switchable 4×4 |
| Fuel Use | 6.9L/100km | C02 Output | 158g/km |
| 0-100km/h | 12.95sec | Weight | 1096kg |