The X2 M35i represents the high ground for BMW's compact crossover. With sports suspension and a hellfire 2.0l turbo engine, this is unstoppable.
Towards the end of the last century, any BMW with the 35i suffix was likely to be powered by a 3.5-litre inline six. BMW didn't do too much turbocharging back then; nothing would sully the pursuit of instant throttle response. Then it did of course, and the 35 badge came to symbolise a 3.0L six with a blower. However, now 35i is used on the most potent X2, which has a four-pot 2.0-litre turbo. The point is, numbers as suffixes haven't indicated displacement for ages. Rather, they suggest engine potency.
The M35i 2.0L mill makes even more power than the big inline six used by BMW's 535iS from the third generation 5 Series in 1988. Back then that was pretty stroppy. We took the 535iS up to Kerikeri for a memorable weekend away. Not for the reasons you may be thinking though.
Microwaves were somewhat new and I tried to soft boil an egg in one. Upon removing it from the machine and tapping the shell it exploded and showered the motel room in micro-sized pieces of burning egg. Bit of a learning experience that. My partner had a stint behind the wheel of the 535iS. I recall her being shocked at how fast it was, how easily it exceeded the speed limit without you being quite aware of it.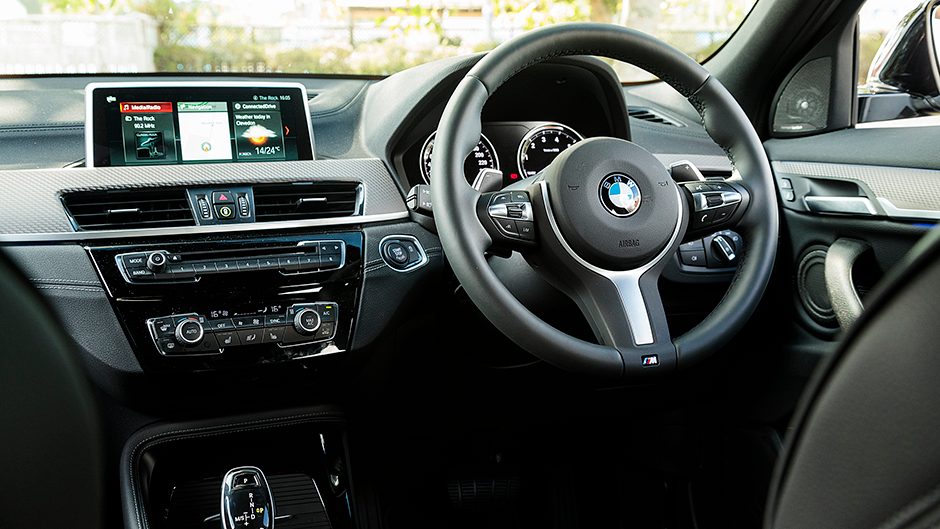 Power to burn
Er, this is no different. The engine in the X2 M35i creates 225kW and 450Nm, way more than the 535iS. Where will it all end for 2.0 turbos? There's heaps to go! As an indication, BMW's ringed archrival recently produced a new 2.0TFSI race car engine that produces in excess of 450kW and 650Nm. But then BMW wrung 1100kW from 1.5-litres in the height of the F1 turbo era. So engine aside, what is the X2 M35i? Evidently 'the most powerful compact Sports Activity Coupe'. Guess they haven't heard of the AMG GLA 45 then.
The X2 they say is aimed at a younger target market, and is built on the bones of kissing cousin Countryman, using the UKL platform and transverse engine layout. Pick the range topper of the X2 series by its Cerium Grey mirror caps and kidney grille surrounds. So too the tailpipes and there's an M rear spoiler. It's a proper looker.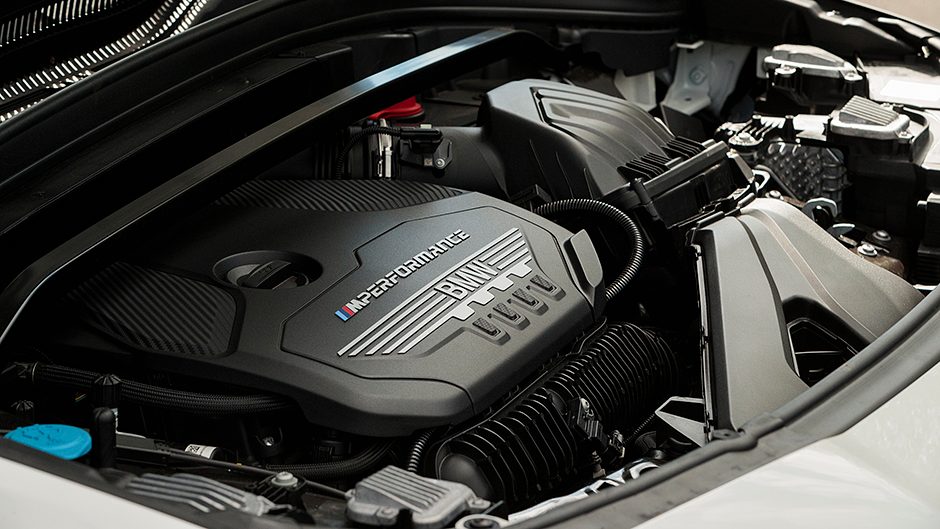 More M beneath
Under the skin, it's also M-ified with sport suspension (fixed, lowered by 10mm, and with firmer springs and dampers) along with an M Sport differential on the front axle, another first from the division.
The M35i comes as standard with on-demand four-paw capability in conjunction with an eight-speed automatic transmission that includes paddles and launch control. Evidently it can scramble to the open road limit in just under 5sec. The Torsen-based locking front differential acts to reduce traction losses on the front wheels, and minimise torque steer. We found it worked best after giving the ESP button a brief push, which brings up Dynamic Traction Control.
There's just the occasional tug at the wheel on your way out of a corner as the tyres scramble for purchase. The braking system has been beefed up too and while initially quite brisk into action, this seemed to ease as we drove the vehicle. Perhaps no-one had given them a proper workout prior. Also fettled is the steering system, to convey more immediacy. You can tell it's electric by the weighting but this form of steering just continues to improve.
In Sport mode it has good heft, a little less in Comfort mode for round town. It's a bit good. And on driving modes, Comfort is perfect for city work, plenty of oomph from 1500rpm or so and a gear for every moment. Out of town you'd not think of ignoring Sport mode. Dial that up and the exhaust gets all edgy while the real output becomes readily apparent.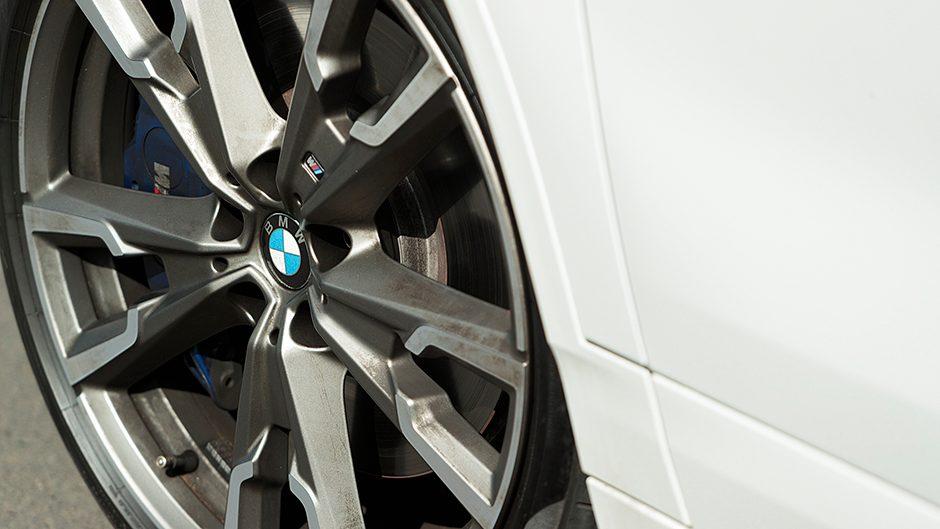 Launch party
Set everything to Sport, back off the DSC, and launch control activates. Upon releasing the brake, it explodes away from standstill. After a couple of these it takes a breather, and without the bank robbery programme any 0-100 time is about 0.7sec slower. The last X2 we drove had a 2.0L turbopetrol as well, and with 140kW and 280Nm, the front driver managed a 6.9sec sprint with a 4.8sec overtake.
Despite this being almost 150kg heavier, it blitzed that, as it ought to with so much more output, just edging under its 4.9sec claim and an overtake requiring a bit over 3sec. Worst fuel use? Only 12L/100km. There's so much torque down low and across the midband that you don't really need to use the S transmission setting, except when a hasty overtake is required. Ditto for the paddles. Just stick the engine in the Sport mode and let the 'box do the rest.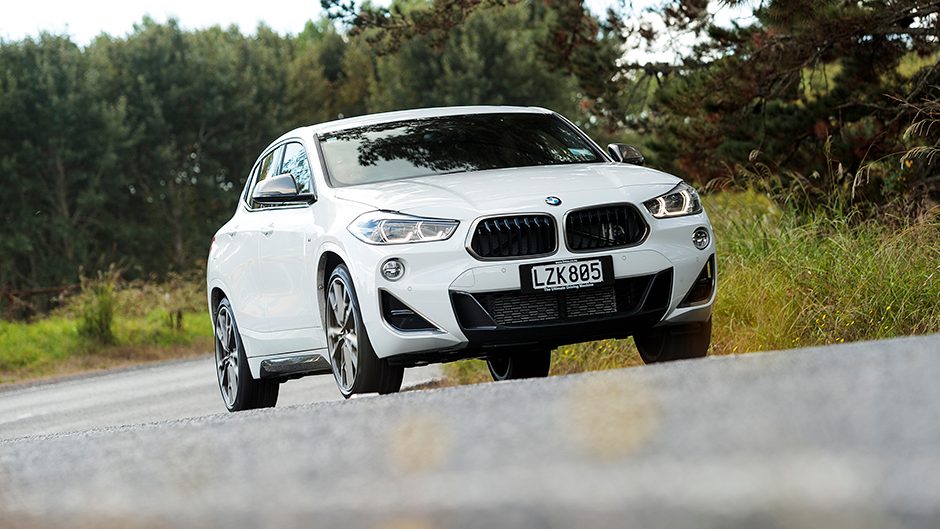 Corners carved
The speed is quite something, but the dynamics are almost more noteworthy. With DSC in the dynamic setting, this arcs through corners like a champion, the 58/42 weight split no impediment whatsoever to hasty progress. It likes to dive in a bit hot under brakes and then whooshes out on the turbo, the fronts scrabbling to haul it away from the corner, the rears, which only ever get 50 per cent of drive max, giving a bit of a shove for good measure to help tighten the line. Modern AWD systems are rather trick. This is as quick mid-corner as many capable hot hatches.
The only real downside is that to keep body control nailed, the suspension is pretty firm, ride not enhanced any by the fitting of standard 20s with low profile rubber. These also make a bit of a din over the usual ratty chipseal surfaces (mean of 74.5dB at 100). No doubt the adaptive damping option sorts the former.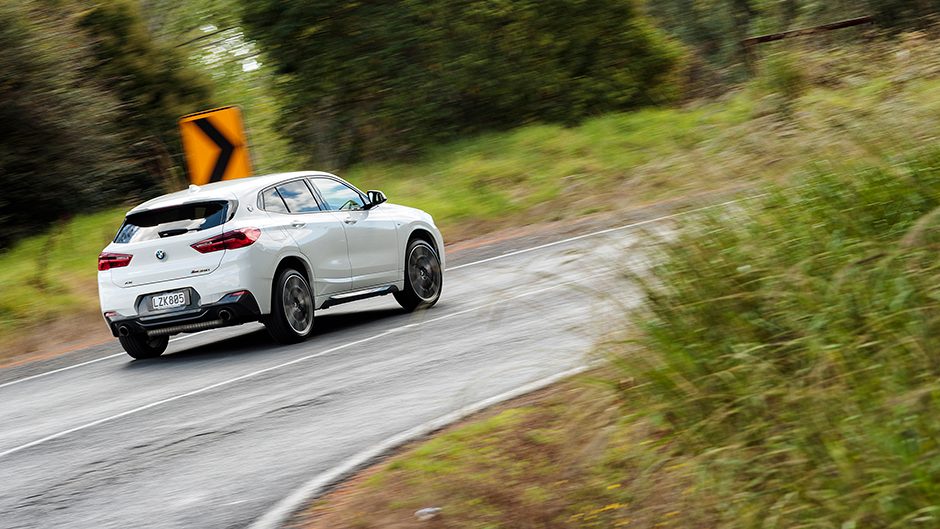 More M goodness
Other M sporty items include full LED lighting for the main headlights and fog lights, and the M sport exhaust system with its two 100mm diameter tailpipes. That's initially how we determined this was not a V6 of 3.5L displacement but a rorty 2.0 four-cylinder turbo instead. Rounding out the M35i package are M Sport light alloy wheels shod in PZero rubber. Inside, the M sport theme continues with powered and heated performance seats, offering adjustable lumbar and bolster support at the push of a button.
There's also a thick-rimmed (but not too thick) M Sport leather steering wheel while metal scuff plate trim identifies the vehicle as "M35i". On the safety and technology fronts, there's a full-colour head-up display incorporating traffic sign recognition, and driver assistant systems, like active cruise with stop-and-go function, always handy on the always jammed motorways.
For the extra performance over the front driver X2 sDrive20i, you pay an additional $19k, but you also get more specification, like the big alloys, smart key, a panoramic glass roof that doesn't seem to rob the back seat passengers of head room, a better infotainment system and dual zone air. Others had mentioned how much fun this was and they weren't wrong.
While it might not be the ultimate riding machine, it's up there as the ultimate driving machine, if you're after a compact AWD urban five-seater tearaway. Those in search of a premium hot hatch now have a high-riding alternative.
| | | | |
| --- | --- | --- | --- |
| Model | BMW X2 M35i | Price | $89,900 |
| Engine | 1998cc, IL4, T/DI, 225kW/450Nm | Drivetrain | 8-speed auto, all-wheel drive |
| Fuel Use | 7.4L/100km | C02 Output | 168g/km |
| 0-100km/h | 4.88sec | Weight | 1679kg |