It's back, after a lengthy development period, yet with the same motor, frame and a similar look. So what's up with the new Hayabusa?
Suzuki's Hayabusa (Japanese for 'falcon') is a bit of a legend. It was the first of the hyperbikes, a groundbreaker by embracing aerodynamics and the first production motorcycle to top the 300km/h mark. That was the original and subsequent versions have been limited to 299km/h, so in terms of collectables it's the first one that brings in the big bucks.
Anyhow, it's now into the third generation, mandated as much as anything by emissions rules in Europe. The previous generation launched in 2007 so it is, as they say, long of tooth.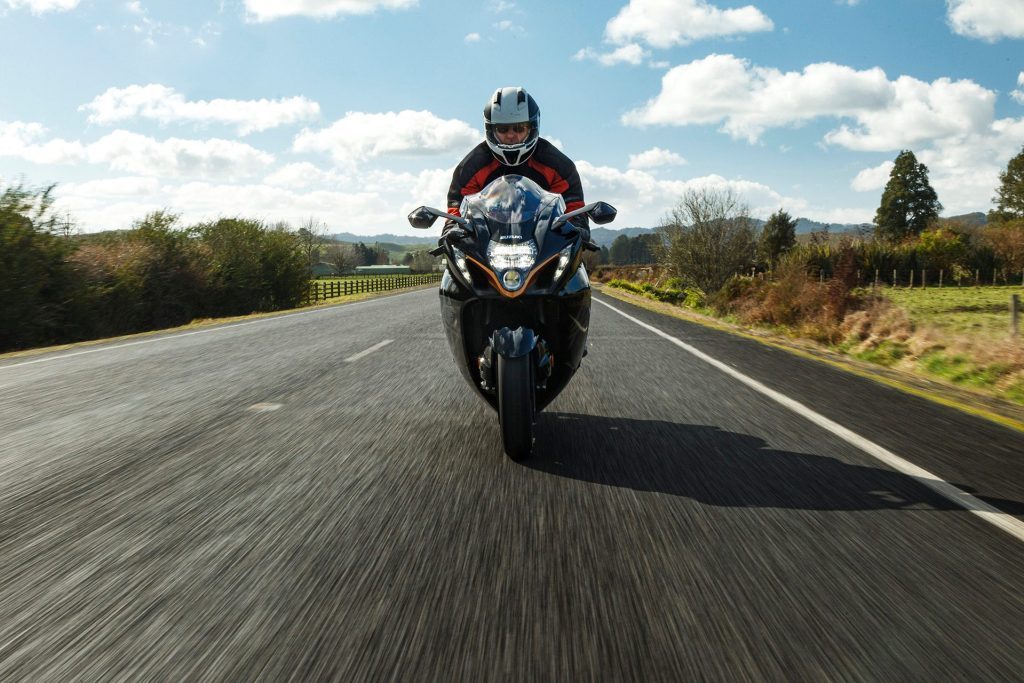 So what's new for the latest generation? They've kept the overall look of the original – you'd not mistake this for another machine – but new lights give it a more modern appearance. Funnily enough, there's an all analogue instrument set, our sample unit a UK model with mph dominating. Our model will have km/h front and centre.
While the engine is the same in terms of capacity and the like, it's now cleaner, stronger (in durability terms) and features enhanced electronics to optimise performance. It is Euro5 compliant, and said to be smoother.
A new mode selector offers three factory presets, (A, B, C), and three user-defined groups of settings (U1, U2, U3). We messed around with the letters for a bit but quickly stuck with A which gives the best engine response.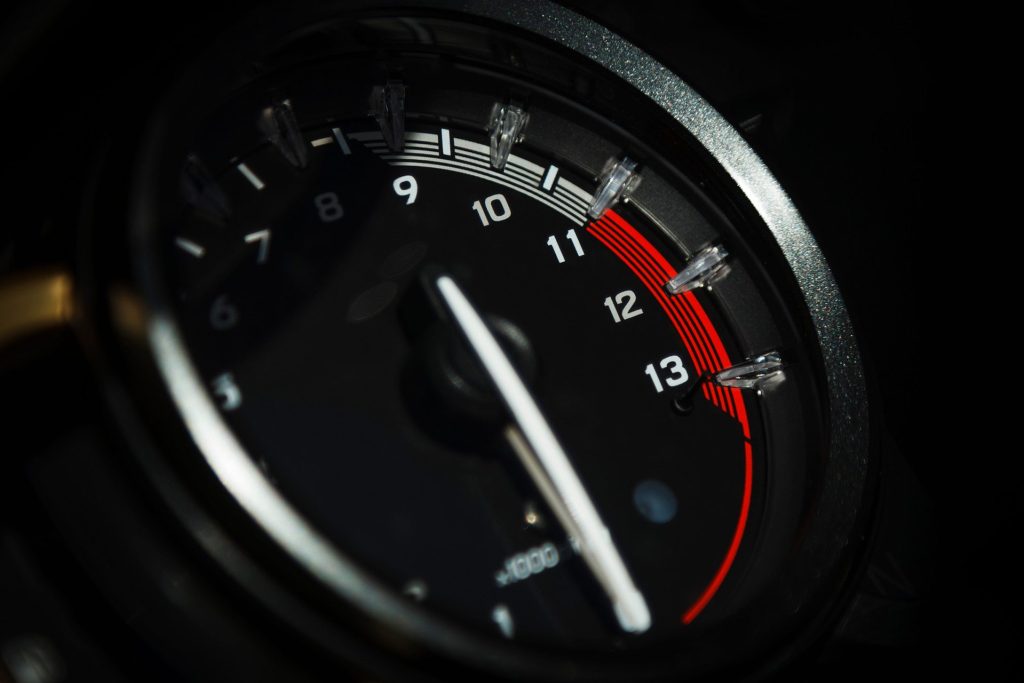 This has a six-axis inertial measurement unit (IMU) monitoring pitch, roll and yaw and when combined with readings from wheel speed sensors the bike has anti-lift control, corner traction and braking control systems, along with engine brake control. There's also a bidirectional quickshifter, with race or smooth modes, and launch control, with three presets at 4000, 6000 and 8000rpm. We clean forgot about this but they seldom give better acceleration results. So we just launched it like we normally do, TC off and the right amount of gas for a clean leap out of the blocks, hopefully without it looping out.
There's also a speed limiter, handy to have, and cruise control, the latter for some reason we couldn't seem to activate, not for lack of trying. Other standard fit items include an emergency stop signal, rear wheel lift mitigation, lean angle indicator, LED headlights and a hill holder.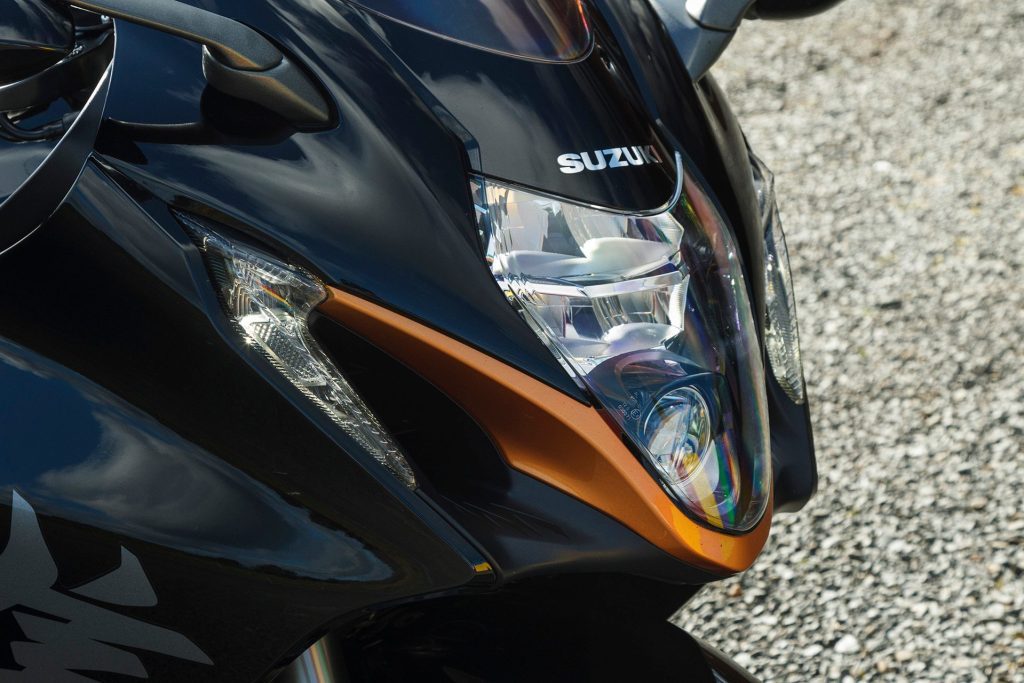 Engine down on numbers but…
Changes to the 1340cc IL4 engine aim to reduce the weight of moving parts, improve combustion efficiency and optimise low-to-midrange grunt.
And there's a bucket, no, a vast pool of that. This will slope about urban streets at less than 50km/h in sixth and then pull away without hesitation. It's liquid smooth too. As is the transmission; we used the quickshifter going up the box, and the new slipper clutch going down. The changes are super-positive, neutral never hard to find and no clunking into first either.
The familiar Busa twin-spar aluminium frame and swingarm returns but it's no lightweight, tipping our scales at 262kg.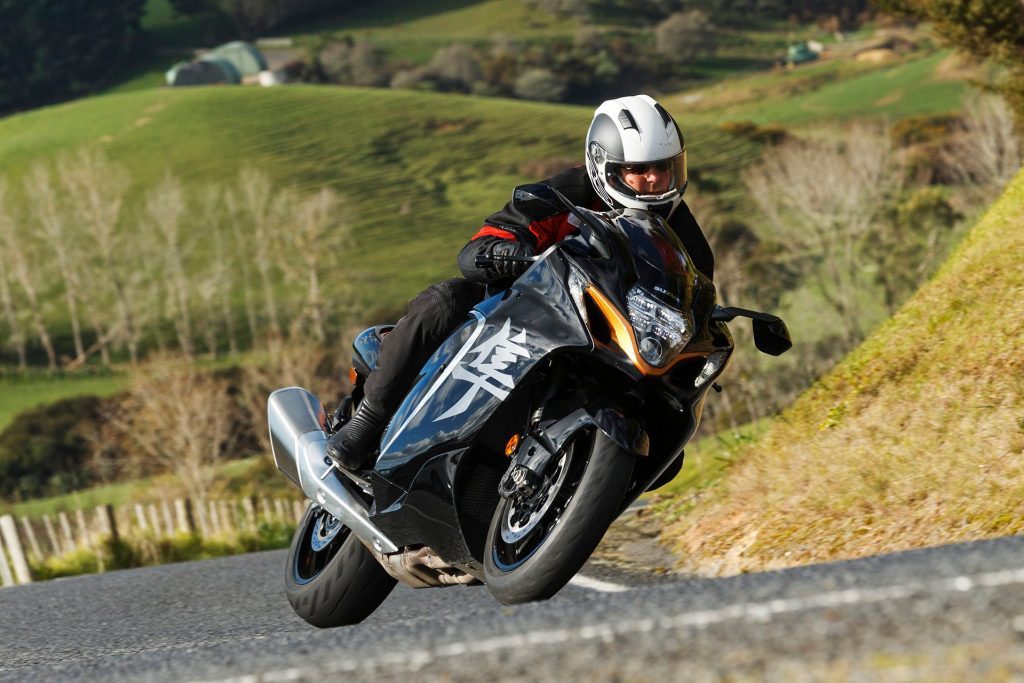 Suzuki rates the handling as "nimble" but we'd query that, especially after just having jumped off of the S 1000 RR which redefines the term for a litre superbike. Its steering is still somewhat slow and at first we kept running wide of the optimum line. But with the Busa, you need to apply plenty of body english to the bars. Instead of just pushing in the direction you wish the bike to go, it's better to push on one side and pull on the other to give added leverage and accuracy. And then this gets through corners rather well, especially for a longshanks of a machine. So it flows down the road in a way that people who have a thing about sports tourers will understand. Once you've got the added countersteering input sorted, this leans over nicely and holds a line like a shipwrecked passenger. And that isn't the best aspect of the Busa on the run. And no, it's not its sheer speed either but its cushy ride. We didn't go near the fully adjustable front or rear ends – it's just plush and controlled as is. And you can't say that about too many sports-oriented bikes.
A pity then that I was still recovering from my stint at the helm of the S 1000 RR. Those with neck issues should probably not apply for either machine. The Suzuki is not quite as demanding of a young and supple body as the BMW and its seat is second to none comfortable. But it's still a bit of a stretch to the bars, despite them being set 12mm closer than before. Fortunately, the pegs are set reasonably low. Most will find the riding position appropriately sports tourer fine.
The aeros are evident here – it's ultra-stable at warp speeds and you get up to those post-haste. We weren't expecting hellish acceleration here, given the last Busa we performance tested didn't post great numbers. And this one was no lighter, expect perhaps for horsepower (down from 194 to 187) and torque down similarly to 150Nm at slightly higher revs.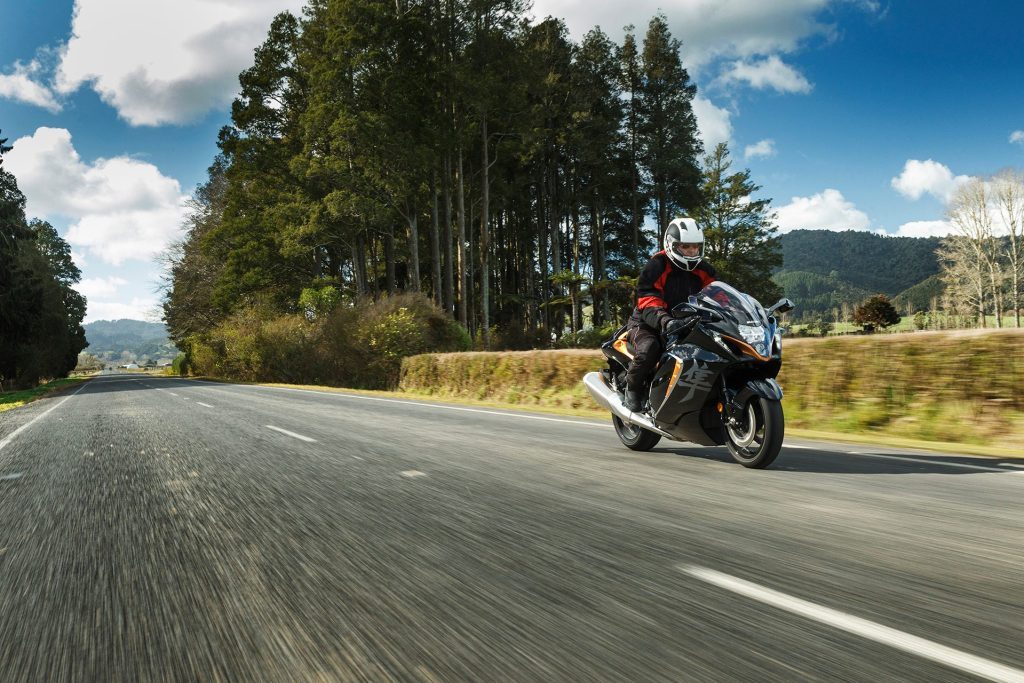 Quicker out of the blocks
Whether it's the new clutch or the beefier mid-rev torque or a combination is unclear but straight off the bat this posted a 3.12sec run, and followed that with a 2.90 second result before finally delivering a best of 2.7 sec. Most overseas testers reckon on a figure of just under 3sec. The fact that we got two runs convincingly beneath 3sec confirms it as a bolter. It actually makes it our fastest bike ever using this criterion. However, that doesn't necessarily translate to its overtaking time, but a 1.3sec 80-120 effort you'd not sniff at, enough to ease past everything on four wheels comfortably, and most everything on two. That said, most of the time you'll be easing along in top everywhere, firing up hills from stupid low revs. The other five gears are just there for getting to top.
As to braking creds, we got a best crash stop of 38.81m and anything under 40m for a bike is pretty decent. These big radial Stylema (Brembo) stoppers act on bigger 320mm rotors and pull the bike up well, something folk complained about with the original.
Though most people probably won't care, for the record on the flat at 100km/h this uses up 3200rpm in top and 5.3L/100km of fuel. We found it's natural cruising gait was 110, still under 4000rpm. It's cute mirrors produce nice clear images too.
At $28,999 it has risen a fair wedge in price but then it has a more comprehensive electronic safety net too. It's still about $1000 less than a ZX-14R and way beneath the H2 SX SE at $48k. Owners of older Busas should really like this – it's much the same fundamentally as before, only smoother, plusher and a much better sprinter, and now a consummate two-second weapon.
Model
Suzuki Hayabusa
Price
$28,999
Engine
1340cc, liquid-cooled,
fuel injected, IL4
Power
140kW/150Nm
Transmission
6-speed, chain final drive
0-100km/h
2.70sec
80-120km/h
1.32sec
Weight
262kg