Is there any life left in the big sedan market? Subaru New Zealand reckons it can stimulate some interest with a locally developed STI package for its Legacy RS.
Although big sedans are becoming increasingly harder to move, there remains a staunch buyer base for them. Despite the Commodore as we know it having been laid to rest, some 1700 have been sold this year, and most of those have been the sportier numbers, like the SV6. Subaru is keen to snare a few of those types with a locally developed performance kit for its top Legacy. While the 3.6-litre version of this big sedan might wear an RS badge, it's more Refined and Smooth than Renn Sport. And so, with a few STi additions, Subaru NZ is hoping to enliven its character, ready to counter the new V6-powered, all-wheel drive Commodore which arrives next year. And by that time, the revised Legacy and Outback ranges will be on sale here too, landing in February.
Those with elephant-like memories might recall the limited edition Legacy S401, an STi fettled B4 RSK with improved footwear, stoppers and suspension tweaks, a little more power and a six-speed manual from the WRX. That was a factory job, a limited edition and while this one is similar, it's altogether different. This STi Performance package has been brewed up by the team at Subaru NZ to give the Legacy RS sedan a leg up and, as mentioned, it has its sights on your typical Holden Commodore SV6 buyers. While it's been put together locally, it has the seal of approval from STi in Japan. Under the STi approach, it has been developed using a 'total balance of performance' ideal with additional STi engineered hardware to improve grip, handling, braking and engine output. But don't get the idea this is an all-out STi rocketship in the vein of the WRX STi; it's not intended to be a gung-ho sports sedan but the performance of the base car has been improved in most areas.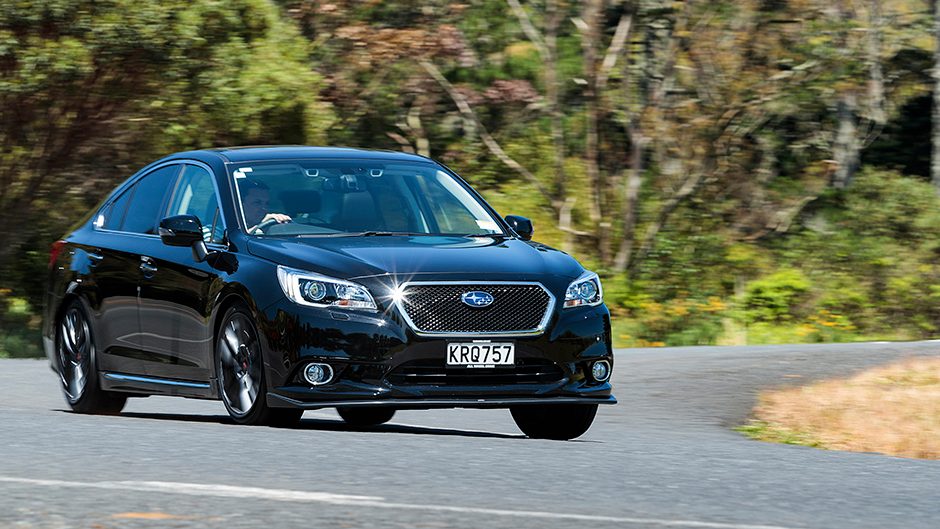 The upgrades include a move to a 19-inch STi rim which is equipped with a wider 245 cross section tyre adding mechanical grip. In behind are STi spec, curved vane, cross drilled rotors that offer better fade resistance and are a little lighter than the stock item, though are the same diameter. The spring and damper rates remain untouched as they wanted to maintain the car's ride quality but they've improved its roll resistance with the addition of a thicker rear sway bar and stiffer bushings to help reduce understeer. There's also an STi flexible tower brace between the front shockers. This is the same item used on the WRX STi Nürburgring 24-hour car. The thinking behind this is that they want the suspension tower to move upward slightly in an impact but not for that movement to be transferred to the other side as it does with a rigid brace. However, you don't want the shockers moving in toward each other which affects the geometry so there's a joint in the middle of the brace allowing it to flex while it inhibits movements from side to side.
They've let the flat six breathe easier by opening up the front end. The new sports grille has a bigger slot up top which feeds into a cold air intake and forms a more direct pathway into the standard airbox. The exhaust gains a larger bore rear muffler, with the all important STi tips. They are quoting a ten per cent power gain, so close to 210kW, while most of the advantage is evident in the midrange to top end but there's also an improved response, as you'd expect from something that's breathing easier.
There's no computer fiddling, so no warranty issues, and the auto used in the Legacy is the same as that in the Levorg, which is good for over 220kW, so no problems there either. The body adornments are limited to the wheels and an STi front lip while inside there's an STi push button starter and gearshifter.
This package has been devised as an optional extra to be fitted at the dealership. It could also be retrofitted to those Legacys already out there. With support from factory around pricing, Subaru NZ is hoping to offer it here for circa $7000. To gain the approval of STi Performance and enable them to put that badge on the boot, the car has been locally verified with dyno running and track testing to compare acceleration and g-force numbers of the enhanced package against the standard car. The results show a gain right across the board. They tried a few different tyre combinations, including the Advans from the WRX STi, but found these were a little too aggressive. So it wears Yokohama's second-rung sports tyre, which is oddly named BlueEarth, but it's certainly no ecotread.
While the project is a bit of a branding exercise for STi, Subaru NZ staff are happy as they were able to put a package together that they wanted, particularly around the added grip and cornering confidence. And the plan is do a similar thing with other models, like an Outback STi for those who want something a bit different.
So, how does this Legacy STi go? The standard model we timed at 7.1sec to 100km/h and 4.35sec for the overtake. While the liberated version is only a mite quicker to 100 at 6.9sec, it recorded 80-120 runs in the 3.9sec bracket, highlighting the mid- to top-end gains. While there was no difference in ultimate stopping distances with the wider rubber and rotor upgrade, their performance didn't wane and lord knows we did try.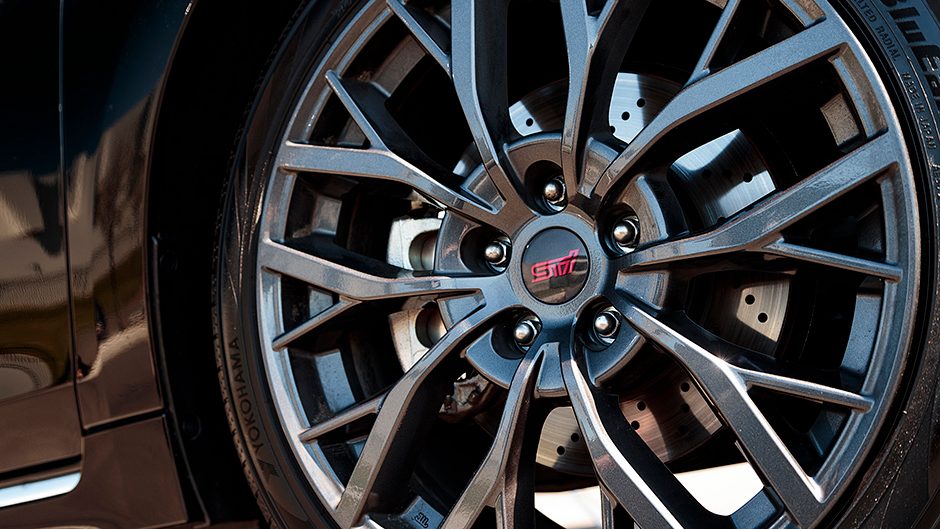 The main handling difference is a better resistance to understeer. Last time we were at the wheel of the RS, we noted 'a tendancy toward understeer' but this has been largely tuned out. The steering has a good feel for the action and Legacy builds nicely to the limit, demonstrating a firmer resistance to running wide when pushed through a few of the more testing corners on our drive loop.There's a better check on the rear end roll too which lends to a faster reacting front end through switchback corners. The grip levels are enhanced with the wider, sportier rubber (standard are 225/40R18 Dunlop Sport Maxx) and it hangs on in there through the turns. And yet it still rides well, soaking up the bumps along the way and is a calm city commuter.
It's a car competent at both relaxed cruising – the tyre roar isn't a concern on coarse chip – and is also now more satisfying to thread through a few corners. It can carry good pace through bends and, while the six isn't a powerhouse, it has enough to slip past slower traffic when it's required. The CVT is silky in everyday operation, smooth on the take up and quiet too, though it can dither a little come time for cornering action, even in Sport Sharp driving mode. It's better to access manual mode and paddle it, holding it in 'gear' to ensure the engine is whipped up and ready to provide maximum drive off the curve. The flat six needs a good 3500rpm dialed in for best go, and spins freely to 6500rpm but despite the additional breathing, there's no extra growl. It's not too bad on petrol swilling either, up into the 13s at one point but settling around the 10L mark after a week with it.
In all, a nice little optional extra for the Legacy, one that's been devised right here. That it can be retrofitted to older Legacys is a nice touch too.
| | |
| --- | --- |
| Model | Subaru Legacy STi |
| Price | TBA |
| Engine | 3630cc, F6, EFI, 210kW/380Nm |
| Drivetrain | CVT, all-wheel drive |
| Fuel Use | 9.9L/100km |
| C02 Output | 230g/km |
| 0-100km/h | 6.91sec |
| Weight | 1647kg |