There is plenty of new metal jostling for custom in the premium SUV space, Audi's Q5 is one of those recent arrivals. Here we sample the entry level diesel model.
Audi is trucking along nicely here, sales up 20 per cent for the year in a luxury market that is seven per cent ahead of last year. The improved numbers are on the back of a raft of new models as these German firms sure know how to pump them out. Locally, SUVs make up just over half of all Audi sales, led by the Q7, Audi's best seller, and the Q2. Bolstering those numbers further is the new Q5. This is one of Audi's biggest sellers globally thanks to the US's appetite for these things, and might well knock the Q7 off its perch soon enough too, if Audi can get enough of them. These are in short supply, even though there's a brand new plant in Mexico churning them out. So how does this new Q5 stack up?
The line-up consists of three models, and the one we feature here is the entry-level TDI 140kW Design at $92,900. There's also a petrol TFSI 185kW Sport at $99,900 and the SQ5, now with 260kW of petrol power, at $121,900. The Q5 is all-new, the second generation of the model, using the MLB Evo platform of the VW group which also forms the basis of the A4 and Q7. New Q5 is slightly longer and taller than the old model, and there's slightly more room between the wheels. It's now a better looking SUV with more defined lines, yet it's still conservative in that Audi way so it's unlikely to offend but neither does it set the heart fluttering.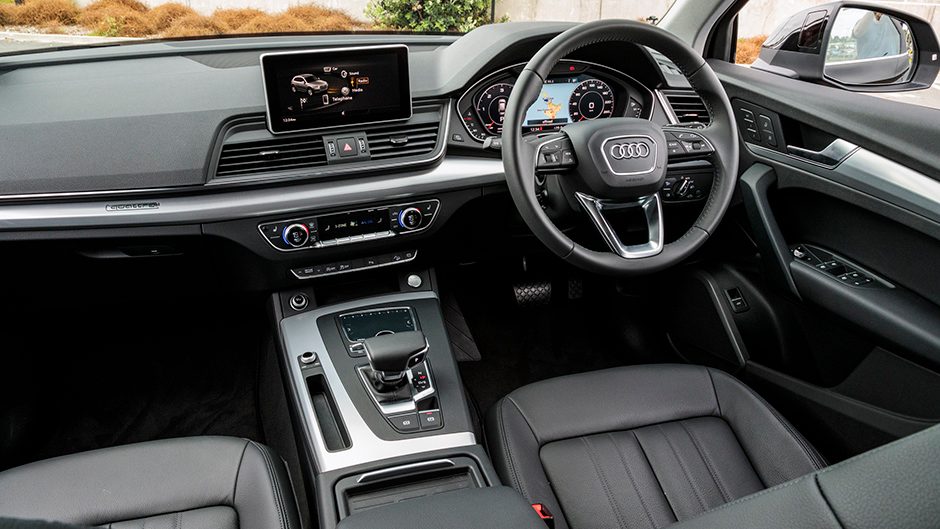 The latest model is said to be lighter than the old girl thanks to the usual mix of increased alloy content, higher grade steels and improved construction techniques. The 140kW TDI is claimed to weigh 1770kg in standard trim, the NZ-spec model amassing at 1877kg, making it just 15 or so kilos lighter than old 2.0 TDI model we measured back in 2011. Back then it was $86,900, but now it's packing much more in terms of content, and it's streets ahead on performance; new Q5 TDI attains 100 in 8.1sec, where the old one needed 9.8sec.
Refinement is improved with items like active engine mounts, better body and door sealing and the form's slippery nature; a Cd figure of 0.30 means it's quiet through the air. And on the standard 19s with 235/55 rubber, it's a charmer on coarse chip roads too. The interior adds space; there's now generous room in the rear for legs and heads, entry is easy and the seat comfy too, even without a recline function on the base model car. Three across might be a bit of a squeeze, but the boot is plenty big enough, being well shaped with generous width and the 40/60 split rear seat folds without fuss to form a flat load floor. There's a space saver spare and if you fit the approved tow hitch you're good to haul up to 2400kg braked.
While the cabin might lack a certain design panache, it's not without style, and the simplicity and functionality we appreciate. Setting things to your liking isn't an exercise in frustration as a few buttons help the process, as do sound ergos for the infotainment controls. The seats don't look all that inviting but are quite comfortable, with just enough support. There's a fair amount of grey plastic about, but it's the well-bred, upper class type of polyurethane, so should prove okay. Storage is improved, and there's now a decent amount of stuff on board as standard too; smartphone connectivity, Qi charge pad, Audi's configurable dials, three-zone air con, smart key, heated and cooled cup holders and most of the safety gadgets, including AEB. There's no lane keeping, but then we often turn that off anyway, and though a 360 degree camera is optional, the backing camera should suffice as its reinforced with parking sonar front and rear. There are options of course; bigger wheels, styling upgrades, including the ever popular S line treatment, and things like adaptive damping, a glass roof and better sounds.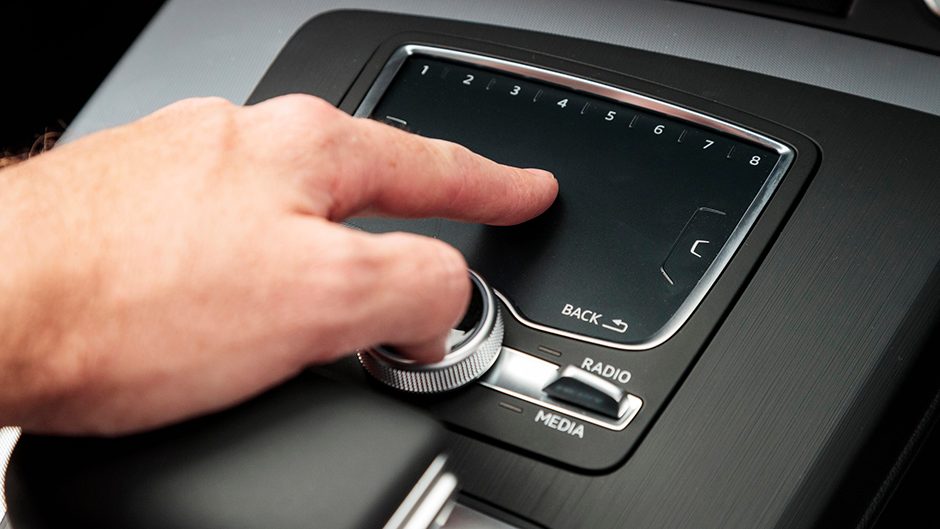 But then this standard vehicle was up to scratch for us, though we might suggest checking out the petrol model over this diesel. The TDI is the 140kW version of the 2.0-litre four pot, which makes 400Nm from 1750rpm. While it possesses a strong midrange, there's a bit of a pause from idle to 1600rpm before it starts to come good. Combine this with the sluggish response from the stop/start system in re-firing the action, and the odd dithering from the twin-clutch auto as it sorts the gear, and it can be a case of one Mississippi, two Mississippi before you're actually on the move. And then that gap you were hoping to hit is closing quickly. You can circumvent this when in a rush by killing the stop/start or pulling the gear lever into S mode for quicker gear selection. It's a Euro 6 engine with Adblue Nox treatment, and is claimed to return 5.1L/100km on average but somewhere in the 8L/100km range is more likely.
The seven-speed twin-clutch is a new design where they have supposedly reduced internal friction and weight. It's generally a refined operator, smooth too at low speeds and slick with the gear changes when pressed. It's fond of hooking high gears early to conserve juice, and there's a coasting function too, selecting neutral when you're off the gas to maximise your mileage.
The ride is good on the standard springs, the big sidewalls on the 19s helping on city streets. Steering weight is light for ultimate ease, and the dimensions and turning circle are city friendly. And there are the helpers too, slow speed auto cruise with the stop and go function, blind spot minders, and all manner of sensors to help avoid accidents and make commuting less of a hassle. Hit the scenic route and the ride quality remains – even nasty bumps fail to ruffle the progress – and road noise is muted too. The 235 cross section rubber provides a good contact patch, and most of the adverse pitching and rolling is managed, though it's been a while since we've felt the need to temper the ESP on a base model car. The electrics are quickly into action any time you take a corner with any enthusiasm, and even when stepped back a notch the system will spring back into life, dragging the brakes on to slow your progress. It seems a mite unnecessary as it's not like the chassis or tyre limits are overly stressed either. But it does keep your antics in check; there's no point pushing on so why try? We are sure the SQ5 will satisfy these sorts of needs, and we'll bring our view on that model next month. The steering is sedated, isolating the road gremlins but it's voice is muted as a consequence. The assistance and response are consistent however.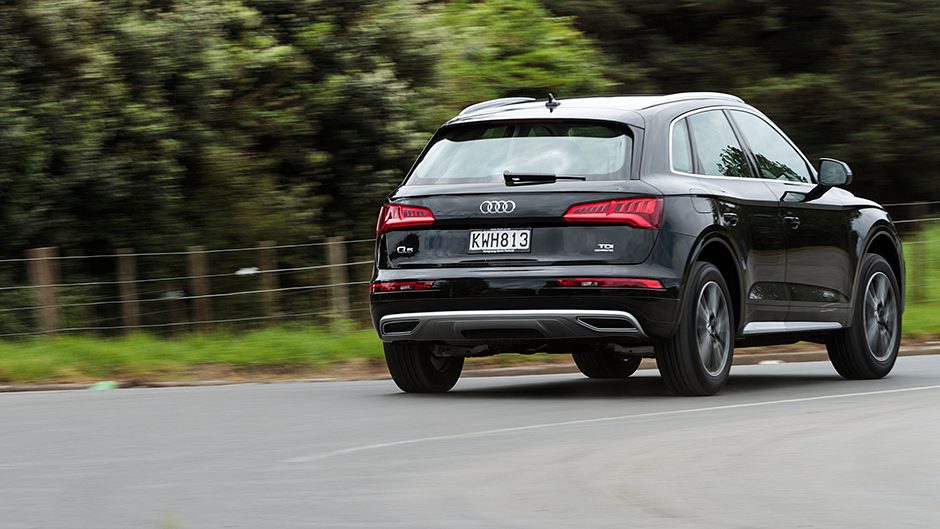 The four-cylinder Q5s run a new on-demand AWD system, which Audi dubs Ultra. It's designed to decouple the rear wheels from the action when they aren't required to save a bit of gas. Unlike the system used in the Q3 (and other models with a transverse engine arrangement), with the longitudinal layout of the engine and the transmission, the disconnect happens at the rear of the gearbox. Thus, the entire rear prop shaft stops spinning, and with a decoupling clutch in the rear diff there's even less drag on the driveline. To ensure there's no lag in the activation of AWD, the system is always engaged from a standstill, and it uses all the drive sensors available to work out just when AWD might be required to ensure it's more predictive than reactive. It means there's no torque steer under acceleration or slipping front tyres, while it will send more drive rearwards in the Dynamic driving mode.
The Q5 lands in a busy area with oodles of good choices for those with $100k to spend. If it's four rings you desire, the A4 Avant Sport would be our first choice at the same money. This Q5 is utterly competent and complete, but fails to ignite the adrenal glands. We are sure the SQ5 will get them going however. A pity it's an extra $30k though.
| | |
| --- | --- |
| Model | Audi Q5 TDI 140kW Quattro |
| Price | $92,900 |
| Engine | 1968cc, IL4, TDI, 140kW/400Nm |
| Drivetrain | 7-speed DSG, on-demand AWD |
| Fuel Use | 51L/100km |
| C02 Output | 133g/km |
| 0-100km/h | 8.10sec |
| Weight | 1877kg |