Eagle-eyed readers will be quick to point out that we have previously featured the Ioniq EV. However this time round we will be living with the car for a few months in order to immerse ourselves fully in the EV lifestyle.
OK, perhaps not fully; there'll be no beard growing, sandal purchasing or kale consumption.
Can an EV really be a viable alternative to a petrol- or diesel-powered car? What are the quirks of EV life? And can a petrolhead be convinced of a fossil fuel-free future? Stay tuned…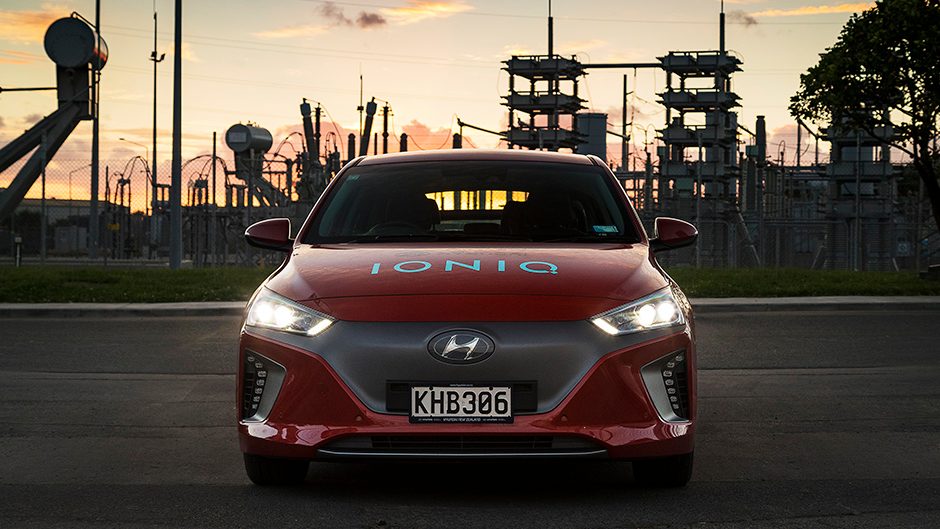 The Ioniq is available in three flavours; hybrid, plug-in hybrid and pure EV and, according to Hyundai, it is the first vehicle in the world designed to accommodate these three different powertrains. The EV variant is available in two spec levels, a fully loaded Elite which asks $65,990, and the Entry, the cheapest new EV on the market which retails for $59,990. The spec list for both models is lengthy, the more expensive Elite adding mostly comfort and convenience items for the extra spend. Both trim levels are fitted with an impressive amount of safety kit (Ioniq was awarded five-stars by Euro NCAP) so expect ESP, AEB, active cruise, seven airbags, and various lane-keeping functions. The Elite that we have on test also nets blind spot monitoring and rear cross traffic alert.
Down to the nuts and volts. Ioniq EV's high voltage electric motor sees the bulk of its weight being sited on top of, rather than in front of the front axle. This results in a weight split that is pretty darn close to 50/50, an improvement over the Hybrid which is a little nose heavy. On top of the motor sits the electric power control unit (epcu) which appears to have been fashioned in such a way that it resembles an internal combustion engine. The electric motor generates 88kW and 295 units of twist, all of which is spun through the front wheels via a single-speed gearbox. Yup, that's right, in a world where eight, nine and even 10 gears are fast becoming the norm, the Ioniq makes do with just one. This is made possible as electric motors generate all of their torque from super-low revs. A multi-speed 'box would simply add weight, complexity and friction, in turn sapping the powertrain of torque, power, and efficiency. The lone gear also contributes to the lack of moving parts under the bonnet – Hyundai claims there are just 12, a fraction of those found in a conventional engine.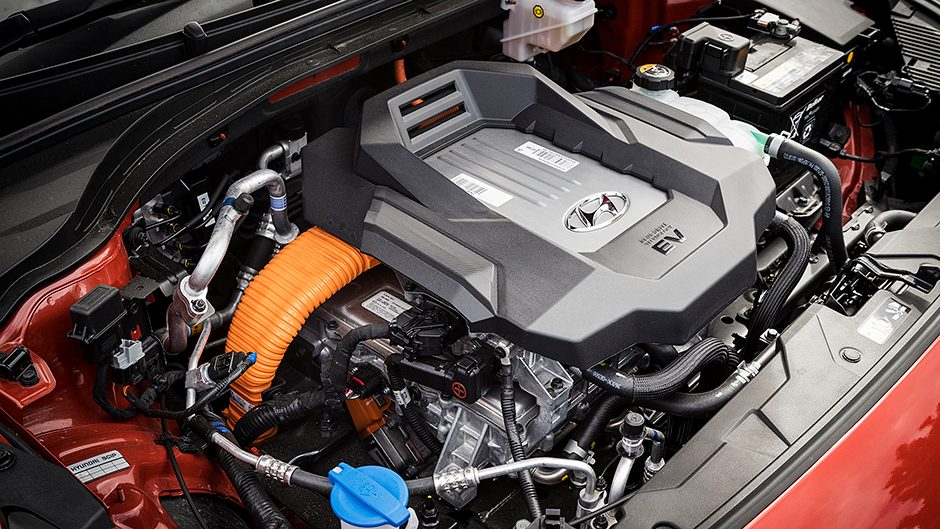 The lithium-ion polymer battery is a 28kWh unit which is mounted low in the chassis at the rear of the car. The size and shape of the battery mean the EV gets a slightly shallower boot than the Hybrid model, down 93 litres to 350L. Despite the substantial battery there is just a five kilogram weight penalty over the Hybrid. A shift to a torsion beam rear end (Hybrid gets a multilink) also helps with the packaging here but there's a slight degradation to ride quality as a result. For those fretting about the battery life, don't. Hyundai is clearly pretty confident about its battery tech, so much so that it comes with a 10-year, unlimited kilometre warranty. The rest of the car is covered by a three-year, 100,000km deal.
The people at Hyundai reckon Ioniq buyers like the car as it's styling isn't too out there or overtly, er, green looking. Sure, it's nowhere near as polarising as the new Prius (seriously, what were Toyota thinking?) but we think it still has a bit of an eco-warrior look to it (the signwriting on ours is a dead giveaway). The lack of a radiator grille might not do the frontal styling any favours but it evidently helps the car slip through the air better (there's no radiator required), as does the flat underside, the rear spoiler, and the vents in the bumper that divert airflow around the front wheels. The alloys have also been designed with aero efficiency in mind, a super-low Cd of just 0.24 the result of all of the aero work.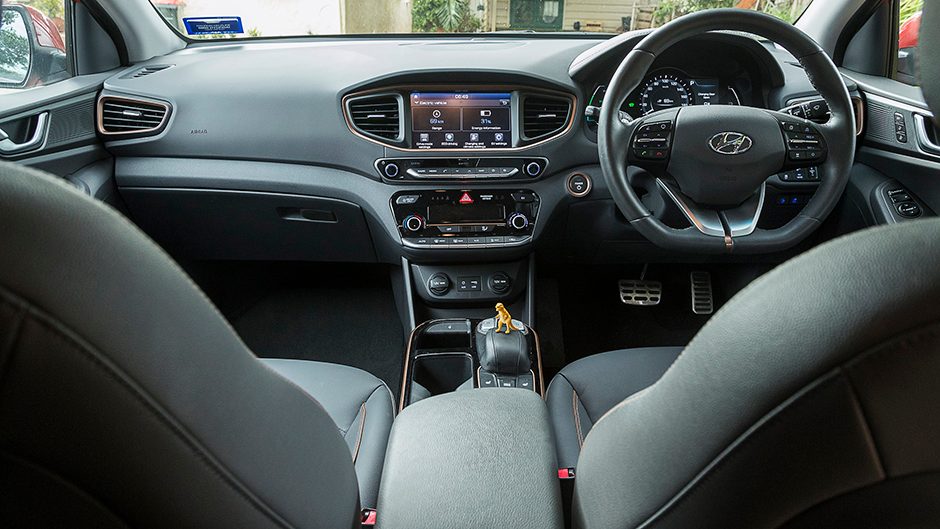 Our first two weeks of EV ownership were relatively uneventful, covering just over 1000km without a single hitch, and all without a hint of range anxiety. Okay, so we had to make an unscheduled charging stop because our range was two kilometres less than the distance back to the office but anxiety? There was none. Admittedly, most of our trips so far have been short ones but we have some longer road trips planned in the coming weeks. Hyundai claims a 'real world range' of 210km, a figure we've come pretty close to achieving but that was with a fair chunk of one-up urban driving. It will be interesting to see how we fare on long open road jaunts with more bods on board. Next month we'll delve into the world of charging and running costs.
| | |
| --- | --- |
| Model | Hyundai Ioniq Elite EV |
| Price | $65,990 |
| Kilometres at start | 8647KM |
| Distance travelled | 1003KM |
| Number of free charges | 7 |
| Number of paid charges | 1 |
| Charging cost this month | $5.64 |
| Things to do | Take the family on a roadie |
| We like | The Infinity sound system (makes The Rock really rock!) |
| We don't like | Trying to fit the charging cables back into their bags |