If a high-riding wagon like outback isn't quite your thing, but the flat-six engine technology appeals in that 911 way, then you best check out Subaru's top sedan, the Legacy 3.6RS. This facelifted variant performs slightly better than the equivalent Outback 3.6R, mainly because it's a sedan instead of a wagon, saving the better part of 40kg. On the downside, the luggage area is harder to access on account of its smaller boot lid.
Dynamically though, it's lower riding on more road-oriented rubber so it sticks better, and retains that beautiful absorptive ride quality that Subaru is famed for, only with less suspension travel than Outback. It's about as softly sprung so can sometimes run into the bump stops if you're driving it in gorilla mode. It's also subject to a bit of bump steer, something that the firmer, locally-fettled STI version – there's also an Outback STI planned – isn't as loath to do.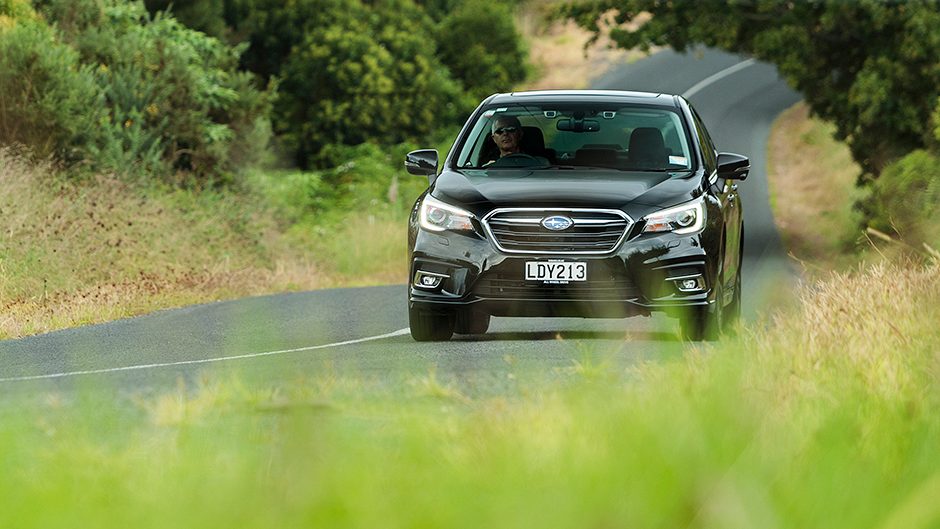 Legacy 3.6RS is no slouch, and we imagine a run-in example might sprint to the metric tonne in the high sixes. It mauls the 2.5, though with substantially more displacement you'd hope so. Extra fuel burn you'd rightly expect. However, it doesn't cost that much more, at least compared with a similarly leather clad 2.5i Premium ($5k difference). No wonder the 3.6 is the most popular Legacy.
What's most noticeable when you drive top Outback and Legacy back to back is the way this holds corner speed thanks as much to the more single-purpose rubber as the lower ride height. It's not so subject to understeer either, despite not having quite the weight split of the wagon.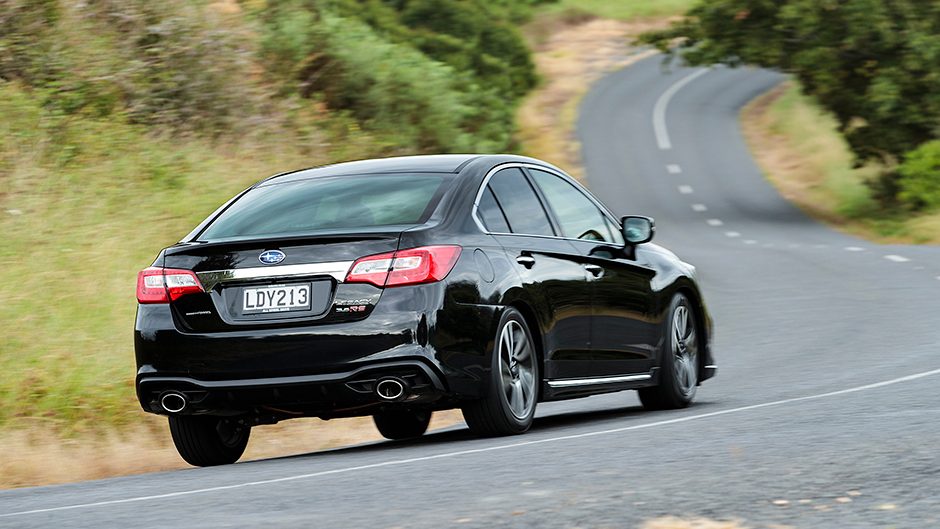 Both are ridiculously quiet on road, with SPL recordings in the mid60s for the most part; occasionally we had a reading that just squeaked into the 70s but the average certainly started with a six for both vehicles. And on similar things, both 3.6 models had low 4sec overtaking times, the Legacy again getting the edge but only by about three tenths. By comparison, the 2.5i needs another three seconds to complete a passing manoeuvre.
As compared with the two drive modes in the 2.5, the 3.6 models have three different settings available, I for normal use, S for intermediate Sport and Sport# for animal time, and so both of the 3.6L vehicles get along in champion fashion with Subaru's Lineartronic CVT. Sometimes in the lesser modes you're tempted to intervene with the paddles.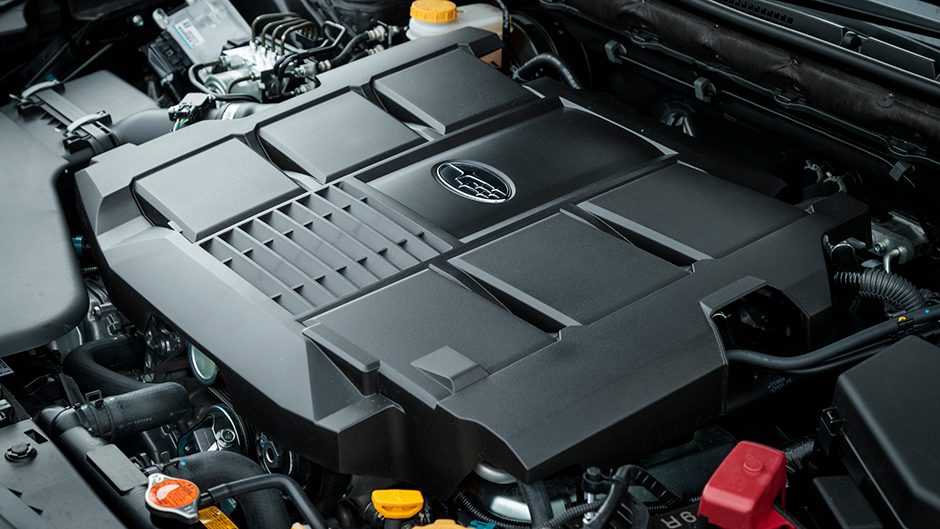 Do so and generally one lever pull is sufficient for the transmission to shorten the ratio and get the engine back into the heart of the midrange. While peak torque is said to arrive at 4400rpm, there's a heap on offer lower down, from 3500 or so on back roads and in the 2000-3000rpm range in town. The extra oomph of the 3.6 over the 2.5 is very noticeable.
If you're operating in the Sport# (Sport Sharp) mode, you really don't need to invoke the paddles at all for the engine revs are held a bit higher and it seems to spool up quicker anyway. The nice thing about the manual mode, should you decide to use, it is that it flicks back into D after a time so if you just want to paddle it briefly go ahead. We seldom resorted to using full manual mode where you can sometimes get stuck in a gear that's too high.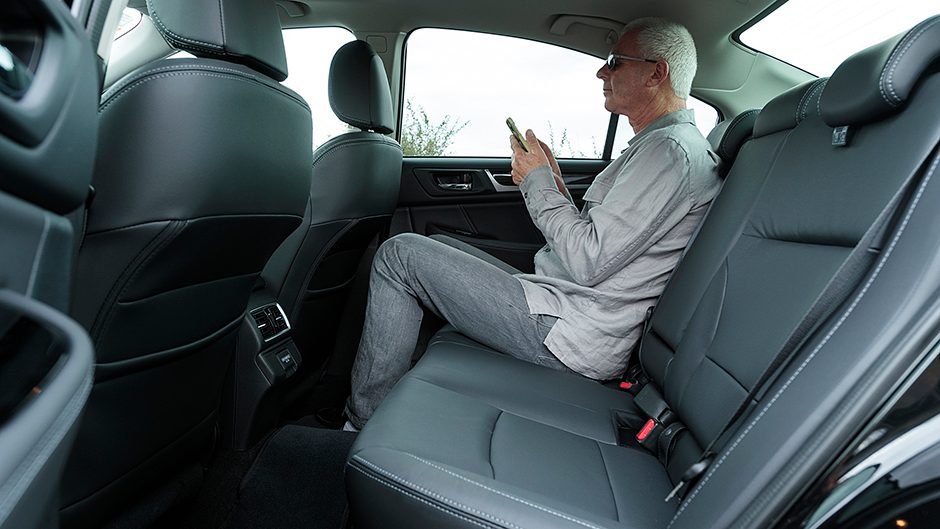 As mentioned, you do pay extra for the added performance. The computer suggests 11-13L/100km, no matter how you drive it, whether in town kicking back or out of town scaring sheep. On the bright side, all Outback and Legacy models run fine on 91 ULP.
What's rather exotic about the 3.6 Legacy, apart from toting a flat six, is its luxo-orientation at entry-level exec pricing, $54,990 for the top Legacy 3.6RS. It's as quiet as some vehicles that cost six figures, with doors that clunk shut as convincingly. Same with the motor when you give it a stab; never is it noisy, though you don't need to rev the guts out of it anyway. And tyre-generated road roar is no worse than that in the Outback.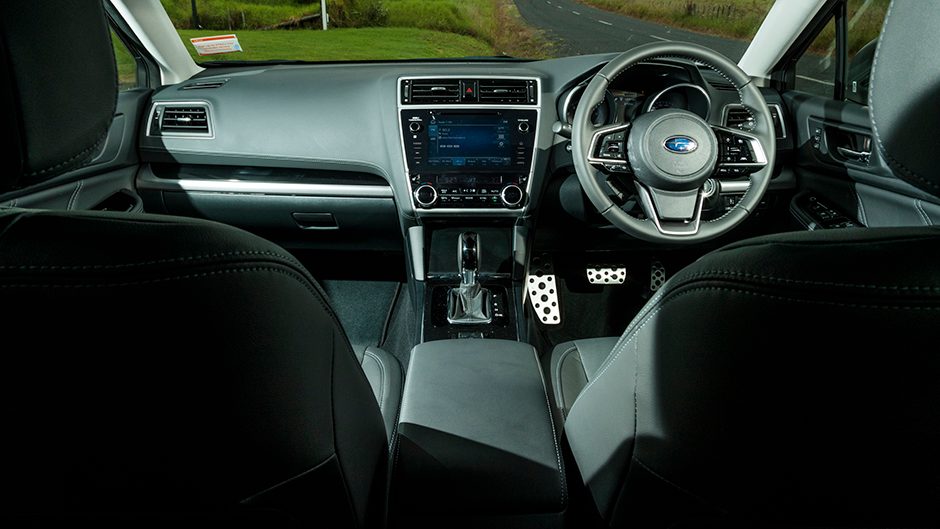 Fitout inside is luxury oriented too, with full leather trim, powered and heated seats, dual zone air, and all the active safety goodies, including active cruise with stop and go. LED headlamps feature swivelling lenses that follow the steering and an auto dipping function. The latest generation of EyeSight includes a lane keeping function, and mirror-mounted cameras to help with parking.
Subaru says rather cheekily that this is a good option now that Aussie-made rear-drive sixes have ceased production. And it's right, only the new Commodore based on the Opel Insignia also offers a 3.6-litre six-cylinder AWD option; we look forward to comparing these in the near future.
| | | | |
| --- | --- | --- | --- |
| Model | Subaru Legacy 3.6RS | Price | $54,990 |
| Engine | 3630cc, flat 6, EFI, 191kW/350Nm | Drivetrain | CVT, all-wheel drive |
| Fuel Use | 9.9L/100km | C02 Output | 230g/km |
| 0-100km/h | 7.17sec | Weight | 1658kg |