Guess it had to happen eventually, the not especially strong Baleno Ltd with its 1.4-litre atmo engine and four-speed auto transmission gains a stroppier six-cog sib that costs just $1000 more. In theory at least. Suzuki must have been worried about the future of the LTD for it's now $2k cheaper. Anyhow, at $25,990 with a six-speed auto and 1.0-litre K10C BoosterJet turbocharged three-cylinder engine, the top-of-the-line Baleno RS is quicker, much, on account of having 82kW of power and 160Nm of torque, both up by 20 per cent plus on the 1.4.
As a bonus, it's said to be more economical than the LTD (5.2 vs 5.4L/100km). We climbed in and it was reading 5.4 after some town running but was soon in the high nines during our photography session which involves solid acceleration, solid braking, turn around and repeat. But later it was locked on the low fours while cruising at 100km/h on the Southwestern motorway, and it can do much the same through town, hauling itself along in fifth gear at 50km/h using around 1200rpm. It almost sounds like it's labouring but really it isn't.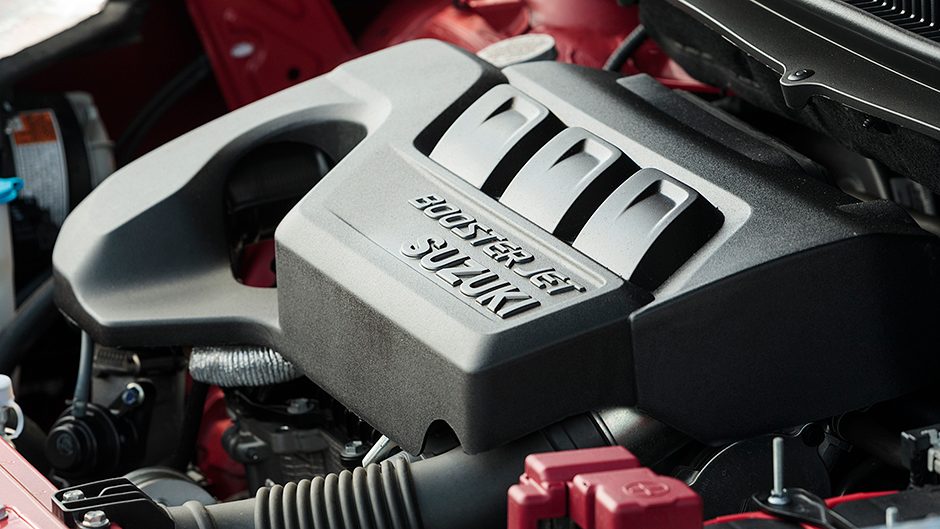 On the scales it weighs in at a buff 970kg, 35kg heavier than the 1.4 LTD version but by the performance criteria we use it creams its lesser brother. Not so much the 0-100 time, which improved by only two seconds, but the overtaking time, down from 9.2sec to 6sec, all done in third gear. We achieved best times by paddle shifting and these are indeed handy to keep the powertrain out of its default slumber zone (dragging itself along in the highest gear at the lowest revs to save fuel). A dedicated manual transmission setting helps make this possible.
Despite uprated brakes, the rear drums replaced by solid discs, an expected gain in retardation was not forthcoming. Both cars run on 185/55R16 Bridgestone Ecopias, optimised for fuel use (at which they clearly work) but they're not much chop on the grip front. Not that they're entirely without merit in the dry; we managed to keep pace with a litre superbike for 15km through a winding section of road.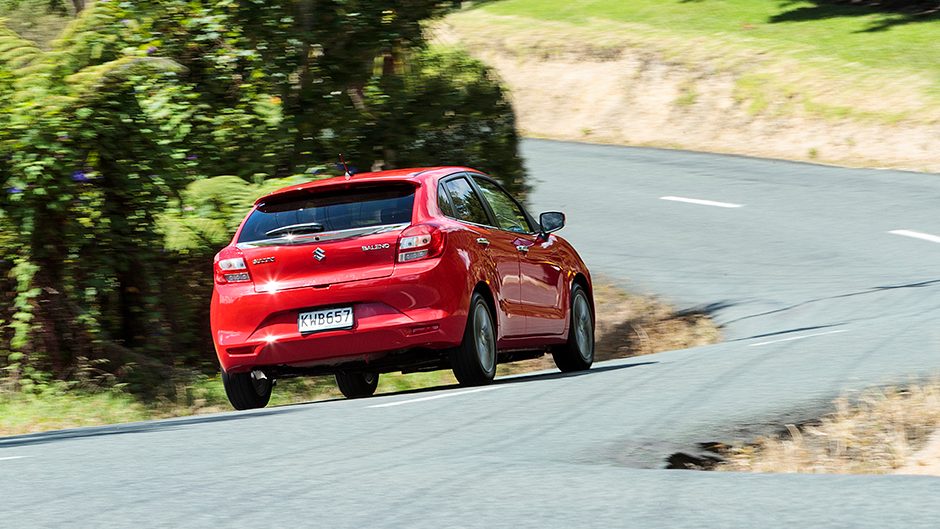 He'd outgun us on the straights and with more rubber on the road we'd brake later and rejoin him out of the corners. Suzuki says it deserves its RS badge and clearly it does, but we actually couldn't find one anywhere on the bodywork. Its relatively anonymous looks make this quite the performance surprise then.
The 1.4 needed to be encouraged along and to a much lesser extent so does this, but it really does deliver well across the board. There's not a whole lot of punch down low, just enough to make commuting relatively easy. No stop-start either but with such impressive economy it isn't missed. Having escaped the suburbs this can be a wee fireball of sorts. No, not quite in the league of the Swift Sport but then it costs $3k less, and has more rear seat space (+70mm legroom) and luggage capacity (355-756L), the whole point of Baleno.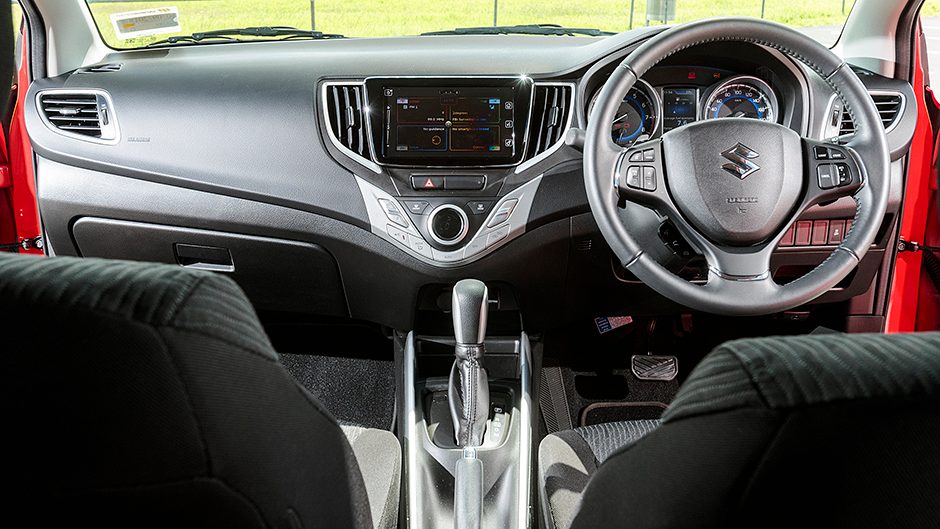 You buy this not for its sexy styling but for its spaciousness. It has a vague look of previous generation Swift about it up front, differentiated from LTD by its partially blackened headlamp housings, among other things. A looker it really isn't but if it's space and speed you're after in something just north of $25k, only this and Swift RS will provide that. The pair are virtually identical on the performance front, as you'd expect sharing powertrains, and cost is the same. You buy the Swift for its added style and safety spec, the Baleno for its space and versatility.
But there's not much between them dynamically, sharing the new lightweight platform. Baleno RS, like its Swift counterpart, takes to the great outdoors like it's born to the task. Being lightweight there's not so much lateral momentum to upset the applecart so it holds a line rather well, the main limiting factor being the Ecopias which soon become vocal when stressed. The suspension is nicely fettled, not too firm or soft for general use.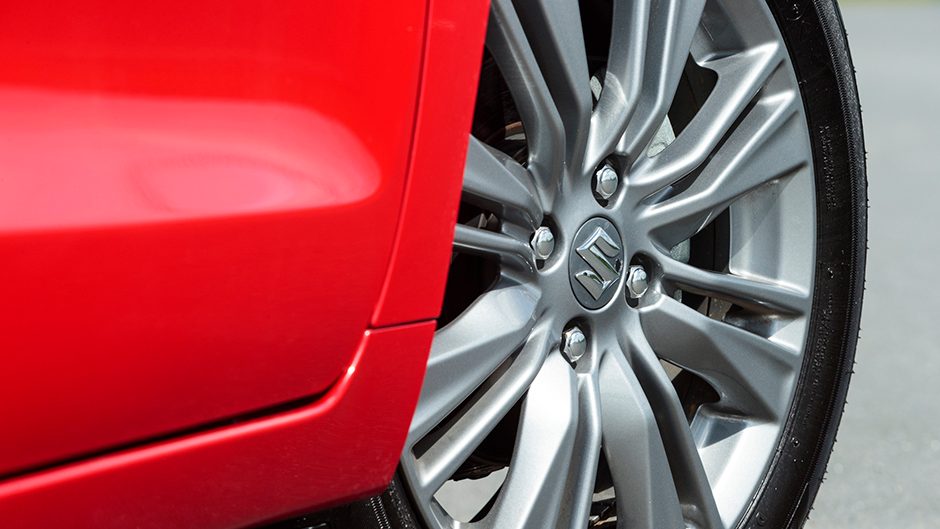 A bit much tyre noise makes it through to the cabin but that's not unexpected in this class. And spec isn't quite up to that of the Swift RS, active cruise and AEB missing in action, regular cruise present instead. Nor are there LED headlights like the RS gets. But handy features include a hill-hold function, 60/40 split folding rear seat, single-zone air, sat nav, comfort entry and pushbutton start, tints, 16-inch alloys, reversing camera, Apple CarPlay and DRLs. There's none of the active safety stuff, but ESP, ABS with EBD and six airbags are included.
Bottom line? For $2000 extra you'd be mad not to go for the Baleno RS over the LTD; it's worth it for the extra couple of gearbox cogs, and much better performance. Those not needing the Baleno's extra space might well opt for the nicer visuals of the like-priced Swift RS instead.
| | | | |
| --- | --- | --- | --- |
| Model | Suzuki Baleno RS | Price | $25,990 |
| Engine | 998cc, IL3, T/DI, 82kW/160Nm | Drivetrain | 6-speed auto, front-wheel drive |
| Fuel Use | 5.2L/100km | C02 Output | 121g/km |
| 0-100km/h | 9.50sec | Weight | 980kg |