While petrol-powered utes aren't commonplace, SsangYong has done quite well with them in the past. The entry-level Actyon sport was a petrol, and it accounted for 45 per cent of sales at one point before supply dried up.
And that's despite it only being available as a manual but it was popular because it was cheap. They reckon this new petrol-powered Rhino might go even better as it's still affordable in the grand scheme of things, it's also available with an auto option this time around, and it's better value given it offers more kit for not a lot more asked.
Pricing starts just under $30k for the manual, while the auto, tested here, is $34,488. You're thinking that's quite a premium for a self-shifter, but you also get 17-inch alloy wheels, whereas the manual rolls on steelies.​
All petrol Rhinos drive from the rear alone, while the diesels get switchable 4×4. The turbopetrol makes 165kW and 350Nm, which sees it with 30 more kay-dubs than the diesel but the torque is off by 70 Newts. And the total pull isn't mustered until 2500rpm, 1000rpm later than the diesel. That's not a biggie as there is still reasonable go from just above idle, and the effects of lag aren't quite as pronounced off the mark.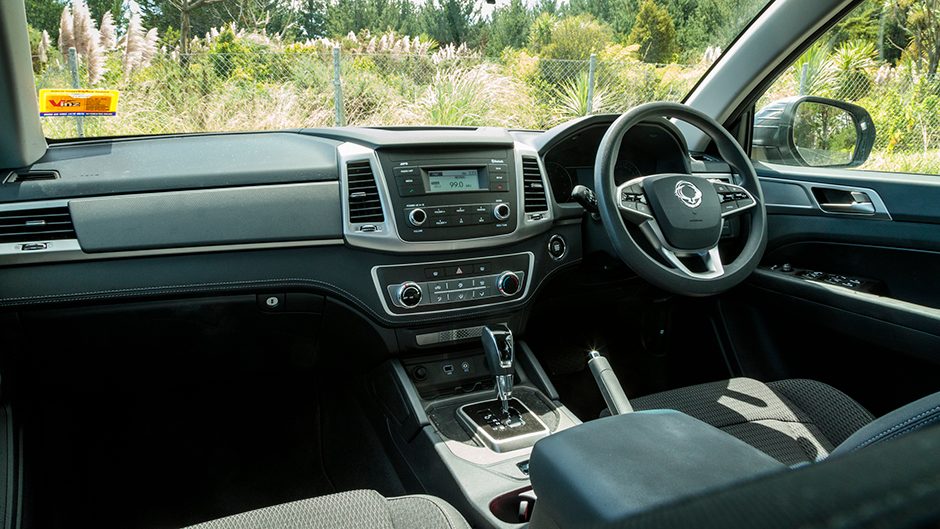 There's more than enough poke below 3500rpm for town missions, though the six-speed trans will sometimes stick with third gear at 50km/h, where it's pulling 2000rpm, slipping into fourth about 60km/h. That's okay however, as it's happier at 2000rpm and above, on boost and making good mumbo. And it's quite quick when pressed, recording a nine second run to 100km/h and the overtake is done in 6.8sec, some two seconds swifter than the diesel. It can get a tad thirsty running around the city, into the high 13s, but will average in the 10s on the motorway.
The auto is a smooth shifter, but can be a little indecisive if you find yourself on a winding road with clear air ahead. Remedy this by slotting the lever into the manual mode where it holds gears for a better 'locked up' trans feel. You will occasionally need to flick the toggle switch on the lever to initiate a shift but it seems to go better this way.
While it doesn't have quite the same midrange lugging prowess as the diesel, the more powerful top end compensates when you need more go. This wouldn't be a bad truck to get as an apprentice. Save for the simple head unit, which at least has Bluetooth, the cabin's well finished and is better than a base model X-Class in terms of materials used. The seats are comfy, trimmed in a hard wearing fabric, and there's still some soft touch bits about, including the door handles and centre bin cover. There's plenty of room in the rear and access is easy, without needing such a great leap up into the cabin as with some other utes. The door design that covers the sills also helps.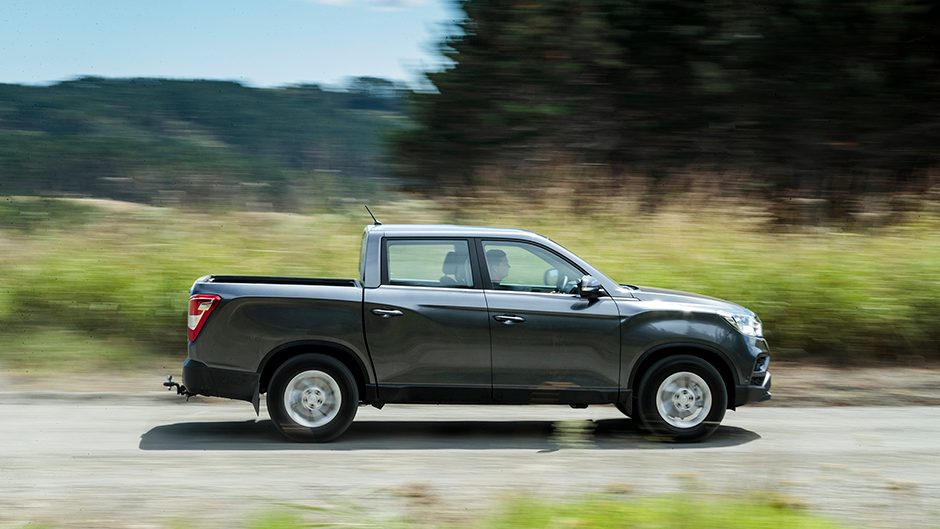 Out back, the tray retains its compact dimensions, being about 200mm shorter than those of most other utes, though that means it's not quite as long overall, and the turning circle is tight for a ute. If you need something bigger SsangYong will have the XL along soon which has a much longer tray. This has the minimum of safety gear with two front air bags and ESP.
And there's that lap belt in the centre, but you're probably thinking no one ever sits there anyway. The one bit of kit that you'll really miss is the rear view camera. You might say your old ute never had one so no worries there either, but backing up is made that much easier, and safer with a camera, and it helps line the trailer up on the bar too. On that point, the petrol Rhino is rated to haul 2800kg, the 4×4 diesel 3500kg.
They say ute buyers love to spend up on accessories, and with the money saved on this entry-level rig, you can easily spring for a camera, and probably some better alloys too. Though we reckon shod this way, the Rhino does ride better than the SPR on its 20s, with less jiggle on bumpy roads.
It still steers okay on these tyres; there's just a bit more sidewall squish during cornering, but the roll is well managed. There's nothing to worry in regards to on-road traction, the rear end is tame, though the traction control didn't like the ruts of the gravel road we took. We reckoned the value equation of the top SPR was pretty good, but if you're after a working ute, it's even better here.
| | | | |
| --- | --- | --- | --- |
| Model | SsangYong Rhino Petrol 2WD | Price | $34,488 |
| Engine | 1998cc, IL4, T/EFI, 165kW/350Nm | Drivetrain | 6-speed auto, rear-wheel drive |
| Fuel Use | 10.7L/100km | C02 Output | 245g/km |
| 0-100km/h | 9.90sec | Weight | 1956kg |