Some cars genuinely throw you for a bit of a loop, and here's one we should have seen coming. Anything with an RS badge generally gets the job done in fairly spectacular style.
This long sleek RS five-door you see before you is the Sportback, which is Audi speak for a liftback. Think of this as being almost as practical as the RS 4 Avant, but slinkier, sexier. It kind of compensates for the fact that there hasn't been a sedan version of the RS 4 for a couple of generations.
Like the Coupe and Avant, it uses the Porsche-engineered 2.9-litre biturbo V6, pumping out a solid 331kW or 444hp if you want a more even number. Alongside that there's 600Nm of slingshotting surge, available pretty much right across the useable part of the rev band. So think quick, no matter what the drive mode or revs selected.
People have moaned that it doesn't sound as good as the RS 4 V8s of yore and it might not have the sturm und drang of the AMG C 63 but in an increasingly troubled world where emissions actually do matter, despite the self-centred naysayers, a biturbo V6 that still does the hustle business as well as a V8 makes plenty of sense.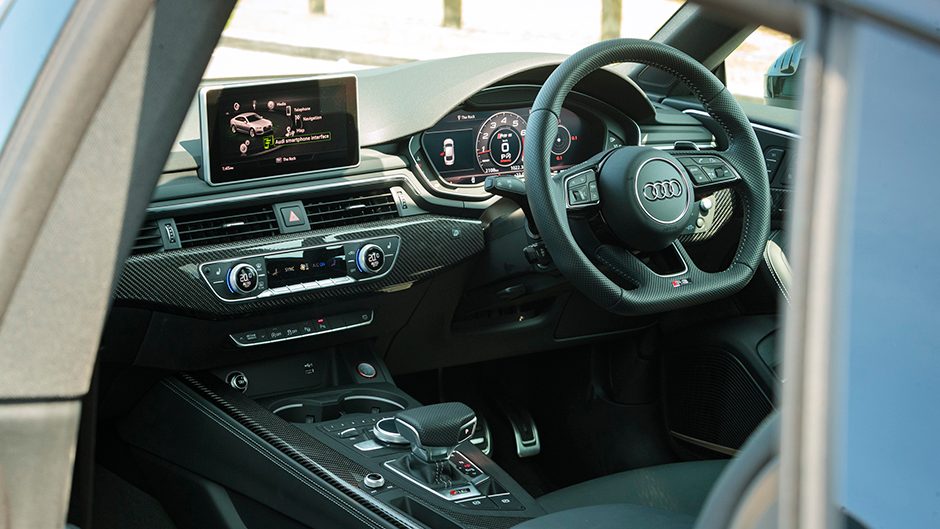 No it's not as stupendous sonically, even with its standard sports exhaust, but it still gets gone like only an RS can. We got sprint figures in the high threes for the RS 5 Coupe and Avant so were expecting the same for the Sportback (claim 3.9sec) but it went one better, hitting the 3.5sec mark. Likely that's because we ran the numbers on a cool Autumn morning when it just felt like belting out some good ones.
That's matched by an overtaking time of 2.3sec, 0.1sec better than the RS 5, and 0.2sec quicker than the RS 4 Avant but then it is 50kg lighter. If you're a speed freak you can tick the option box that delimits VMax from 250 to 280km/h. A bit pointless here though.
Central to its speedy character is a simply astonishing eight-speed auto. Quite how Audi gets this to shift as quickly as a twin-clutch transmission we're not rightly sure but it swaps cogs not only in blazing fashion but so smoothly as well. Cars of this ilk have been shifting back to autos from twin-clutch transmissions. We can see why.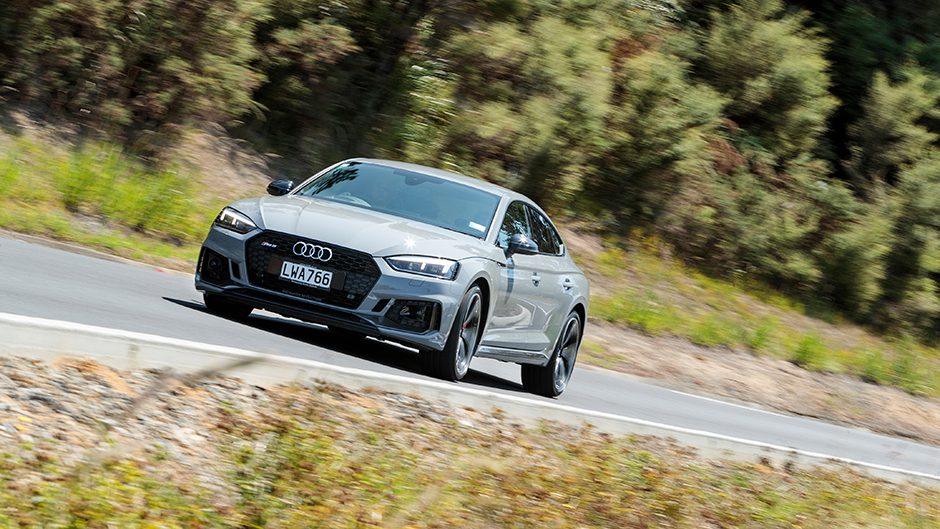 One other trick aspect we've mentioned before but it does bare repeating; the pullback on the shift lever that selects S transmission mode gives the SB a little supercharged energy, perfect for overtaking. It also activates the sports exhaust. Moreover, if you've been shifting manually, a pull on the lever once again selects D or S transmission setting, depending on what you were in before you took to paddling.
Fuel consumption you'd expect to be better than that of a biturbo V8 and there you'd not be disappointed. Rated at 8.9 the highest figure we saw out in the wild lands was 13.5L/100km, impressive for something with permanent AWD and such astounding acceleration. For a sportster costing just the wrong side of $150k, you do have certain expectations.
Like you'd expect great brakes and these aren't; they're spectacular. Huge, vented, drilled, they're every bit the foil to such lively acceleration, with quite stunning power at the pedal. All emergency stops were completed in 33m or less, with a best of 32.52m. Should you be one of these hard-to-please types, ceramic brakes can be yours for an additional $15k.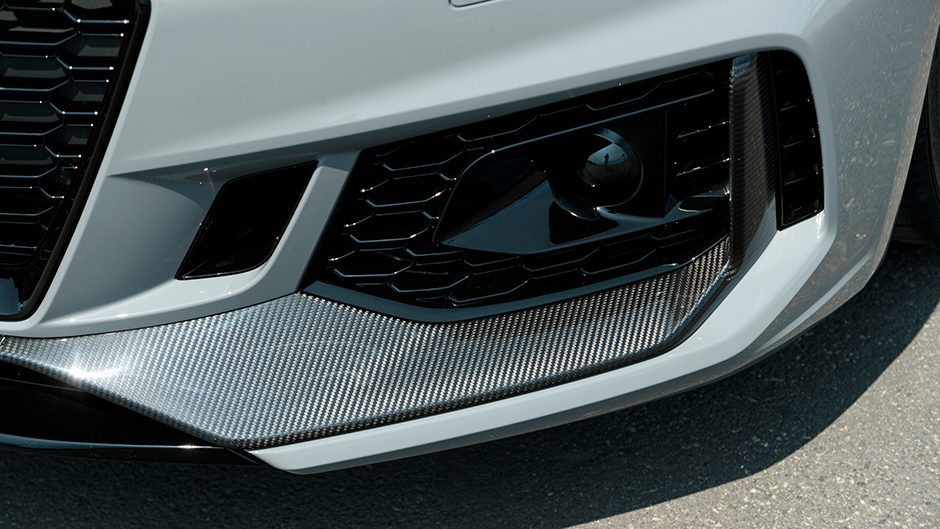 The way this rounds up corners you almost expect to be epic, with a ride height 7mm lower than the S5's, AWD that apportions torque 40:60 rearwards, and it can also shuffle torque to the outside rear wheel if the active sports diff is optioned ($3800). Even without this, it rounds up the bends as well as it dispenses with the bits in between. Only you need to choose the right drive select mode. For something like this, which is both quick and quiet, you're definitely better off with the Auto mode, giving it a proper GT feel (as opposed to the C 63's sporty/rorty approach).
Dynamic mode we found to be a bit too firm and controlling on general Kiwi back roads, banging into the sharper ruts, but in Auto the Sportback rides the bumps beautifully, without undue roll in corners. Dynamic you might well reserve for Track use. This is essentially a neutral thing in corners, not really changing line meaningfully either on or off the throttle.
On the downside, the turning circle isn't so flash and while accurate and well weighted the steering is a bit distant. Headroom in the rear plays second fiddle to the plunging roofline. Spec is as expected, right down to head-up display, powered gesture tailgate, massaging sports seats, and a phone charger in the central bin.
If you like your performance car sleek, secure and serene, the RS 5 Sportback is all that and more.
| | | | |
| --- | --- | --- | --- |
| Model | Audi RS 5 Sportback | Price | $152,900 |
| Engine | 2894cc, V6, T/DI, 331kW/600Nm | Drivetrain | 8-speed auto, all-wheel drive |
| Fuel Use | 8.7L/100km | C02 Output | 200g/km |
| 0-100km/h | 3.48sec | Weight | 1799kg |