Got to hand it to the AMG team; they know how to make something sporty without making it undrivable for the daily urban grind. And that even applies to the likes of the new E 53 coupe, a 48v mild hybrid.
The two-door four-seat Coupe body style is traditionally the most sporting of the Mercedes-AMG line-up. So you don't mind that the ride is a bit firmer than in the other variants. Only it's really not in this case, except perhaps in Sport+ mode where the air suspension and adaptive damping maintain a vice-like control of body movements.
And considering the low profile thirty-something rubber the E 53 runs, it's surprising there's no ride quality whatsoever. Think of this then as a more compact version of the S Coupe but still with safety levels that are second to none.
An example is the stop and go of the active cruise system. It gently brings the car to a halt in heavy motorway traffic situations, the engine already asleep as you draw to a halt, and then silently restarts and accelerates away when the jam clears, all by its smart self. The deceleration is only ever smooth, stop-start virtually undetectable.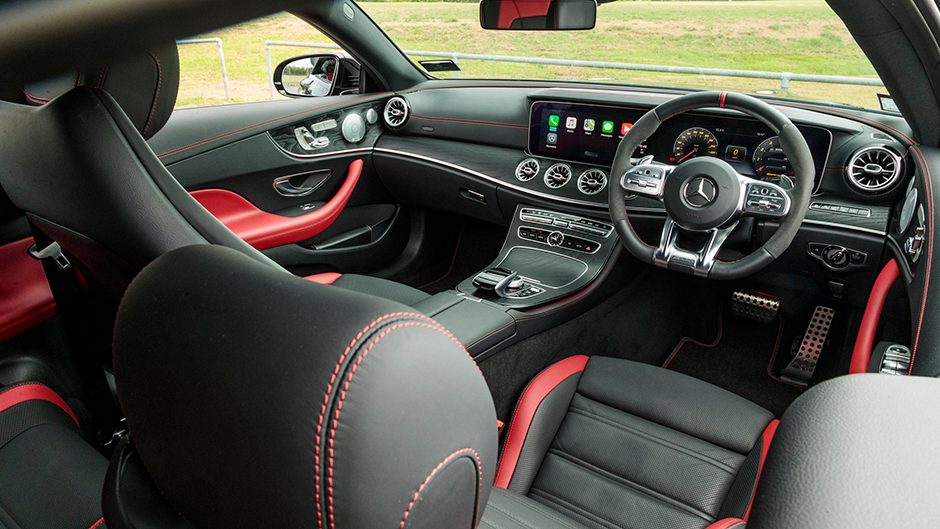 Other special items include belt presenters, comfort entry with self-retracting seats, a 360-degree camera, powered and heated leather-bound seats, sports wheel with Alcantara and leather trim, and lots more. For the moment this is the top E-Class Coupe. There's likely an E 63 variant in the wings, but even if that gets the go-ahead it will be $50k dearer.
While this is not anything quite so quick as, say an E 63 sedan, nor would you call the 53 tardy. AMG reckons on full-bore acceleration to 100 in 4.4sec, but we comfortably managed 4.2 and on a proper surface it might even run in the high threes. It doesn't feel rabidly quick though, as the propulsive forces build progressively. All this comes courtesy of a 3.0-litre inline six.
Okay, so it's a boosted inline six. Doubly so, its turbos operating sequentially. Turbo one is actually an electric compressor running off 48v so the initial drive off the mark is lag-free. That then hands over to a conventional blower at 2500rpm.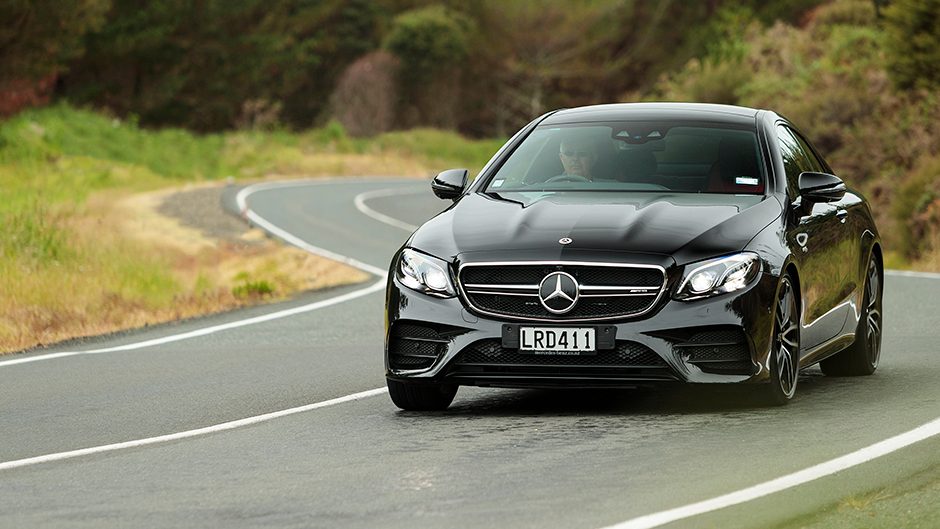 But wait, there's more. In between the quick-shifting nine-speed auto and the IL6 sits an electric motor that works as both a starter and a torque enhancer, offering an extra 250Nm of twisting force. How does this all gel? Swimmingly. The best drive is still up around the 4000-5000rpm mark but there's serious mumbo from 3000-4000rpm.
If you're not keeping a weather eye on the head-up display, it's all too easy to find yourself doing miles over the odds. Gently easing along at 100km/h has the engine barely registering, at 1300rpm. Fuel use is good, supposedly 8.8L/100km overall. We saw double that when pushing on but single figure fuel use is easily possible too. In general driving, there's power from just about any revs.
Round town in the Comfort setting the engine tends to upshift around 2000rpm and there's decent go-forward from well below that. This broad range of urge reflects the fact that peak torque registers between 1800 and 5800rpm.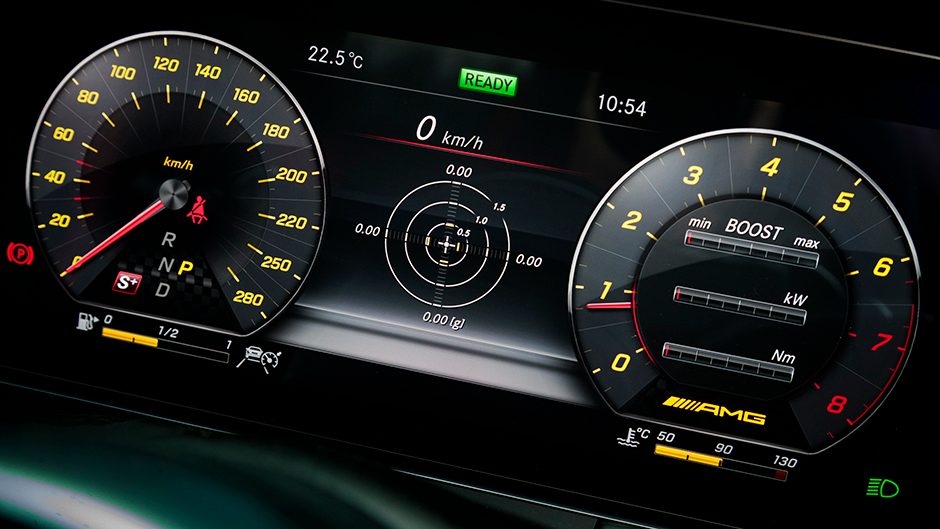 There are multiple ways of driving the E 53 too; even the Eco mode is valid. The default Comfort setting is fine for town running, but Sport's also okay, being throttle responsive, and without upsetting ride quality. This you can adjust separately anyway, so if you want the motor and transmission to work dynamically but not the chassis, dial that up and make it so.
You can even tone down the sports exhaust if you want to but, like the adaptive damping, it's selected automatically with the Sport settings. This mops up the straights, but also aces the bends, despite it weighing two tonnes even. Any mild deviation of line and it rounds up under power into the turn, devouring back roads like some mechanical beast.
Yet inside, this is as much luxury as sport. It's opulent, the two-tone leather, predominantly black, mirrored nicely by the open pore wood on the dash. The wide screen instrumentation of the E-Class takes in the centre console, comprising two big hi-res screens.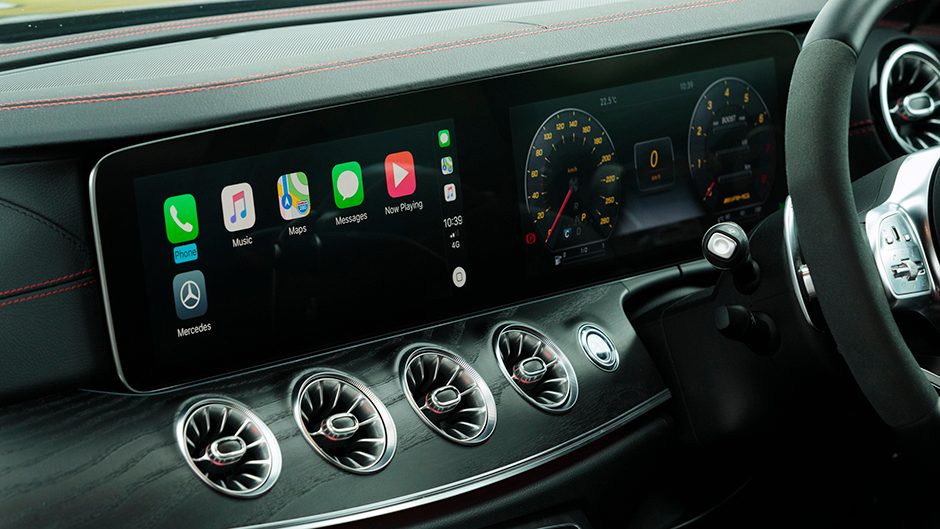 So there's plenty to distract you, but then for $180k you kind of expect that. Despite the two-door coupe shape and pillarless design, there's actually quite good visibility, aided by cameras, and reasonable space in the rear seats, though getting there and back is a bit of a trick. Luggage capacity is also reasonable at 425L, plenty for two.
However, if you're more the practical type, there's always an E 53 sedan which will be roomier, and just easier all round, but not as exciting to behold. However, there's an extra 100L of boot space which is not to be scoffed at. Mild hybrids may add complexity but they're clever and are the stepping stone to an electric future.
| | | | |
| --- | --- | --- | --- |
| Model | Mercedes-AMG E 53 Coupe | Price | $180,200 |
| Engine | 2999cc, IL6, T/DI, 320kW/520Nm | Drivetrain | 9-speed auto, all-wheel drive |
| Fuel Use | 8.8L/100km | C02 Output | 200g/km |
| 0-100km/h | 4.21sec | Weight | 2009kg |