Rexton, the stalwart of the Ssangyong range, is entering an all-new generation with the G4. And it's making a play for increased custom with a more premium persona, while still retaining its versatility and value.
The SsangYong Rexton has been around, for, well, a while now. It debuted way back in 2001, and we've always thought it a good honest truck, big on versatility and value. It was a winner of our SUV of the year award in 2004, and since then it has gone through a few generational updates, one in 2006 and again in 2012 but now in 2017, there's an all-new model, the Rexton G4 (generation four),which launches here soon. We recently drove a left-hand drive version, straight from South Korea, and we can tell you a lot has changed in the world of Rextons.
The G4 is touted as a step change for both the model and SsangYong. Rexton is the brand's image leader and there's been a concentrated drive to improve the model's quality and make it a more premium product than it has been previously. From the striking design, to the execution of the cabin, this new Rexton is massively improved. And this drive for quality is underlined by a new five-year, 150,000km warranty.
Local importers, Great Lake Motor Distributors, say the new model will enable them to lift the positioning of Rexton in the marketplace. It's part of a growth plan they say, and the Rexton will help them cement the SsangYong brand in the mainstream market, putting it on more of an equal footing with the other Korean manufacturers here. In its home market, SsangYong is thought of as a more premium brand than Hyundai and Kia, and GLMD sees this new Rexton as its chance to leapfrog the competition. They say it's 'the' vehicle for them to make real inroads into the mass market, and for SsangYong to be considered for its quality, rather than solely on value. In the New Year, we can expect a new Actyon Sport ute based on the same platform as the Rexton, and within 18 months, a new Korando.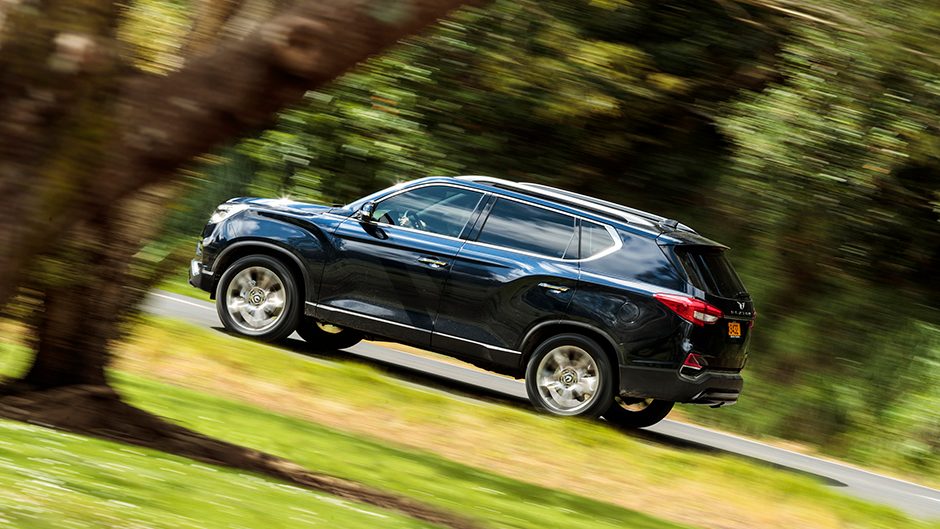 As with any SUV segment today, the forecasted predictions are for growth, and it's no different for the big, full-size trucks. To capitalise on this opportunity, SsangYong will have two model grades of the Rexton initially, both diesel powered with switchable 4×4, and there's the likelihood of a rear-wheel drive petrol model coming along later to improve the entry price point. More on the money later.
Rexton continues with its full chassis construction, but the ladder frame, body and suspension are all new. The fresh body contains a much larger proportion of high and ultra-high tensile steels for a stiffer structure, which brings an improvement in refinement. The ladder chassis too is made of sturdier steels, with better crash structures to absorb loads during impacts. On crash safety, the Rexton will come complete with nine air bags, and the top model will feature AEB, forward collision warning, LDW, lane change assist, BSM, auto high beams, and a surround view camera. The Rexton has not yet been tested by Euro NCAP. While the Rexton gains a whole host of new-found quality and refinement, the faithful will be happy to hear it retains its part-time four-wheel drive with a low-range and a coil-sprung, solid rear axle. And there's an ECE-rated 3500kg tow capacity too. In other markets Rexton gets a mulitlink rear end, but the solid rear end model was chosen for New Zealand because of its 500kg greater tow capacity. The axle is located via upper and lower control arms and a Panhard rod.
The diesel engine is the company's 2.2-litre, single turbo four cylinder, which has been tweaked with a new electrically controlled variable geometry turbine and improved variable intake manifold. It's got a few extra units of pull, now rated at 420Nm from 1600rpm and 133kW of peak power arrives at 4000rpm. Consumption is quoted at 8.3L/100km for the 4×4, and the mill is Euro6 compliant. The seven-speed auto returns with improved electronics for smarter shifting.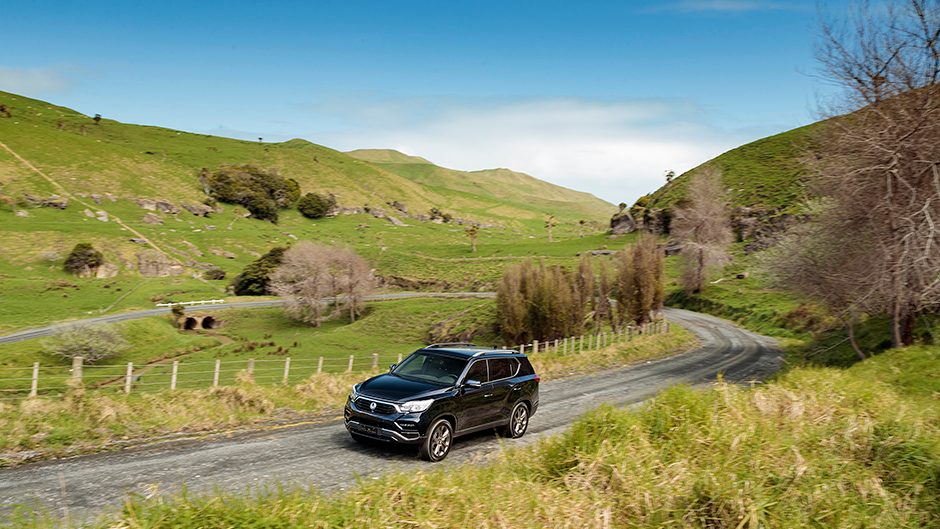 The yet-to-be-confirmed petrol model will use a German-sourced 2.0-litre turbopetrol with 165kW, and 350Nm from 1500rpm, matched with a six-speed Aisin auto, driving the rear wheels. It will have a quoted 2800kg towing limit. Noise suppression comes via quadruple layer door seals, woven polyester wheel housings, plenty of under-bonnet insulation, and hydraulic engine mounts.
As mentioned there will be two model grades, though the specifications for the New Zealand range are still to be finalised. Expect both to roll on the big 20-inch wheels as previewed by this rig, and for there to be few outwardly visible differences between the two variants. The new Rexton is an imposing rig, wide (1960mm) and tall (1825mm), with a big presence. Thankfully it isn't overwrought with styling features, just enough to break up the bulk of the sheet metal. Judging by most people's reactions, it's a good looking truck.
It's inside where they've made the most significant improvements. Even though it was the entry-level model we drove, the furnishings and build are of a genuinely premium quality. The seats are well designed, and lined with a leatherette trim that looks and feels better than some of Korea's genuine cowhide efforts. No, really. The details and finishing are without fault; we went searching for a harsh edge or surface up front but failed to find any. The lone oddity is the old wiggly gate of the transmission, and the winter trans mode button which looks out of place in an otherwise plush and modern cabin. The top SPR model will come with full nappa leather trim, complete with a quilting effect on the dash and seats, and all manner of convenience features. The eight-inch infotainment system will feature both CarPlay and Android Auto while there's a configurable seven-inch TFT in between the main dials to relay drive info. Rexton even gets treated to mood strip lighting. Compared with the ute-based rugged SUVs Rexton will ultimately compete with, its interior treatment is in another league, and as good if not better than most of the big seven-seat crossovers, like the Toyota Highlander.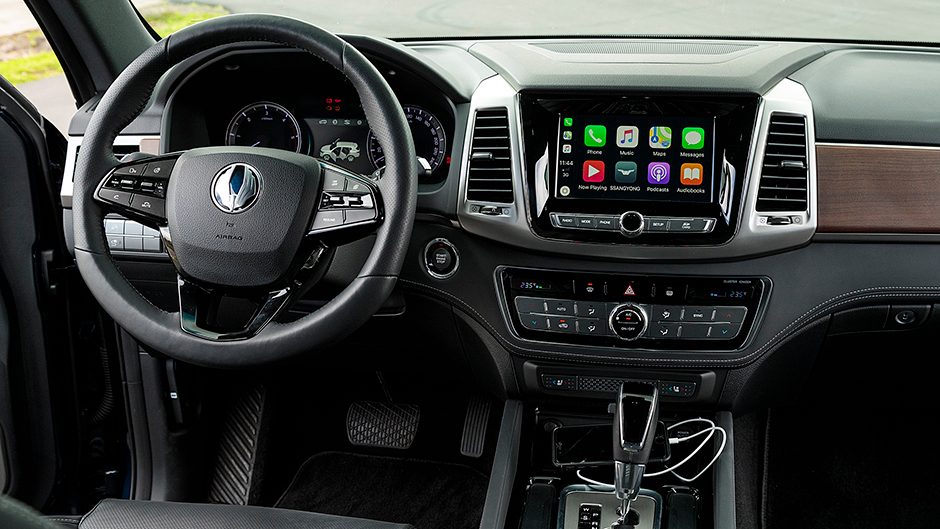 Rexton is big on the inside too with a wide and airy feel despite the dark roof lining. There's good lounging room in the second row, with a flat floor and a leisurely recline on the seat back, while the soft trim furnishings extend back there too. Expect a power inverter and USB socket for device charging.
All Rextons will feature seven seats, and while there's not a huge amount of leg room back there for an adult, the kids will be alright. Entry is sorted via the second row, split 40/60, as it folds and tumbles for good access. There's ample luggage space with the third row stowed, though there's not much left when both the sixth and seventh seats are in use.
On road, those noise cancelling efforts have paid off; there's hardly any road roar, just a little wind rustle, and only when the engine is pressed past 3000rpm do you really notice its presence. The actual ride quality isn't half bad for a full chassis rig on 20-inch wheels. There is the usual shimmy from the rear through rough corners, but it's not overly rolly in the bends and the front end has some decent stick in the curves. The steering is light weighted, and while not overly connected it adds weight when cornering to help with feel.
Rexton's not slow in the context of the full chassis class. While we didn't strap the test gear on, it doesn't feel overly burdened with mass (the weight is a claimed 2130kg), and it can truck on down the straights. This should be a good long distance machine. The diesel has a solid surge of midrange torque, which is its forte. It's not the quickest revver, and signs off just past 4000rpm, but with seven speeds to work through, that's enough. The auto is programmed for smooth shifting, good for general cruising and when you need more response, like for twisting hill work, you can pull the lever over into the manual position. Rexton still uses a lever-mounted switch to effect manual changes, which just doesn't work all that well but this setting holds gears longer, and will kickdown when you floor the pedal, making it a quasi-sport mode, and this suffices. On loose surfaces, the traction control can be a might restrictive, but is remedied by switching to 4×4 mode which has a fixed 50/50 torque split.
At a town gait, there's a moment of lag off the mark, but by 1300rpm the 2.2 is making good torque and the auto is pretty good at keeping it happy. In full kickdown, it can drop multiple gear ratios at a time so requests for extra pace are met smartly. The lightweight steering makes it easy to pilot and though it's wide it isn't overly long at 4.8m and the turning circle is city friendly too.
Despite it being around for yonks, GLMD moved more than 400 of the old Rextons last year. This particular vehicle was on display at the Fieldays, helping them to pre-sell the model, and so there is already a decent order bank we're told. And so they expect to improve on 2016's total by 50 per cent in 2018. While not quite ready to release pricing just yet, GLMD says the top model will be under $70k, while the forthcoming rear drive petrol is likely to in the high forties, which should cause a stir.
| | |
| --- | --- |
| Model | SsangYong Rexton G4 Sport |
| Price | $TBA |
| Engine | 2157cc, IL4, TDI, 133kW/420Nm |
| Drivetrain | 7A, switchable 4×4 |
| Fuel Use | 8.3L/100km |
| C02 Output | 218g/km |
| Weight | 2130kg |