Slotting in between Evoque and RR Sport, Velar is arguably the hottest looking Range Rover yet to debut. And it may be the best on road too, with an aluminium monocoque.
The latest arrival from Range Rover is an enigma. For it is similar sized and priced to the RR Sport, and has the requisite off-road capability of the brand so the cynic might therefore ask, what's the point? The other unusual aspect of the Velar is its odd name that literally means 'hiding' in Latin. True, it was originally the in-haste title for the first Range Rover but why reuse it, especially as it means concealed and this is one vehicle you most definitely do not want to hide.
One suspects that this was a concept vehicle for a future Rangie that was so pretty the firm couldn't not make it. Those predisposed to RR product will look at this and fall for it in a heartbeat; its sleek lines, small glasshouse, low slung body and 21-inch wheels – you can go 22 if you want – make the rest of the range seem dated. And on sleek, it's said to be the most aerodynamic of Rangies as well, thanks in part to door handles that pop out after unlocking and recede back into the bodywork once underway. A Cd figure of 0.36 is pretty respectable for a high rider with a decent pawprint. It's quiet too, hushed even, with no SPL reading exceeding 70dB.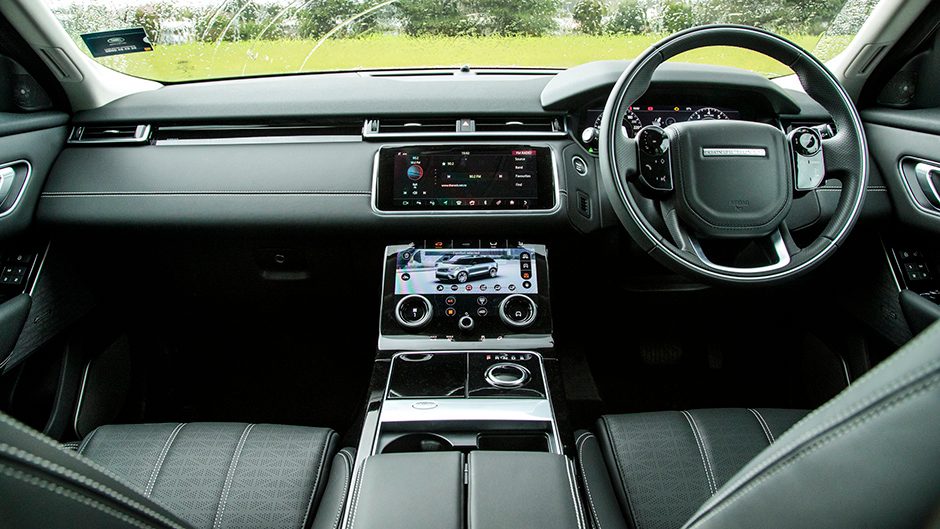 Space Age Cockpit
As to other aspects, they're more straightforward, though we'd be remiss not to mention the gorgeous Touch Pro 2 technology that is set to be incorporated across the rest of the Rangie line-up. It vaguely resembles the control centre of a starship, with a pair of high resolution 10-inch touch screens front and centre, the smaller one tilting and sitting above a larger one. Pretty much every function that isn't involved in physically driving the vehicle resides within menus and submenus visible on these screens, though functionality is not quite as intuitive as any Apple device. Think of this more as an Android device in terms of a learning curve, except, while we're on that, there's no Android Auto or Apple CarPlay. But for sheer aesthetic appeal the twin screens rival the monster device in the Tesla P100D and the equally elegant unit in the Volvo XC90.
Like anything, with time comes familiarity. It's really best to practice using the screens while stationary. Be warned, this is a wide vehicle, at over 2m, and it strays out of its lane quite easily if you're distracted. Trip data are more straightforward, all the relevant info at the base of the main instrument panel and accessed by repeatedly clicking the button on the end of the indicator wand.
Once you've calmed down and comprehended that you can probably operate this vehicle without needing to attend a course at a tech institute, you'll likely notice the beautiful leather interior treatment, the seat upholstery finished in a fetching diamond pattern. The seats themselves get the full power treatment, with a lumbar pump that seems to insert something the size of a small boulder into the small of your back. In the HSE you can also turn it on to massage, the seats set to hot or cold.
It's about this time that you realise how cozy the cockpit is. The front seat passenger might well notice the glovebox lid in close proximity to their knees when opened. In the back, with the front seats set for adults, there's enough knee room for a pair of adults but not a lot more. A nice feature is the power adjustable back rest for rear seat passengers. Also powered are steering column, folding heated mirrors, and the tailgate.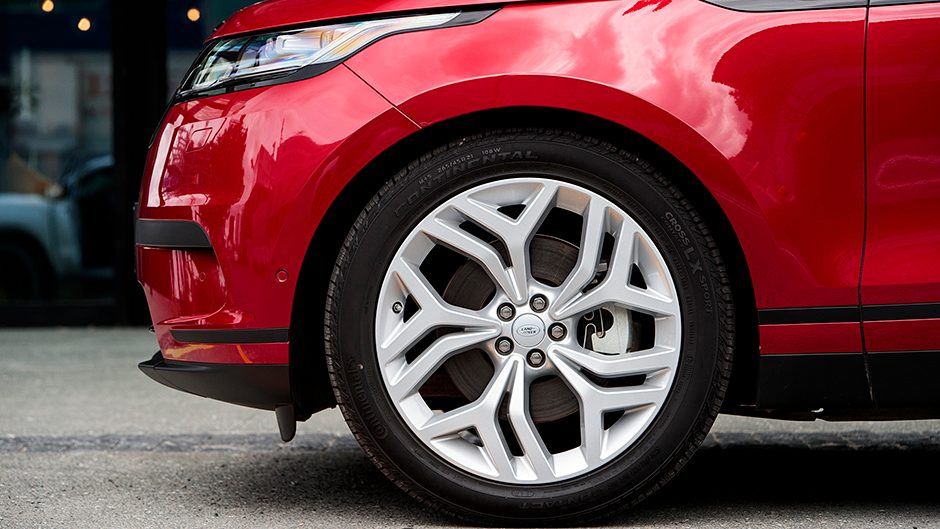 Options can add up
The model we drove was the full metal jacket variant, the HSE which lists 'from $152,900'. And it doesn't matter whether you choose the petrol or diesel powertrains as they cost the same. The range-topping R-Dynamic spec looks smarter, as the name suggests, with bonnet fenestrations, a beefier lower grille, fog lamps and 10-spoke wheels. HSE comes with the main active safety items, along with matrix LED headlights and DRLs, configurable mood lighting, a 17-driver Meridian sound system, Nav Pro and climate air, 360-degree camera, park assist and TFT instruments. The main options include Terrain Response 2, and active rear locking differential, along with a host of packaged items, and an even flasher Meridian sound system. Head-up adds $2200 while the activity key goes for $650.
For interior space this doesn't seem a whole lot bigger than Evoque or Discovery Sport. And nor is it as spacious as new Discovery, a seven seater. Velar looks somewhat bigger than it really is, perhaps because of the family resemblance to RR Vogue. It's wide for sure at 2032m, and is 4.8m long, with a wheelbase of 2874mm. So the relative snugness inside is surprising.
Scoot around back and we gave up on gesture control opening the powered fifth door. Hit the manual release instead and there's really a most generous hold back there, 673 litres apparently (out to 1731L with rear seats folded away), and nicely finished it is too.
Underneath all of this real life collateral beauty lie the bones of Jaguar's F-Pace. While there's a vague resemblance externally to that vehicle, it's about as far removed on the inside as it could be, the only real similarity being the space efficient if awkward rotary dial JLR uses instead of a shift lever.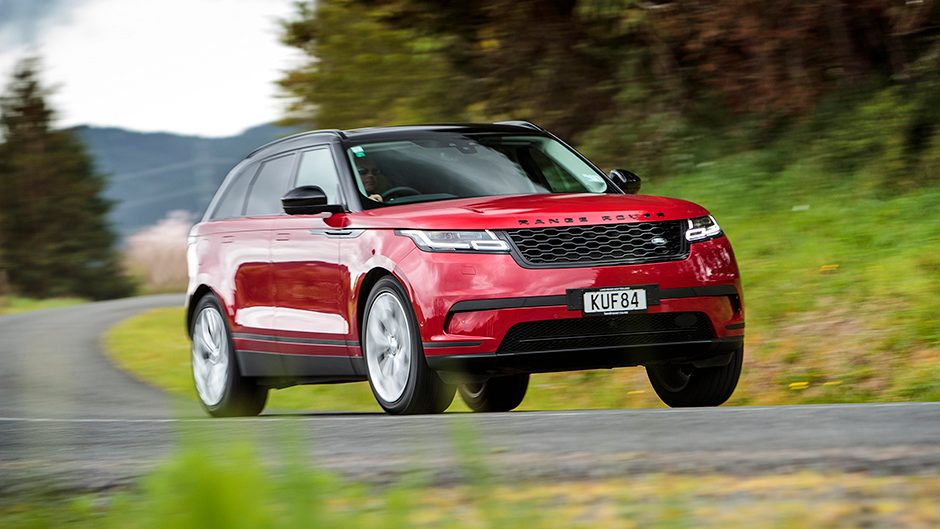 Looks quick, goes hard
Beneath that sexy sheetmetal is an aluminium monocoque that makes this Rangie much lighter than Vogue and RR Sport by around 400kg but as suspected from the launch it ended up being over two tonnes on our four-corner scales. At the launch that's partly why we said we preferred the beefier 700Nm diesel which also uses 3L/100km less fuel. On out of town running the trip computer suggested mid 13s for the petrol, and we noted a best of 6.5L/100km during highway running on the flat.
However, after a few days with the supercharged petrol, I'm a believer. For the petrol engine brings 280kW to the table as compared with 221kw for the oiler, and its maximum torque of 450Nm is developed from 3500rpm onwards. Not that it's wanting from lower revs as the blower is always on the case; we found acceleration from 2500-3500rpm brisk enough for most up-to-speed needs, and from 3500-4500rpm it's a big mover.
We believe the 5.7sec claimed 0-100 time must be for the lighter base variant, as our best was a 5.9sec run. Back a few gears and an overtake in the mid-3s is spirited. At 100 it fair scampers ahead with a shift to sixth. This never feels tardy. Its supercharged midrange bristles with grunt, and there's simply no need to keep your foot in above about 5000rpm unless it's an emergency. And on that, brakes are more than up to the task, though for a proper stop the pedal requires decent input.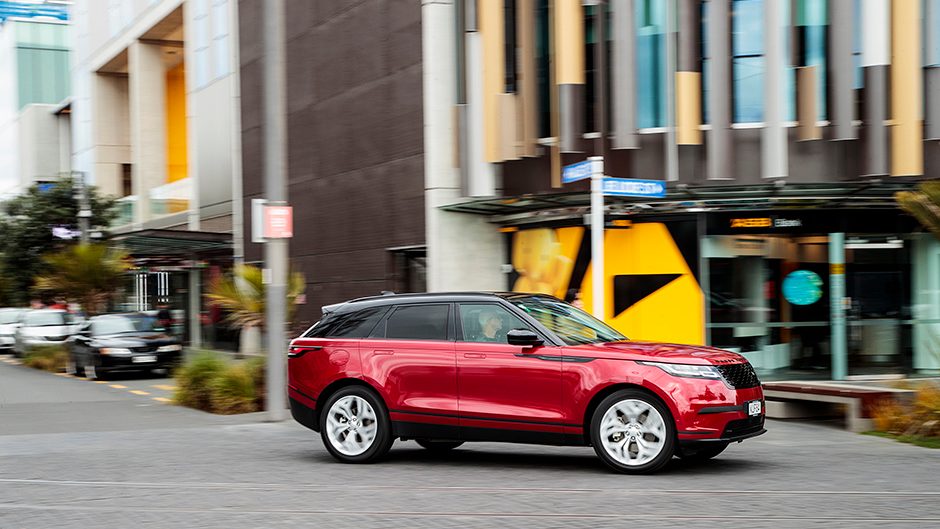 Weight well distributed
Optional configurable dynamics make this vehicle easy to set up for town and country running. In the Comfort mode, the easy-going engine pulls well at lower revs, the eight-speed auto oozing up through the gears with liquid shifts, sloping along city streets in seventh no worries. Meanwhile the air suspension cancels out any manner of road roughage. Hit Dynamic and the suspension bones up for faster, harder running. But many won't bother as the ride quality is so endearing in Comfort mode, and it still corners in pretty handy fashion, even if there's a bit more body motion. But in Dynamic it's as if the body is locked solid in corners, slicing through them at speed thanks to its nifty 50:50 weight split and torque vectoring by brake. Point to point this can hike.
Competition comes in the form of the faster slightly more expensive Macan Turbo, the AMG GLC 43 which is lighter and quicker, but not so sexy or luxury oriented as the wafting Velar, and Jaguar's top F-Pace variants which are over $20k less expensive but not anything like as flash inside.
Will there be a range-topping V8 version of Velar? Probably, JLR's Special Vehicle Operations (SVO) arm promising to develop its own version.
| | |
| --- | --- |
| Model | Range Rover Velar R-Dynamic HSE |
| Price | $157,850 |
| Engine | 2995cc, V6,SC,DI, 221kW/450Nm |
| Drivetrain | 8A, AWD |
| Fuel Use | 9.4L/100km |
| C02 Output | 214g/km |
| 0-100km/h | 5.90sec |
| Weight | 2063kg |