Spanish car maker Seat has been dormant here for yonks but now reactivated, it's on, offering compact SUVs like Ateca. And there's also this wee fireball, the Leon Cupra.
If you haven't heard of SEAT (Seat hereafter), the "youthful, dynamic" Spanish arm of the Volkswagen Group, you're probably not alone, for while it has had a presence in New Zealand for around three decades, the importers, EMD, haven't ever really done anything with the brand. That's because they've been busy promoting Volkswagen (Seat's owner), Skoda and Audi.
Now Seat embarks on its New Zealand adventure, not that it ever really left but the brand has been quiescent, like a slumbering volcano, since the 90s. That is all about to change however, given as how the brand has launched a new compact SUV, the Ateca, and is set to launch two more in the near future, one smaller (Arona) and one bigger (due 2019, as yet unnamed). Initially, business will be conducted out of Auckland, from a new purpose-built facility in Newmarket.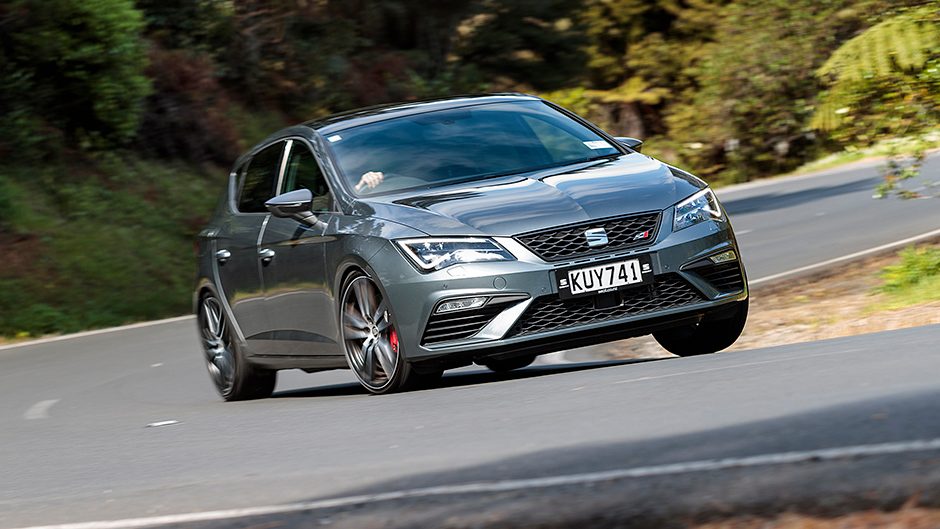 Because Seat is new (ish) here, a bit of history is in order. Seat, (pronounced say-at), was founded in 1940, but the timing wasn't good and it got going properly only in 1950, with a helping technology hand from Fiat. Thirty-five years later VW came on board and by 1990 it was soon wholly owned by the German. In 2016 Seat moved 400,000 vehicles, accounting for roughly 10 per cent of VW Group sales, and managed a profit of 150 million Euros.
Seat has sold a few cars here over the years, Ibiza and Cordoba but only a hundred or so in total. The Ateca will be the real drawcard initially, given the SUV dominance of our market. It will be available with three engines, kicking off with the ubiquitous 1.4 TSI unit at a cost of $38,900. Others include Ibiza, as a lone $25,990 7DSG model, Leon (think Spanish Golf) at $36k, and the might and power that is the Leon Cupra.
Top Cupra hot hatch for Kiwis
Might as well kick off with the fastest of all Seats, the Leon Cupra, known as the 300 overseas. This is the GTI-baiting Seat, selling for the same amount as VW's popular hot Golf. The Cupra model name is a contraction of Cup Racer, and until a couple of interlopers happened along it held the front-wheel drive record for the quickest Nürburgring lap, at just under 8min. The current record holder is the Civic Type R (7min43.8sec). Here, the Cupra is available now for $56,900 plus ORCs in six-speed twin-clutch trim. Until April 2018, a manual variant will be on sale for $2400 less, and while only a few purists will likely buy it, given the auto is a twin-clutcher, it's still fabulous fun. Yes, the direct shift gearbox version is slightly quicker but the manual's simply a more involving drive. So things go.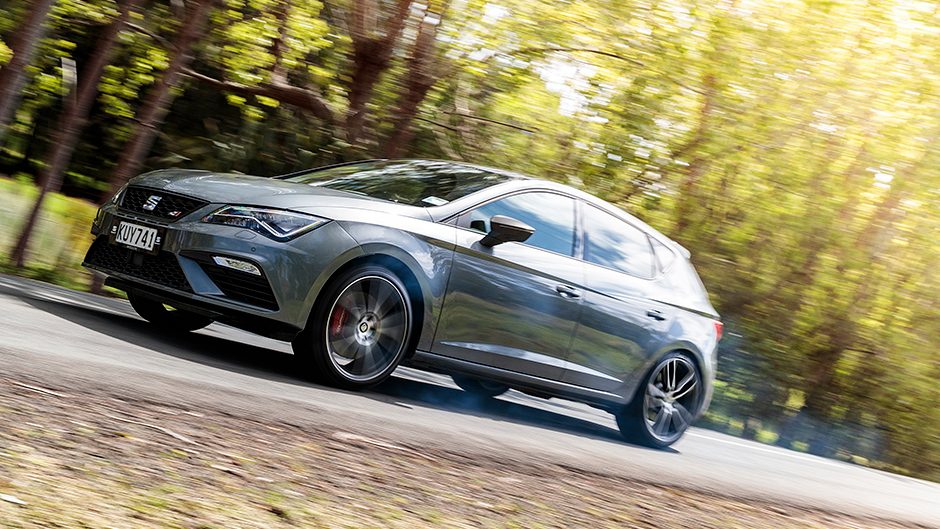 Fastest full frontal
The Cupra we got to test is the one with the six-speed DSG box, and it's one of a handful of front-drive vehicles that its maker rates as a sub-six-second weapon. All but two have failed the test; VW's GTI 40th Edition the first to walk the walk, followed by the first manual to do the business, the Civic Type R.
The Cupra managed the task comfortably as it happens, but then it would wouldn't it? For it has 9kW more power than the limited edition VW, and weighs slightly less. It's rated to complete the 0-100km/h dash in 5.7sec, thanks in part to launch control, which is essentially a waste of time. With the rev counter hovering at just under 3000rpm, the Cupra merely spins up the fronts as you get off the brake, TC hampering progress. Best to turn off ESP altogether and it then powered to a best time of 5.50sec, a hair quicker than the VW GTI 40th Edition.
Helping to get the power grounded is a torque-sensing electronic limited slip differential which can, in extreme circumstances, apportion 100 per cent of drive to one wheel. Therefore, an XDS electronic differential which brakes an individual wheel is not required. The system essentially mitigates torque steer; in the whole time we drove it there was none. Without it there would be plenty, for the engine is similar to that in the $70k Golf R, packing 222kW, and generating 380Nm from 1800-5500rpm.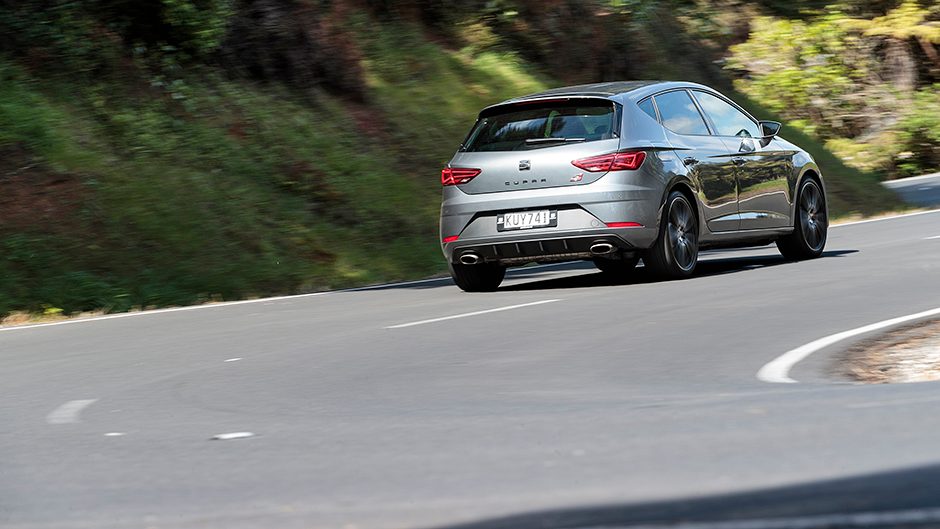 Things would be closer for the 80-120 test though, with all three front drivers about as quick. The Cupra is seven hundredths quicker than the VW GTI 40th Edition at 2.92sec, but the Type R rules with a best of 2.89sec.
For the other performance criterion we measure, an emergency stop from open road speed, the special GTI got the better of the Cupra by a metre, while the Spaniard edged Type R by a smidge. Certainly there's nothing wrong with how the Cupra slows, its vented brakes both ends doing a sterling job of countering its headlong progress.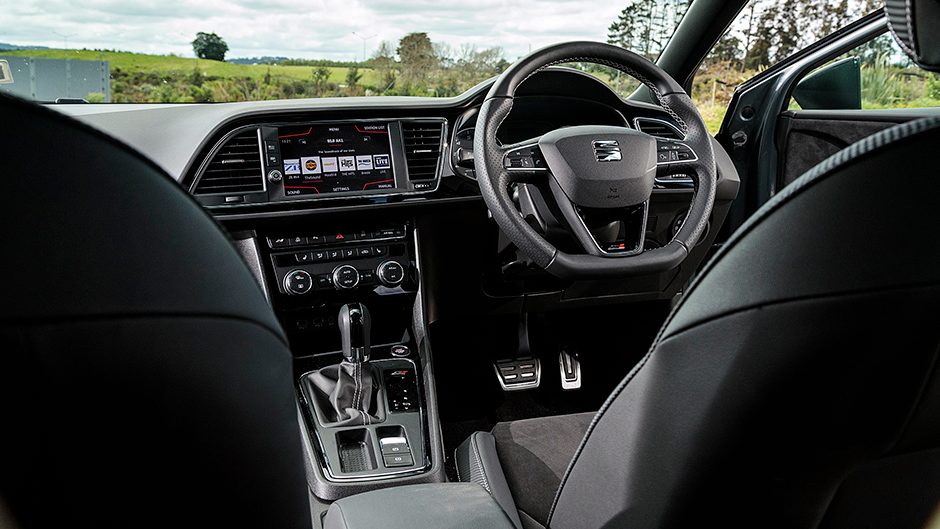 Ease of use
And what progress this is. In quiet urban assault mode it puddles along easily in D, pulling fifth gear at 50km/h, upshifting quietly before 2000rpm and the turbo active by 1500rpm. But a pull of the lever back to S mode sure enlivens things, the turbo kicking by 2500rpm and acceleration going bonkers from 4500 to 6750rpm. On short straights this is quick, each upshift in Cupra mode accompanied by a bark from the exhaust.
About the only black mark is that S is almost too spirited, D mode a bit soft. Sometimes you want something in between. For that you merely hook into the paddles. But then you're driving it manually so why not the manual instead? Indeed.
Back on the motorway, it settles into a quiet lope under the mindful guidance of active cruise control. And on the other active element in Cupra, standard fitment is DCC (Dynamic Chassis Control), or adaptive damping. Its firm and controlling in the Sport setting, and essentially track-ready when in Cupra mode. We imagine most will use it in the Comfort mode most of the time.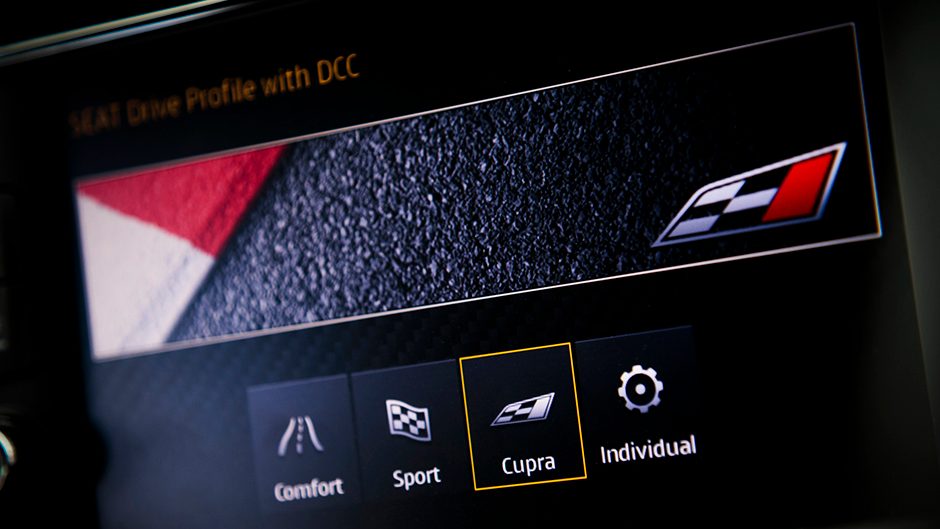 On a weekend trip to the Whangamata area with a fussy passenger, the ride bordered on firm even in the comfort setting when cruising at legal highway speed, and it can occasionally send shudders through the body when encountering squared off ruts. There's quite an amount of road rumble over the worst of our chipseal surfaces too, and much of these can be laid at the feet of the 19-inch rims and the Conti Sport rubber.
However, the dynamic envelope of the Cupra is certainly impressive. It sits hunkered and flat on its low profile boots. Despite 62 per cent of its 1425kg kerb weight teetering over the front axle, it can still round up the corners, with hugely impressive entry speeds, maintaining a flat attacking stance and a true line midcorner. And it gets out of the exit early and hard on the gas thanks to its trick torque-shuffling differential. It feels as fast through racer roads as the Type R, only it doesn't quite have that car's breadth of ride quality. However, as a six-speed DSG-equipped vehicle it undercuts the hot Honda by just over $3000, which isn't to be sneezed at.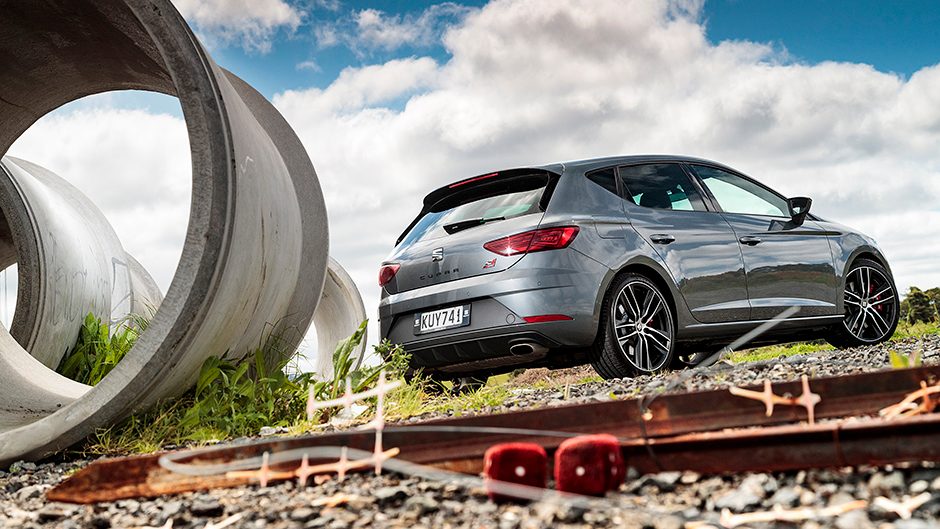 Good look and equipment level
It has a quietly stealthy look about it the Cupra, nothing too overt here. There's hot wheels, red coloured calipers and LED daytime running lights, along with subtle badging. It's all rather GTI-like, only for similar money to the VW hottie the Cupra is positively weaponised.
Practically speaking, this works well. It's simple to run through a touch screen, HVAC by buttons, and the trip computer is easy to monitor. Fuel use topped out at 11.6L/100km, but on tour expect low eights.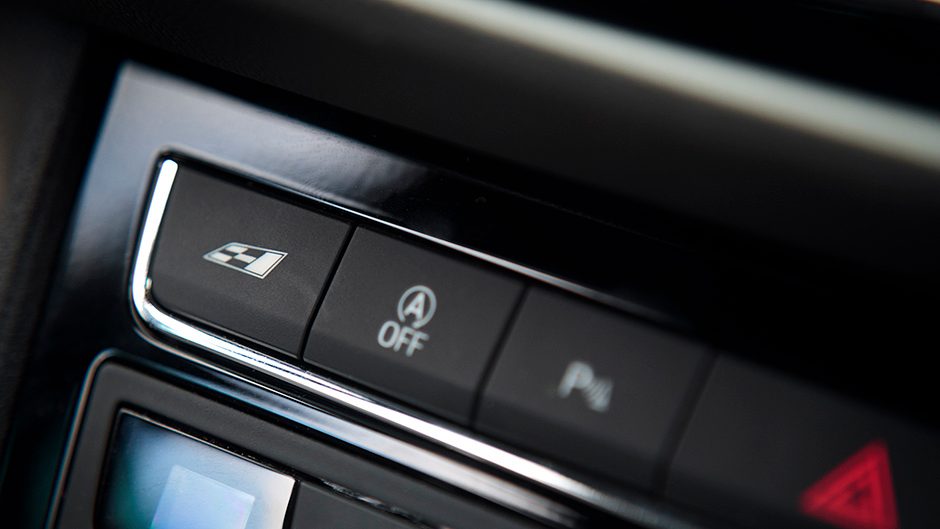 Subtle ambient lighting enhances what is otherwise a dark interior. We particularly liked the grippy Alcantara seat trim, and general seat support, though more lumbar adjustment is needed. Special features include LED headlights, heated seats, comfort entry and pushbutton start, wireless phone charging, 360 degree camera and parking sensors both ends. There's no lane keeping or blind spot warning but collision mitigation and active cruise compensate, as do Apple CarPlay and Android Auto. Nav and maps for three years are $850.
Given you're getting virtually the performance of Golf R for base GTI money, and it's as quick as a manual Type R for even less outlay, we imagine hot hatch enthusiasts will be keen to check this out, especially with Seat finance options available. Cheap seats never looked so good.
| | |
| --- | --- |
| Model | Seat Leon Cupra |
| Price | $56,990 |
| Engine | 1984cc, IL4,T/DI, 222kW/380Nm |
| Drivetrain | 6D, FWD |
| Fuel Use | 6.8L/100km |
| C02 Output | 156g/km |
| 0-100km/h | 5.50sec |
| Weight | 1425kg |