Subaru is set to launch its first fully electric vehicle next year, as you will probably be aware. And we can now let you know that those who have preordered and paid a deposit will likely receive their new Solterra in April 2023, as long as there are no hiccups like chip shortages, Covid surges or logistics.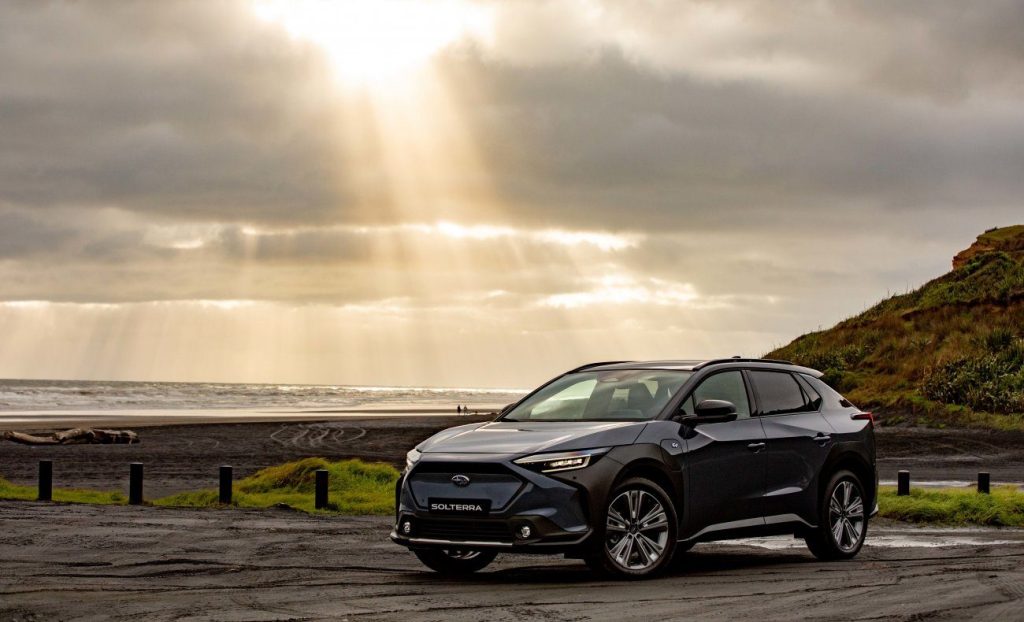 And from our initial impressions at the reveal (look and touch but don't drive) this one should be more on the money than the firm's first electrified offerings. Mention of which, there will be two models on offer, one of which should come in under the $80k price point and therefore be eligible for the full CCD (meaning you'll pay around $72k) while the other with higher specification probably won't. We imagine both will sell well, given plenty of EV buyers like their models fully specified and don't mind paying a bit extra. The top model will likely add things like heated seats and wheel, panoramic sunroof, H-K premium audio and a bigger infotainment touchscreen.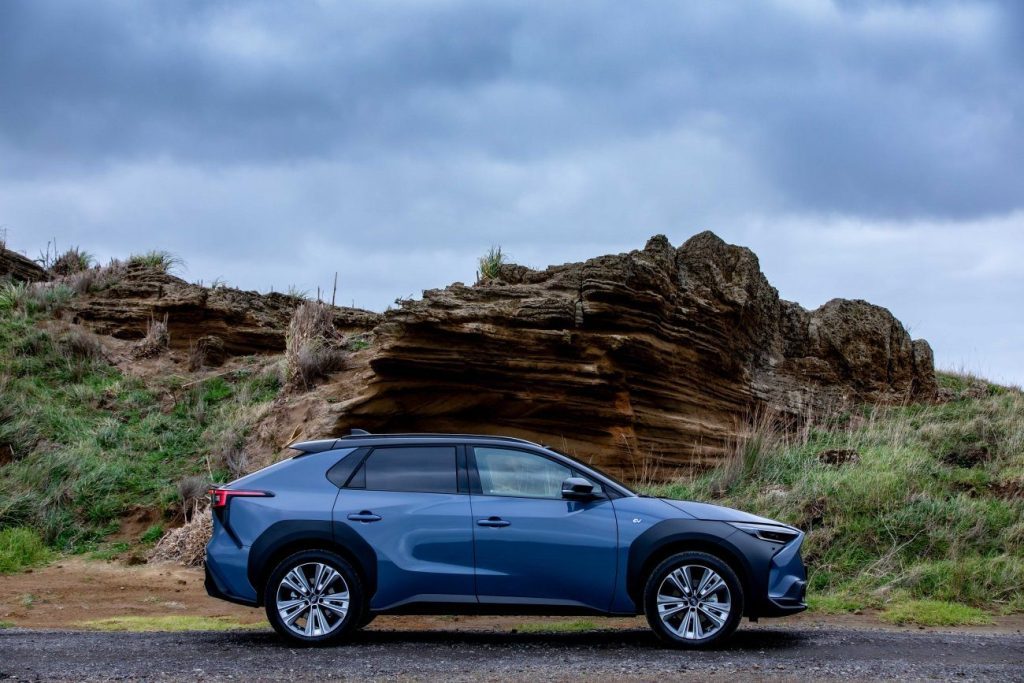 On paper it looks like Solterra ticks most of the boxes too. And by that we don't mean boxers; no engines in this baby, only motors, one for each axle, and each outputting 80kW (total system power 160kW) with torque of 338Nm. That's enough to scoot their new baby, which weighs in at just over 2000kg, from zero to the metric tonne in 6.9sec, presumably using Sport mode. There are also four levels of brake regeneration, allowing one-pedal driving.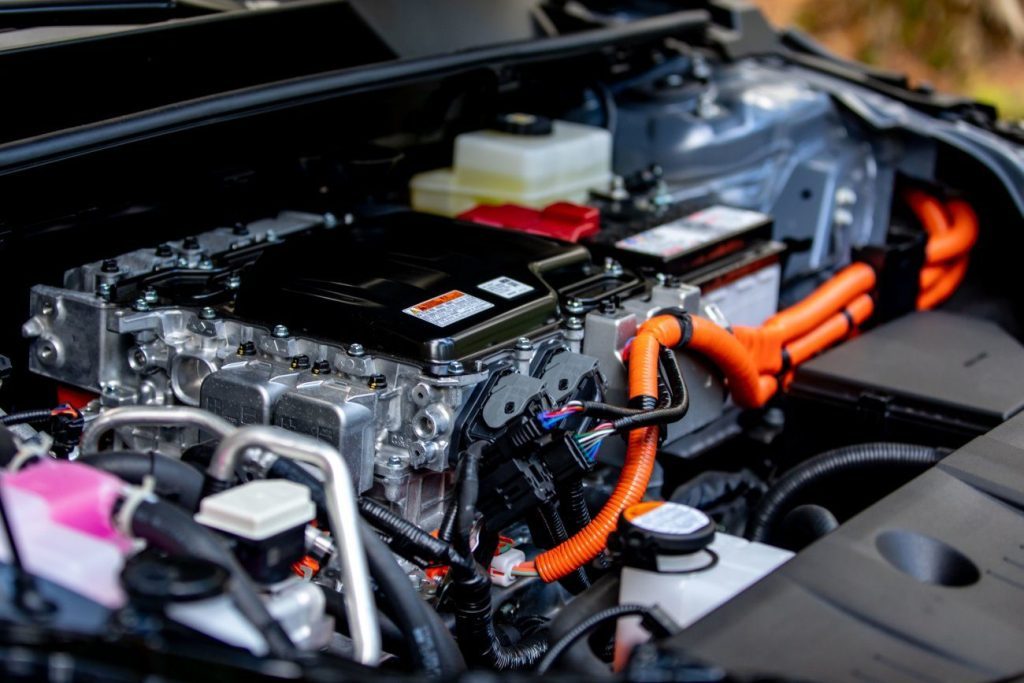 There's pretty decent range too, its 71.4kWh battery good for at least 400km. Using a 150kW fast charger the battery pack can be replenished to 80 per cent within about 30min, and an hour on the more common 50kW units. Subaru says the battery tech used means it will lose less than 10 per cent of charge capacity over a 10-year period. There's an eight-year warranty on the battery.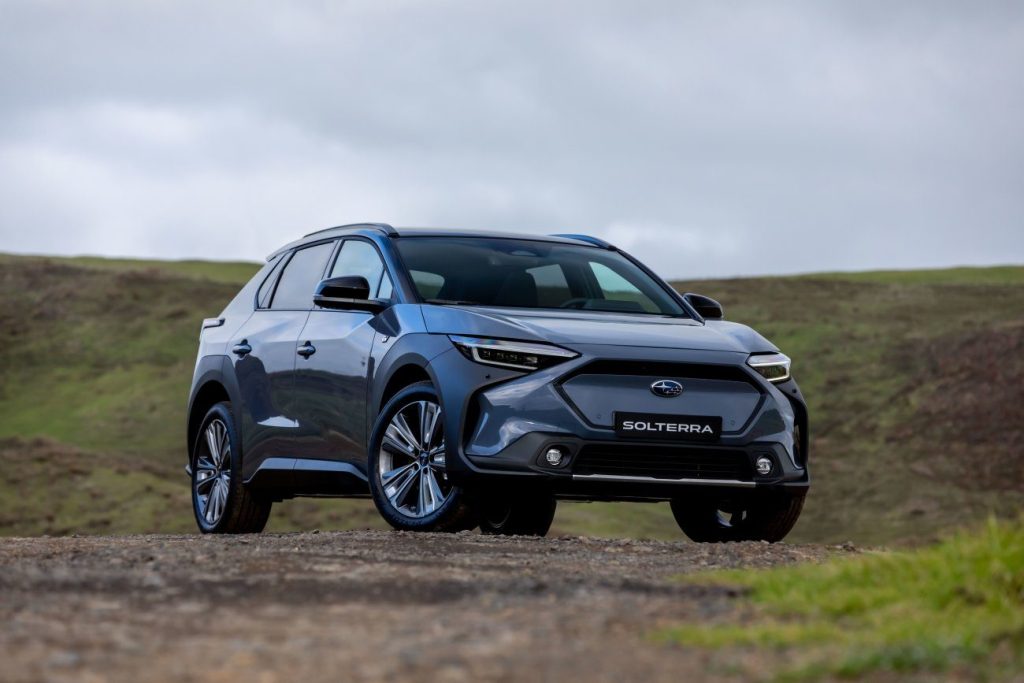 Styling is always an interesting talking point with regard to Subaru. Sometimes they really get it right, other times not so much. In this case we'd say it's more of the former. That may be in part because this vehicle is a JV with Toyota, its oddly named bz4X having a similarly likeable profile. Twenty inch rims never hurt and there's nice use of body cladding, highlighting wheel arches and the like. With full underbody cladding Solterra's coefficient of drag is a claimed 0.26, helping it to mean energy use of around 17kWh/100km. Ground clearance of 210mm is almost as much as Outback's and with X-Mode AWD this should be as good off road as you'd hope it might be.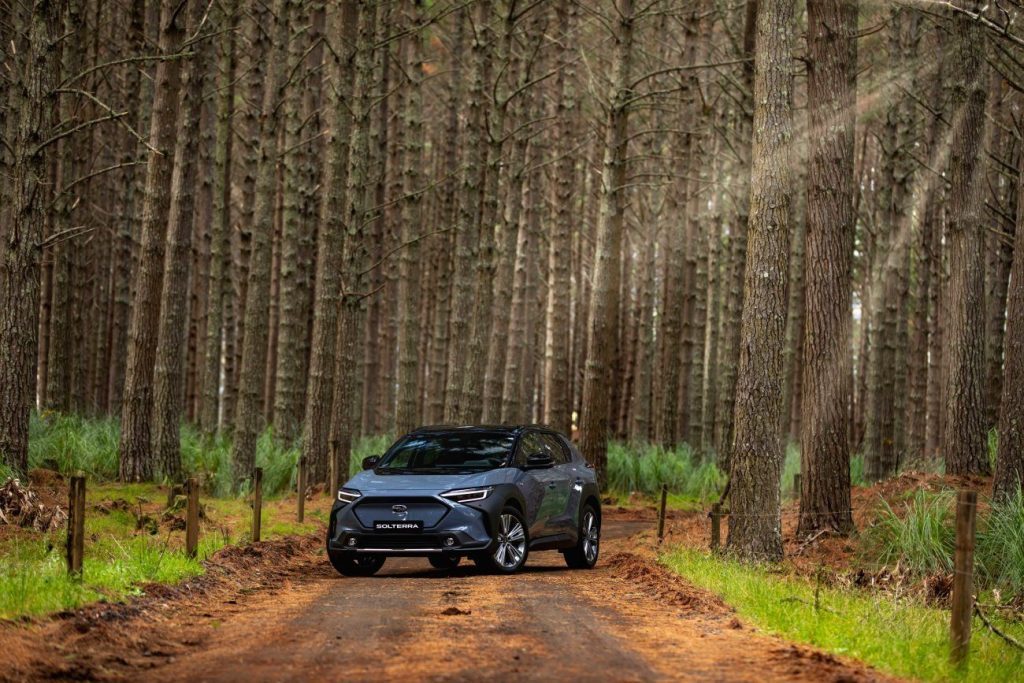 The front end suggests electric gubbins beneath as there's no grille and indeed when you lift the lightweight alloy hood there's the usual inverters and flux capacitors that typify EVs. Below all that there's a motor somewhere. And being a Subaru this comes default with AWD, though you knew that already; all their products have been thus for almost 25 years (except for that time they sold the BRZ of course). It's symmetrical AWD too, natch.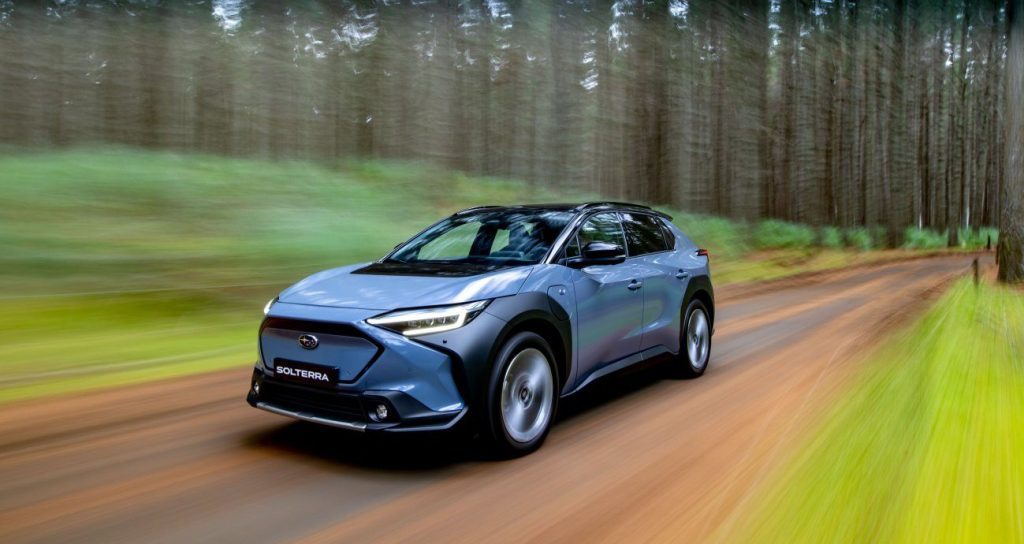 As to size, Solterra fits sweetly between Forester and Outback, and being electric it has plenty of wheelbase, nipped and tucked overhangs, and generous interior and luggage space. There's evidently 464L with all seats in use. And the rear seat room is generous too, especially with legroom, easily enough for those around the 180cm mark. Even headroom in the panoramic sunroof model is good.
Up front, the design is all new, with the important data displayed on a screen behind the wheel that you view from above the rim, as in some Peugeots.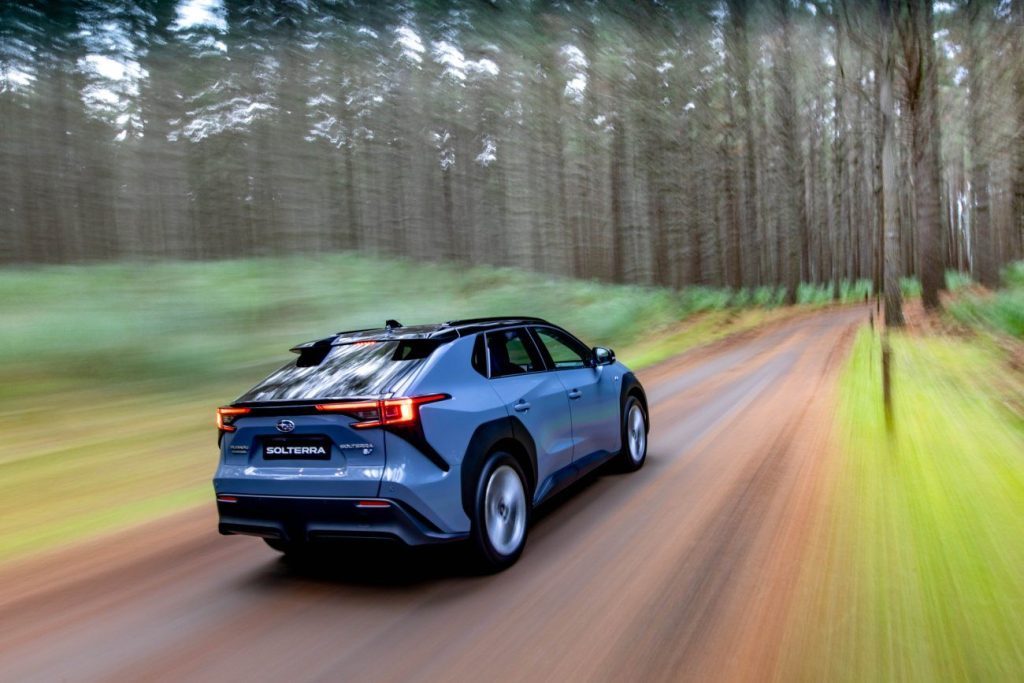 There's a 12.3-inch central touch screen, smaller in the base model. Safety spec is well covered, the new dedicated EV platform rigid and able to disperse crash energy efficiently. There are also items like a pre-collision system, lane departure and tracing, adaptive high beam and cruise control, a 360-degree surround camera, blind spot monitoring, RCTA and a safety exit alert.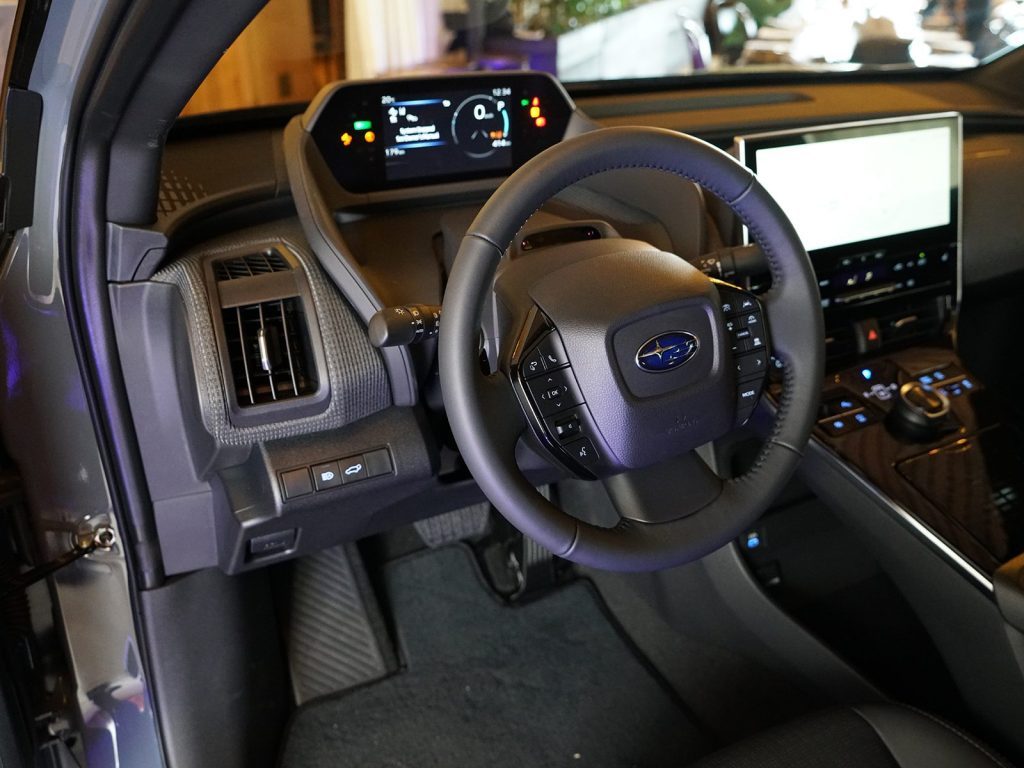 It's Subaru's 50th anniversary locally next year, so it is appropriate their first EV launches in the opening half of 2023.
The variant we saw was a left-hand drive preproduction unit, which no-one was permitted to drive. If you want to check out the production Solterra, Subaru will be landing a RHD variant towards the end of this year, and it will be doing a dealership roadshow.
At around this time there should also be more information on their higher output e-Boxer Hybrid used in XV and Forester.