Medium SUVs continue to run hot and herein we have two disparate offerings, new Tucson the townie's choice, and revised Forester for the adventurer. Which is better overall?
One thing is a constant in the motoring world and that's change. Just take a look at the styling of Hyundai's latest Tucson, now into its fourth generation. It has long been seen as a mini-me version of the Santa Fe and the resemblance continues in its latest guise but this rendering is even more radical, with headlights almost lost in the black grille and five V-shaped DRLs aside instead taking centre stage. The back is radical cool too while in profile there are enough sculpted curves and creases that any minor supermarket dingle might well be mistaken as just another design flourish. Its busy-ness in the design area wasn't lost on one commenter who knows nothing about cars. "Well that's different", she said, picking the stylised H was that of a Hyundai.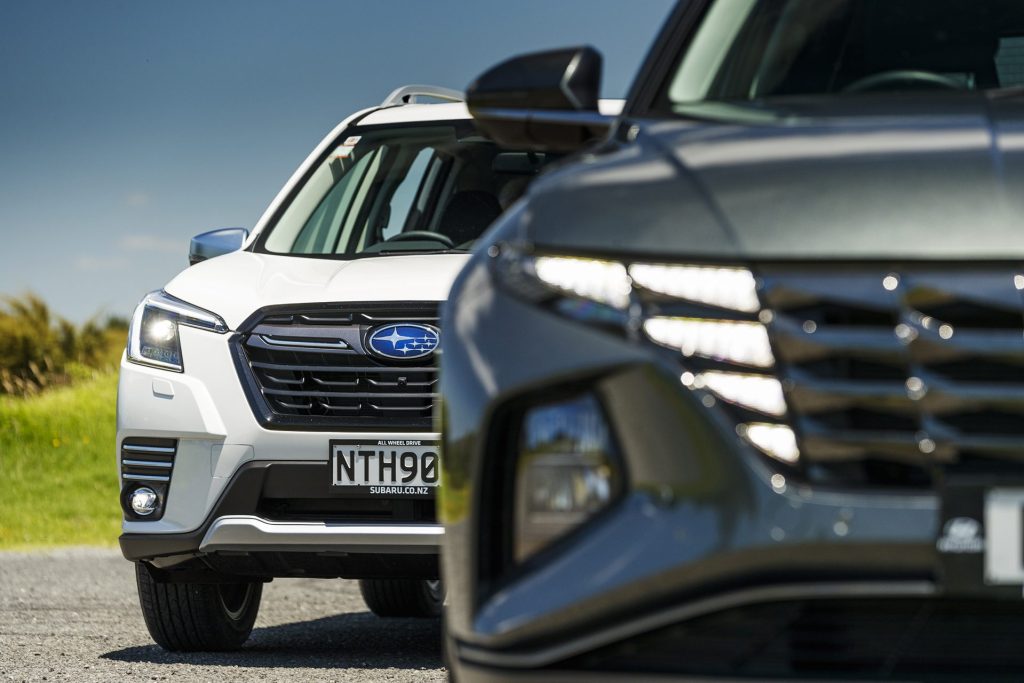 She'd have picked the Forester as a Subaru too in all likelihood. It's from a more conservative company and is an older design so looks the epitome of a medium SUV, jacked up way higher (220mm of ground clearance vs 170mm) and is boxier with its tall glass house, great for an all-round view. Visual changes for this facelift model are modest, bumpers, grille, lights, wheels, that sort of thing. It's easier to enter and exit, not that the 'Dai is any great struggle. Oddly enough, the bigger doors clunk home more convincingly in the Japanese vehicle. Both are serenely quiet on the go, one of the many reasons the medium SUV sector has just about killed the middle-sized sedan/hatch market. The cavernous cargo bays help, a claimed 498-1768L for the Forester, 620-1800L for the Hyundai but the Subaru's looks just as large.
Price points
So this new Tucson is right out there on the design front and good on Hyundai for being bold and leading edge. But you do pay for the good looks. Admittedly the one we've been driving is a range topper and at $68,990, this is more expensive than the entry-level Santa Fe. This is packed with goodies though, right down to heated wheel and rear seats, plus every safety measure known to man, but top-of-the-line Tucson was formerly closer to $60k than $70k. And it kicked off in the $30k region, like its rivals. Now even mid-40s won't buy you a base model but it will with Forester ($42,990).
This Forester Premium costs $52,990, $16k less, enough change for a decent middleweight motorcycle or jetski. Can the Tucson specification sheet overturn the mismatch? And if not, does the styling or driving experience warrant spending the difference?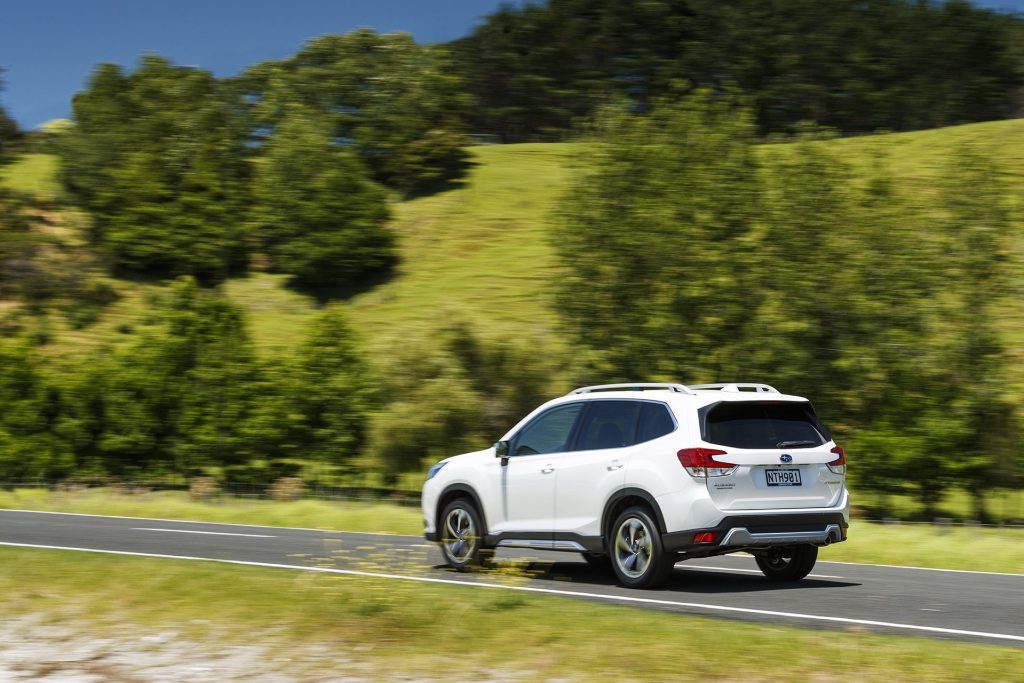 This top Tucson inherits the clever camera blind spot monitoring from Santa Fe, images on the left side showing where the speedo was when indicating left and on the right replacing the tacho. There are warning chimes galore, especially for imagined collisions but Forester with its EyeSight system is just as fatalistic.
The Limited really has almost unlimited spec, including Qi charger, leather trimmed powered, heated and vented seats, a Krell sound system, a powered boot lid, and a surround view monitor. The attention monitor works too; it told me to go get a coffee. So does the rear cross-traffic collision avoidance system, applying the brakes if it thinks you're about to back into an approaching vehicle (ditto Subie). There's a safe exit warning too, along with self-dipping LED headlights, privacy and solar glass, heated rear seats and a big 10-inch touchscreen with sat nav. The system is compatible with both types of smartphone, as is Subaru's.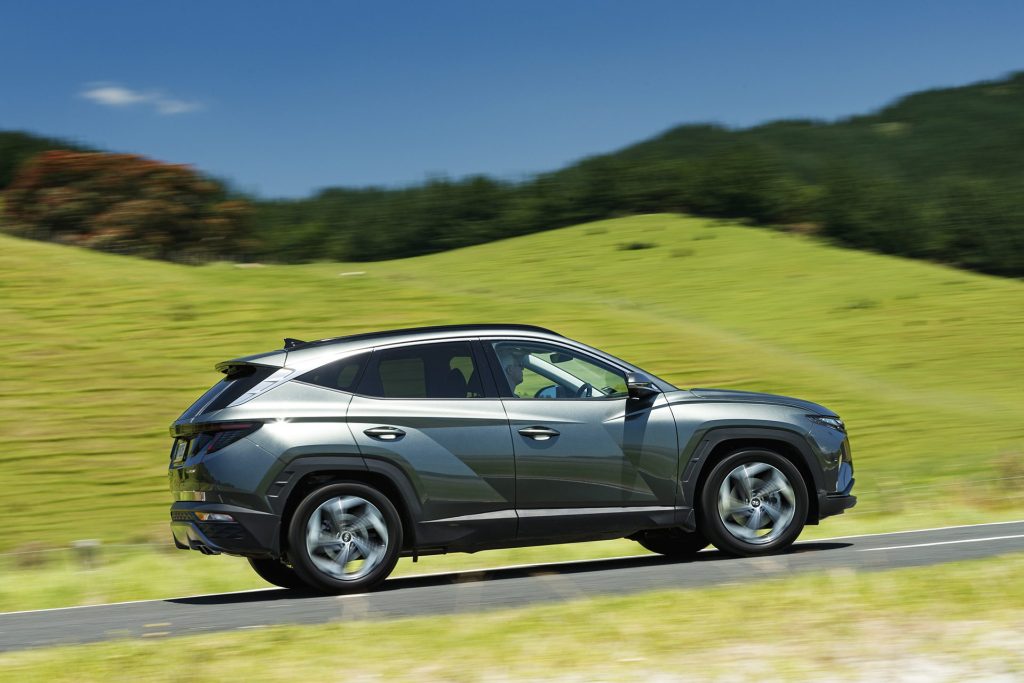 Forester Premium however gets most of this guff as well, bar the device charger, heated steering wheel and rear seats, and lumbar adjust of any kind. While it features only two drive modes to the trio of Tucson, Forester gets an X-mode system for snow and mud larks. Its wheels are 18s vs 19s on the Tucson and there's no overhead camera system, nor are the rear seat backs quite as adjustable in terms of fixed positions, though in both vehicles they unlatch electrically from the luggage compartment.
It gets a few other things that Tucson doesn't like gesture control for AC (why bother?), self-levelling and steering-responsive headlights (LEDs both), and touch-sensitive locking instead of by push pad. Both feature an auto-retracting driver's seat, paddle shifters, leather trim, driver recognition systems and full underfloor spares. So the big cost difference is rather difficult to discern on the specification front.
Equal on performance but are they?
On paper, more or less. Neither is quick in a quantitative sense, both taking around 8.5sec to hit 100km/h, while for the overtake it's around 6sec for each, the Tucson a touch quicker. Emergency stops the Tucson aces, but then it has more tarmac-oriented rubber.
So relatively equal then, right? Not quite. The Hyundai uses a 1.6 turbopetrol that develops 132kW at 5500rpm, and 265Nm from 1500-4500rpm. Mean fuel use is rated at 6.9L/100km but the long term average was sitting on 9.4L/100km, and we often saw double figures.
By contrast, the Forester uses a naturally aspirated 2.5 flat four. As part of this year's refresh, the 2.5 underwent an almost total makeover. As a result, the engine power is up by 10kW to 136kW at 5800rpm and torque has risen barely to 239Nm at 4400rpm. It runs happily on 91, as does Tucson, and returns a claimed 7.4L/100km.
So you'd expect that the Tucson would be onto it earlier and offer more sting than Forester, but that's not quite the case. There's the usual hesitation off the mark typifying a dual-clutch system, a turbo-fired motor and an idle-stop mechanism. Combine all three in stop-start traffic situations and there's nothing happening momentarily and then it's kind of all on suddenly. By contrast, the Subaru with its CVT and instantaneous throttle response have it up and away sooner and in smoother fashion. Peak torque may arrive at middling revs but the dyno chart shows it's firing well by 2000rpm and it can haul away meaningfully from 1500rpm round town. At these revs on the highway, the needle's pointing to 100 so we saw instantaneous fuel use figures of around 5.0L/100km on the motorway, though overall it was around 8.4L.100km. If you need a bit more sting for the overtake, a push on the Forester's SI button fattens up the torque curve and it's punchier for passing. It works solidly in the 3000-4000rpm range, and so too the Tucson, though best power lies higher up.
There's nothing much wrong with the Tucson mill but the easier going, sharper acting Forester engine is fitter for purpose. Towing capacity also favours the Subaru by 150kg (1800 vs 1650kg).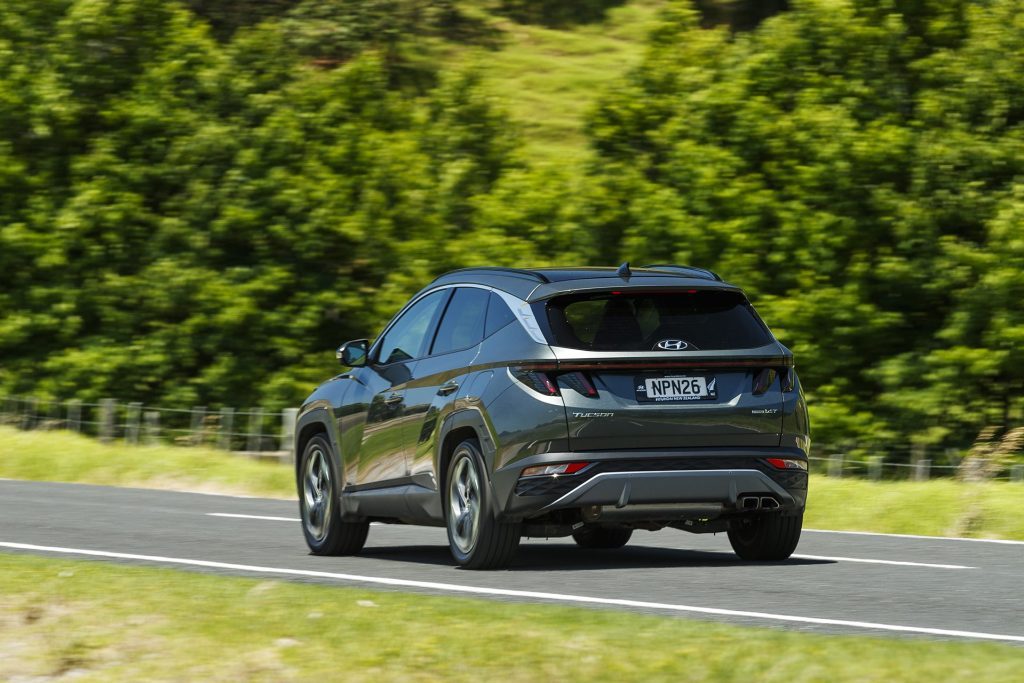 Closer for chassis performance
Both of these rigs are set up to achieve a sweet family-oriented ride and handling balance, which each manages, for the most part. The lower riding Tucson with its wider tracks and lower profile, more road-biased rubber can carry more corner speed, and feels more wagon-like than SUV to drive. It turns keenly, doesn't readily dissolve into understeer when hustled and with part-time AWD, it exits corners with confidence. There's even a dash of steering feel to go with that.
You'd expect the higher riding Forester to flail behind Tucson but that's not the case, the primary difference we'd suggest being its permanent AWD status and new global platform. It too steers keenly, and can hustle through turns, though not quite at the rate or with the ease of the Tucson. But it's still fun to punt, understeer dialed right down thanks to torque vectoring by brake. Both exhibit pretty decent roll control and while that impinges slightly on secondary ride characteristics, each rides acceptably well on a day-to-day basis.
They are both hush puppies too, with few SPL figures above 71dB. You hear more engine noise in the Hyundai, probably because it's working a bit harder.
Which then?
While the Subaru is barely the better drive overall, its powertrain winning the day, it's exterior design pales against that of the more modern Tucson, and it's a similar story inside, visibility about the only win to the Subie. Its control layout is odd, right down to its start button hidden by the wheel rim. But then it's an older design, partly explaining the differences.
However, the bottom line is critical in this comparison. The Hyundai is much more expensive, but only has a few extra items that aren't present in the Subaru. Even if you back off and bought the least expensive Tucson with the 1.6T powertrain, the AWD Active, you're still around $5k better off with the Forester. And if it comes to taking them off road, the Subaru would range much further with its vastly greater ground clearance and AWD system with active torque split. While it may not stand out from the crowd like Tucson, Forester is from the tried and tested evolutionary school of progress and continues to be an outstanding Kiwi family proposition.
Those not keen on its looks may well take a shine to Tucson which offers a greater model choice, with hybrids yet to come.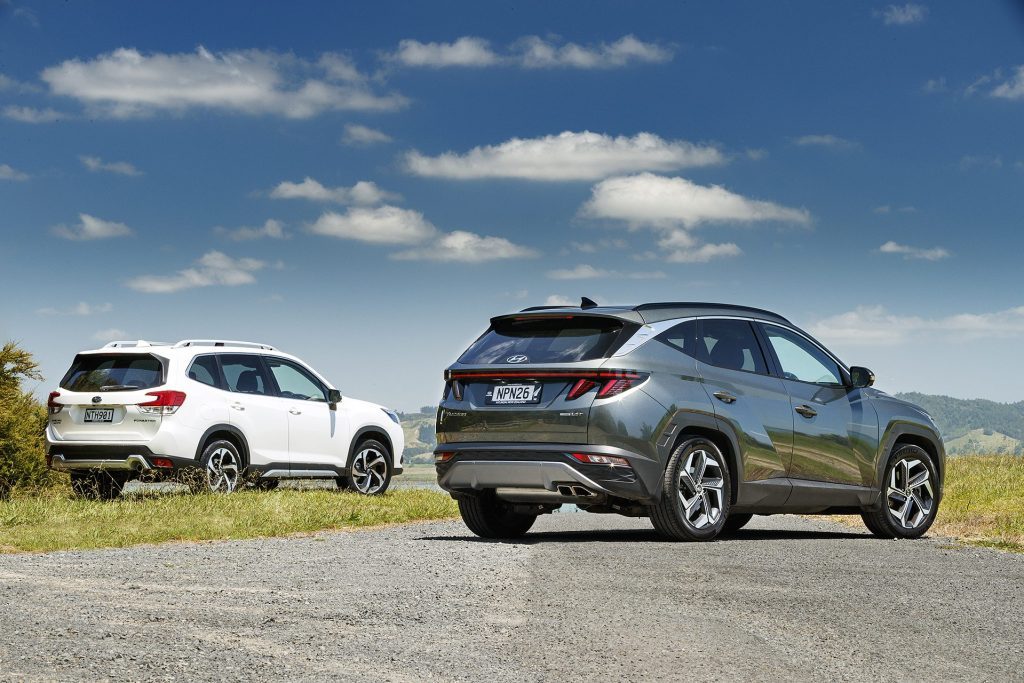 | | |
| --- | --- |
| Model | Subaru Forester Premium |
| Price | $52,990 |
| Engine | 2487cc, B4, DI |
| Power | 136kW239Nm |
| Drivetrain | CVT, AWD |
| Fuel Use | 7.4L/100km |
| C02 Output | 168g/km |
| 0-100km/h | 8.58sec |
| Weight | 1617kg (claimed) |
Model
Hyundai Tucson
1.6T Limited AWD
Price
$68,990
Engine
1598cc, IL4, T, DI
Power
132kW/265Nm
Drivetrain
7-speed twin clutch, AWD
Fuel Use
6.9L/100km
C02 Output
157g/km
0-100km/h
8.38sec
Weight
1692kg (claimed)