Skoda adds some glamour to the Kodiaq range with the addition of the Sportline variant. We pack the family in for an Easter weekend getaway.
Heading away for the Easter break always seems to be a good idea, but 20 minutes into traffic hell you're wondering why you didn't start out earlier, like at 4am. That's how we found ourselves, the family packed into the new Sportline variant of the Kodiaq, barely crawling as we headed south for the long weekend, along with the rest of Auckland.
Arriving in Turangi five hours later, we were glad to hear those coming up from the south experienced similar mayhem leaving Wellington. It's times like these you appreciate the high levels of specification top-end models like the $63K Sportline offer. In stop-start traffic the all-speed active cruise is a blessing. This is easily set, the speed controlled with a few taps on the wand and it brings the Kodiaq to a stop in a smooth manner.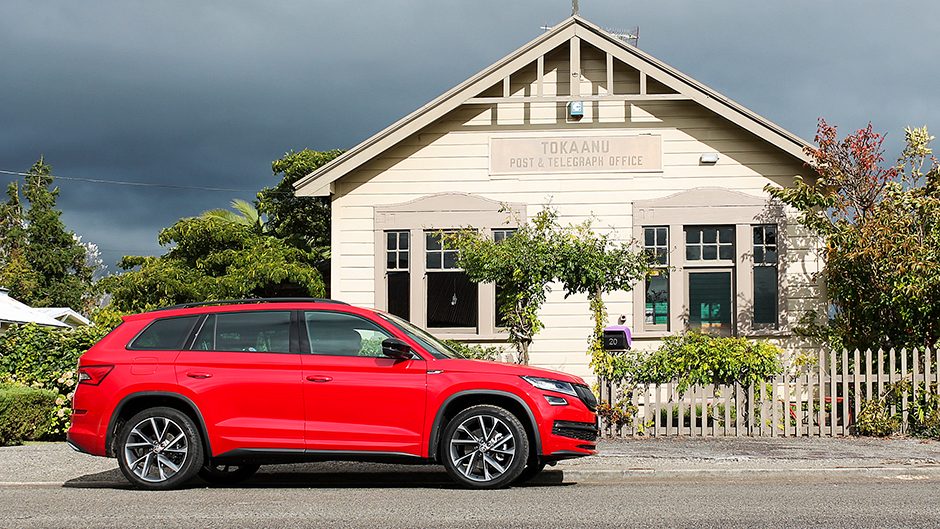 The system is a stickler for the law though and so it won't allow you to undertake a slower moving vehicle in the right lane, but a quick prod on the gas pedal has you sliding by. The sat nav map can be moved around easily with the sort of swipey and pinchy finger commands you use to navigate your smartphone and this allows you to scope out alternative routes when the road ahead is clogged.
We found a few goat paths running alongside the Waikato expressway and plodding down a metal trail at 40km/h stuck behind others with the same idea beats not moving at all. Sportline is fitted with adaptive dampers as standard and all manner of drive modes including Snow and Off-road settings, and various on-road tunes ranging from Eco through to Sport.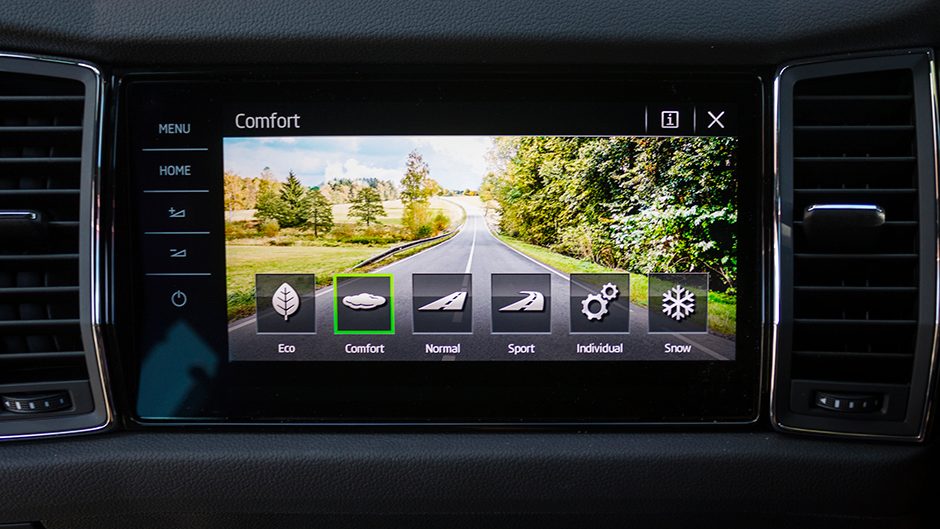 The hero model rides on 20-inch wheels, thinly wrapped in Pirelli Scorpion Verde rubber. Set to Comfort, the ride is still fairly cosseting in the usual Kodiaq manner but moving through to Sport, your passengers start to complain about the bumpy ride. So it's back to Comfort then. Sportline is offered with two engine choices, this one powered by the petrol option, a 132kW 2.0-litre turbopetrol.
Despite an 80Nm deficit of torque compared with the 2.0-litre diesel, the 320 Newts are spun up quicker by the petrol engine and so this TSI feels more responsive than the TDI, both in the boonies and around city streets. We were frustrated by the initial lethargy of the diesel powertrain in other Kodiaqs we've tested, but warmed more to this petrol four-pot. And it's $5000 cheaper, making it an easy decision for us.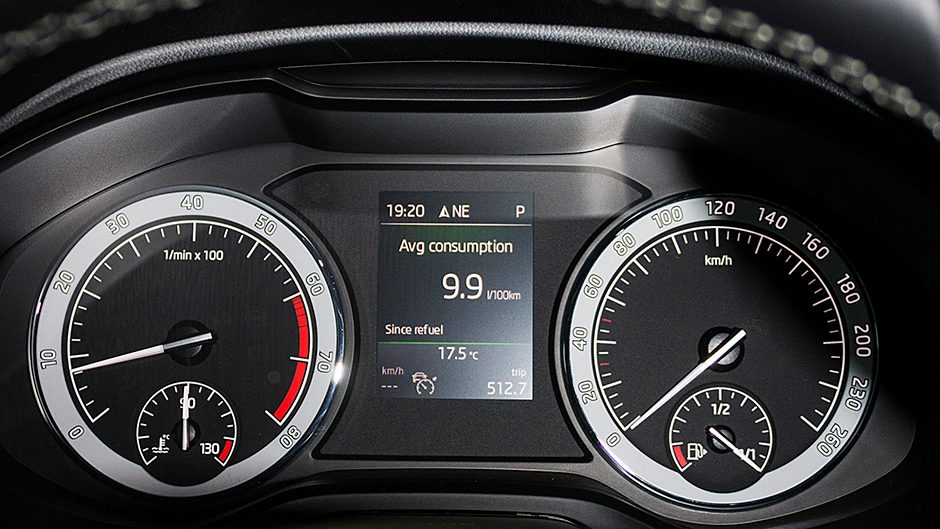 Skoda quotes 7.4L/100km combined for the TSI. Our evaluation model was box fresh, but the trip computer registered 9.9 for the torturous drive down to Turangi along with a bit of tripping around the place, while the return journey, on a more free flowing highway run, netted 7.2. The twin-clutch auto is programmed to upshift early for economy and isn't forthcoming with downshifts when throttle is added but you get used to either giving the gas a good stomp when you need action, or slotting the transmission's Sport mode, a setting that's not really all that sporty compared with some others.
Most Kodiaqs are conservatively styled affairs and so the Sportline does attract a few inquisitive looks with its bright red hue. Sporting big alloys, a racy front end appearance and the black detailing, it is a more striking proposition than your average Kodiaq. The sports theme carries on inside where you'll find a pair of trick seats that wouldn't seem out of place in an Audi RS.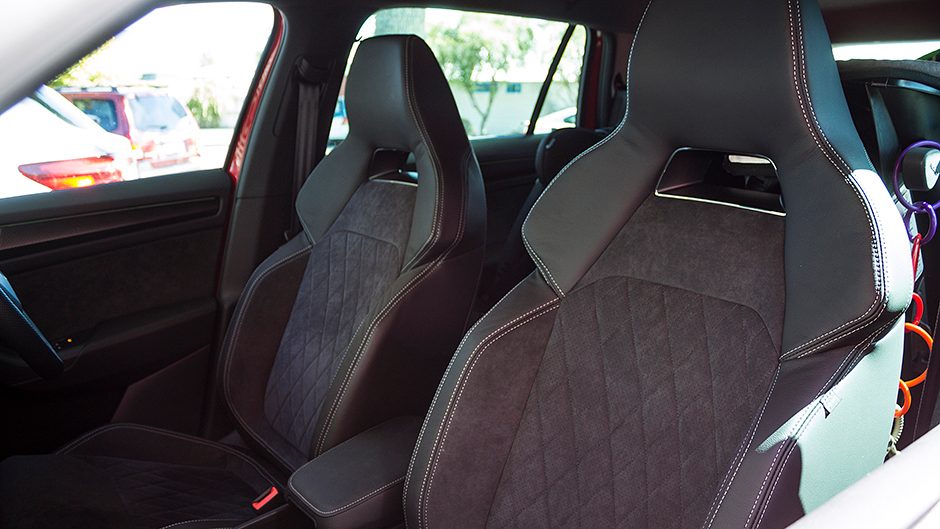 Trimmed in Alcantara and suede, these look the part and while the electric adjusters sort you out a suitable driving position, the seats themselves aren't the most comfortable. After a couple of hours, both of us in the front were wriggling around. Faux carbon clads the dash, there is more Alcantara on the door trims to go with a dark headlining and Sportline is fitted with an enhanced Canton sound system.
Other bits include LED ambient lighting to amuse you at night and a sports steering wheel with paddles and alloy pedal covers. An on-demand AWD set-up is standard, so too a 'rough road' package with additional underbody guards. There's reasonable ground clearance to venture a little further off trail, but even in the Comfort mode, with the 20-inch wheels, bumps and ruts on gravel roads are transferred directly into the cabin.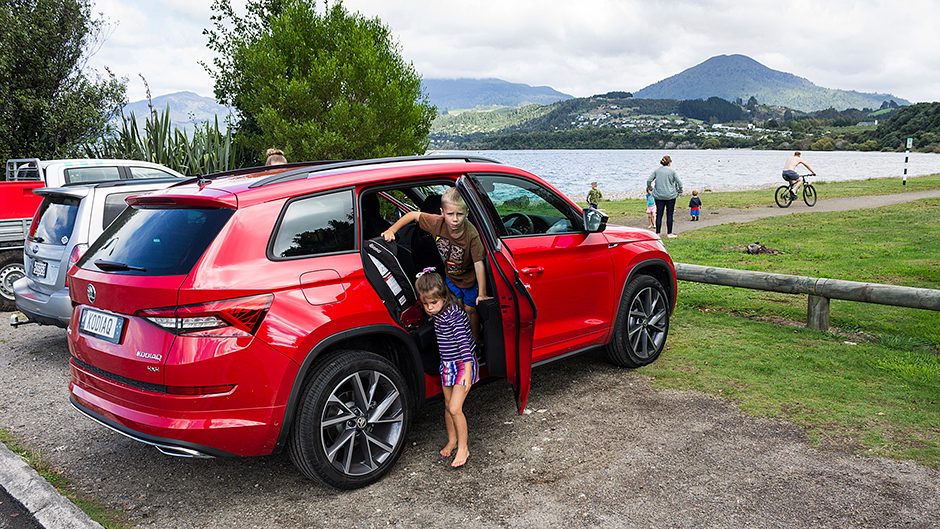 Freed of passengers and with Sport mode armed, Sportline offers lots of grip and tidy body control. It's a model of competence but it never quite lives up to its badge in terms of driver engagement. So, back into Comfort mode, once again. Kodiaq is rated to tow 2000kg and about the only option worth considering (there are not many as the Sportline specification is chocka) is the $1850 factory fitted towbar which includes the Trailer Assist system to help ease the pain of reversing your hitched load.
Skoda calls Kodiaq a large seven seater, but it's lacking both cabin width and space in the third row to genuinely compete against similarly priced SUVs like Sorento and CX-9. Our five-year-old boy is now well versed in travelling in the back row and even he piped up about the lack of space in the rear, while the access isn't great either.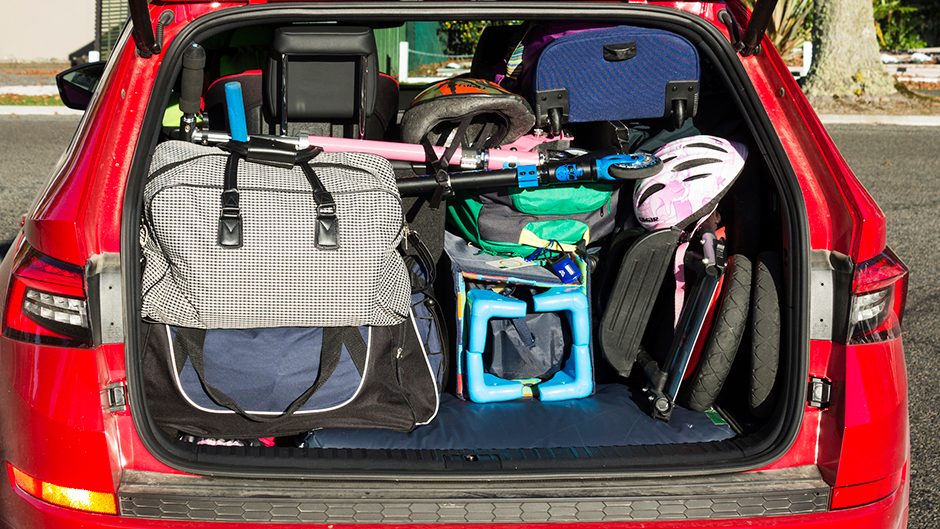 Packing everything in for the weekend away was doable with a bit of thought, though owners would be advised to invest in a roof box for such occasions, and it would be mandatory if both of the third row seats are pressed into service.
The Sportline might make better sense as a five-seater offering plenty of rear seat accommodations and a massive boot as dropping the extra seats nets you even more luggage space. But otherwise, Sportline is a good looking option for the Kodiaq range, and well kitted out at the price.