Named after the famed party island, Ibiza, Seat's smallest offering, a five-door hatch, is currently its best seller here. Seems the secret's out. Is it a Swift RS beater?
A few things you should know straight off the bat about Seat's least expensive offering, the Ibiza. First, it is pronounced ee-Bee-tha, while eye-bee-tha is also evidently acceptable. Anything else is not.
Secondly, it has quickly become the brand's best seller in New Zealand, though we imagine this might not last long once the Arona, the compact SUV based on the Ibiza, becomes available soon. And thirdly, it came in first runner-up in the 2018 European Car of the Year awards, beaten out of the top podium step by Volvo's new XC40.
So clearly there's some substance there, given it edged the 5 Series, Stinger, A8 and Stelvio. It also beat all-comers in a recent eight-way small car comparison by our UK namesake magazine. Primary competition here is the similarly priced Suzuki Swift RS, coincidentally also powered by a litre three-pot turbo engine.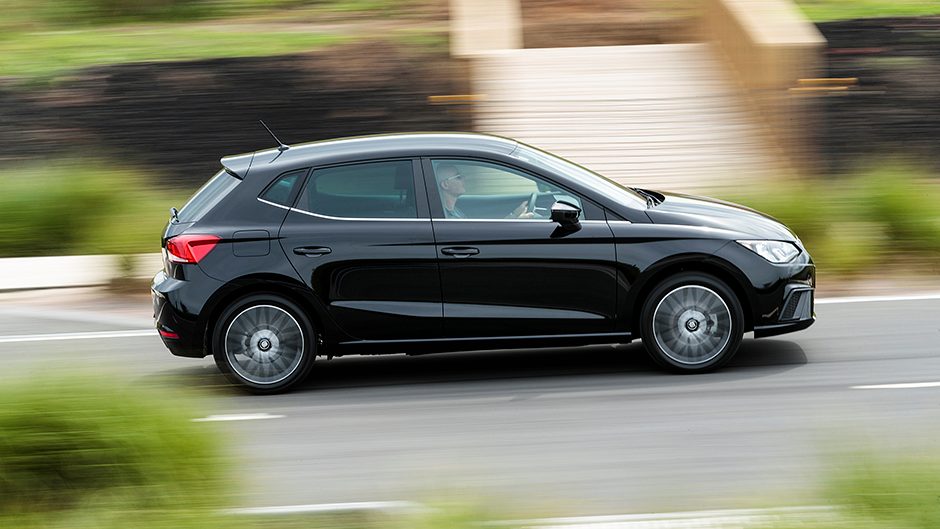 How does it go?
Rather than read all about it first, we thought we'd just take it for a spin after picking it up. The only other things I knew about Ibiza I had gleaned from attending a recent Polo launch (the two are closely related as Seat is owned by VW).
So similar mechanicals to new Polo including a fresh MQB-derived platform, and I'd seen the cost in the showroom, $25,900 plus ORCs, about as much the entry-level manual Polo. The rest was a mystery. Nada, as they say in Spanish. However, I suspected it might have a certain performance advantage lurking because Seat is promoted as the dynamic brand in the VW Group.
We figured it might well get the 85kW version of the 1.0-litre triple turbopetrol rather than the base 70kW variant, for it seemed to have a bit of pep to its step when easing around town. Otherwise, we'd noted a rather alluring Leon-like silhouette, with stylish wheels, a sombre interior with sizeable centre screen, rather accommodating seats and a natural driving position. It already had a few kims on the odo so performance testing should show which permutation of the three-potter lay under the hood.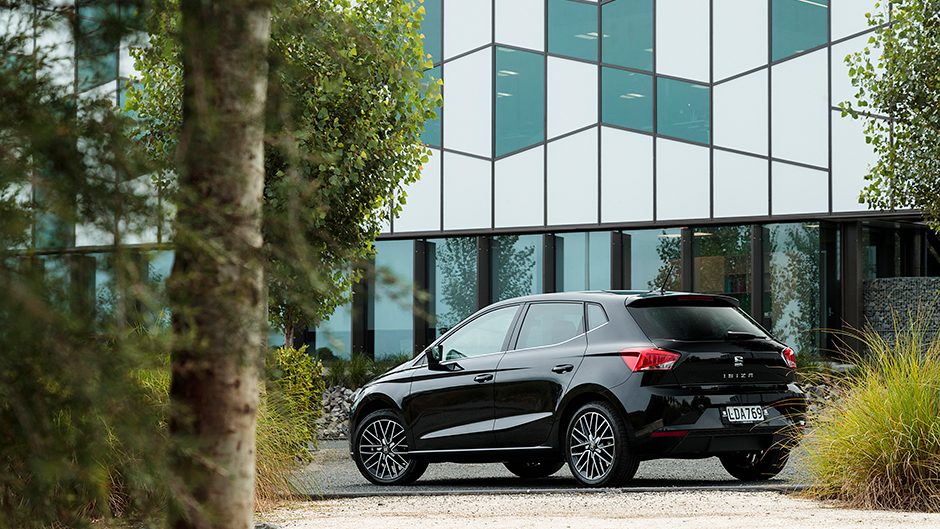 Knowing the best Polo Beats could muster for the sprint figure was 11.2sec we soon realised what we'd already suspected when the Ibiza started reeling off sub-10sec runs. A best of 9.48sec confirmed we were dealing with the 85kW/200Nm motor that you need to pay over $33k for in a Polo R-Line. Admittedly, the interior is flasher on the VW and there's more in the way of spec but for something costing $7k less, you're prepared to overlook a few things. Later we discovered a 0-100 claim of 9.3sec, so close but no cigar.
It's complemented by an overtake of 6.86sec. Both of these figures are similar to those of the Swift RS (9.53, 6.00sec). That's a bit quicker on the overtake because it weighs just 961kg, compared with the Seat's 1150kg. One gets paddle shifters and active cruise control as part of the deal too, and it isn't the Seat, but it compensates in other ways. Like, for instance, having a seven-speed twin-clutch gearbox instead of a conventional six-speed auto. That explains why the Seat is quicker to 100km/h but slower on the 80-120 overtake which uses one gear.
Miserly on fuel
When not going hell for leather, the Seat is the one that delivers the performance in a less demanding fashion. It's something we've noted before about the Swift RS. Sometimes it doesn't quite deliver without a paddling whereas the Ibiza you really don't need to invoke its manual sequential lever.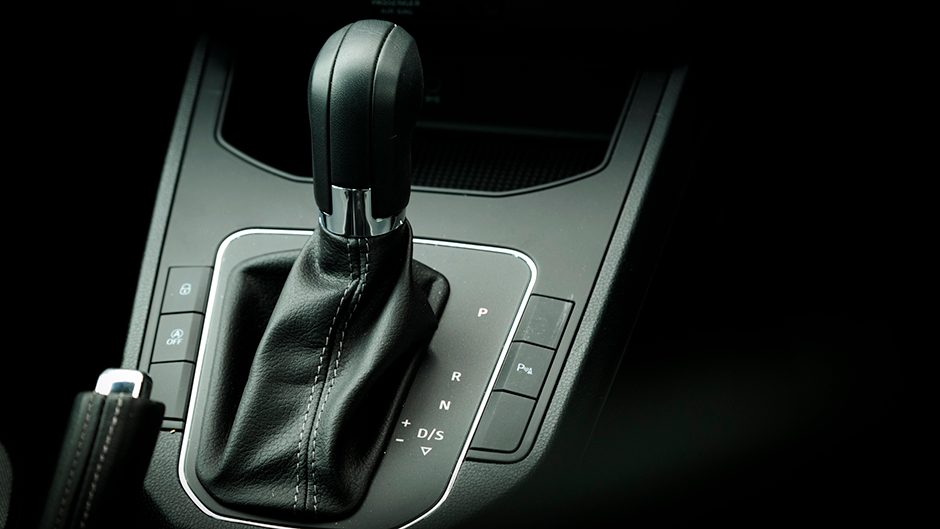 For like all of the VW Group's twin clutchers, it has simple access to its Sports transmission mode via the spring loaded gear lever. That's enough to liven things up when needed, and you can simply dial things back to D when cruising with another quick yank on the lever. Doing so and you might see fuel economy reach a high of 9L/100km if you're really asking some searching questions.
We didn't and ended with a laughable high of just 8.9L/100km. A sadist might hit double figures. Seat suggests 4.2L/100km is possible at highway speeds; we saw low fives when not bothering the turbo too much. For the record, its overall fuel use is rated at 4.7L/100km. The performance to hand for this sort of fuel use is simply staggering.
Balanced ride and handling
Ibiza seems pretty quiet on the go, with not much in the way of three-cylinder engine thrum at highway speeds. We noted engine vibration at idle in the Swift RS, but it's not evident in the Ibiza (especially with stop-start…) which delivers a quiet and smooth performance.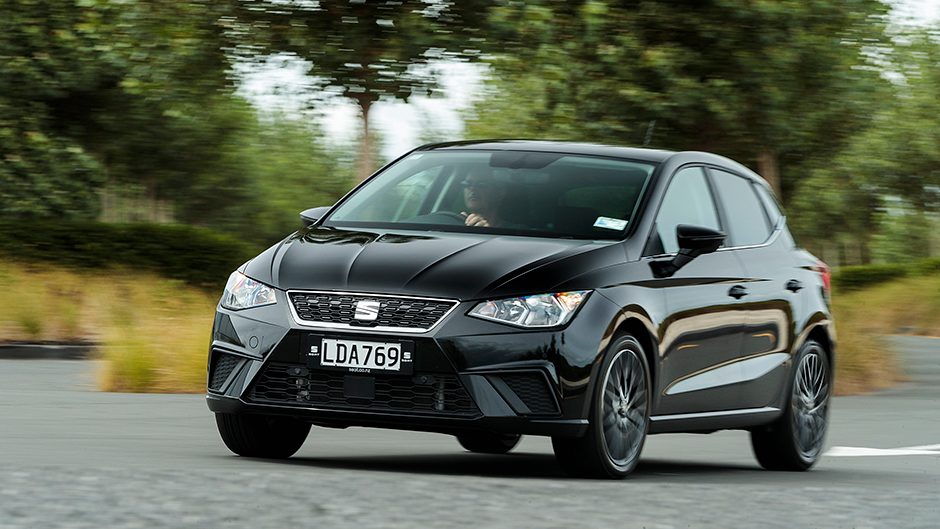 On the former, the average in-cabin noise level of 71.3dB is pretty decent, especially given the $1650 optional rubber this was running, Bridgestone Turanza 215/45R17s. It's these that give the Ibiza a dynamic edge over the Swift RS.
The extra pawprint and the softer rubber versus the Swift's Ecopias give the Ibiza added confidence on road. It can be barrelled into corners, and a brief lift to tighten the line sees it flow out the other side with gusto. Steering's not bad either, quick and precise. For fixed suspension its mix of compliance and control is sweet.
The new MQB platform which is one-third stiffer and lighter than what it replaces explains much of its competence. This car would give Fiesta a dynamic run for its money. The cabin's not real special but what is in this class is?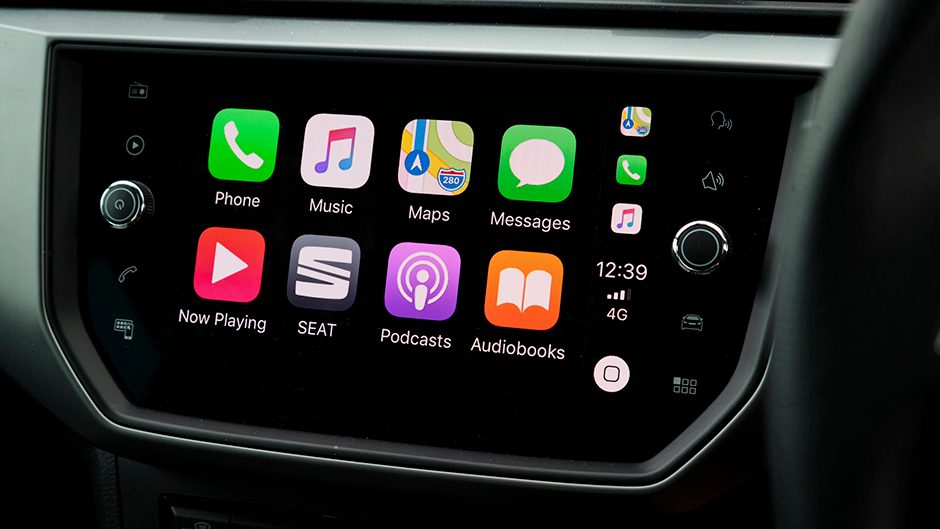 The new eight-inch central screen is bright, highly resolved and gives a good idea of what's behind when reversing. It's also up to speed for both smartphone tribes, compensating for the lack of sat nav.
There are lots of hard plastics here, and no rubber lining for any of the bins. Still, there's quite exceptional cabin space for the class, with room for two adults no problem in the rear, and all their clobber, with 355L of hatch space.T hat's much more than the 250L average of the competition.
Kit and kaboodle?
Clearly Seat has hit the price point locally by offering a moderate level of specification and a bunch of options. A glaring omission is cruise control, just a speed limiter on the left stalk which is about as much use as a fifth wheel. However, cruise control and tiredness recognition is a $350 bundle, while for $550 you can option in active cruise.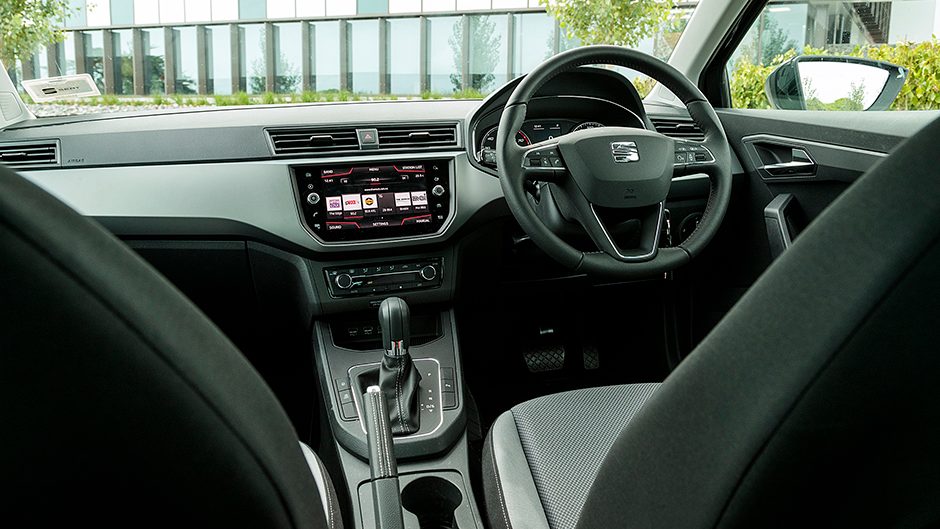 Other options some might like include keyless entry and pushbutton start ($660), navigation ($750), and heated seats ($750). For completion, there's also a wireless charger and mobile signal amplifier ($440), a Beats audio 300wpc six speaker sound system including subwoofer ($1000), a panoramic sunroof ($1500), rear tints ($550), and sports body kit $3500.
On the safety front, Ibiza managed a five-star Euro NCAP rating and safety spec seems about right for the price, with autonomous city braking, forward collision alert, ABS, TC and ESP. There's a reversing camera too, with visual representation of the front and rear parking sensors.
Bear in mind the base cost of the car which also gets a trip computer, dual zone air, hill holder (handy to prevent DSG runaway), tyre pressure monitoring, a multifunction wheel, and 16-inch alloys (on our car they were upgraded to 17s which adds $1650).
Is Ibiza the new supermini front runner? It sure fills the rear view mirrors of Swift RS.