BMW has added another coupe-styled SUV to its X line-up which will soon number one through seven. New X2 is petrol and front drive only to begin with, AWD coming later. We check out Goldie, currently the top derivative.
BMW's stock-in-trade items used to be rear-drive sedans. Not any more, with X high-rise variants now responsible for every other sale. Moreover, they aren't all rear- or four-wheel drives. The shock of a front-wheel drive BMW is behind most of us now, though oddly BMW makes no reference to this in its backgrounder of the new X2, just that some future models will have AWD. It's odd because BMW's main competitors, Audi and Mercedes, have had front-drive offerings for ages.
Anyhow, with model lines like X1 using the UKL platform to good effect, now the closely related X2 has arrived similarly underpinned. It's shorter and lower riding than the X1, and with that swish roofline and tighter glasshouse, luggage capacity drops slightly, though is still a handy 470-1355L, accessed by a hushed electric tailgate.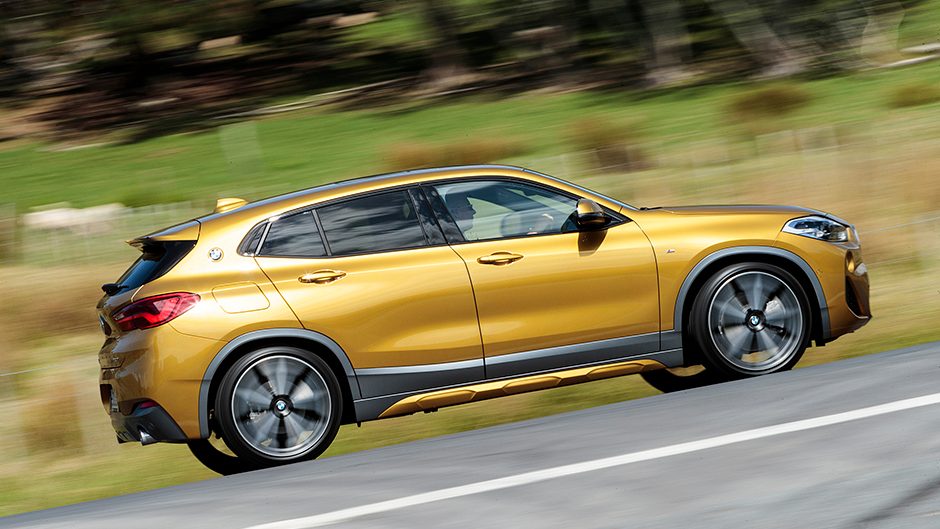 The X2 is currently available as a 2.0-litre variant, the X2 sDrive20i, while soon enough an sDrive18i sib will come on stream, putting the company's 1.5 100kW/220Nm three-potter to good use.
Cracking looks
What potential customers will love is the look, a mix of SUV ruggedness but with swooping coupe lines. Both outside and in, X2 is a stunner, aimed at style conscious urbanites. Our drive example came in one of the new colours, 'galvanic gold', that hides the dust of dirt roads rather well. Moreover, it shows off the attractive shape to good effect. We're not so sure about the extra roundels on the C pillars, which hark back to sporty coupes like the 3.0 CSL.
Special design features include a refashioned kidney grille, the trapezoidal shape widening towards the bottom, and squared off wheel arch cladding. Our model was a 'rally-inspired' M Sport X variant, with 'frozen grey' inlays and side skirts, tailgate spoiler, and twin exhausts emerging from the rear inserts. Inside is just as dramatic, the sports seats of the evaluation vehicle finished in cloth and Alcantara, and the double stitching on upholstery and dash adding sporting flavour.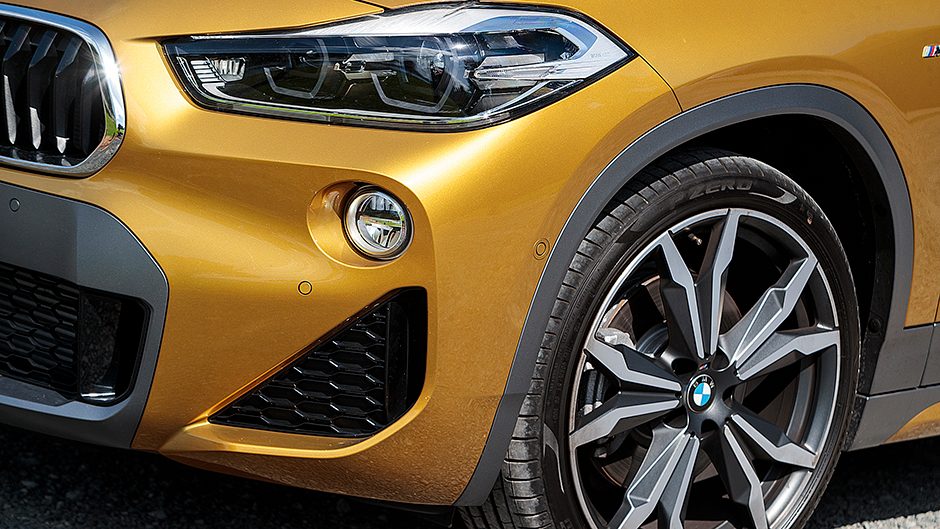 One powertrain initially
The base price for the sDrive20i M Sport X is $70,900 (the sDrive18i is $10k less) but with options this particular vehicle ended up at $86k. Significant extras include the 20-inch alloys, comfort access, head-up display and Nav Plus, electric seat with memory, panoramic roof, sound upgrade and ambient lighting package.
Standard booty includes dual zone air, M Sport suspension, front and rear sonar, along with a reversing camera, self-parking, heated sports seats, a powered tailgate and LED headlights. Safety items run to lane departure warning, collision warning, high beam assist, speed limiter, AEB and active cruise control. Included in the asking price are BMW ConnectedDrive, servicing costs for three years, and a five-year warranty, along with five years of roadside assistance.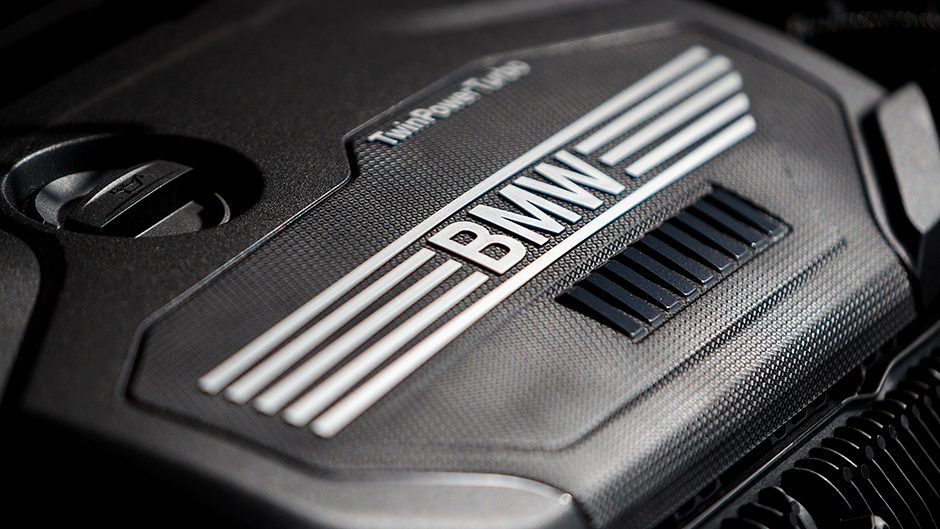 Mechanically, it is powered by a 2.0-litre four-cylinder, direct injection turbopetrol engine that drives the front wheels through a seven-speed twin-clutch transmission. Output of 141kW and 280Nm imbues it with a quoted sprint time of 7.7sec to 100km/h, and combined fuel figure of 5.9L/100km. The best we saw was a highway figure of 8L/100km, and the worst figure after performance testing was 14L/100km.
Can go
Generally, claimed acceleration quotes are on the mark but the target of 7.7sec for the X2 2.0 was quite conservative. We managed that on the second run, and with a bit of tweakage got one run into the sixes. The critical aspect, like with all front-wheel drive vehicles, is to get a clean launch. On a reasonably smooth chipseal surface with ESP completely off, the sDrive20i covered the sprint dash in 6.87sec. The first few metres have quite an impact on the ultimate time.
Naturally, that's not an issue with overtaking, the best run involving third gear alone, which is typical of turbo-empowered machines with their broad spread of torque.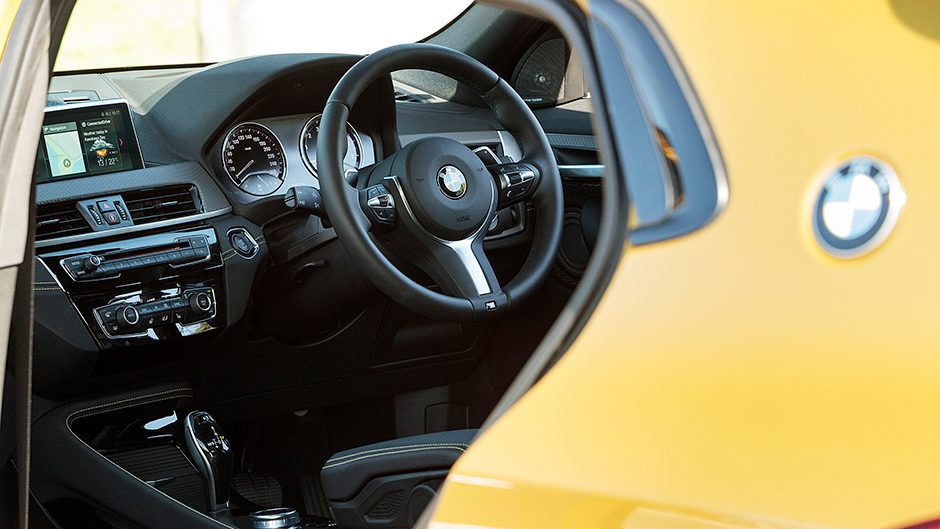 Three modes, two useful
Day-to-day running offers three modes of power delivery, soft with Eco, lugging with Comfort and revvier with Sport. We like to let automatic transmissions do their own thing rather than muss with paddles which this model gets whereas the base model doesn't. In Comfort, performance partly trades places with economy so in town early upshifts mean reduced fuel use, and the engine pulls well from down low, even below 1500rpm.
It's awfully quiet on the go too, especially at pace, the motor that is. It's all but drowned out by the vocal sport rubber. Big PZeros on fresh chipseal roar like a rocket with a mean cabin noise figure of 75.4 dB. We also feel that the secondary ride suffers as a result of the run-flat rubber fitted so opt for the $1500 wheel upgrade knowing there's some potential downside, even if they do look good. We'd suggest sticking with the 19s and that way you can tick the adaptive damping box which only adds $500. It's not possible with the 20s, evidently.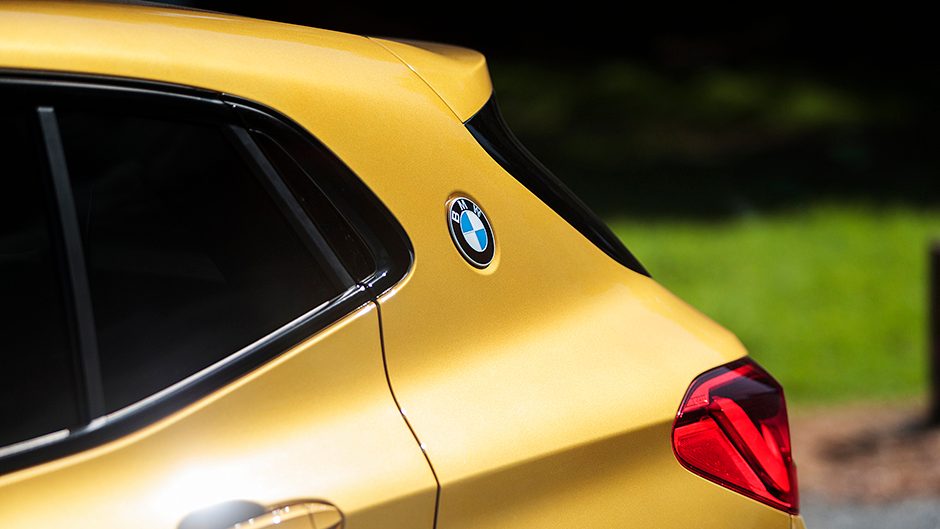 Cornering capers
Out where the X2 likes to strut its stuff, it's Sport mode all the way, and the effect of that can be enhanced by shifting from D to S, livening up the transmission. Because it's geared so tall it doesn't seem to impact much on fuel use whether the gearbox is in top (D) or sixth (S) when cruising. It's easy enough to paddle it up a gear anyway. So there's always the right gear for any particular moment, the engine output well matched to overcome the 1550kg kerb mass.
What about handling then? Well, it's good, up to a point. Because the engine's transversely mounted and it's driven by the front wheels the best weight split you can hope for is around 58 per cent up front, 42 rear which the X2 happens to be. With sports suspension as standard on the M Sport X variant, it doesn't lean much through the bends, helping those big tyres to get a purchase on the road surface so forward progress is decent. It's almost hot-hatch like in that regard, holding similar corner speeds to sporty lower riding front-drive machines.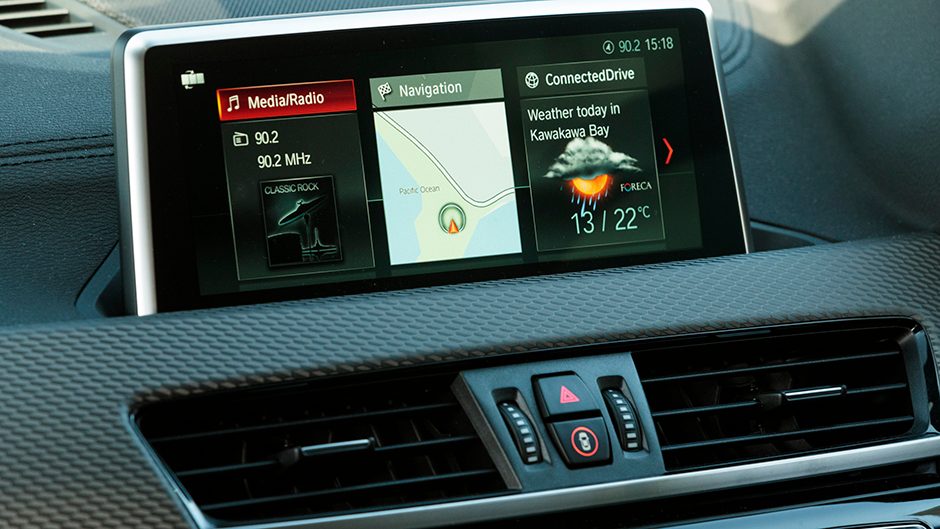 Where it cannot match its rear-drive sibs, however, is at the wheel. Loafing along it's all good but apace the corruption of front drive mars what is otherwise a rather fun thing. Hard on the gas and there's some torque steer. There's also occasional tramlining, the wheels following the contours of the road. Compared with the likes of the old X1, and other rear-drive based BMWs there's less communication from the ground up that makes it to the wheel, no doubt the power flowing through the front wheels partly to blame.
Where's it fit?
It is what it is then, a front-wheel drive machine that does most things really quite well. Dynamic deficiencies most potential buyers won't notice or care about, it should be noted. But all will hear the tyre roar of the 20s. The premium compact sector is hot to trot at present, with new rivals entering the fray on a regular basis, such as AWD E-Pace.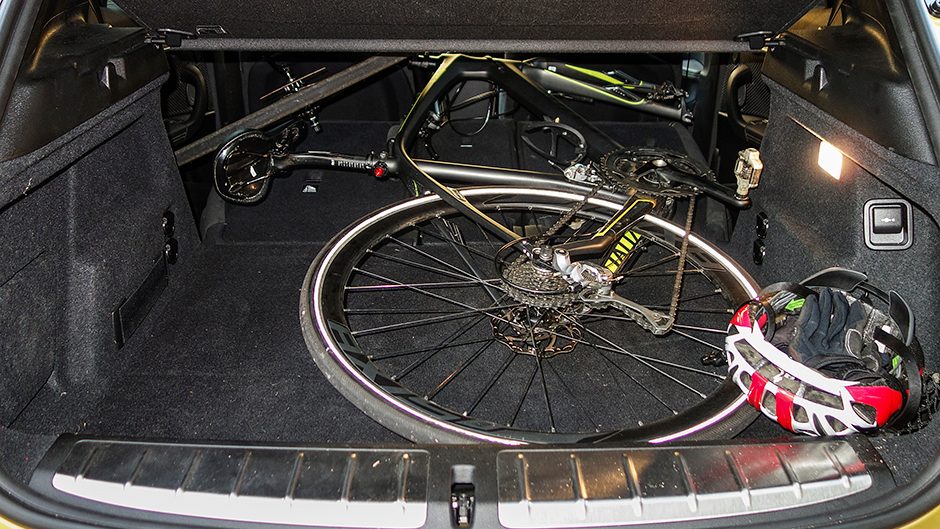 Stalwarts like Q3 2.0TFSI are similar money with AWD, and for $80k odd so too is GLA250 4Matic. And of course there's the X1 which is already available here with AWD, petrol or diesel, for around the $80k mark. At the other end, there's even the Countryman All4 at $56k. But for sheer panache, there's only one in it.