Waka Kotahi has today announced that State Highway 25A, which runs between Kopu and Hikuai on the Coromandel Peninsula, will be reopened by March 2024.
At the start of this year, a landslide caused by severe weather from the Auckland Anniversary floods and Cyclone Gabrielle saw a large section of the road disappear into the valley below, cutting the vital coast-to-coast route in two.
In May, the New Zealand Government announced that it would build a bridge across the 100m gap in the hillside after a range of other solutions were considered.
Contract negotiations as to who will construct the bridge are still ongoing but everything is running to schedule according to NZ Transport Agency's Regional Manager of Infrastructure Delivery Waikato/Bay of Plenty, Jo Wilton.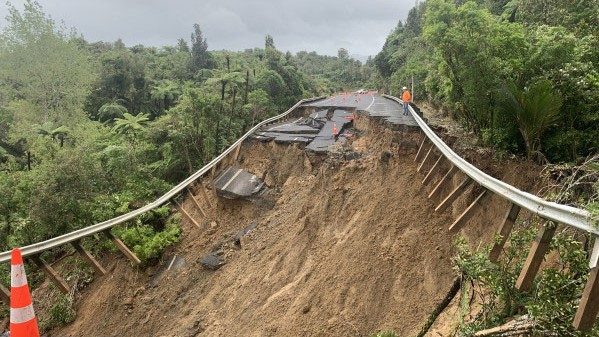 "A bridge of this type would normally be expected to take 12 to 14 months to construct, but Waka Kotahi is working with the consortia to accelerate delivery and get the route open in nine months' time, by the end of March 2024," Wilton says.
Before the bridge can be constructed, enabling works must take place which includes the installation of drainage and drilling. A formal start to this task took place this morning with the site being blessed in a private dawn blessing.
Drilling for the founding depth of the bridge's piles began last Wednesday while a platform to support the cranes needed for the project will be built over the next two months.
Waka Kotahi says pile casings will be in the country by the end of July, with piling expected to begin in August.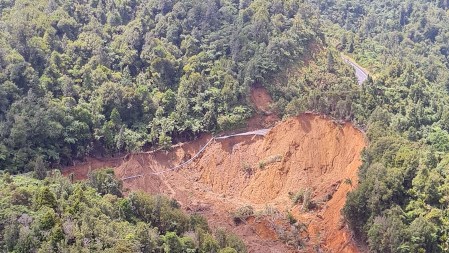 "Waka Kotahi is doing everything possible to further accelerate construction, which will include contractors working extended hours at the work site and working seven days a week where possible," adds Wilton.
"Up to 100 people will be working at the SH25A Taparahi site with additional labour dedicated to offsite works, such as prefabrication of bridge components.
"Workers will be divided into two teams working two 10-hour shifts, with 80 percent of the crew housed locally on the peninsula."
The total cost of the project is estimated to be between $30 to $40 million, with the funding already being committed from the Government.