Transport Minister Michael Wood has today announced that a bridge will be built across the landslide on State Highway 25A that cuts a main route between each coast of the Coromandel peninsula in two.
The slip occurred five months ago when severe weather from the Auckland Anniversary floods and Cyclone Gabrielle battered the area, causing over 100m of the hillside to give way and with it, part of the road between Kopu and Hikuai.
After engaging with project managers and consulting engineers, the New Zealand Government was advised that a bridge would be the fastest and most resilient way to reconnect the route.
Work is expected to begin on the bridge once a contractor is selected in June at an estimated cost between $30-40 million. Funding will be committed "straight away", taken from the Government's $250 million top-up to the National Land Transport Programme.
The bridge is expected to be completed and open to traffic sometime in early 2024, according to Wood.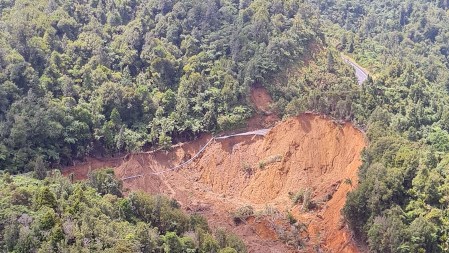 "This road is a lifeline for many people who travel across the peninsula to work or school. It also brings people from all over New Zealand onto the peninsula every summer, keeping businesses and the local economy afloat," says Wood.
"I want to reassure communities that the government will make every possible effort to get the road open as soon as it is safe to do so."
Alternative options included a bypass which would have followed the same topography the slip occurred on, as well as filling in the slip and paving a road over the same route.
Residents and tourists on the peninsula currently have to take a two hour detour north to get from Kopu to Whitianga via SH25, or a similarly long route south to get to Tairua via SH26, SH2 and SH25.
The Tapu-Coroglen Road will also reopen to light vehicles next month, offering a shorter connection between each side of the peninsula.
Financial support will be continue for businesses that have experienced a downturn in customers since the road was washed away.
"We'll continue to work with the community and businesses to support them through the recovery and keep listening and exploring how we can provide further support as needed," says Wood.