If you're the adventurous sort and a bargain hunter, the Royal Enfield Himalayan will not have escaped your notice at $6990 plus orc. Is it really good value?
Mention the Royal Enfield name and some will think you're talking about guns (Lee-Enfield) while younger folk will know about the value-led, single-cylinder, neo-retro motorcycles, out of India. A few facts you may not know about Royal Enfield; it is the only motorcycle brand to span three centuries of continuous production. It kicked off in 1899, production moved to India in the 50s, and some models are now sixty years young.
Back to 2017 and Royal Enfield has been consistently a sales front runner in New Zealand, the $5990 350 single Classic and the $6990 Himalayan adventure bike being the standard bearers here. Year-to-date September, Royal Enfield had sold 150 bikes, with dealers nationwide. There's even a new factory-fitout shop in Takapuna, run by motorcycle enthusiast Kelly Green.
She's the MD of Experience Motorcycles RE, which also has an outlet in the heart of Kingsland, the home of hipsters who aspire to modern retros like Royal Enfield. The company itself started off in England where it has just opened a new design and R&D facility. It's a giant now; total RE production is expected to top one million units by 2019.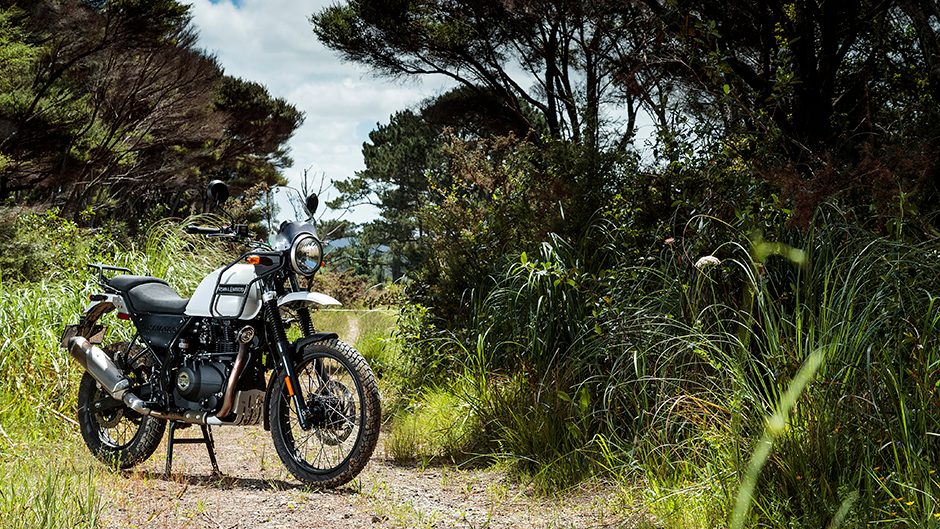 Truly all-new
The RE range is entirely LAMS legal, being 350-500 singles. Himalayan is the most recent addition, packing a new air/oil-cooled 411cc engine. It is the least expensive adventure bike you can bike in New Zealand at present, costing $6990 plus ORCs. Described by RE as 'the only motorcycle you will ever need' the Himalayan also carries the tagline, 'Built for all roads, built for no roads.
Yes, it's an adventure bike and a proper one, not like the pretenders on 17-inch rims and road rubber. It comes with extended suspension and proper ground clearance of 220mm so is built for meaningful adventures. Pukka dual-purpose bikes feature spoked wheels, the front a 21-inch roller to get you over branches and boulders, and the rear a 17-incher, both shod in this case with Ceat dual-purpose rubber.
We found them only okay in the dry – they're quite hard – and some report they're not so crash hot in the wet. That's not such a biggie and easily remedied. This bike you'd never mistake for anything other than a dual-purpose machine; it even has two front mudguards, one to stop the gunk flying into your face and the other there as a finishing piece, suggesting you get out there and get dirty. It sits tall on its long-travel suspension, 200mm up front and 180mm at the rear, with an 800mm seat height.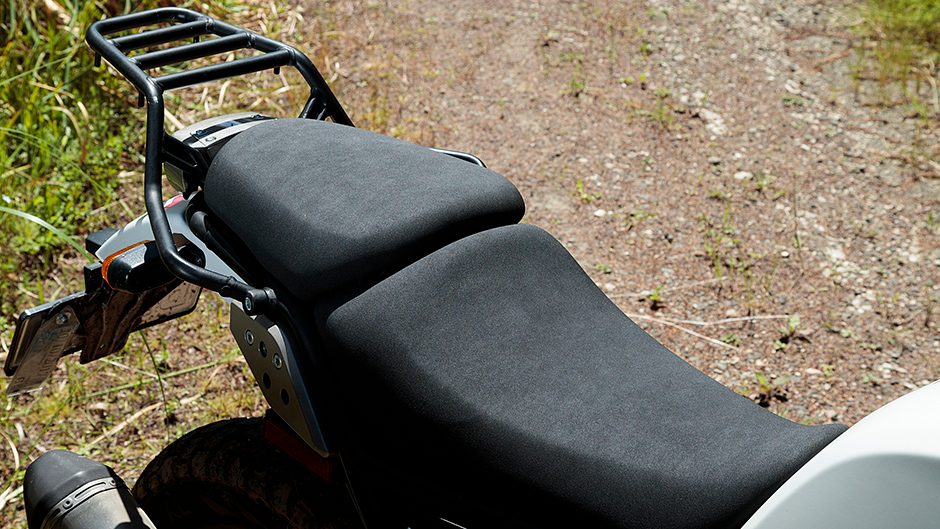 Evidently this is the first bike from RE that features monoshock rear suspension. Other bits you'd consider modern include LCD instruments. The design is busy but they're quite comprehensive, including compass and ambient temperature readings. No digital speed though. Forget about ride-by-wire, engine modes, traction control etc. There's not even ABS. Remember, $6995 bottom line. This is built simple for reasons of cost and reliability.
Part of the package includes a windshield but we'd guess that's not wind tunnel optimised, for while it keeps much of the 'wind blast' at bay it also creates some buffeting. Given the bike doesn't really hammer along at speeds where wind blast is an issue, some might end up removing it. But most adventure bikes have them and if you plan on touring on this, which it will merrily do, we'd say better it's there than not.
The bike was designed by Pierre Terblanche, a name associated most famously with Ducati. He was responsible for some stunners and a couple of more questionable designs. As to the Himalayan? We like its rugged functionality. It's no beauty but drop-dead gorgeous adventure bikes are hardly thick on the ground. The Himmer comes standard with a rear luggage rack and also vertical engine guards that double as mounts for jerrycans, camping gear etc. You can option a pair of aluminium panniers for around $1000 or fabric items for less. Centre stand? That comes gratis.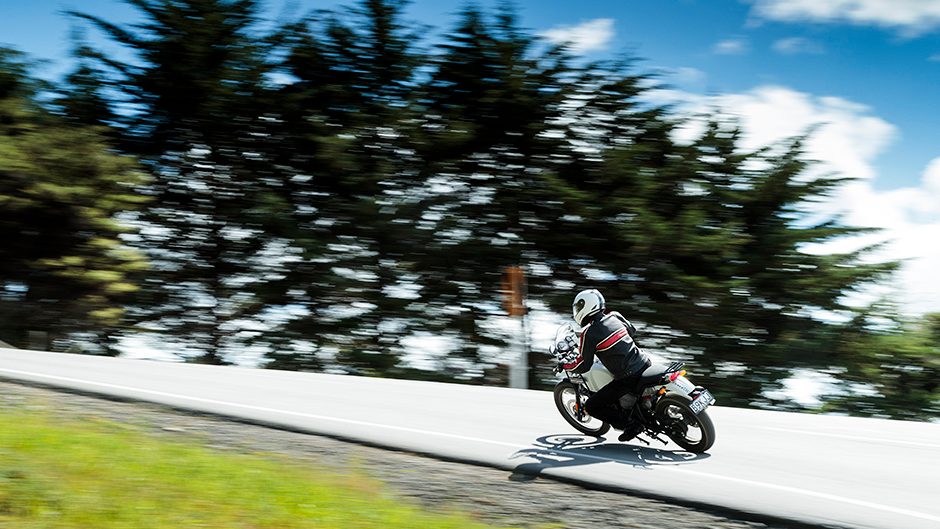 Speed Demon?
This is arguably the first genuine road bike produced by RE in the modern era. The classic models with 350 and 500 singles are evidently shakers at 80-90km/h so are better suited as retro-styled urban mounts. The Himalayan, however, has a gear-driven counterbalancer. And it's also the first RE with an overhead cam. No fuel injection though (carb with choke) and the transmission is a five-speeder.
With a tallish first gear it makes slow going off-road work tricky. Just choose tracks where you don't need to go slow then. Perhaps the best aspect of the engine is its general lack of vibration; at 100km/h it spins at 5000rpm with little in the way of tingling, though mirror reflections would argue otherwise. We've seen worse. The engine is no larrikin; top whack is around 6500rpm where it creates 25hp (rounded up) and maximum torque of 32Nm arrives at 4250rpm. So long as you don't expect fireworks you shouldn't be disappointed. It's $6990 remember. Zero to 100 is cut out in under 10sec, just, while 80-120 takes double that.
The reason is that it's nearing top speed. If you're a constant licence loser, Himalayan could see you right. However, 100km/h is relaxed, and the speedo is more accurate than most, only two clicks different from reality.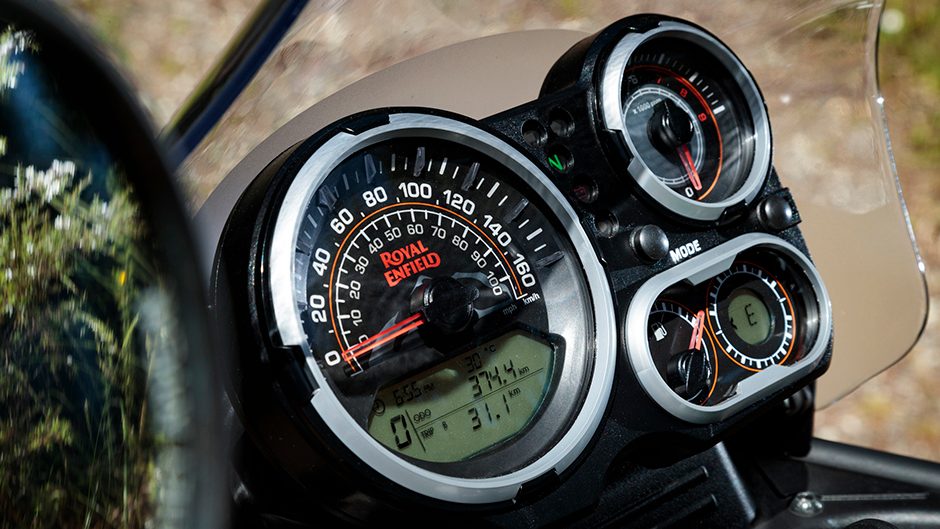 Weighing in at 190kg, it's not the lightest track cutter but it's built to handle the rigours of an adventurous lifestyle. Torque production is modest, but it adds speed handily from 90km/h or so in top. The popping on the overrun sounds great. It isn't that happy lugging below 3000rpm, which is typical of singles but will easily tool around the burbs in fourth gear. The clutch and gearbox operate well, neutral easy to snare, lever pressure modest.
Arguably the bike's weakest points are its tyres and its seat, both easily enough remedied. Covered in suede-like material, the latter looks great but is a bit mushy, and has you squirming around after an hour. You may want an upgrade if you plan on touring as a tank of gas is good for almost 400km. While fuel use isn't recorded digitally, RE claims 3.5-4.0L/100km. And that seems ballpark right by our estimates.
Road manners?
Brakes are a mixed bag. The front, comprising a two-piston caliper with braided brake line, needs a good prod into action but works reasonably well, especially when used in concert with the rear, which carries more weight than the front. Handling is fun, within the limits of the tyres, and ride is good enough for distance work. Neither is brilliant but remember the bottom line. The suspension is unadjustable up front, but doesn't dive under brakes. Ride quality is influenced more by the seat than the suspension. The open, upright riding position helps, and the thin but reasonably capacious 15L tank is easy to grip. Where does this fit then? Simply put, it's the least expensive true dual-purpose bike on the market by some margin.
| | | | |
| --- | --- | --- | --- |
| Model | Royal Enfield Himalayan | Price | $6990 |
| Engine | 411cc, air/oil-cooled, carburetted, single, 18kW/32Nm | Drivetrain | 5-speed, chain final drive |
| 0-100km/h | 9.53sec | 100-0km/h | no ABS |
| 80-120km/h | 16.42sec (484m) | Weight | 190kg |