Holden rejoins the country's busiest segment with the Chevrolet-sourced Equinox. Does it have the right stuff in this tough market?
If you aren't a player in the medium SUV space, it's unlikely your register will be ringing too often. It would seem that if people aren't buying a ute, they'll be into one of these instead, and their popularity shows no signs of abating. We recently attended the launch of Holden's new Equinox, a five-seater SUV priced from $35,990 which effectively replaces the aeons-old Captiva.
Holden reckons it hasn't been in this market space for over two years since its Captiva5 departed, though its slightly larger Captiva7 has been available in the same price bracket representing the Lion. Holden cites the Sportage, CX-5, RAV4 and Outlander as its competitors here, all big sellers and competent vehicles too.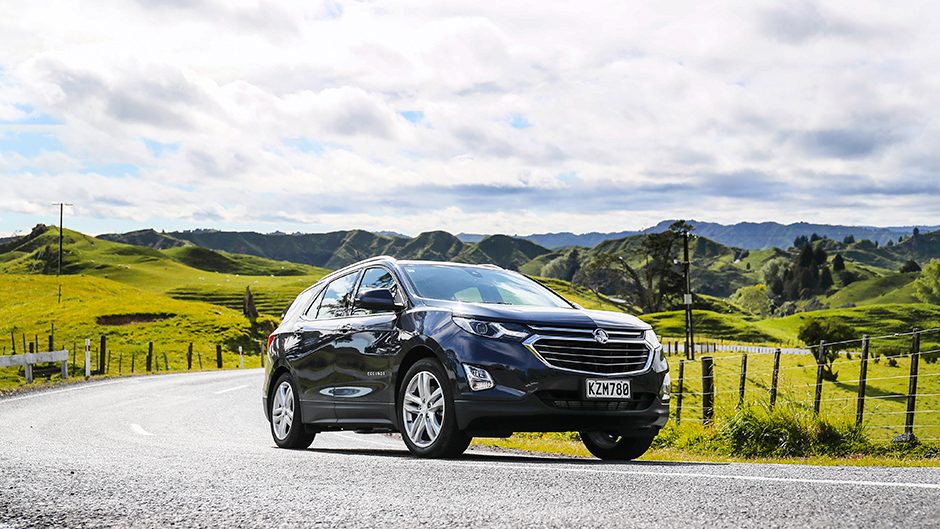 Equinox comes from the Chevrolet stable and is built in Mexico. It's now in its third generation, this latest version developed as a global product and based on the same platform as Astra. It's said to be GM's most popular SUV and is sold in 116 different markets.
Holden says its engineers were in on the Equinox's development at an early stage and part of their input saw the inclusion of the 2.0-litre engine to ensure it had the power to stand out in the crowded market segment. Said turbopetrol unit is the same as that used in the front-drive ZB Commodore, which arrives in February. Australasian Equinox models have a GMH-tuned suspension set-up to make the most of the standard fitment of what GM calls a summer tyre.
Along with retuned dampers (fiddling with the valving to optimise their performance for typical Antipodean road conditions), Holden has reprogrammed the power steering and ESP systems. To capitalise on the additional grip of the tyres, Holden has sharpened the chassis response by fitting thicker front and rear sway bars and stiffening the suspension bushes in the four-link rear end and the subframe. The overall aim of the tune-up was to deliver a more connected and engaging drive without compromising the ride comfort.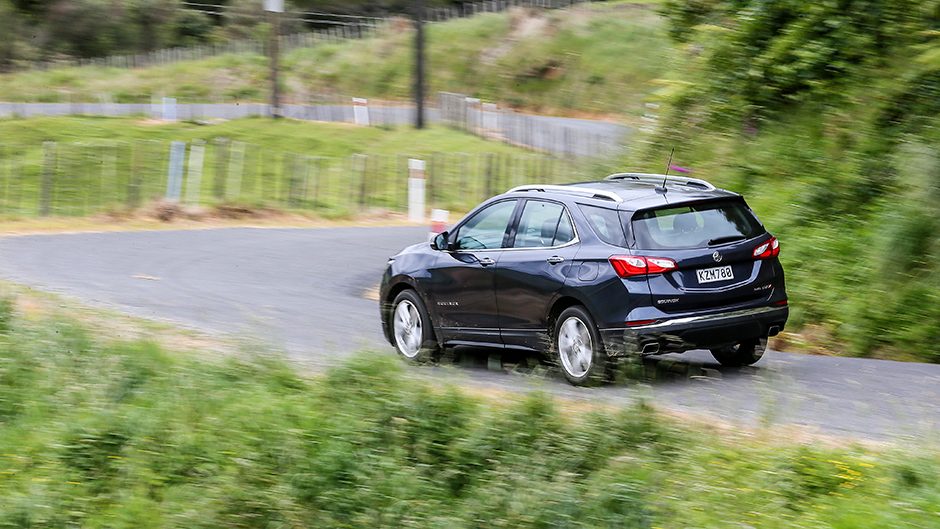 And the Equinox does ride well over the many varied road surfaces we encountered on a meandering drive route through the Taranaki region which took in a few goat tracks and gravel trails as we visited the tourist hot spots of Ohura and Whangamomona.
Equinox brings a few new features to the Holden brand with Active Noise Cancelling on all models while higher grade variants have a powered tailgate with gesture control, and wireless phone charging. GM's new nine-speed auto also makes its debut.
The AWD system on the LTZ models can run in either a 2WD setting or a predictive AWD mode. This on-demand system features a disconnect from the transmission, meaning that in 2WD mode, the rear prop shaft isn't spinning and this helps overall efficiency. There's a choice of a 1.5 or 2.0 turbopetrol engines, and a 1.6 turbodiesel will be available later.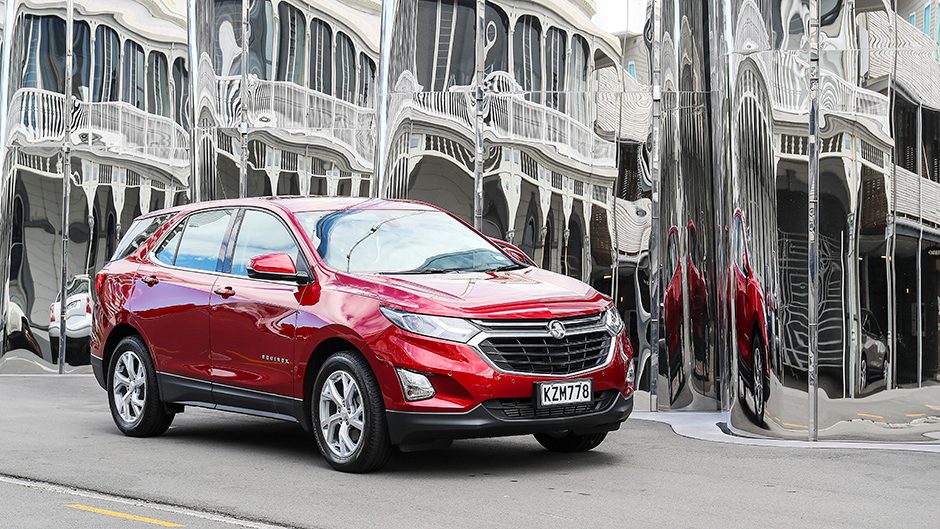 We drove a front-drive 2.0-litre model along a lengthy stretch of gravel road as we headed inland and while the traction control worked hard to curtail the engine's torque, the handling was otherwise tidy on the loose surfaces. Though the gravel that sprayed the undercarriage made one heck of a racket, the ride was always quite well composed. Back on tarseal, the steering isn't the last word in feel but it's accurate, and is not afflicted by any of the electrical assist gremlins such as self centring or any vagueness just off centre.
As most do in this class, the Equinox builds progressively towards easily manageable understeer when pressed in the bends, while those higher grade models with AWD and better rubber predictably hold on better, though not to the detriment of ride quality. While engine noise is well suppressed, there is some road roar evident on coarse chip.
The range kicks off with the $35,990 LS, a front driver using a 1.5-litre turbopetrol (127kW, 275Nm, 6.9L/100km) and a six-speed auto. Features include six airbags, 17-inch alloys , a seven-inch touchscreen with Apple and Android connectivity, smart key and rear park assist and camera. The $39,990 LS+ adds safety tech with AEB, lane keeping and departure warning and a forward collision alert. Along with visual warnings, the Equinox has GM's Driver Seat Alert which vibrates to notify the driver of potential dangers.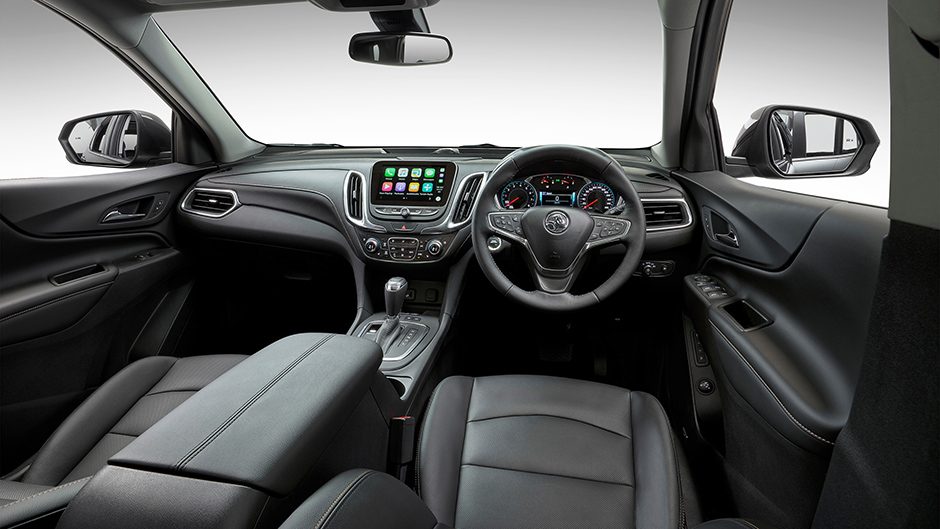 This feels a little weird but certainly gets your attention. The Equinox has yet to be tested by ANCAP. Active cruise is one feature not available. The 1.5 does well in what is a big vehicle thanks to its punchy midrange but gets breathless when trying to effect the overtake. The six-speed auto isn't the slickest of shifters, but does the job for the money asked.
The $43,990 LT is the next model up with 18-inch alloys and more chrome work, while it benefits from a 2.0-litre turbopetrol (188kW, 353Nm, 8.2L/100km) and GM's new nine-speed auto drives the front wheels. Additional equipment includes a larger eight-inch touchscreen with integrated nav, heated front seats, remote start and parking sensors on the front. There is also a one-touch folding rear seat and four USB chargers. It gains a 2000kg braked tow rating too.
The 2.0-litre's extra urge throughout the rev range is noticeable, particularly the added power up top which makes it feel pretty quick in a straight line for this class. The nine-speed auto is more about smooth shifting than snappy changes, even when pressed and there's no sport mode either. There's a manual shift button on top of the lever but it's more for towing purposes than snappy race mode shifts they tell us; it lets you lock it in gear on a descent and prevents the box from overshifting when towing uphill.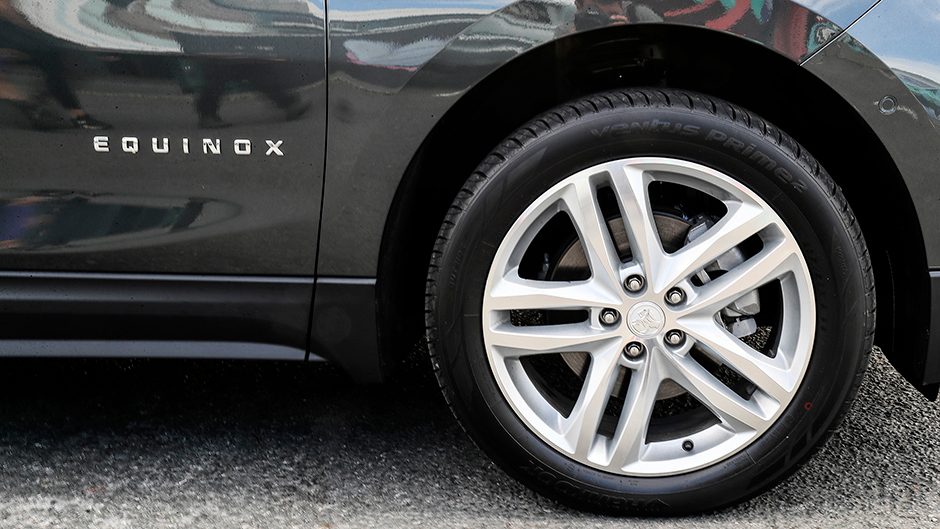 The $52,990 LTZ steps things up another notch adding AWD (2WD is available on indent to save $3000) and there will be the option of a diesel in the New Year (1.6-litre, 100kW, 300Nm, consumption expected in the mid-5s and carries a $3000 premium). Spec includes 19-inch alloys, LED headlamps and tail lamps, hands-free power tailgate, rain-sensing wipers, wireless phone charging, front and rear seat heating and Bose audio. The $56,990 LTZ-V adds a panoramic sunroof, a powered passenger seat, ventilated front seats, heated steering wheel and Hill-Descent Control.
Also standard is Holden's new three-year free certified servicing program and the usual 100,000km/ three year warranty. Equinox is a big five seater with plenty of legroom and width in the rear while the boot space is notable too. The cabin has some hits and misses both in terms of design and build quality, but it's practical and functional which is what this class demands.
While the high-end models are quite pricey, the Equinox should prove competitive in a cut-throat market with its interior space, features and the added value of its service package.
| | | | |
| --- | --- | --- | --- |
| Model | Holden Equinox LTZ-V | Price | $56,990 |
| Engine | 1998cc, IL4 T, 188kW/353Nm | Drivetrain | 9-speed auto, AWD |
| Fuel Use | 8.4L/100km | C02 Output | 196g/km |
| 0-100km/h | 7.0sec | Weight | 1735kg |