A hatchback was once the most popular seller but nowadays people tend to choose compact crossovers instead. We put new Kona through its paces against HR-V.
If existing trends continue, we shall all be driving crossovers or SUVs in the near future. Deep into 2017, high-riding vehicles account for 59 per cent of the passenger market, with medium SUVs dominating (40 per cent) and compacts and large SUVs on 30 per cent each.
It's the expanding compact SUV class this pair inhabits, the Kona the "intrepid" newcomer (Elite 2.0MPI), while the HR-V (Sport X model) has been on sale since mid-2015. Kona enters a sector where there's already a dogfight happening, ASX and Qashqai dominating (20 per cent apiece), followed by HR-V and CX-3 on 18 per cent, and Trax on 13 per cent.
For comparison purposes we wanted Kona Elite 2.0MPI FWD ($36,990) to confront HR-V L ($35,990) but ended up with a Sport X variant ($41,200). Essentially this is a dressy L model. Sport designation adds 17-inch alloys, a panoramic sunroof, and sports seats. The X designation consists of front and rear bash plates and sporty looking side running boards.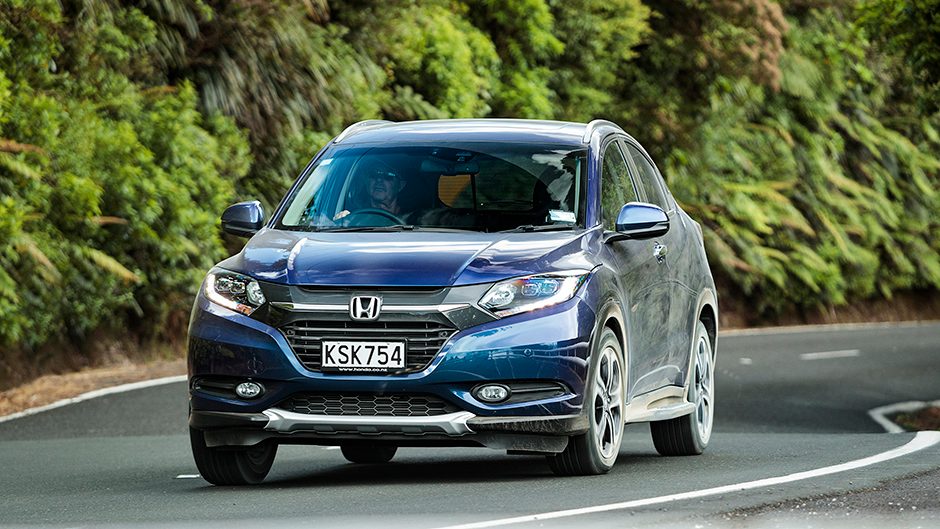 The L still gets a smart key, alarm, leather upholstery, audio and cruise buttons on the wheel, and LED lights and DRLs but misses out on sports pedals, an auto-dimming rear view mirror, dual zone air (single zone only, like Kona), privacy glass, and the parking sensors of the Sport. Kona Elite is better equipped, matching HR-V with LED headlights, artificial leather trim and comfort entry, but adds 18-inch alloys, high beam assist, park distance front and rear, privacy glass, wireless charging, heated and powered front seats, hill descent control, lane change warning and blind spot monitoring.
Kona grabs your attention
If it's presence you're after Kona has that in spades. Ours in particular was unique, sporting a pair of blue racing stripes, so it's easily mistaken for a GT40. You'll have no trouble finding your ride in a packed carpark as Kona is so recognisable. At each end there are separate light clusters, the slimline DRLs up high, the rest of the lights lower at the front end.
Inside, styling flair is not quite so dramatic. That said, it's more modern overall than HR-V (Hi-rider Revolutionary Vehicle, which we guess it was when the original debuted in 1998), the Honda's interior seems dated, unsurprisingly given it launched in 2015; for example, it has no digital speed readout and no active safety features. Moreover, Kona sports a head-up display while the central screen in the HR-V lacks resolution.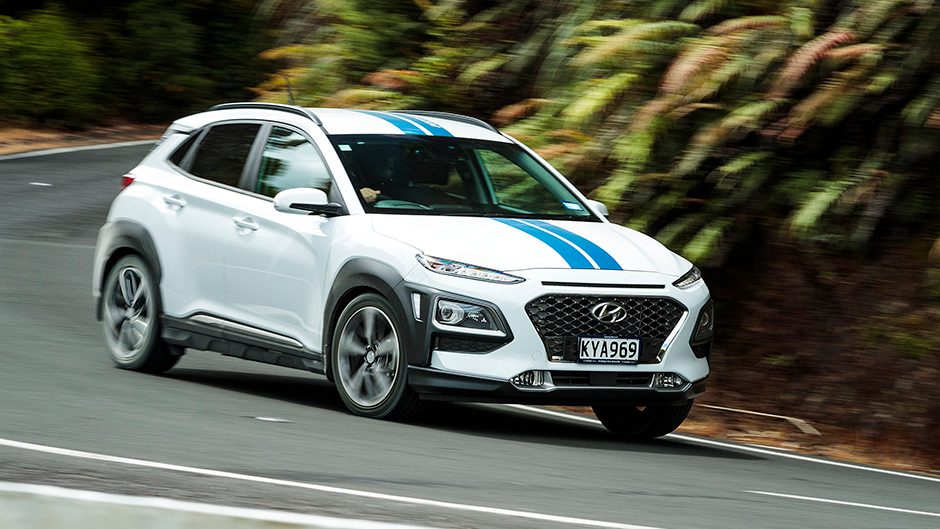 However, HR-V isn't out for the count. Hidden handles up on the C pillar for the rear doors impart a three-door coupe look to the Honda. These give access to an area that features not only a flat floor but more legroom for passengers than Kona. Its best feature though is the Magic Seat set-up, as pioneered by Jazz. We had a pallet to move and it fitted inside when the Magic rear seats were configured for tall loads. Kona merely has split folding rear seats (as does HR-V) and while they go dead flat in the Honda – you could sleep there at a pinch – they almost do in the Hyundai as well, but the load space isn't as long.
Better as town runarounds
Aside from both using naturally aspirated engines that drive the front wheels, and having torsion beam rear suspension, there's little else in common. The Kona utilises a 2.0 twin-cam four mated to a six-speed auto, whereas the Honda gets a 1.8 single-cammer driving through a CVT. The latter has paddles, the former an MS gate for shifting manually.
Hyundai rates the Kona at 110kW and 180Nm with average fuel use of 7.2L/100km. Respective figures for the HR-V are 105kW, 172Nm and 6.9L/100km. They weigh about the same so all things being equal we'd expect the Korean to have the edge. And that's largely the case; the twin-cam Kona revs quicker and it alone posts a 0-100 time of under 10sec (9.8), the Honda being 0.4sec adrift. But on the overtake there's little in it, 6.6 vs 6.7sec, and it's the same for stopping distances.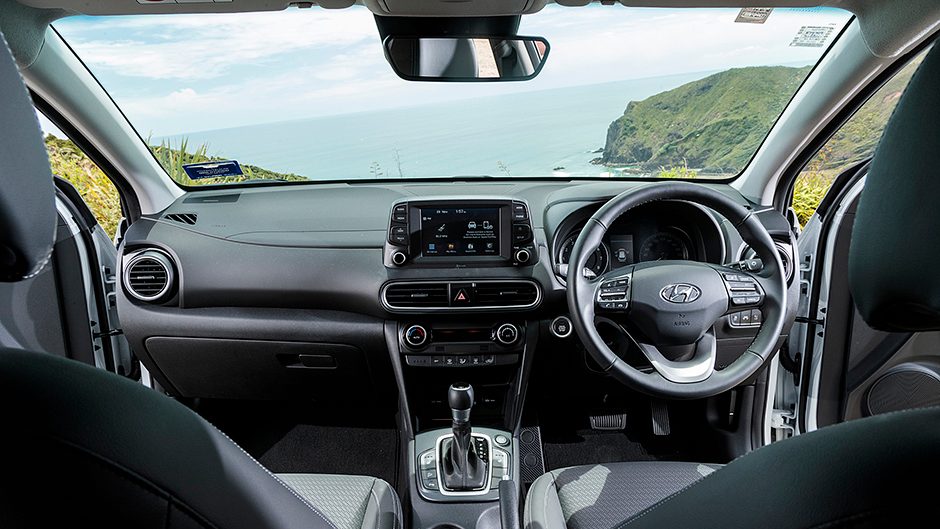 However, and this came as a bit of surprise, the HR-V is a bit more forthcoming when push comes to shove because of its CVT, which has a Sport mode along with paddles. Ranging between D and S, the latter setting sparks the engine up to around 3500rpm at which point it fires on all four quite nicely. Despite having Sport, Comfort and Eco modes, the Kona takes just a touch more effort to encourage along, and there's no doubt paddles are easier to manipulate than shift levers.
Naturally, there will be some who dismiss the HR-V simply because of its CVT, but it's not all about eking out maximum performance here. The primary point of a CVT is tall overall gearing to enhance fuel economy, and this works in the HR-V (along with its lesser displacement). We saw a worst in the high eights for the Honda, whereas the Kona was into double figures. You might expect that given its larger twin-cam engine but given there's little advantage in terms of straight line performance, the added frugality of the HR-V is hard to overlook.
Little in it out of town
It was even closer for the drive experience. There's really little between them dynamically, apart from steering. We found a bit much doughy wheel heft in the Kona's Sport mode whereas the HR-V helm never drew attention to itself. The Honda turns with just a touch more relish too. Up the reference hill it simply felt more car-like, and driven in S mode using the paddles it wasn't quite so demanding as the Kona.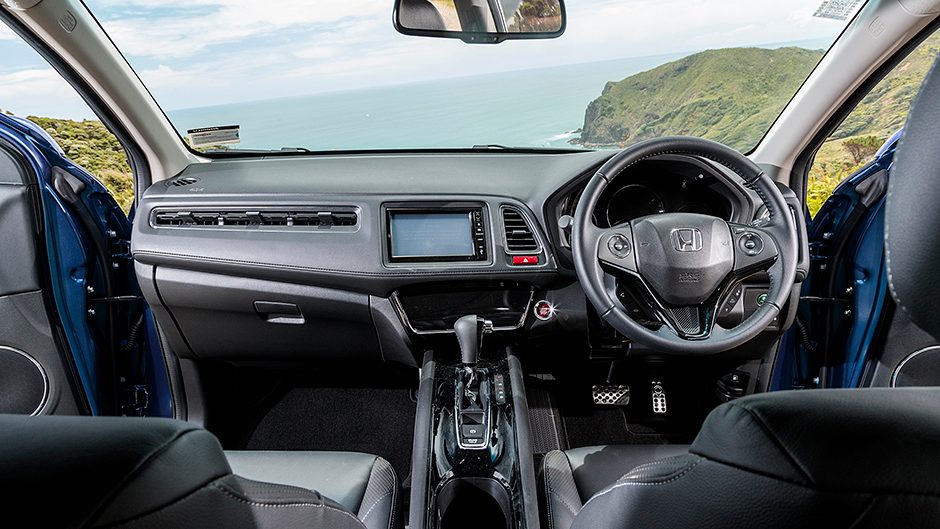 Of course the pair won't see a whole lot of action out of the burbs, and both work well in these situations, Sport modes not required and each with turning circles of 10.6m. They're both surprisingly hushed over less than perfect seal and they ride perfectly reasonably at urban speeds.
The nod to Harvey
Honda's HR-V range literally has something for everyone, kicking off at $29,900 and the top Mugen variant going for $46,900, with two AWD models (using a twin-cam 1.5 engine) going for $35,600 and $42,600. Kona's range is simpler, having only four derivatives, with two engines, each available in base and Elite spec. Cleverly, the base 1.6 turbocharged variant sells for the same amount as the Elite 2.0MPI, at $36,990. Bookending this pair is the base 2.0MPI for $31,990 and the Elite 1.6T GDI for $41,990. Both of the 1.6T variants are 4WD whereas the 2.0MPIs are front-wheel drive. We've not driven Kona 1.6T, but if it's anything like the i30 situation you'd probably plump for either the base turbo variant at $37k or shell out the extra for the top dog.
If you're a fan of effortless performance, that's what we'd advice, with no theoretical fuel penalty. As to this pair, on balance the HR-V nudges ahead with its magical practicality, slightly easier going nature and better economy thanks to its CVT. However, those not into such transmissions might like the funky styling of Kona. It's a pity the rest of the vehicle is not as standout as its evocative name, though the 1.6T model may change all that.
| | | | |
| --- | --- | --- | --- |
| Model | Hyundai Kona 2.0 Elite 2WD | Price | $36,990 |
| Engine | 1999cc, IL4, 110kW/180Nm | Drivetrain | 6-speed auto / FWD |
| Fuel Use | 6.9L/100km | C02 Output | 169g/km |
| 0-100km/h | 9.76sec | Weight | 1359kg |
| | | | |
| --- | --- | --- | --- |
| Model | Honda HR-V Sport X | Price | $41,200 |
| Engine | 1799cc, IL4, 105kW/172Nm | Drivetrain | CVT / FWD |
| Fuel Use | 6.9L/100km | C02 Output | 160g/km |
| 0-100km/h | 10.21sec | Weight | 1334kg |