Porsche has given the GTS treatment to its all-electric Taycan. Does it result in the usual magic for models brandishing this three-letter badge?
When we had the Carrera GTS last month, we pulled onto the motorway on-ramp, and alongside there was another Porsche. We gapped it but being damp under the treads the traction control felt obliged to intervene. Meanwhile that other Porsche, of the electric kind, was simply gone. This month, we're in an electric GTS and we can see why the 911 was so easily bested. The Taycan sure is something.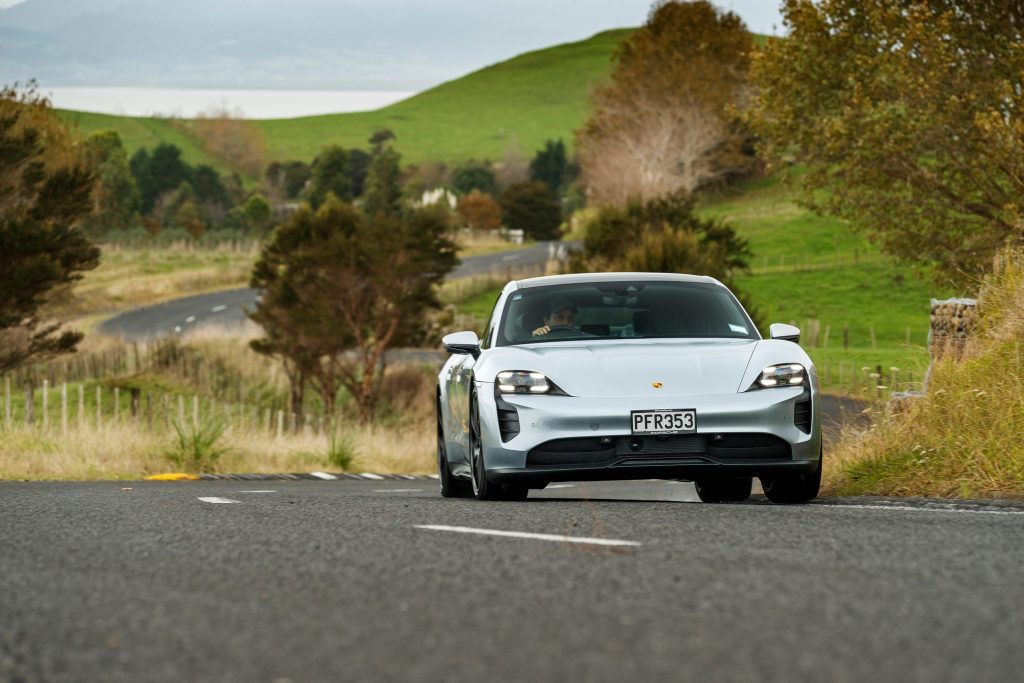 As per the Porsche marketer's playbook, the $255,800 440kW GTS plugs the gap between the $214,400 390kW Taycan 4S and the $304,300 500kW Turbo. It gains some visual stimulation, a power up and all the dynamic enhancement available to the Taycan range to deliver a well balanced, yet still thrilling package.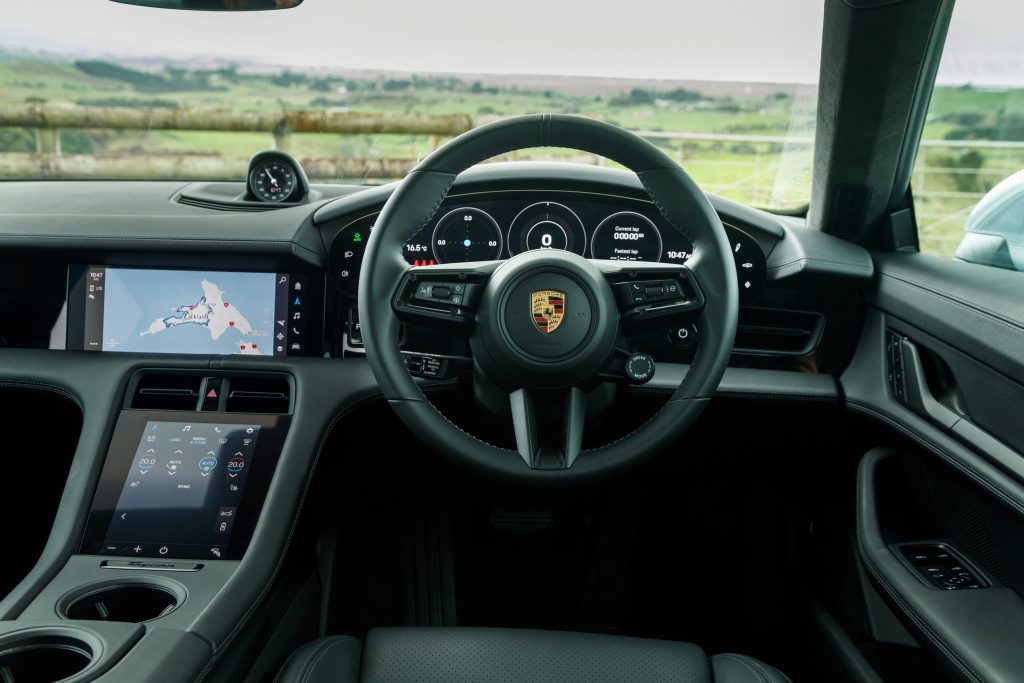 Where the Turbos are silly quick, this is merely fast. Where the Taycan 4S takes 4.0sec to hit 100km/h, the GTS can do it in 3.7sec (we repeatedly got 3.6sec) yet the Turbo does it in 3.2sec while the Turbo S is faster again. The GTS has dual motors and the bigger Performance battery with net capacity listed at 83.7kWh. Together they put 380kW at your disposal. The 440kW number they say is available 'on overboost', there when you enact the launch control for silly quick getaways. Still it's plenty quick enough, especially with the two-speed transmission on the rear axle, enabling better acceleration and more top end speed (said to be 250km/h). And sometimes you'll even notice it shifting cogs but not often.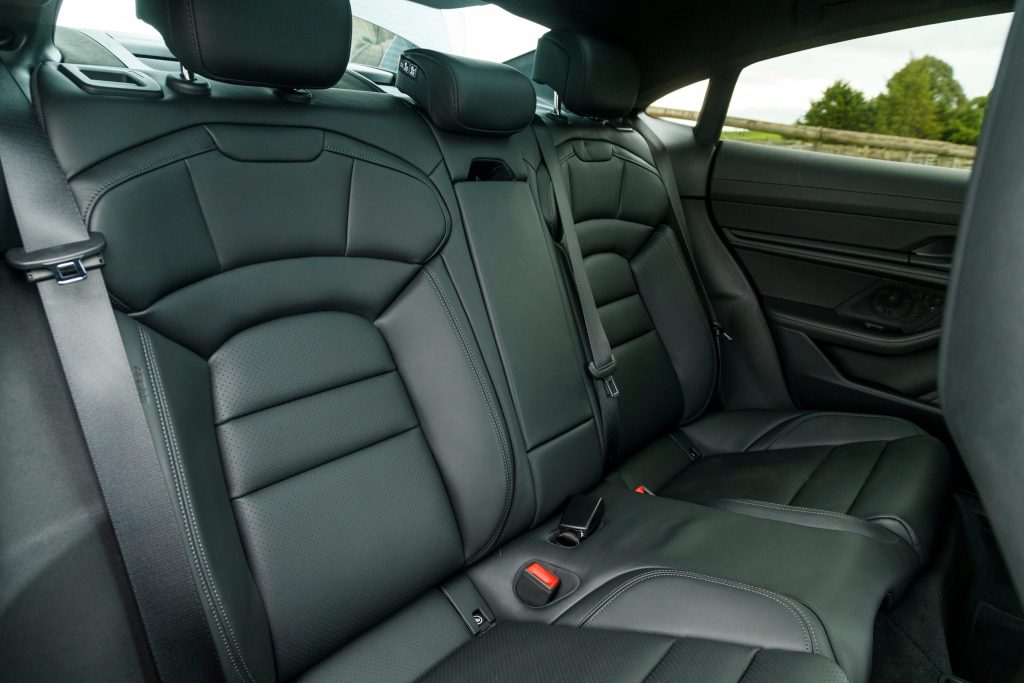 But then the GTS isn't about all out speed; it's more a balanced, dynamic package. And so cue adaptive air suspension with a 'GTS-specific tune' and full torque vectoring on the rear. And with Porsche Active Suspension Management, the damping is constantly adjusting to your driving style and the road travelled in order to optimise the balance between agility and ride comfort.  So is this better than the 911 GTS? Hmm, depends. It's clinical, precise and unflappable, whereas the 911's not nearly as polished by comparison, so manages to engage on a different level. But the rear-engined machine is simply not as capable as this. The electric GTS is an all-weather supercar. Dumping a full accelerator pedal worth of torque into this on a wet track is met with nothing but forward thrust; it's just gone. The way this punches off the curves is simply awesome but yet not overdone either. The Sport mode we found to be just right, quickening the reactions without overdoing things as Sport plus tends to. The steering is ace, direct and well assisted with a tuned connection. And the front end grip is immense, the turn in sharpened further here with the addition of the optional rear steering.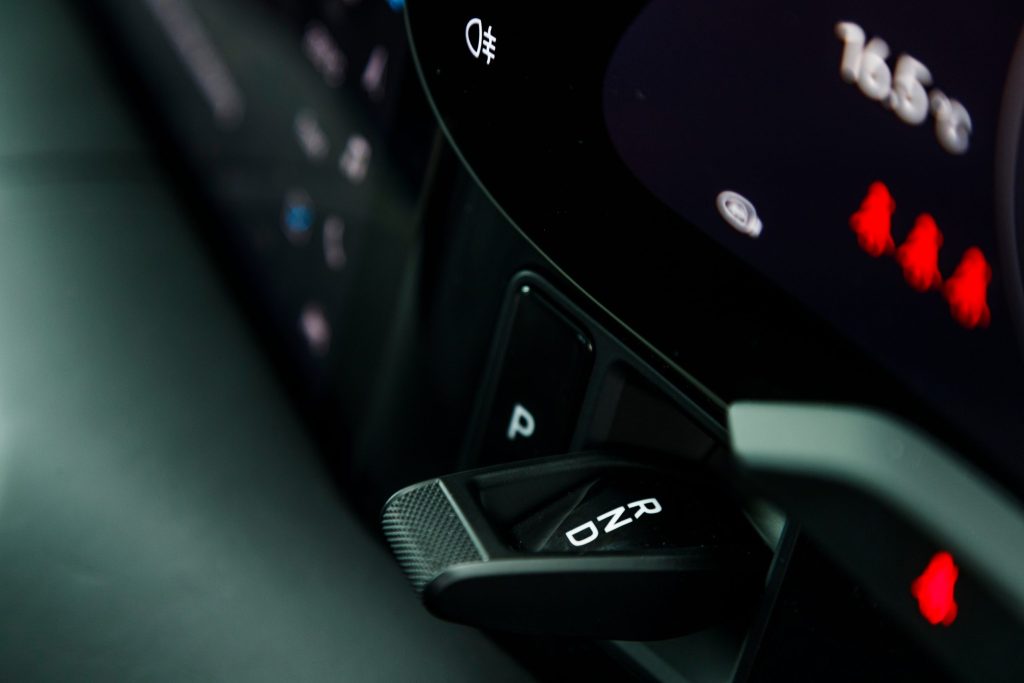 The Taycan is wide, low, and tyred to hell, and then there's all the electronic aids beavering away seamlessly in the background. No wonder the cornering is phenomenal. There's weight, 2300kg of it, but being centralised and low, it's well disguised. Until you try to bring it all to heal, that's when you notice it, and the brakes just don't quite feel Porsche perfect when you really stand on them. They have seen fit to add a synthetic soundtrack that reminds of some Pink Floyd tunes, but you can turn it off. There's tyre noise too but it's tolerable. And all this performance without tailpipe pollution.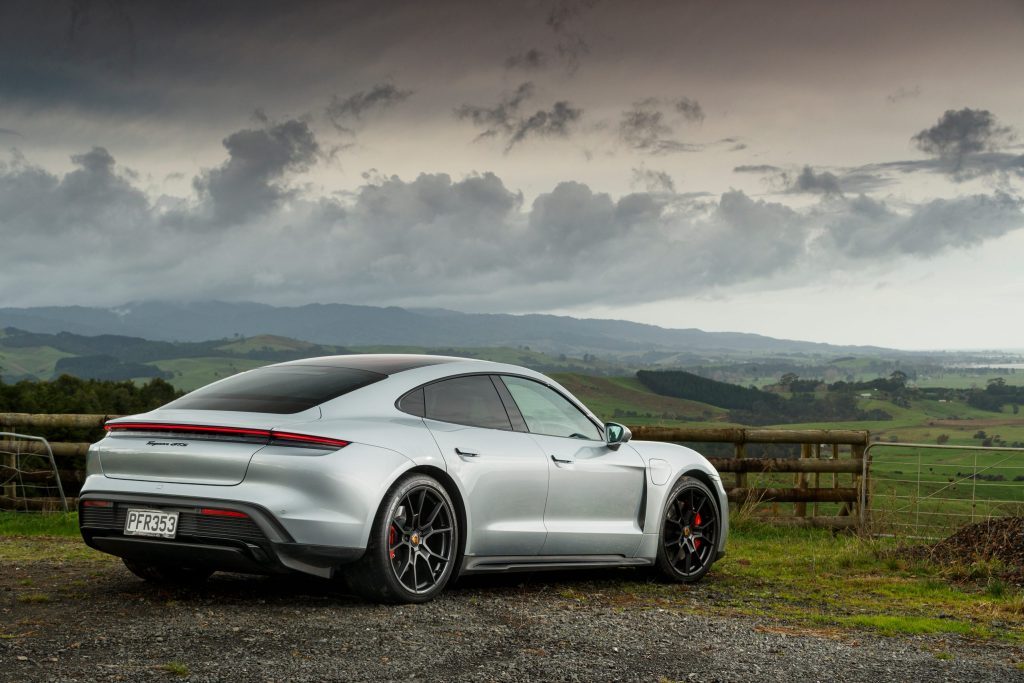 Is this a usable sports car then? The Taycan is a big machine, nearly five metres long and just under two metres wide yet that doesn't translate to ample interior space. The seating position is sportster low and, at times, it's equally challenging to get on board. There's a trick to access the back too, with the plunging roofline and a mean door opening. But once in space is adequate. We got our three gremlins in the back okay, (thanks to the $940 4+1 seating option) but the middle perch is literally only good for kids. There's a 911-like frunk of questionable use and the boot is small at 366L, narrow, with a tight opening too. Unfortunately, they aren't doing the touring version of the Taycan here; you have to plump for the Cross Turismo if you want a wagon. Pity it looks so weird.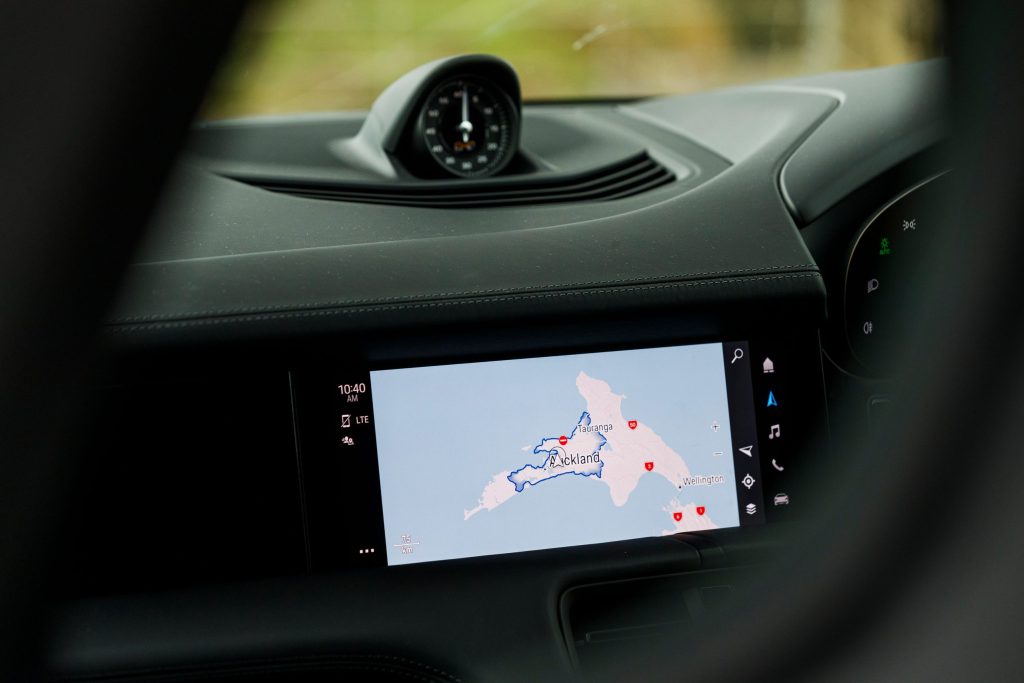 The well constructed cabin is button free; it's all touch surfaces with haptic niceness. The infotainment is snappy, its interface user friendly, logical. It looks the part too. The gear selector however is slotted out of sight behind the steering wheel which is just plain odd. And this is a Porsche that is well kitted out as standard with a head-up display, adaptive cruise, and a good range of active safety.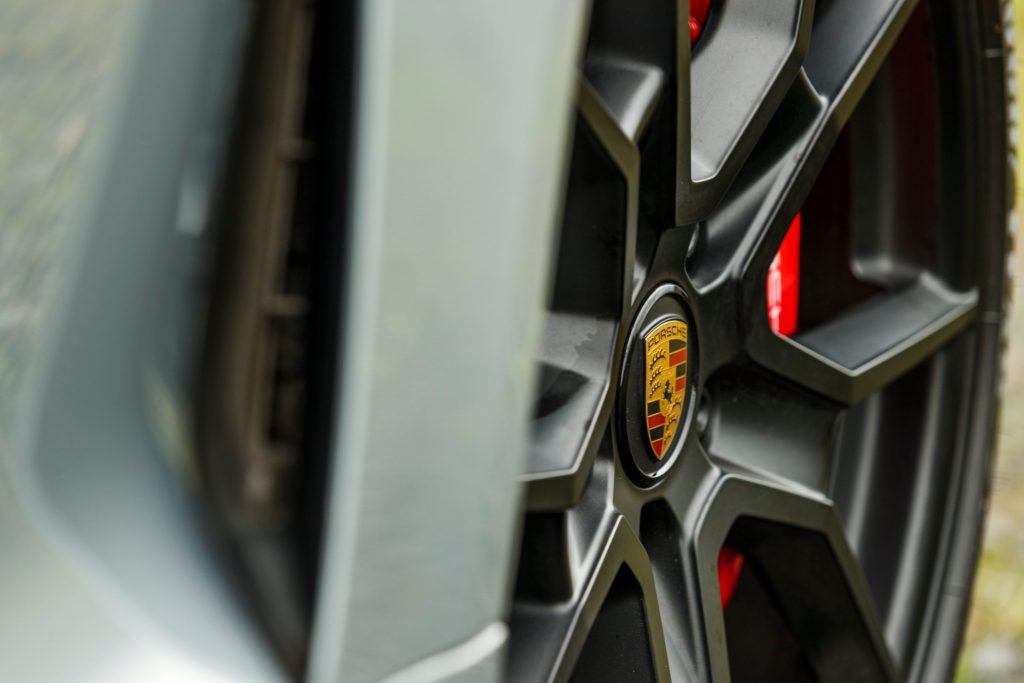 The turning circle is surprisingly good for such a big car thanks to the rears helping out and the steering is easy at urban speeds. Its ride quality is genuinely impressive, you hardly feel the lumps. The GTS does ride low however, and while you can raise the height for tricky driveways, it's quite slow in action.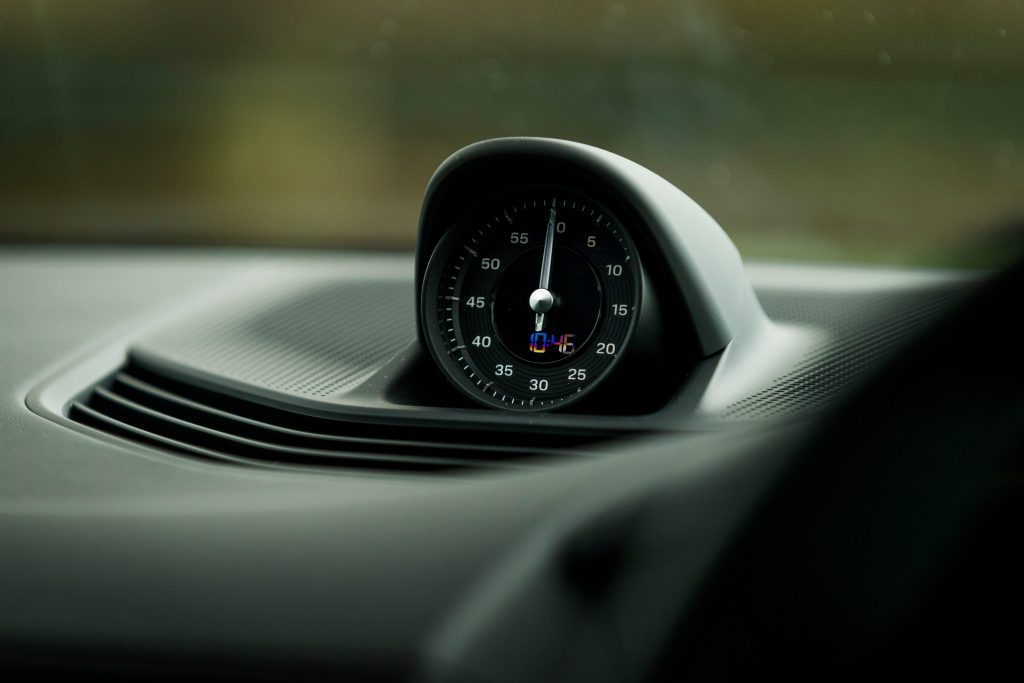 I do like Porsche's brake regen strategy, in that there is none (or at least very little when you do switch it on). Get it up to pace (easy with its masses of torque and traction) and then get off the pedal to let it glide. We're guessing the initial travel of the brake pedal is set for motor regen, with the mechanical stoppers only used to haul it up. Once stopped you can pump the pedal to bring up the hold function. It creeps about smoothly when parking, and manoeuvring about on an incline is polished, no driveline snatch, no traction issues, just easy. The mirrors are mean, and the reversing camera gives a weirdly distorted view, but the around-view camera is handy.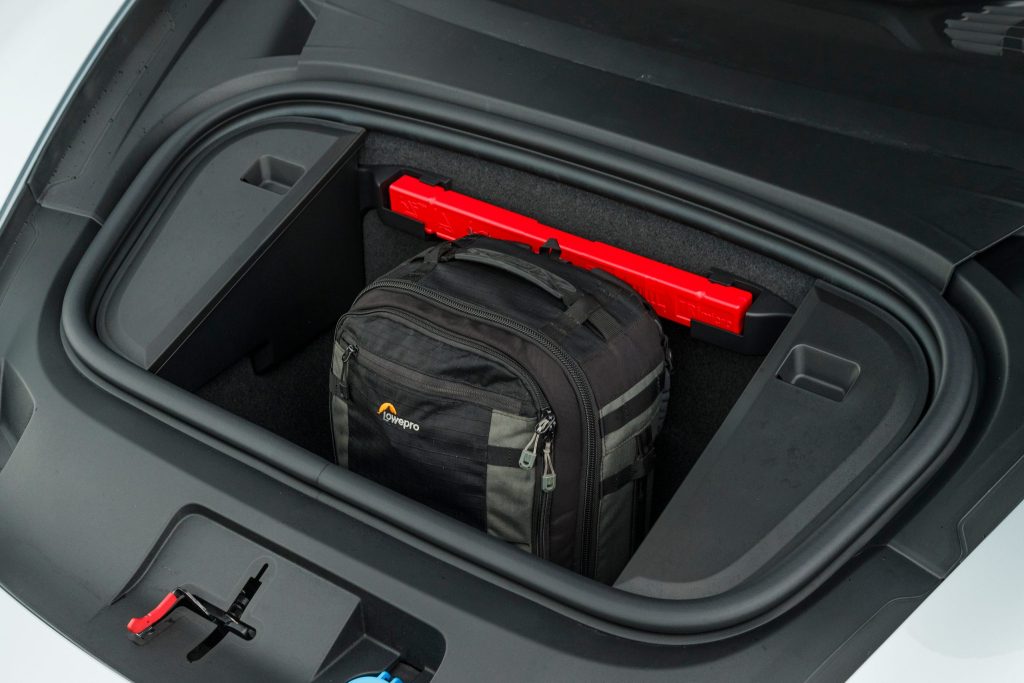 How far can you go between plug-ins? When we collected it, the range was showing a 400km potential, though we managed to cut that short with a quick-paced cross country romp. But it got around one of our longer test loops without triggering any range anxiety. The trip computer was showing a long term average of 26kWh/100km, we saw 29 at some stages, and as low as 23. It's rated at 25.9kWh/100km on the Rightcar website.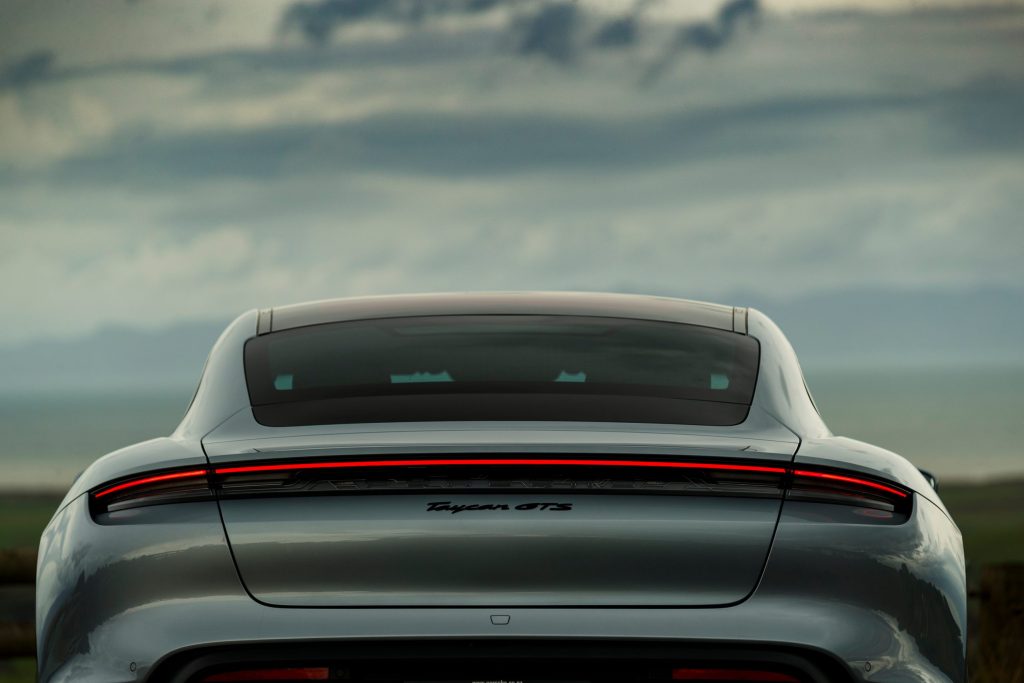 There's a range of cables supplied, including the (rather bulky) trickle charger which, when we plugged it in, suggested it would take 38hrs to recharge (12hrs at 8A took us from 13 to 31 per cent). Probably why you should buy a wallbox which, with the 11kW on-board charger, can fill a dead battery in nine hours. And there's the option to upgrade to a 22kW on-board charger for faster AC top ups. Servicing this Porsche shouldn't be as savage on the bank account with two-year, 30,000km intervals.
So this then is a contender for the ultimate modern sportscar. It is semi-practical too but closer in concept to a sports car than a big four-door sedan. Those now too accustomed to their SUVs should best wait for the electric Macan. But otherwise, this thing is grand, even at the sky high asking price.
Model
Porsche Taycan GTS
Price
$255,800
Clean Car Discount
Neutral $0
Motor
dual, 440kW/850Nm
Battery
83.7kWh net
Range
439km (WLTP)
Drivetrain
two-speed auto, e-AWD
Energy Use
25.9kWh/100km
C02 Output
0g/km
0-100km/h
3.62sec
80-120km/h
1.98sec (55m)
100-0km/h
34.45m
Stability systems
ABS, ESP, TV
Safety
AEB, ACC, BSM, LDW,
RCTA, ALK, AHB
Luggage capacity
f-84L, r-366L
Tow rating
not rated to tow
Service intervals
24 months, 30,000km
Warranty
3yrs, unlimited km
ANCAP rating
not yet rated
Weight
2295kg (claimed)