You've just got to love the Macan. Without this or the Cayenne we probably wouldn't have the company's star drives like 911. However, there are more reasons for Macan's existence than merely subsidising company icons, especially following its midlife makeover.
Widely acknowledged as the best handling SUV in its compact luxo class – up against GLC, F-Pace and X4 – the popular Macan has undergone a mild facelift that includes modest external changes, engine updates and tech enhancements, like intelligent voice control and permanent online connectivity.
It also gets a suspension tweak, and all this is genuinely enough to keep it ahead of the pack. This is Porsche's best seller on a global basis, the company moving more of these than 911, Boxster, Cayman and Panamera combined. It even outsells Cayenne (86,000 versus 71,000 in 2018). Macan now accounts for 40 per cent of company sales, outselling the 911 three to one.
Engines are now petrol only. Porsche recently had to pay a significant fine in Europe for cheating on diesel emissions. So bye-bye to diesel which will be replaced in time by mild hybrid technology.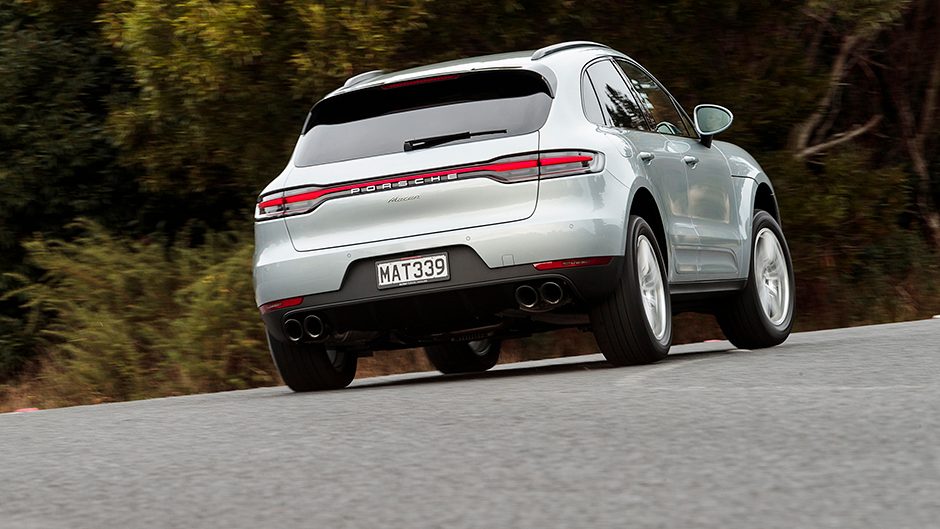 Initially there are two petrol engines, both turbocharged. It's the base model, the 2.0-litre, that Porsche is introducing first and this now has a particulate filter so it meets the most exacting emissions standards. It is also 20 per cent more fuel efficient than before, with a combined consumption figure of 8.1L/100km (185g/km). Most of the time we drove it, the mean fuel use figure was in the low nines, rising into the 12s during performance testing. Not bad for a 2.0T engine pushing almost 1900kg of weight.
The engine itself is good for 180kW and 370Nm, sufficient to propel it from 0-100 in a claimed 6.7sec. Using launch control on a dry track, we clocked 6.4sec. Porsche also claims an 80-120 figure of 4.9sec, which we eclipsed again by 0.3sec. That makes it plenty quick enough for Kiwi conditions, overtaking with ease, in sixth or fifth, though best times were achieved using second and third gears.
It pulls well in higher ratios because the engine is beavering away with intent from about 1500rpm and indeed Porsche suggests peak torque is available from 1600 through to 4500rpm. It feels strong in the 2000rpm range, hearty from 3000-4000 and onto it from 4500rpm.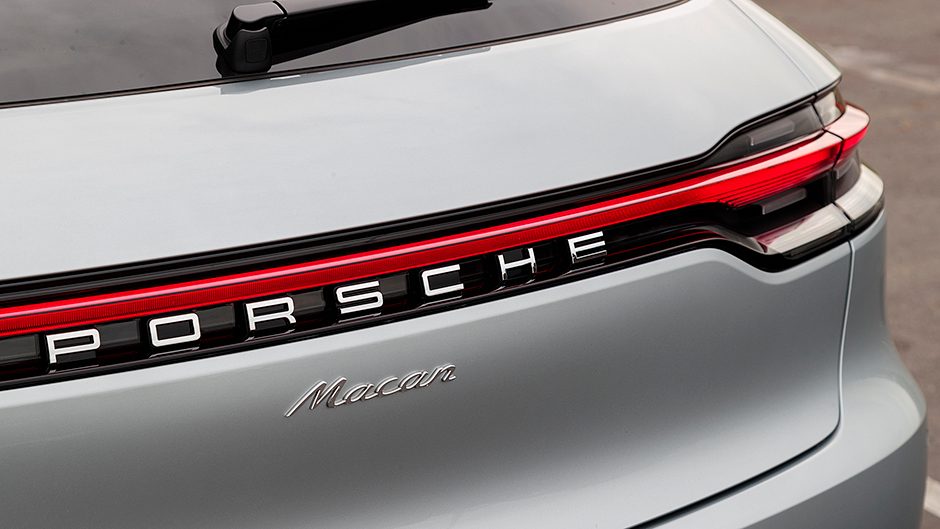 Power surges to all four wheels via a seven-speed twin-clutch tranny that has the engine purring at 1750rpm when active cruise is set to 100km/h. It's quiet this mill too, as is the vehicle; it's hushed even over chipseal surfaces. Macan, which is Indonesian for 'tiger', has always been known for dynamics and the engineers have made tweaks to its double wishbone front, multilink rear suspension (replacing steel bits with aluminium), honing the ride, steering and handling to an even higher level.
With the lightweight four-pot engine, this feels nicely balanced in turns, and despite its 205mm of ground clearance and overall height of 1624mm, it bounds through corners breezily, especially if trail braking going in, with relatively quick, well weighted accurate steering characteristics. Helping with the curves is a torque-shuffling AWD system that's quite rearward biased, and a limited slip diff, along with beefy asymmetric Michelin Latitude rubber. You can even tighten the cornering line into the apex with a generous application of throttle. Just like a sports car then.
What's especially pleasing is the ride quality of Macan, suspension of which is fixed. So there's still that sense of compression and rebound over big bumps and it's never too firm, quite some trick in a vehicle that's this composed in corners. What's also pleasing about how this operates is the Sports mode which seems to amp up everything.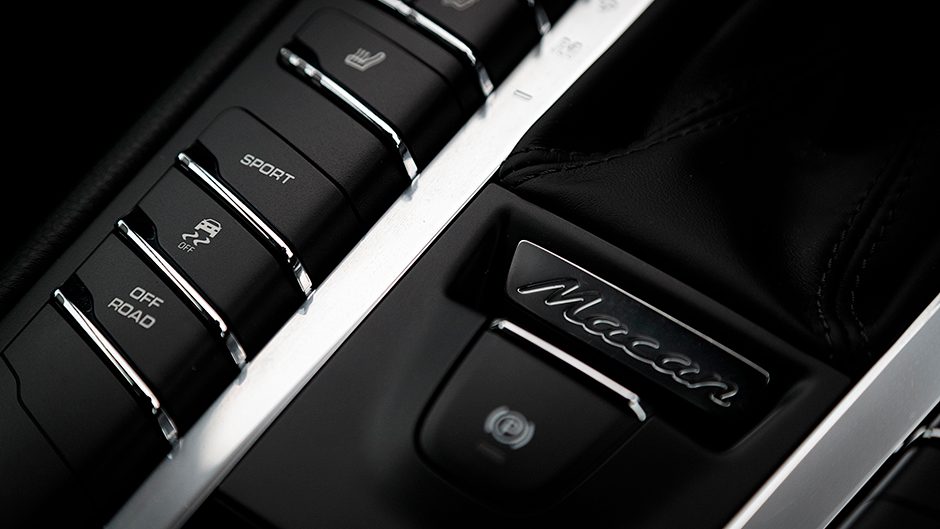 It upshifts to sixth by 100km/h and you can paddle it into top which it will maintain if you push the shift lever to the left. Inside is somewhat Porsche old school, at least in the centre console where it's button intensive. Intimidating at first perhaps but once you've got a handle on what you use frequently, we quite like this ergonomic set-up.
It beats faffing about with menu upon distracting submenu, even if the aesthetics aren't quite as modern cool. Standard fare includes dual zone air, leather trim, a powered fifth door (with sensible pushbutton opening), paddles, seat memories and an offroad mode.
Porsche leaves a fair amount of kit for the options list, so the base vehicle gets no comfort entry while other cost options include adaptive cruise ($2250), seat heating ($900), lane change assist ($1300) and various black or gloss black styling packages.
An extensive options list partly explains why Porsche is the most successful of car companies, each vehicle contributing around 18 per cent profit after costs. But when the vehicle's this good, you almost don't mind.
| | | | |
| --- | --- | --- | --- |
| Model | Porsche Macan | Price | $115,500 |
| Engine | 1984cc, IL4, T/DI, 180kW/370Nm | Drivetrain | 7-speed twin-clutch, all-wheel drive |
| Fuel Use | 8.1L/100km | C02 Output | 185g/km |
| 0-100km/h | 6.73sec | Weight | 1881kg |