Audi's Q2 is popular here, and now there's a sporty range topper, SQ2. With a hot 2.0-litre turbo, it's a quick, stylish and talented crossover for the modern urban family.
As high riding vehicles increasingly supplant car-like offerings, vehicles like the SQ2 are effectively the new hot hatches. Why it even looks like one, the high-riding aspect hidden somewhat in this model because of suspension lowering and enlarged alloys. And as if the look isn't enough, sporty compact crossovers like this even drive like hot hatches, with hard charging performance to match.
No surprise in this case because, like the recently released Cupra Ateca, it borrows its powertrain from one of the granddaddies of hot hatchdom, the Golf R. Utilising the EA888 2.0T donk from the hottest Golf, the wee SQ2 puts it to good effect by being almost as hasty. Helping it to hard charger status is its torque shuffling AWD set-up and a quick shifting seven-speed dual clutch transmission. Launch control also comes into play.
But if anything it's the cornering where SQ2 is really quite masterful. Going hard in a straight line seems relatively easy nowadays. Getting the dynamics and ride just so? That's a bit more difficult. Many rely on adaptive damping to achieve a combination of ride sophistication and cornering agility, but Audi has opted not to go down this track, at least with SQ2, preferring fixed passive suspension.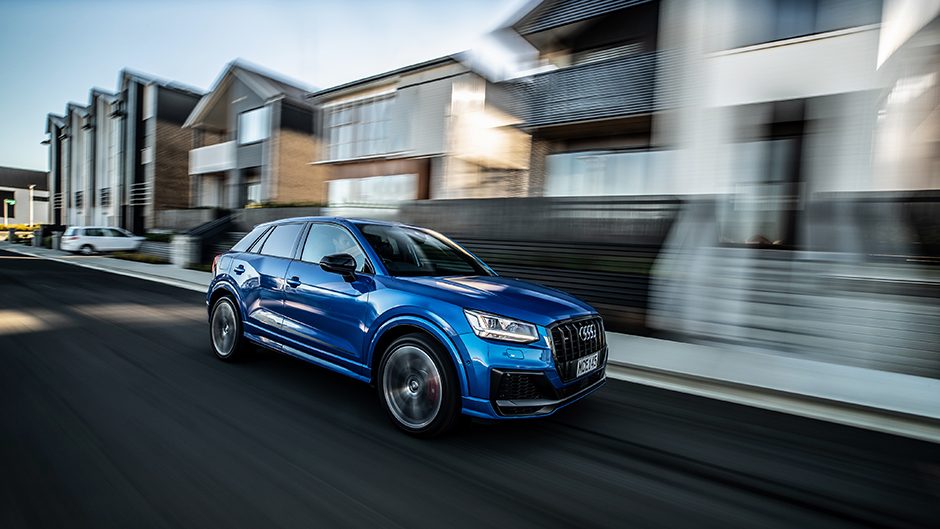 Gets down out of town
There are still various modes in the Drive Select menu, including the expected examples of Comfort, Auto, and Dynamic offering variations on steering, engine and transmission characteristics. But just don't expect any of the settings to offer a sofa-soft ride; this is an Audi from the S division, remember. Instead, Audi reckons that with set passive damping and body lowering of 20mm compared with the standard Q2, it's possible to get the handling right first and foremost, while the ride quality will be appropriate for open road speeds, and firmer at a slower pace.
They're on the money there too; it's tolerable at town speeds, but works better at pace, body movements restricted while midcorner bumps are negated without throwing the vehicle offline. Steering in the Audi is quick smart, with just two turns between the lock stops, the ratio being variable (progressive) and while weighting and precision are good, there's not much in the way of communication. But grip is outstanding, while continuous torque shuffling and torque vectoring by brake both acting to keep understeer in check. Hot hatch-like? Is it ever!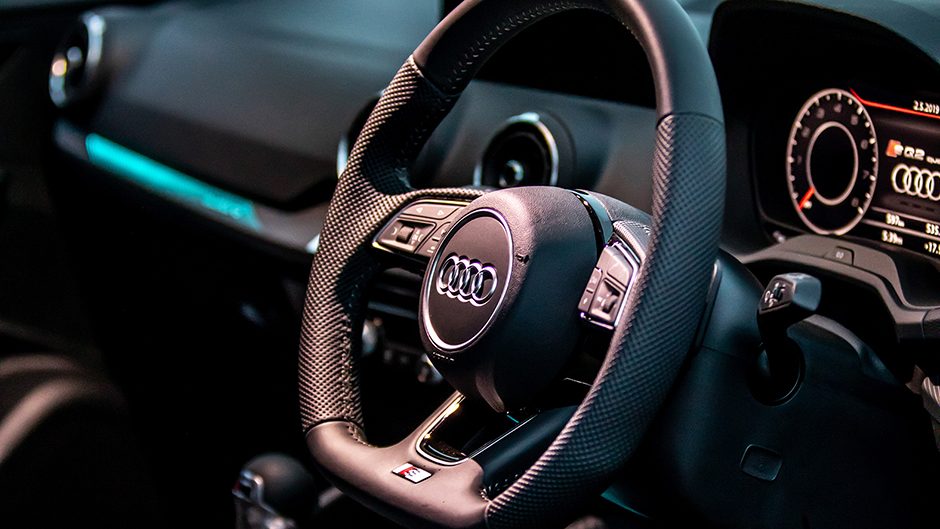 Compact conservatism
You'd not mistake the SQ2 for the cooking versions, at least not from the front or rear, with an enlarged singleframe grille, bigger air intakes, 19-inch alloys sitting within larger wheel arches, a roof-end spoiler and four exhaust outlets emanating from the rear bumper. Despite that, there's a somewhat understated look about the SQ2, and the polygonal design motif of the series, notable down the flanks, remains in evidence.
There are quattro logos too, one of the longest-lived marketing tags to be used continuously by any car company. It's a compact little gem, at just over 4.2m in length, with a 2.5m wheelbase, yet there's room for five (in theory, four really) and space for 355L of luggage, accessed via a power-operated fifth door. That's down a bit on the Q2 which offers 400L of space. How come? Because the SQ2 features a subwoofer that sits below the boot floor, and the AWD gubbins.
With split folding the luggage compartment offers flat extended load space. And while we're out in that area, you'd be surprised how good all-round visibility is given the trend in this style of vehicle of a smaller glasshouse and higher shoulder line. A decent sized rear window and tiny headrests help. Another nice feature is that the rear wiper activates automatically when you're reversing and it's raining.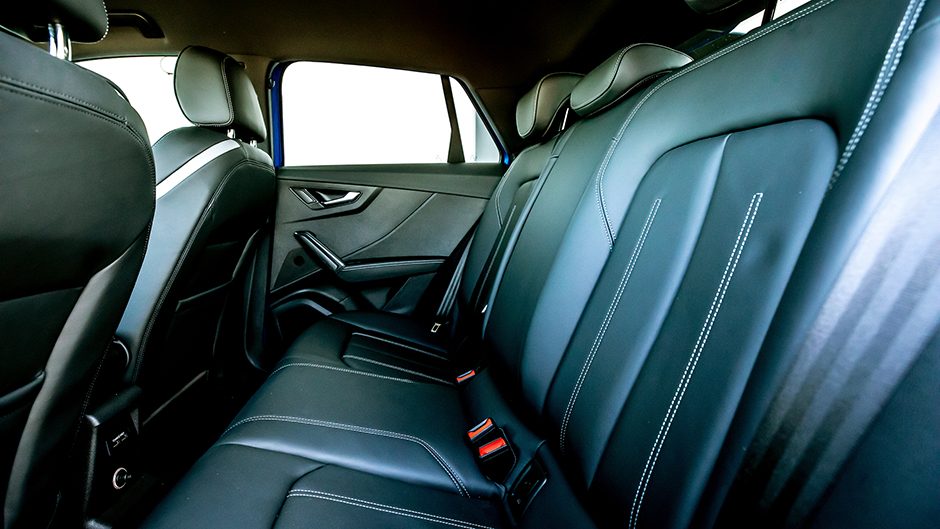 Hard charger
But how does it actually perform, this modern hot hatch equivalent? Enough to scare the locals, for sure. I had a few folk gesturing, politely I thought, to back off. Fair enough, but they don't quite understand the capabilities of a modern hot hatch, used as they are to the dynamics of a decade-old ute. It's the stuff hidden under the bonnet and body that mark out the SQ2 as something more special than the cooking Q2.
With the same powerhouse as the Cupra Leon, it is meant to accelerate the SQ2 to open road speeds in 4.8sec, thanks to 221kW of power and 400Nm of torque. And as per, Audi is right on the button, our best of 4.77sec achieved when using launch control and ESP set to its intermediate 'sport' setting. Initially it didn't want to better 5.0sec but with a bit of perseverance and experimentation, it turns out upshifting with the wheel-mounted paddles a bit before the 6500rpm limiter hastens the whole process rather.
That's not abnormal with turbos, and nor is a bit of hesitation off the mark as it spools up. But with a constant 400Nm available from 2000 to 5200rpm, this has pull and purpose across a broad spread of everyday engine speeds. Using third gear alone gives the best overtaking time of 3.14sec. That's on a par with the current Focus RS for acceleration. For overtaking which uses just one gear, the SQ2 is actually quicker (3.14 versus 3.26sec). And if you want a more appropriate comparison point, look no further than the X2 M35i; the SQ2 beats that in a drag race as well.
As to fuel use, we didn't have it long enough to get a gauge on that, Audi limiting the time of its loan units to just a few days now. Like on most Audis, the spring-loaded shift lever allows easy and quick shifting between Sport and Drive transmission modes, and even in the former you can induce upshifts by modulating the position of the throttle. Or using the paddles. If you're late for the wedding, 4500rpm onwards is best, and you'll be wanting Dynamic mode when those four exhaust outlets warble at their best. There's not much of the Kellogg's tune here, but the engine has rather a baritone rumble going on at times. Thanks to Audi Sport for the finetuning.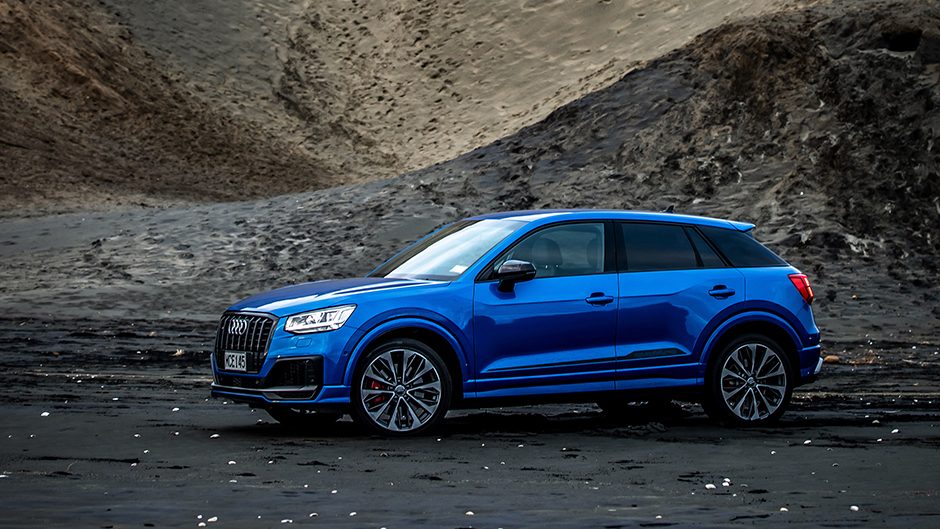 Wicked anchors
And also for the strong brakes. If anything the SQ2's braking performance is even more noteworthy than its pace. Good braking power involves a number of factors, but for SQ2 big brakes and wheels and light overall weight do the trick. Its best 100-0 distance of 32.44m beats out anything in the SUV class we can think of, including any Macan we've had through the office, and the recently tested X2 M35i by over 2m. The interior is up to muster, with a sporty D-shaped wheel and encompassing seats, both leather clad, the latter heated and with Nappa hide.
While the Virtual Cockpit is modern, the small central 8.3-inch screen seems dated, as do the menus, though they are simple to comprehend using the MMI twirler. Noteworthy features include adaptive cruise, comfort entry, LED interior lighting to match the exterior ones, autonomous braking, park and lane keep assist, torque vectoring by brake, and wireless charging.
Head-up display is also on offer for $1700. All of this will set you back $81,900, which is $8k less than the not quite as quick or comfy X2 M35i. Course for $76,990 you could always buy the R car on which the SQ2 is based. Only it doesn't carry quite the same badge kudos.
| | | | |
| --- | --- | --- | --- |
| Model | Audi SQ2 | Price | $81,900 |
| Engine | 1984cc, IL4, T/DI, 221kW/400Nm | Drivetrain | 7-speed twin-clutch, all-wheel drive |
| Fuel Use | 7.0L/100km | C02 Output | 159g/km |
| 0-100km/h | 4.78sec | Weight | 1570kg |