The QX80 is definitely a rig that would take you to infinity and beyond. However it's probably more a vehicle that woody the cowboy would own rather than buzz lightyear.
The Infiniti luxury brand has been a slow burner here in New Zealand. There was an official launch event for its arrival down under in Queenstown in 2012, only Nissan NZ wasn't keen to take on the luxury offshoot. The local distribution was eventually picked up in 2017 by Global Motors, the same company that manages Renault here, and it's been bubbling away quietly with a dealer network of two, one shop being in Auckland, the other in Christchurch.
It has had a range of SUVs and cars on offer, but currently is going through a bit of a rebuilding phase. And so at present there are just a few Infiniti models to choose from; the Q50 (sports sedan), Q60 (sports coupe) and this, the giant QX80, three-row luxo SUV.
This model has just entered its facelift phase, bringing more gizmos, a better look and a sharper price. Like us, you probably can't remember what the old one looked like, or remember seeing one on the road as they sold but four last year. Things are already on the up this year however with six registered YTD April; clearly the facelift has been better received.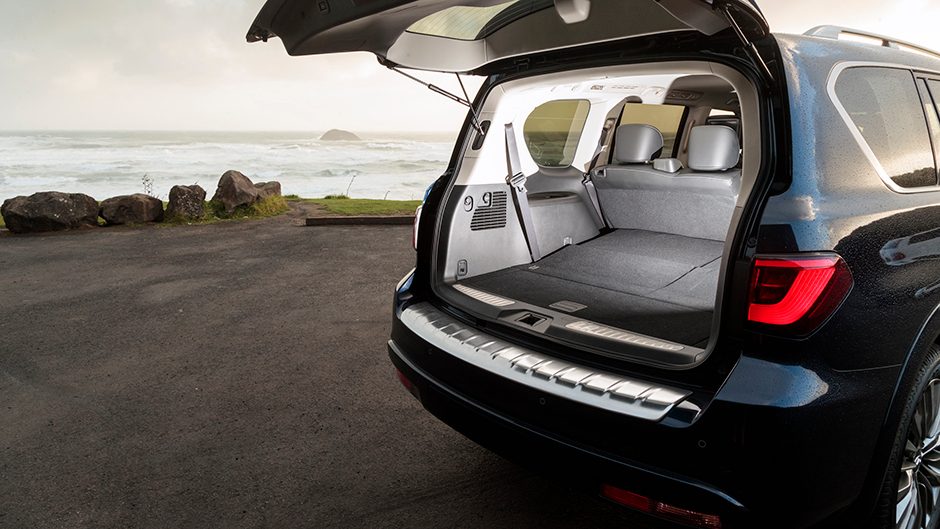 This remodels the front end with a squared off bonnet line and they've placed better looking headlights higher up. It's still rather confronting, but bolder rather than being slightly odd. The QX80 is the Infiniti version of the Patrol with a more luxuriously appointed cabin and unique styling but the mechanicals are the same.
The 5.6-litre all alloy eight is a DOHC design with direct injection and variable valve timing and lift. That liberates 298kW and 560Nm of torque. It works through a seven-speed auto feeding an active all-wheel drive system which has a rear bias. There's a comfort-orientated suspension set-up which is enhanced with something called Hydraulic Body Motion Control. Hydraulic cylinders pair with each shock absorber and these are interlinked. By transferring the oil between each cylinder on either side of the truck, the suspension can be 'firmed up' on the side under load during cornering to reduce body roll.
This has been tuned in the facelift model to improve ride refinement further through a reduction in the damper rates. And this does ride well everywhere. Town and around there's just a slight jiggle that all super-sized, full chassis rigs suffer, though this is lessened by the QX80's independent rear. It's otherwise a model of comfort sorting all manner of potholes and speed bumps. You'd imagine this monster to be an unruly beast when giving it what for through the bends, but the hydraulic aided suspension has tamed it some.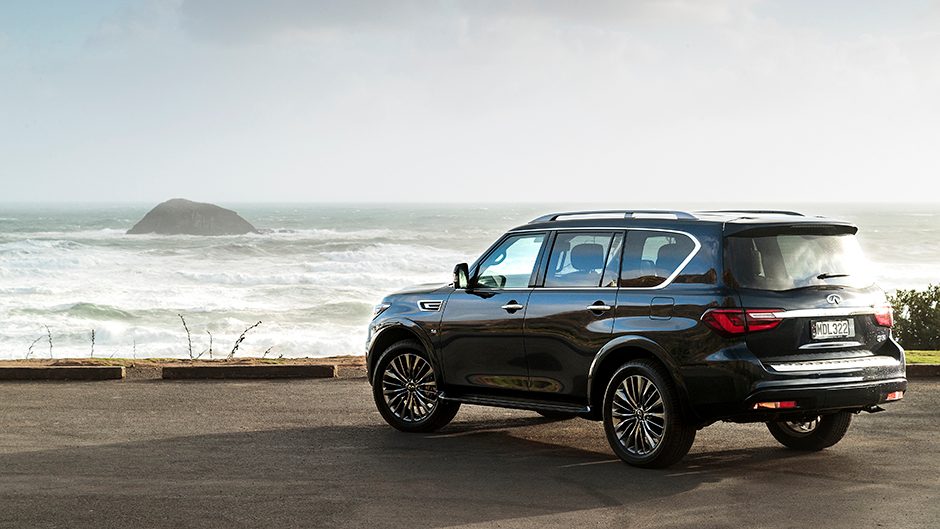 This system keeps the QX80 flatter through turns, working best on longer sweepers where it feels stable and planted. It also helps in tighter going where understeer is a little less forthcoming than you'd imagine. It does eventuate, though the ESP is pretty adept at fending it off. You don't get much help from the steering. This firms on the go but it's a distant connection with the wheels. The QX80 is supple over the rough bits, both the compression and rebound aspects of the dampers are well sorted and so this glides over bumps without the usual pitching and floating of some big off-road SUVs.
It's quiet too, with very little road noise of note, just the sound of eight cylinders beavering. The V8 lacks the easy grunt of turbocharged mills but is a willing spinner. That said, lugging forces are certainly present in the 2000 – 3500rpm zone for relaxed highway cruising but to haul with real intent for a quick overtake requires those pistons to spin the crank towards 6000rpm. Like the ride, the auto is tuned for smoothness. It can dither some, being slow to kick down, but gets the hint eventually.
Pushing the lever over into the manual gate helps it hold a gear when needed. The brakes get a thorough work out but do okay all things considered. The all-wheel drive system has a full-time 4H setting and a low range along with a locking rear diff. There are various terrain modes to prime the traction control with individual wheel braking. These however are at odds with the forged 22-inch wheels encased in road-orientated rubber. There's a tow hitch included and the QX80 is rated to haul 3500kg.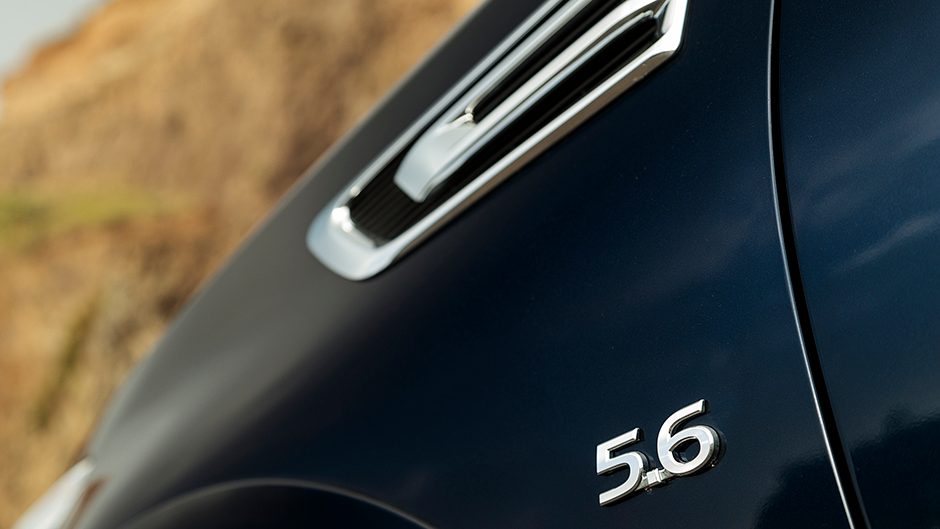 In urban ramblings, the V8 is silky and feels suitably powerful but is frightfully thirsty, with an urban average of 20L/100km. With a mix of city and motorway miles, and a quick burst of performance testing, the trip computer settled at 18.5L/100km. There's a 100L tank, so the range isn't too bad but it requires premium juice. The steering is light, though with 3.5 turns, some additional wheel twirling is needed and the turn around dimensions are suitably enormous.
It's not the easiest thing to park, and some spots are simply too narrow for it. Sure you can get it in, but you literally can't open the doors. However, its size will appeal to those interested. It's simply massive inside, the rear quarters are lounge like with a big soft bench seat and plenty of recline to the back rest. There's oodles of leg- and headroom, even the centre seat is comfy.
A pair of third row seats are standard, and are power operated but it takes a painfully slow 15sec to motor into place. There's about as much width back there as in your average small car rear bench, and though the floor is set high there's enough space for two adults. Even with the third row in use some usable luggage space remains, while the boot in five-seater mode is crazy big. Up front the QX80 is showing its age (now seven years) with the array of buttons and though they've updated the infotainment system, connectivity options are lacking while the screen resolution is poor for this class.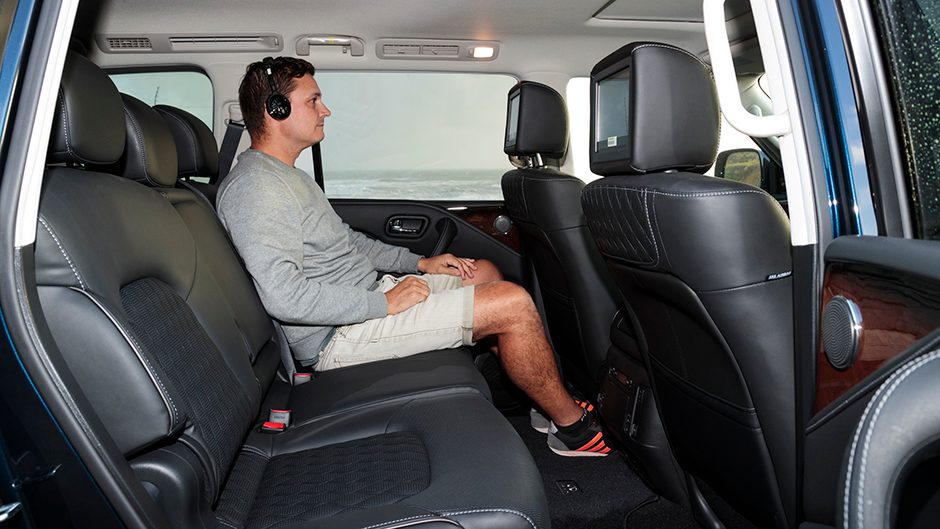 There is a lot of familiar Nissan switchgear about but so too an abundance of quilted, double-stitched leather. The hides lining the doors and console are backed with plush high-density paddings while the wood veneers are polished to a glossy sheen. Everything seems to be either powered or heated, and the big armchairs are ventilated too. Being a family car, the upholstery has been layered with a soil-resistant coating.
There are eight-inch screens in the back of the headrests which can now play individually so there'll be less arguing over who watches what. In the years since it first was minted, cell phones have grown in size so console storage spots have been increased to accommodate these and other devices that didn't even exist back then, while there are also more USB ports. The update includes the addition of the Infiniti Safety Shield tech with all manner of minders.
The cruise control brings you to a halt in traffic but then switches off and while the reverse collision intervention will be handy in parking buildings, it's annoying when it brakes for overhanging foliage. There's a digital rear view camera giving a wider angle view of what's behind, though it's not quite as easy to view as a regular mirror, your eyes taking that moment longer to adjust to its image.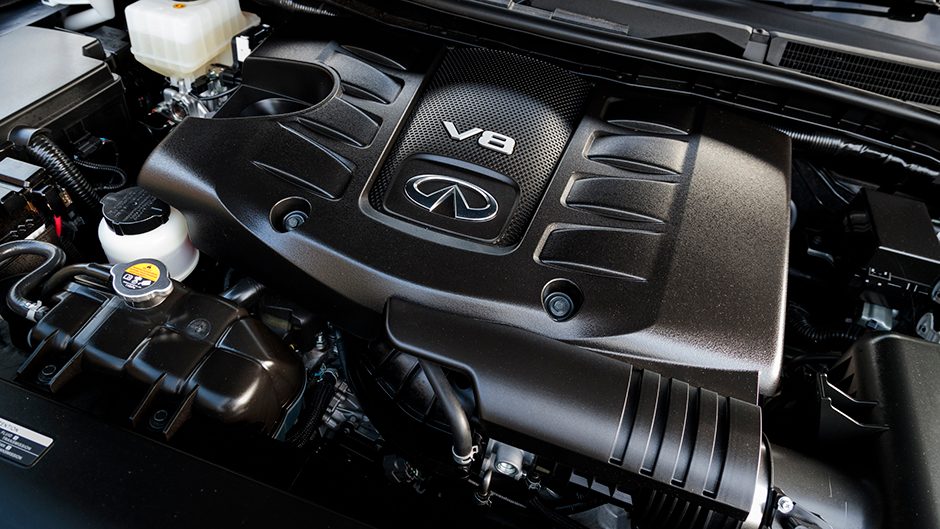 While it's not the most up-to-date of the big luxury SUVs, it's one of the cheapest thanks to a pricing realignment that has it pegged at $129,990, just $3k more than the top spec Nissan Patrol. It's massively cheaper than the $180k Lexus LX570, and less than Toyota's $144k Cruiser.
There's no diesel option however, and some aspects of the interior are showing their age. But with its refined and easy going ride, V8 power and big capabilities, it still has plenty of appeal for Woody-like characters out there.
| | | | |
| --- | --- | --- | --- |
| Model | Infiniti QX80 | Price | $129,990 |
| Engine | 5552cc, V8, DI, 298kW/560Nm | Drivetrain | 7-speed auto, all-wheel drive |
| Fuel Use | 14.5L/100km | C02 Output | 341g/km |
| 0-100km/h | 7.52sec | Weight | 2783kg |