Nissan's Micra disappeared quietly from local showrooms a couple of years ago but a comeback is imminent. We take the new model for a spin prior to its official arrival here.
Nissan's showroom is dominated by SUVs and utes, its range of sedans and hatches having slowly vanished as sales of high riders took centre stage. It's best to concentrate on what's selling. And those that went by the wayside haven't been missed, Altima and Pulsar forgettable, as was the last Micra, which slipped away quietly in 2017.
That model was a sales disaster for Nissan in most mature markets, particularly in Europe and the UK. So when it came time to make the new fifth-generation Micra, Nissan developed it in Europe, with Euro tastes in mind. It launched on the Continent back in January 2017, and there's a reason it looks nothing like the previous generations as they wanted to distance it from the ghosts of ungainly Micras past.
The latest little Nissan is built in France by Alliance partner Renault in the Flins factory, where they also make Clio. And to us there is a marked similarity between the two, particularly around the glass house area and rear door. This had us thinking Micra must be Clio based, but no. It uses a thorough remake of the old car's underpinnings but it's been stretched and reinforced in most areas with 75mm added to the wheelbase, while it's 174mm longer overall at 3999mm.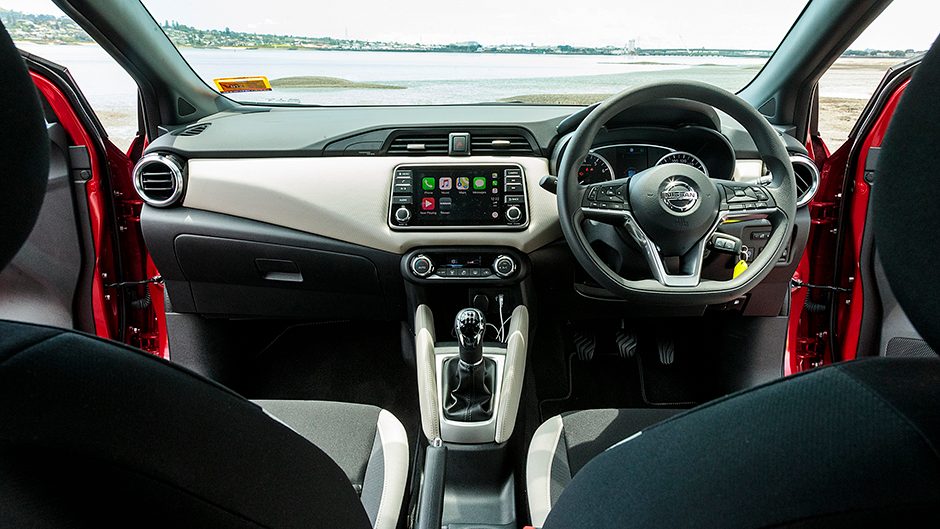 Some of the mechanicals it borrows from other Nissans; the torsion beam rear end is a development of the Qashqai's, and it uses the same steering set-up. The engine line-up is borrowed from Renault and, being Euro-centric, these are all paired with a five-speed manual. This is the main reason Nissan NZ has not offered the car here previously; there's no point in selling something here with no auto option. But Nissan has recently announced a facelifted version of the Micra that includes a new engine and the option of a CVT auto.
And that's the one you'll be seeing in the showrooms come March when it's expected to arrive. Nissan NZ has landed a few evaluation units ahead of launch which is what we have been driving recently. And we're glad to hear it'll be getting a new engine as the powertrain is the least endearing feature of what is otherwise a promising package.
This Micra has an 898cc triple boosted by a turbo but with 70kW and 150Nm on overboost, it's not the best of the wee turbo breed. It's sleepy down low, so lacks the low end urge and flexible nature of the better units, and it was actually quite hard to drive smoothly.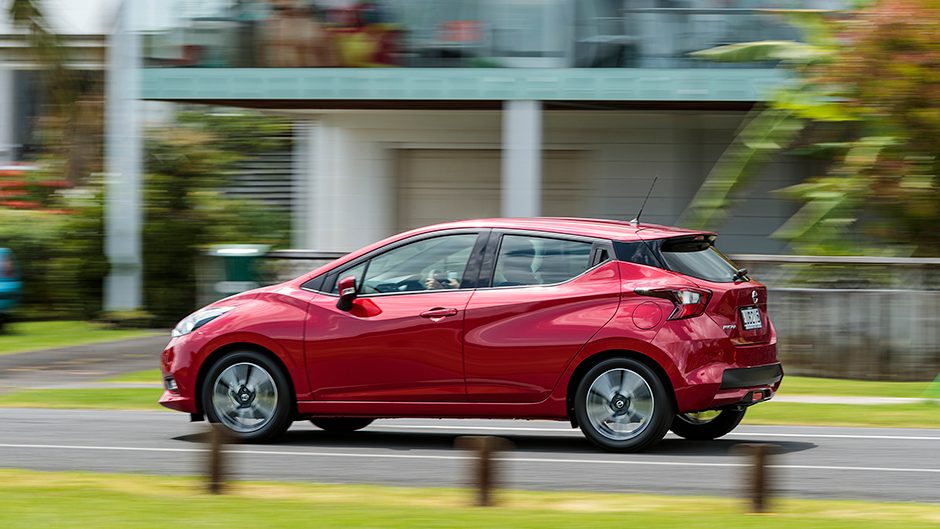 The manual transmission is okay and while the clutch pedal is light, there's not a lot of feel to its action. The less said the better as this engine won't be part of the mix when it arrives. The rest of the Micra makes for better reading however.
We like the new look, a much better effort with the bulbous, blobby styling consigned to history. Previously Nissan has kept the dimensions of the Micra petite to placate the Japanese market, but this one they stretched to add interior space which also helps the proportions in a design sense.
There are more cues to other Nissan models too with its V Motion grille up front while the combination of curves and chiselled body lines give this little car a dynamic presence.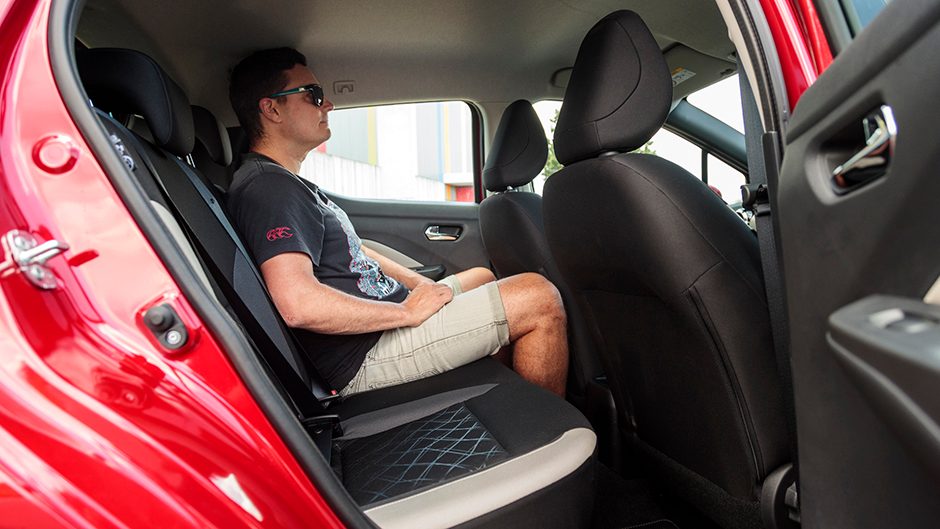 Inside, it's more conventional in a design sense but the build and materials used imbue it with a quality feel. In typical small car fashion the plastics are in abundance but are balanced by some interesting soft textures layered on the door pulls and dash. We're not sure the creamy tones featured here would hold up well to grubby paw prints however.
The interior trim colour combos are off the scale in Europe, but will likely be toned down for NZ. A feature of higher model grades in the UK is four powered windows. Yes, you can get a Micra in Europe with manual winders in the back.
Some young Kiwis would never have seen such devices, but that merely highlights the expectations of our high spec market. Up front the seat is set low, but there is some height adjustment available for those who like it on high. While there's no centre bin, the storage is reasonable otherwise and we like the soft bits on the centre console where you occasionally bump your knee.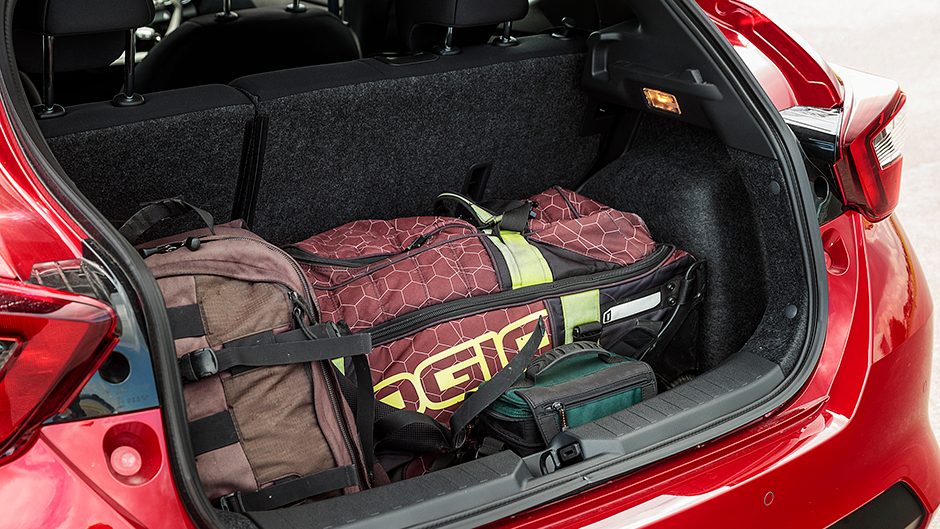 The infotainment is Billy basic, but connects with the Smartphone for added functionality. While the final spec for New Zealand is to be decided, expect AEB via a forward-facing camera system and a lane departure system. Some model grades in the UK offer a surround view camera, self parking and a special Bose stereo with speakers in the seats.
Once you've found the disguised door handle on high, the rear quarters are intimate with only just enough leg room but head clearance is sound, there's a reasonable view out and there are Isofix points should you need to ferry little ones. The boot is a surprise with a good load space on offer that's wide and low and bigger than Corolla's while the seat folds over, but not quite flat.
Unsurprisingly, Micra is an easy drive around town. Forgetting the engine, like all good small cars it's simple to manage with unhindered forward vision and small dimensions. The steering is light and, with sensors, a camera and a 10m turn around, parking is effortless. The wing mirrors are large enough not to require blind spot monitoring and there's cruise control but it's not the smart kind.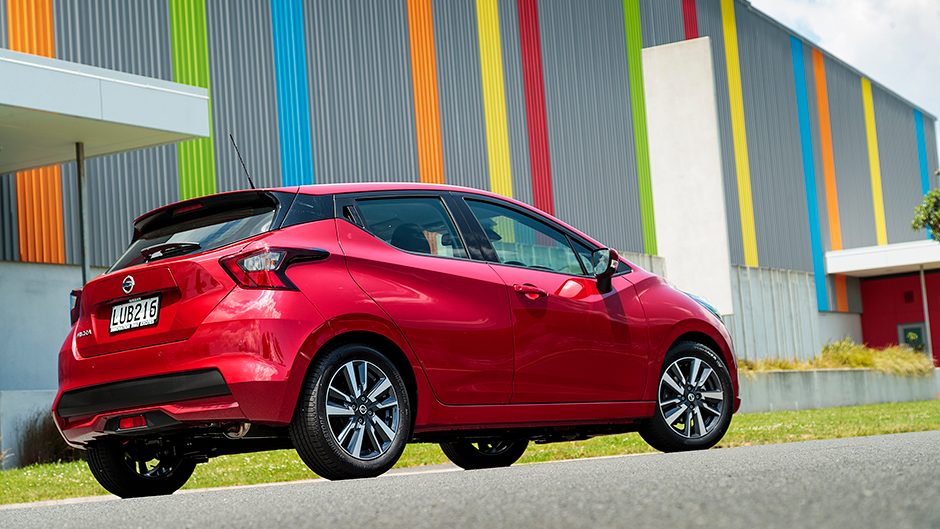 Nissan is hoping to add a smart key to the mix however as Micra was one of the first to offer proximity convenience at such a low price point. The ride is agreeable over city streets though it's not the plushest or hushest small car ever. It doesn't quite manage the same refined progress of the new Polo for instance but then it's a mite more interesting to drive. It steers sweetly, the assistance sorted, foregoing any sloppiness about its action. It's light on weight at just 1070kg, and so unencumbered by excess mass, it changes direction easily.
It can ride out most bumps up to the legal limit, occasionally pinging off the big ones and that can upset the rear too. In this guise, there's not enough poke to genuinely trouble the chassis but Nissan has included something it calls Intelligent Ride and Trace Control which uses the brakes to subtly influence the dynamics.
Trying hard in tight bends, just when you think the front tyres are maxed out, it feels like the rear adjusts to relieve the front end and tighten the line. It's a neat trick and definitely helps keep the car on the right side of trouble.
Nissan is expecting the Micra to land here at $22,990 and will offer just the one, well specced model. When it turns up we'll be sure to throw it into a comparison test to see how it fares against the others in this space.
| | | | |
| --- | --- | --- | --- |
| Model | Nissan Micra | Price | $00,000 |
| Engine | 898cc, IL3, T/DI, 70kW/150Nm | Drivetrain | 5-speed manual, front-wheel drive |
| Fuel Use | 6.0L/100km | C02 Output | 118g/km |
| 0-100km/h | 12.81sec | Weight | 1070kg |