We hit the road for the summer break in holden's new Acadia, a big family wagon fit for a big family adventure.
What better way to spend your holidays than embarking on a roadie from Auckland descending as far south as Oamaru? And all the better to do it with three kids on board. Lucky we enlisted the help of the biggest Holden, the new Acadia, to get the job done in comfort and style.
We had arranged our vacation time with the Acadia prior to its launch here, which had us a little apprehensive. What if it was, well, a big disappointment? However, as we discovered from last month's comparison test, the Acadia carries itself off well for a big rig. It's what Holden calls its new flagship family car, and though the local GM division didn't have much to do with it, being a GMC and all, it is a great family wagon.
Designed for America where distances are vast, this lapped up our adventure where we covered just shy of 3000km over two and a half weeks, proving the vehicle to be both capable and comfy. Acadia has a few drive modes, 2WD being the default, which we ended up using a good 95 per cent of the time as the going was easy. Sport mode we activated not once but we did give the Off Road mode a go, only to run out of ground clearance pretty quickly trying to get down to a river.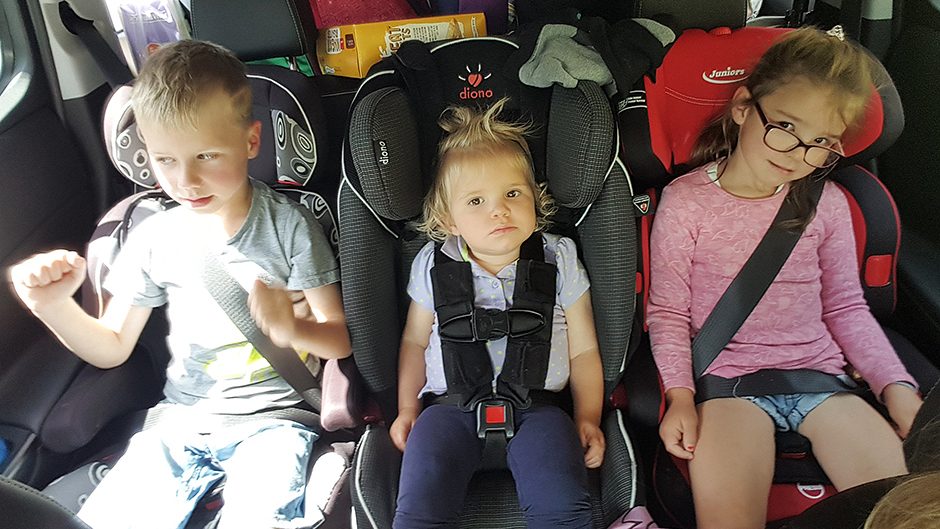 But then Acadia is more of a highway horse than a backcountry mule. It laps up road miles, the V6 quiet, as the long legged nine-speed auto sets it to 1500rpm at 100km/h. It's also quick to drop a few cogs come time to overtake, which with 231kW the Acadia does smartly. It's not too bad on the hydrocarbons either, our overall average settling at 9.4L/100km, and the V6 gets by happily on 91. The top LTZ-V has all the helpers on board, including adaptive cruise which is easily set, and keeps speed well in check on descents.
It's only flummoxed when the car in front starts pulling over to turn right. It's then reluctant to slide on by without the driver overriding it, done simply by giving it more gas. Speed sign recognition is a definite plus, while the active lane keeping is a permanent feature and can be handy around scenic locales where your gaze lingers longer than it should on the landscape. But then it can foul the steering as you hang out a little wide to take a corner as smoothly as possible, trying to keep those asleep onboard from waking.
And it takes a long push on the button, three dog cats, to disable it. With its adaptive dampers, the ride in the LTZ-V is only ever smooth, and good over broken surfaces down the shaky end of the country. The seat comfort we found to be excellent on a long cruise while the ventilators were a blessing on 30-degree days.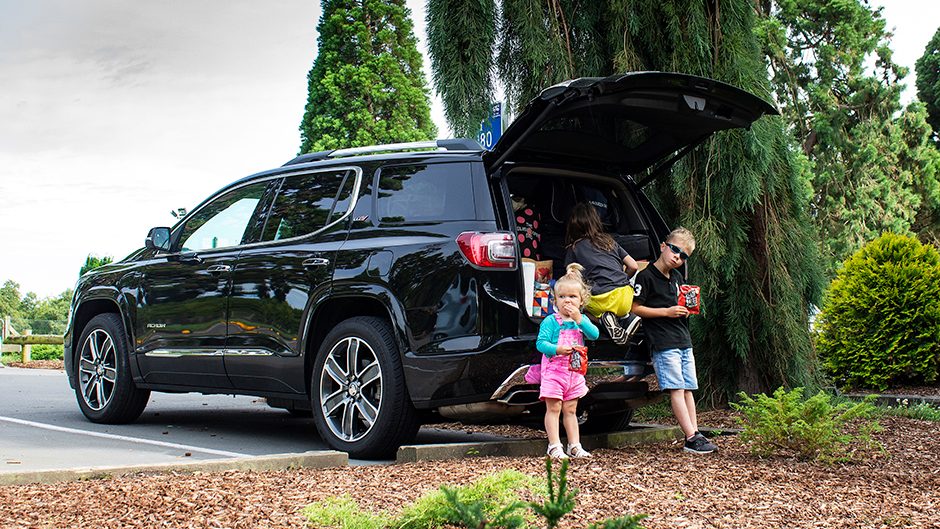 There was just one little gremlin that cropped up along the way when the main screen called it quits toward the end of a long day.
However, it did right itself by the next morning; perhaps it just needed a wee break for the ones and zeros to unscramble. But you realise how much cars rely on these touchscreens, and without it, most of the Acadia's features would have been rendered useless.
We gave the infotainment's voice control a thorough workout, learning it's better to be vague about a destination to ensure it gets it right, and to speak fairly slowly too. It was a bit hit and miss at times, and simply had no idea when it came to Maori place names. Also the maps were out of whack in a few places, such is the ever-changing nature of the South Island's quake-damaged roading network.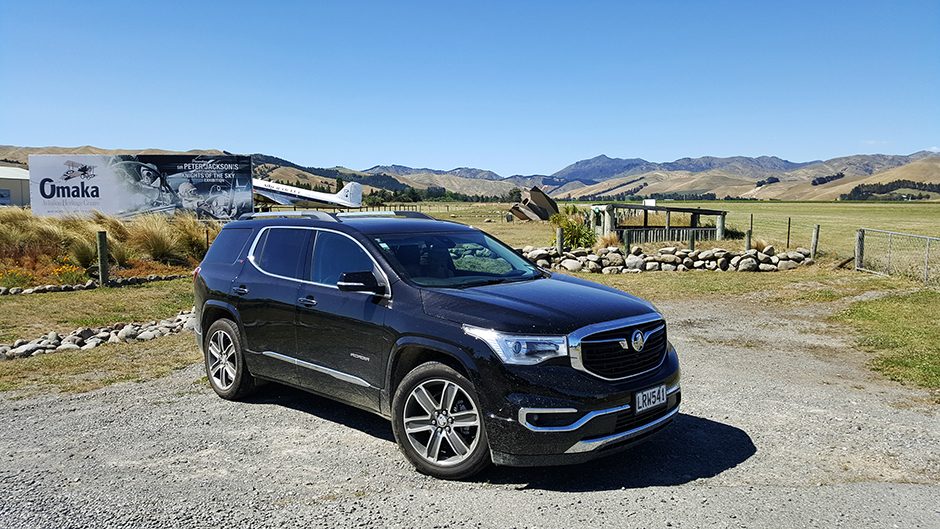 The surround view camera of the LTV-Z is particularly helpful when parking because one of the Acadia's foibles is outward vision; it's quite hard to see the extremities up front, and the chunky A pillar and wing mirror obscure some of the view too. Acadia's sunroof has a manually retracting sunblind, and was the source of an annoying rattle, but it wasn't something a plastic spoon wedged in the handle didn't fix.
Carrying too much in the way of luggage, we travelled with three kids strapped in across the back, the Acadia wide enough to accept their car restraints. We liked the uniform shape of the boot, making it easier to pack everything in. It's surprising how much stuff you can 'store' in those receptacles around the interior and after a clearout we managed to fill two shopping bags (reusable ones naturally) with the bits and bobs we'd managed to accumulate everywhere.
The kids always find uses for seemingly useless hidey holes too, usually filling them with (non)precious stones. Though device use on board is kept to a minimum to protect their precious young minds, there's only so much you can take, and Acadia's abundant USB chargers kept everyone juiced but the Qi charge pad at the base of centre stack we found usually gets filled with other bits and pieces, rendering it useless.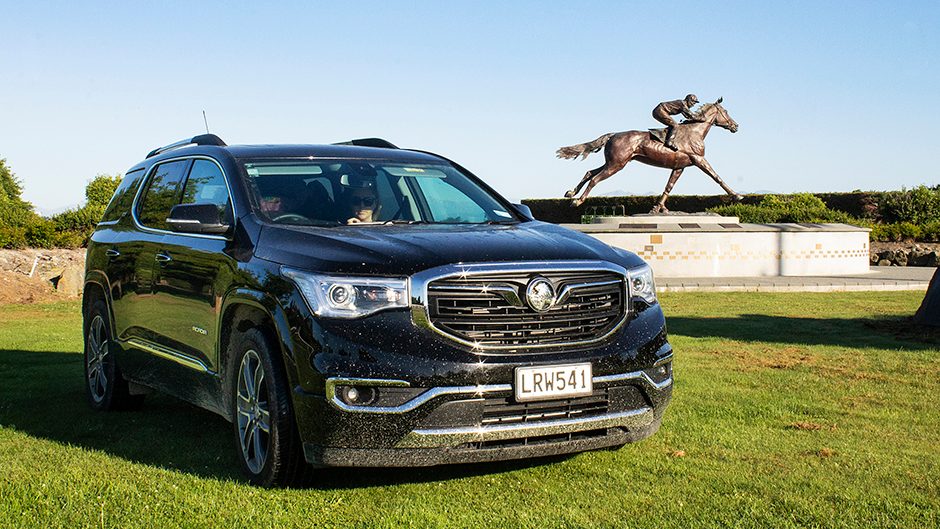 While the trim and build quality aren't the best in class, Acadia proved robust and up to family life, most messes wiped clean, and nothing fell off. And thankfully the kids didn't manage to break the plastic bits extending out past the rear door sill.
These are stamped 'no step', but indeed make a helpful leg-up for little folk, no matter how many times you tell them not to stand on them.