The R35 GT-R turned ten recently, and as a celebration of sorts Nissan has released a Nismo version of the firebreather, just for those who thought the track model too tame.
Some rare exotics we seldom if ever drive, but the R35 GT-R we've been fortunate to experience a number of times. We attended the 2007 world launch of the car at Estoril circuit in Portugal and were amazed at its abilities. On hot laps the race drivers were pulling controlled drifts through most of the slower corners. Some five years later we got to drive the car at Hampton Downs in gentle drizzle where it again confounded with its stupendous grip in the wet. However, a short road loop highlighted the track focus of the car; it was loud, and lacked any semblance of ride comfort.
Last year though the GT-R underwent its most significant upgrade yet and the Premium model proved vastly more civilised on road, a genuine GT at last. The more expensive Track model, a half-way house between Premium and Nismo, had stickier rubber, and more of it, along with tuned suspension; it was stupendous on track.
Now we've driven the ultimate and rarest of GT-Rs, the Nismo variant on road. Few will ever drive this car, let alone see one. You can count the annual numbers arriving here on the finger of one hand. Yes, New Zealand is allocated one unit per annum, ensuring exclusivity. You're more likely to see a kokako than one of these. Apparently Nismo builds only 200 per annum.
When the R35 first went on sale in New Zealand almost a decade ago, it was considered quite a bargain at $160k. It was quick too, but later models were quicker still, scampering from 0-96km/h in under 3sec. The company reckons the Nismo GT-R can run the 'Ring in just a hair over 7 min. The original GT-R managed a circuit of the 20.8km Green Hell in just under 7m.30sec. And they've been cutting it back since, the Nismo good for 7m.08sec, and it's a track setting we think that best suits this version, but we'll get to that bit.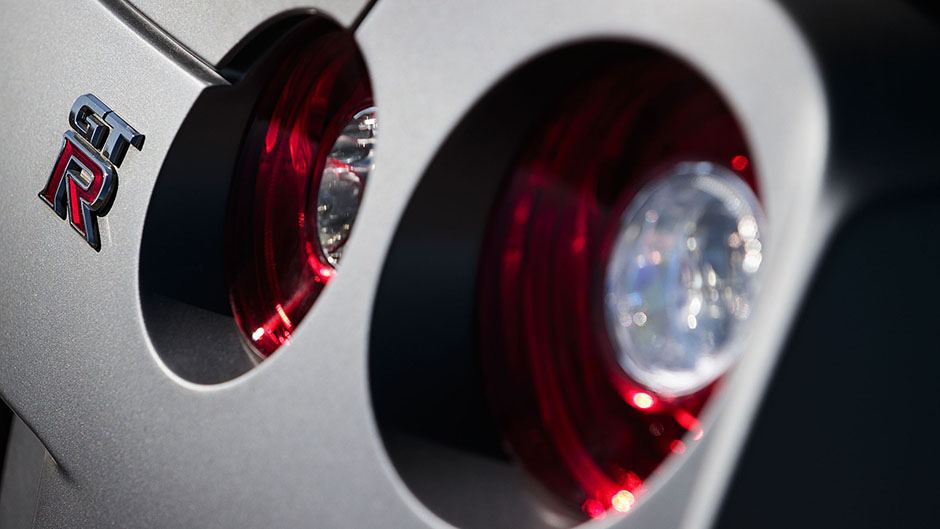 GT-3 for inspiration
So how does it differ precisely from the garden-variety GT-Rs? It is inspired by the GT-R GT-3 car, the one that won the Bathurst 12-hour endurance race a couple of years ago. So it picks up that car's bigger turbos, along with a remapped Nismo ECU, high flow fuel pump and increased cooling capacity. Power rises by 22kW to 441kW at 6800rpm, while torque is up 15Nm to 652Nm from 3600-5600rpm. Helping the cause is increased use of carbon fibre for the front and rear fascias, side sills and for the big fixed rear wing. The boot lid is also made of carbon fibre, as are the inestimably comfy carbon-backed Recaro leather and suede seats, all contributing to a 20kg weight saving. Other trick Nismo bits and pieces include special mirrors, tail pipe finishers, paddle shifters, gear shift knob, sports wheel and tachometer. Aeros are designed to add downforce without affecting drag.
At the core of the Nismo GT-R, adhesive bonding is applied to joints that are welded to make the body stiffer, and Nismo-tuned suspension is evidently three times stiffer than that in the Premium car. The rear sway bar is hollow, and the wheels are 20-inch Rays superlights, fixed by titanium wheel studs. Front and rear brake rotors are borrowed from the Track edition. Tyres are NR1 spec, special Sport Maxx GT600s.
Much has been written about what a fine track car this is, others heaping superlatives at the car on smooth road surfaces. Indeed the Nismo is hunkered down (though access is surprisingly easy), has acres of low profile rubber, steers with scalpel-like precision and corners with seemingly unending grip.
But that doesn't quite correspond to a stupendous road car for Kiwi conditions. Not that that matters much; those who own one will be using it mainly for track days. That's what it's set up for. Think of this as like an amplified version of the GT-R Track edition. However, on road the amplification translates to loud and lairy. The trumpeting elephant in the cabin is not the low growl of the exhaust but the roar of the track-oriented tyres on our second-rate roads. Average in-cabin SPLs of 85dB make this seem more like a jet than a road car. On hot mix, naturally, there's no such aural abuse.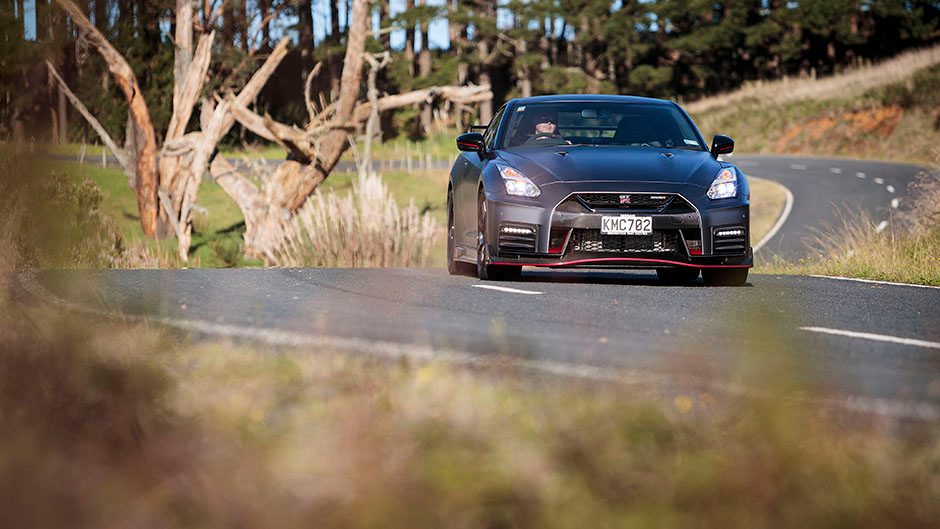 A new number two
Mention of jets, this is about as quick. While the Tesla S P100D has the potential for faster acceleration, on the day the Nismo was quicker by both criteria we use. Launching at 4000rpm it only just failed to become the second car we've ever tested to crack into the twos. That it managed a best of 3.04sec and did repeated 3.1s puts it right up there with many vastly more expensive Euro supercars we've VBOX tested. And its best 80-120 TED time of 1.82sec also puts it amongst the top five cars to which we've attached Racelogic timing gear. In context, the Nismo GT-R is the least expensive of these super sports cars and the only one not to hail from Europe.
So how does all that speed translate to the open road? Effortlessly. There's a range of drive modes from which to choose, but regardless of whether it's in the go-harder transmission mode or normal, the big Nismo tends to flick swiftly through its twin-clutch gearbox to top gear, sixth, and just haul away from there. And by that we mean up steep hills or tooling around suburban streets; sixth is the go-to gear. Flick up to the R mode and it tends to hang onto gears a wee bit longer but if you want total control you need to paddle it yourself. You need to be positive though; a casual pull on the lever doesn't do the trick. The car scarcely cares; there's just so much shove from low revs that even overtakes you can manage without downshifts. If you plant your hoof fully the transmission can get a case of the dithers at times but eventually downshifts to third before quickly hitting top again. The real solid pull kicks in from 2500rpm and you'll see off everything that isn't special. It goes Godzilla from 3500rpm. Around town the torque is on stream as low as 1500rpm.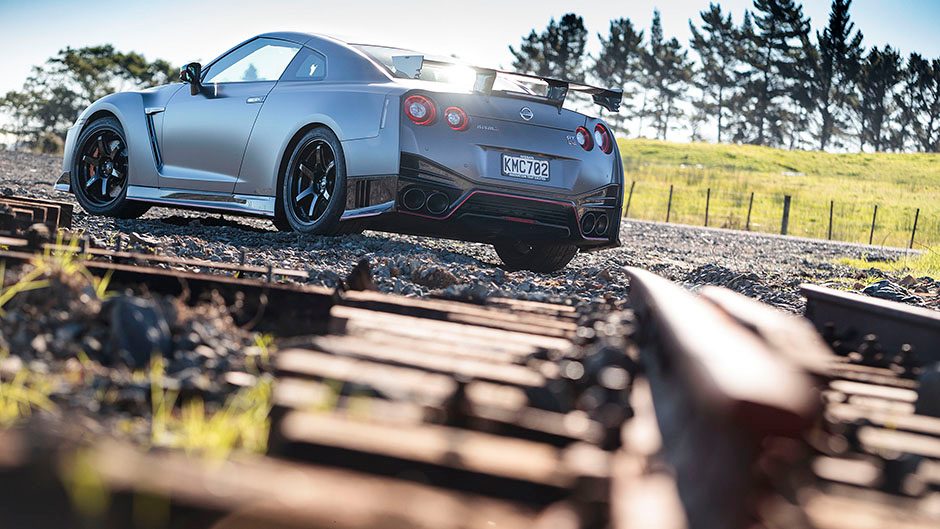 Not just quick
What comes as a surprise is that straight line performance is arguably not the best bit; the brakes are superlative. They're big and brawny, yet tactile, and they need to be, arresting a car that weighs 1750kg and gets to stupid speeds in the blink of an eye. Aspects of the steering are also incredible, like the fact that it's hydraulic and not mute like most helms. The wheel, unfashionably circular, is clad in alcantara, like the dash upper, roof lining and the seat base, so feels great to hold and faithfully relays just the right amount of road surface info. It's analogue alive compared with the digital dreary electric norm. The big Nismo seems to change direction with the merest twitch of the rim too, which is both a good and not-so-great thing. On smooth roads it's ideal, keen, with good heft into turns, but on country roads it tends to follow the cambers and therefore at speed it needs constant adjustments, and there's not the stability you'd expect of something with enhanced aeros. On a smooth track, doubtless it would be different.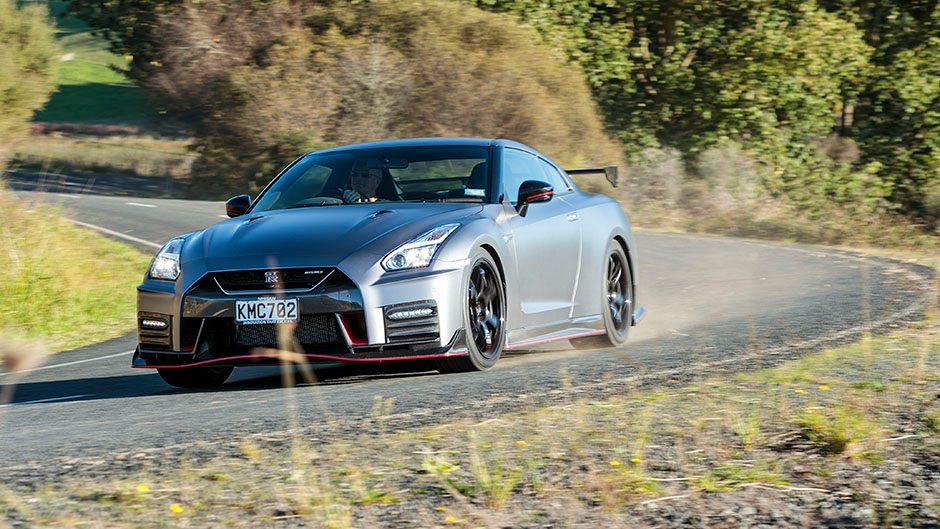 Corners caned
You can largely forgive all this for the way it gets through bends though. It feels sizeable on narrow roads but it's low flying and the stiffened suspension keeps the body trimmed so the treads can do their darndest. Only in tighter stuff taken aggressively is there any hint of push, the even weight split helping to balance things with a throttle lift. Jump on the gas early, before the apex and it drives out hard and true on the gas. Little wonder it's so quick on track. However, there's a downside; the ride borders on harsh on country roads, and it's even fidgety on the motorway. Best to select the Comfort mode of the adaptive dampers and it settles some. Even so, the suspension is incapable of soaking up sharper bumps. Still, handling is hardly slack on the Comfort setting. On your own, select Normal for better control, though the ride is firmer still; R is not necessary on road – save that for the track.
Like the lesser R35s, the cabin is a vast improvement on what's come before it, most of the button functions now relegated to the hi-res touch screen. Instruments are a mix of old school and new, the red background to the central tacho appealing, and a digital speed readout and nearby gear indicator appreciated. Items like active cruise are off the menu though. The central screen is configurable with myriad sports options.
Seats are simply outstanding, locking you in place, but then they're Recaros so you expect that. There's decent practicality too, if you accept that the rear seats will only ever be used for gear rather than people; legroom is almost non-existent. However, boot space is generous.
Buying one of these is a bit like a significant Lotto collect – it won't happen for most of us. For a lucky one or two, exciting track days lie in wait but as to the road experience, you can do better. For those who miss out, rest assured the $245k Track version of the GT-R gets you 95 per cent of the way there and for road work the Premium is just fine. It's just that neither nets you that Nismo GT-R badge.
| | | | |
| --- | --- | --- | --- |
| Model | Nissan GT-R Nismo | Price | $308,000 |
| Engine | 3799cc, V6, T/DI, 441kW/652Nm | Drivetrain | 6-speed twin-clutch, all-wheel drive |
| Fuel Use | 18.7L/100km | C02 Output | 417g/km |
| 0-100km/h | 3.04sec | Weight | 1766kg |