"That's not a ute, that's a ute." That infamous line from Crocodile Dundee sums up Toyota's 70 Series Land Cruiser perfectly.
A ute that, like the Dundee movies themselves, hails from another era, a time when men were men and pansies were flowers; well, the Eighties at least. And it looks like it too, something that was proven more than once when folks asked how old it was. I'm not sure which got more of a reaction; that this is a 2017 model, or that it's nudging eighty grand.
Hopping up into the cabin is like stepping back in time. The door must be opened using a key – in a lock – and requires a decent slam to shut. The interior is basic; vinyl everything, electric nothing. There are even manual window winders – remember those? The seats are comfy velour-covered items and the driving position one of the highest we've encountered. Despite its generous exterior dimensions, the interior feels cramped up front, and there's bugger all storage. There is a lone cup holder but that's more likely to cradle your passenger's DB tinny than a decaf soy latte. Rear passengers fare better with decent head and legroom and a cushy bench big enough for three. There are no child seat anchors though.
Toyota recently added stability and traction control, brake assist, cruise control and a reversing camera across the range to keep the 70 viable. Other improvements include automatic locking hubs, standard fit front and rear diff locks and a couple of taller gears. Oddly, single cab models get extra safety kit and structural upgrades which bumps them up to a five-star crash rating. Double cab and wagon variants still only score three stars.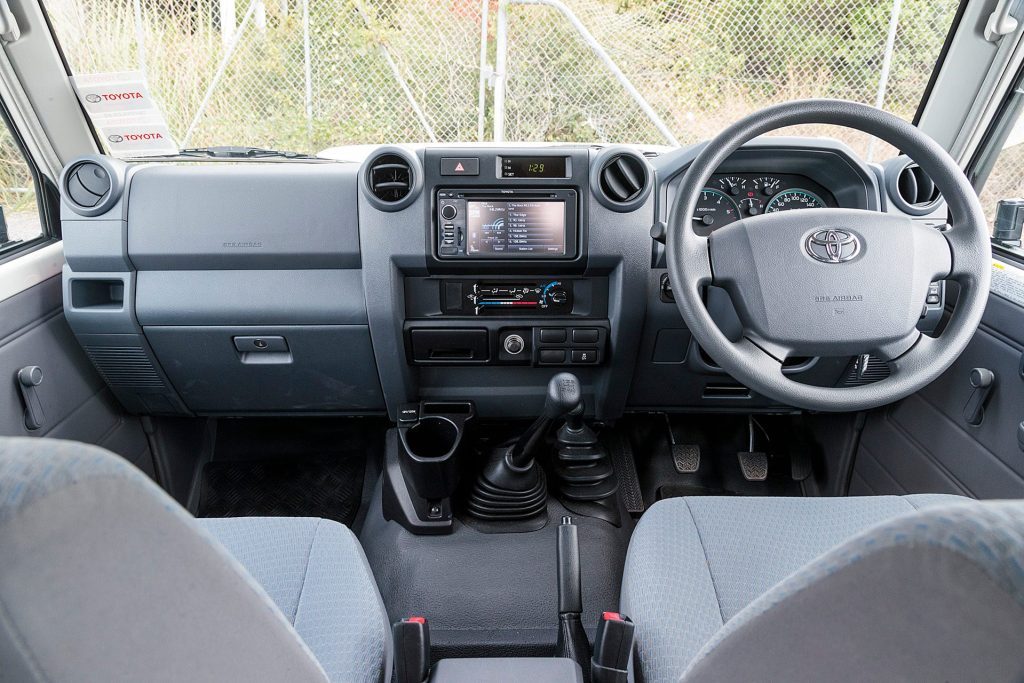 A turbodiesel V8 is the only powerplant on offer. The engine has been around for yonks, but the addition of a particulate filter and new injectors make it cleaner and more frugal. Without a trip computer, we'll have to trust the claimed fuel use of 10.6L/100km, down from 11.5. The motor is a real slugger with gobs of torque from idle and almost no turbo lag. It is noisy though, rattling like a bucket of bolts even at low revs while the snorkel wheezes like Darth Vader.
You can't help but feel like Dundee behind the wheel; the ride is choppy and the gear lever requires a decent shove to engage. However its lightweight clutch action makes traffic a doddle. At over 5.2 metres long it's a monster to manoeuvre while four turns lock-to-lock mean parallel parks and U-turns are not easy. The steering is devoid of feel and requires constant adjustment even on the straights. Nor does handling exactly inspire confidence to punt it through bends with any vigour, but somehow it doesn't matter. Life seems to slow down once aboard, the Cruiser performing best doing just that. We didn't get off-road this time but previous experience tells us that there is little terrain it can't conquer.
While we enjoyed our time behind the wheel, it's hard to recommend over a modern ute unless you need something this rough and ready. The 70 Series is a real workhorse, designed and built with years of hard yakka in mind, not for poncing around farmers' markets at the weekends. While the value may be questionable, its ability to work long and hard is not.
| | | | |
| --- | --- | --- | --- |
| Model | Toyota Landcruiser 70 LT | Price | $79,380 |
| Engine | 4461cc, V8, TDI, 151kW/430Nm | Drivetrain | 5M, switchable 4×4 |
| Fuel Use | 10.6L/100km | C02 Output | 281g/km |
| 0-100km/h | eventually | Weight | 2255kg |