After the GT-R Nismo we thought the 370Z version might be a bit of a yawn. On the contrary, it goes hard, and for road use it's a more rounded tool, a damned fine one too.
It has been almost eight years since Nissan's 370Z Coupe replaced the 350Z, and now there's a new model here, the Nismo version. Nismo, the motorsport division of Nissan, hasn't had an official presence here before, despite the sub-brand existing since 1984. Now it has, with more Nismo models expected here in the future.
While the 370Z Nismo hasn't received quite the attention that the fire-breathing GT-R variant has had lavished upon it, the enhancements are broadly similar, including the carbonised body kit, lightweight wheels, extra rubber, mildly enhanced engine and brake performance, stiffened suspension and sportified interior. Naturally, it's nothing like as expensive, given it is based on the 370Z Coupe, selling for an estimated $72k (price TBC) instead of $60k for the regular 370Z Coupe in manual format. There will be no automatic version of the Nismo 370Z, which is entirely appropriate for various reasons; the manual is just delicious in use, and comes with the switchable autoblip function (SynchroRev Match) that Nissan thoughtfully developed for the 370.
Unlike the GT-R Nismo which first showed its face in 2015, the Nismo 370Z has been around for some time, and this latest model is effectively the second generation. Its new body kit is more subtle, and the chassis is stiffened around the attachment points so the suspension tune has actually been relaxed some. That said, it is still stiffer in the main by about 15-50 per cent over the standard 370Z in terms of springs, roll bar settings, and damping.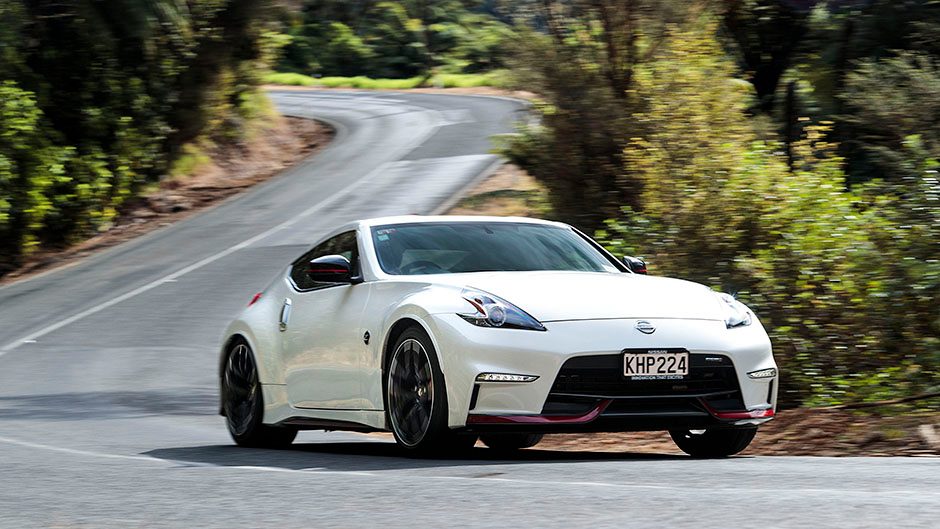 Nismo has raised engine output slightly too, up by 13kW and 8Nm, to 253kW and 372Nm, respectively. That's partly the result of a new free-flow exhaust system that reduces back pressure by 30 per cent. The special 370Z also comes with a Nismo engine cover, updated fascia, sills, bumpers and rear spoiler, Nismo door mirrors and superlight 19-inch rims with special road-going Potenza rubber. They're 245/40R19s on the front and 285/35R19s for the rear wheels. Brakes are uprated too, with larger rotors, four-piston calipers up front and high rigidity brake lines. Inside are special seats, with the base finished in red, and the wheel semi-clad in suede-like material.
The Zed in Nismo trim looks better than the standard car, with a small chin spoiler finished in red and black highlights, enhancing downforce. Its outline in some ways mimics that of the bigger GT-R – the side window shapes are similar – but the head and taillights are a bit prissy. Still, refinement is said to have improved; extra sound deadening in the wheel arches and thicker carpets quieten the road noise generated by its low profile performance track shoes. There's also digital sound manipulation to reduce the low frequencies generated by tyre thrum. That may be sufficient for roads built of hot mix, but doesn't come close to drowning out the clamour on our unruly roads.
That said, the 370Z has always been pretty raucous and this is more of the same, only less. It's not as loud as the GT-R Nismo and nor is it as shouty as the previous 370Z we drove. However, we recorded an average SPL of 78.9dB, with many readings in the 80s. Anything north of 75dB for long periods of time is bad news for the auditory apparatus, so it's an earplugs car if you value your hearing. In this class, the Nismos aren't alone, but it's one downside of owning vehicles that are designed to tear-arse around the countryside, er, race tracks.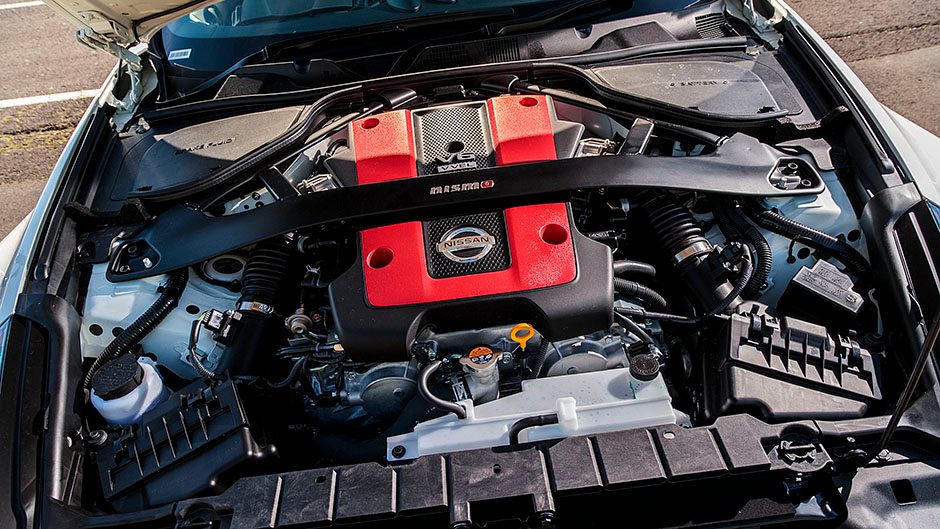 The engine sound partway compensates, a gruff growl ever present. Performance is forthcoming too, with no real need to rev the big V6 hard; it runs like the wind from 3500-5000rpm.
And there's nothing quite like a good gearbox to get the best from a mill either, and this is a cracker, snicking from cog to cog precisely, the clutch good and hardy. We did a couple of hard launches and there was no stink, no slip; the Nismo pretty much met its stated claim on the second run. Compared with the GT-R Nismo times 2 seconds adrift might seem tame but this is one quick car on road, and I'd venture to say it would keep the bigger Nismo in sight on a twisting road, if not a track.
This too is sizeable and while it's not quite as easy to enter as the GT-R, it's not too bad in the sports car scheme of things. Where you can adjust the bigger Nismo's steering column in two different planes, it's height adjust only for the 370's wheel, and seat adjustments are manual, with no lumbar variability. But for all that the driver's pew is excellent, nearly up with the straight-jacket fit of the GT-R's. Your hips are locked in place, providing they're not excessive, and you wouldn't want to be too tall either, though the seat does plumb the depths rather well. It's a decent driving position made even better by bracing knees either side, the left knee pampered by an alcantara pad. Good to go then. There's even touch pad entry, and push button start.
As soon as you're underway, there's less jostling in this compared with the stiffer Nismo GT-R, and as pace rises the suspension works even better. It's all fixed, with no adaptive dampers but it's fixed really quite well; even over bumpy goat tracks this mops up the worst of the rises, dips and sharper ruts in a style that eludes the bigger Nismo. And the steering isn't corrupted by cambers, lines or bumps either.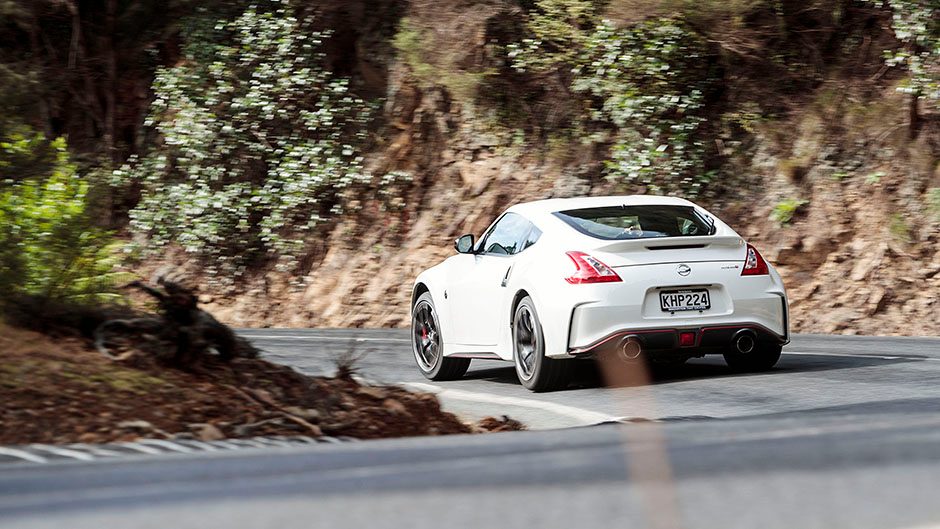 There are any number of dynamic things that this car does extremely well, and it proves the point that slow evolution is a good means of improving the breed. In no particular order, this steers, stops and swerves with the best of them. Its hydraulic steering is a particular delight. It's such a refreshing thing for a company to stick to what works rather than swap to electric steering just because everyone else is doing so to save a small amount of fuel.
So the helm in this car is just fantastic, feelsome, fast, and well weighted. No question that it is a better steer overall than the Nismo GT-R because you're not having to forever make little corrections to stay on line. So it's easier to drive quickly. The Zed seems happy to oblige, with a natural gait of around 120km/h, equivalent to 2750rpm in top where the VVT aspect of the motor is starting to make its presence felt. You need to be ever mindful of speed creep in this. In corners it feels solid, secure, well balanced and is a delight to press on in.
The other highlight is braking power. During our time cold temperatures put paid to decent distances; we couldn't get great bite from the tyres so a best stoppie of 35.6m isn't really a good reflection of brake quality. They're truly decent, if not quite in the GT-R's league.
Given you can purchase four of these for the price of the big Daddy Nismo, and it runs the GT-R rather close in so many ways, it's hard not be impressed by the enhanced 370Z. Okay, it doesn't look as if it has come directly from a Need for Speed game like the GT-R, but from behind the wheel the lesser Nismo is the more complete car. On the track, we'd probably find the opposite but this is a fabulous update, and deserves to give the 370Z a new lease on life.
| | | | |
| --- | --- | --- | --- |
| Model | Nismo 370Z | Price | $72,000 |
| Engine | 3696cc, V6, EFI, 253kW/371Nm | Drivetrain | 6M, RWD |
| Fuel Use | 11.2L/100km | C02 Output | 258g/km |
| 0-100km/h | 5.33sec | Weight | 1546kg |