Scottish electric vehicle maker Munro has unveiled its second-ever model, the MK_1 Pick-Up, a dinky ute that has its sights set on the biggest of jobs.
You may recall that the same company released the MK_1 SUV last December which staked the claim of being the "world's most capable electric four-wheel drive". Well, now comes the Pick-Up which forgoes the enclosed rear compartment, but keeps its four-door, five-seat layout, and makes use of a tray which can fit a single 1050kg Euro pallet.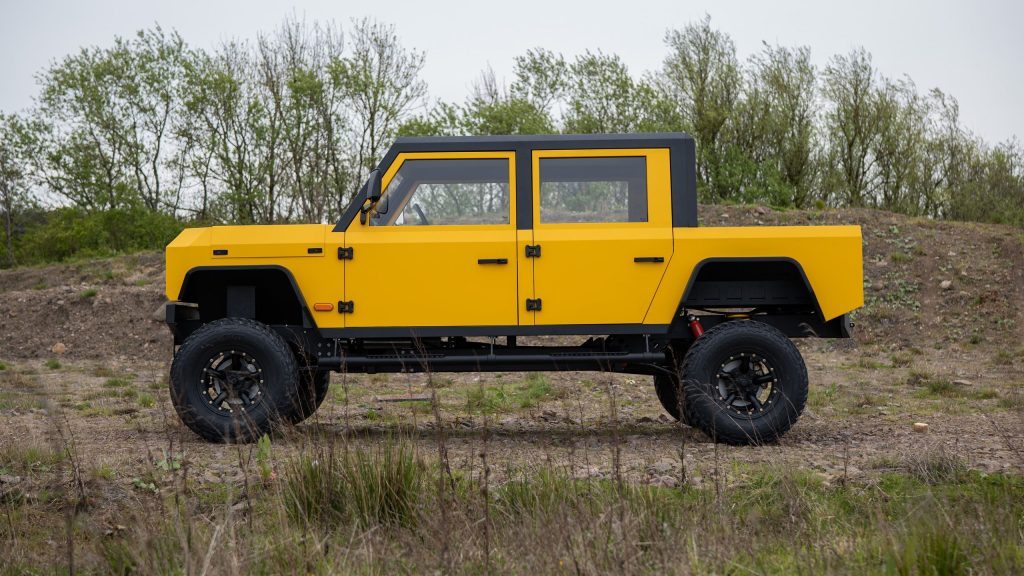 Visually, the ute looks much the same as the company's first model which resembles that of a boxier Land Rover Defender. However, it still stays true to its rugged roots and backs them up with short overhangs front and rear so it can tackle the toughest of trails.
Munro decided to launch the new model in "Performance" guise, meaning it wears a striking yellow paint job that would certainly help it stand out on the job site. Said variant is still just as capable as the Utility and Range trims, boasting a 3500kg braked towing capacity.
Power output comes to 280kW while also producing 700Nm of torque, resulting in a 0 to 100km/h sprint in around five seconds. Customers also have the choice of a 220kW electric motor too.
Range comes to more than 300km thanks to its 82.4kWh battery which can be recharged from 15 to 80 per cent in 36 minutes when using a 100kW DC charger. Munro says this is enough to operate off the beaten path for up to 16 hours a day.
The brand intends for both the MK_1 Pick-Up and SUV to be used in heavy-duty industries such as mining, construction, utilities, agriculture, and defence as an alternative to petrol or diesel burning off-roaders. This is in response to many organisations' need to meet decarbonisation targets.
So far, the Scottish firm says that it's had 200 plus pre-orders for both models.
"With a full two-year order book for both the MK_1 Pick-Up and the MK_1 Truck, Munro is having to expedite its search for larger premises to meet customer demand," says Munro CEO and Co-Founder Russell Peterson.
Munro has priced its electric ute at £49,995 ($NZ99,254) and expects deliveries to commence later this year.