Moto Guzzi has released a pair of middleweight cruisers named Bobber and Roamer, both displacing 850cc, just like the historic Le Mans model. We go ranging on the Roamer.
The arrival of Guzzi's new Bobber and Roamer took me by surprise, not having heard about their imminent launch until being invited to the local release. Think of these as cleaner cruiser versions of the V7 II offerings, without quite the might and heft of the 1400cc California-based machines.
The V9s may weigh in with 850cc, which reminds of various historic Guzzis, but they're not quite so well endowed on the power front, with just 41kW from the four-valve (total) engine, which is not a whole lot more than the V7 II produces, despite the added bore and stroke. Like the smaller machines these air-cooled versions are also Euro4 emissions ready. Power arrives early at 6250rpm but it's not as though you'd know that for there's no tacho, just some silly flashing light and a message to make "gearshift now".
Sometimes you miss not having a tacho, while on some bikes you don't. This falls in the former camp and it's a pity the company didn't simply add it in digital form, as another of the info items you can scroll through, like on various Indians and Harleys. It wouldn't have been that difficult and much more useful than a flashing reminder. That said, generally we'd hooked the next gear before the warning sign illuminated anyway, for the single-cam across-the-frame V2 engine produces peak torque of 62Nm at an easy 3000rpm. Remind of anything? Well yes it does, the similarly sized and priced Street Twin from Triumph. More on that later.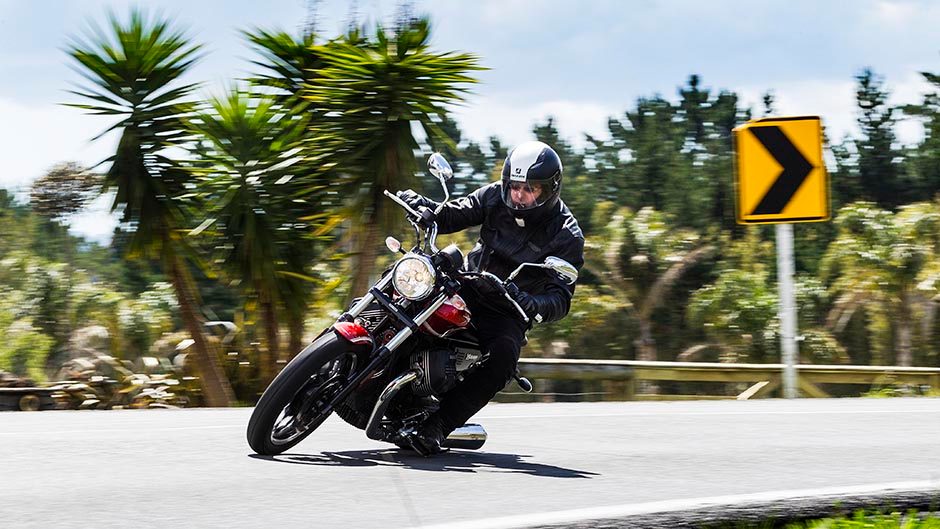 The Candy Red Roamer we rode was fitted with aftermarket slip-on pipes, embossed with Agostini's scrawl. Which is kind of strange in ways as he was always so quick, and this is largely designed to be friendly, punchy and ridden at modest speeds, rather than for blasting. However, the pipes do bring out the best from the 850 V-twin, and they can be even louder if the baffles are removed.
You get noticed on this, but not enough to awaken useless mutts on the motorway who refuse to pull over to allow bikes to lane split. It's so petty, particularly when you're doing them a favour by keeping yet another four-wheeler off the road.
I admit to not starting off on the best of terms with the Roamer, for I'd literally just jumped off BMW's R 1200 R, a bike that went on, with the RS, to become our 2016 BOTY. Smooth to beat the band, with loads of vibe-free torque and an exceptionally easy-going ride and handling mix, the R 1200s are sublime, and capped off with a swag of technological safety and comfort items as standard. This is almost the opposite of that, with little in the way of electronics, though it does get traction control which might prove handy in the wet.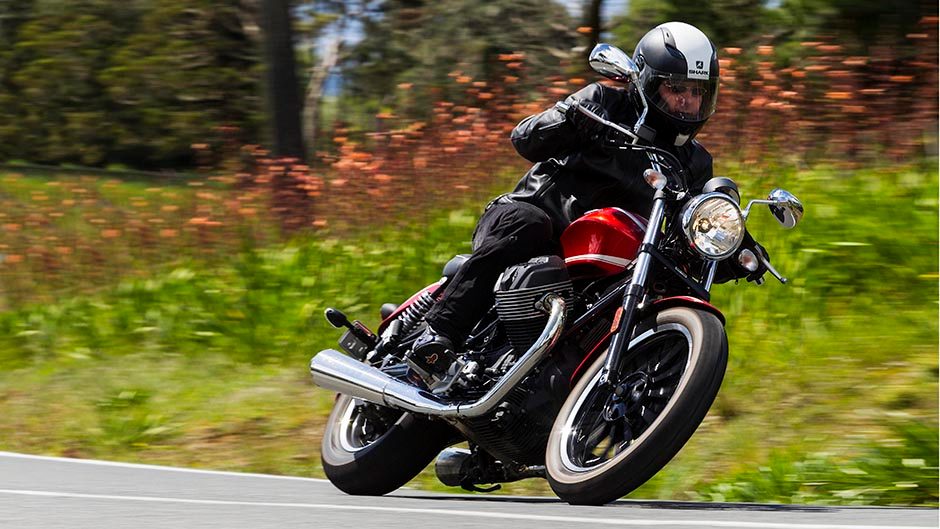 The V9 Roamer is roughly $10k less expensive than the BMW and instantly let loose with vibes that I didn't recall being an issue with the V7 Mk II. And according to Sod's law the band of vibration is pretty much maxing out at 100km/h, the engine being much silkier at 120 and above, handy in Europe I guess, or below 80km/h, good for summer cruising when the roads are jammed solid with holiday makers making merry.
The tingles aren't such an issue on a constant throttle where the big mirrors also give a clear enough rearward view; they're more noticeable when the engine is under load. Even the red speedo needle vibrates which makes you think you have double vision. However, if you accelerate through the gears, upshifting when the red light starts flashing, the vibes aren't so noticeable. And the engine is smooth at 100 in fifth gear. But you really want to shift into top for this is a European cruiser, after all. High revs and cruising don't seem like a regular marriage.
Another aspect we initially found disappointing was the clunking accompanying gear changes, but with familiarity a bit of preload pressure before shifting overcomes that problem, which is not atypical of cruisers.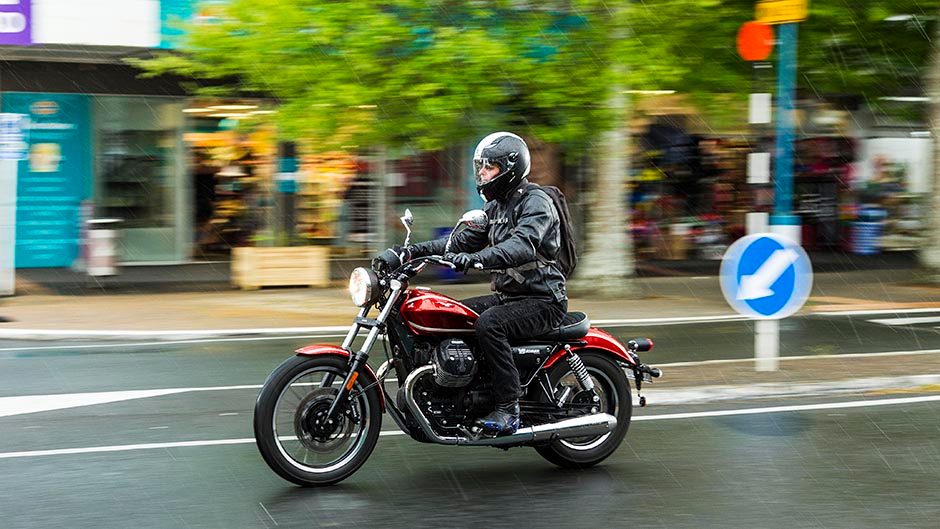 How's it go then? Despite it having done 1800km, we couldn't undertake performance testing because I managed to lose the Q-Starz timing gear (still not quite sure how). Folk won't care much anyway; this is built to cruise rather than blitz, the single-cam two-valve per cylinder heads optimised for slugging away which it does reasonably well, though it didn't quite ace our coast road torque test. It's not happy doing anything less than about 60km/h in sixth. But it is miserly on fuel, for much the same reason, its simple architecture. Figure on 3.5L/100km when at a constant throttle on the highway, with an average of under 5.0L/100km if you don't rev it out too much.
Overseas, folk rave about the handling and ride of this machine, but that wasn't quite my experience. The long single seat is quite plush and plenty roomy enough but progress really isn't that spectacular, despite a riding position that's similar to that of a naked bike, only with the pegs set a bit further forward. I've often found twin-shock machines less pliant than those with monoshocks but there you go; they're there for the look primarily.
Big bumps aren't handled that well; you need to take the weight on your feet to prevent your back taking a hit. Through lumpy corners the Roamer also has a tendency to wallow, a situation partly remedied by inflating the rear tyre to the correct air pressure but not ameliorating it entirely. That's a pity because this bike has plenty more ground clearance than most cruisers, and that's the result of the Roamer having a shorter wheelbase. Through smoother bends, the bike is much sweeter, leaning over neatly with not much effort and holding a line well. The big narrow 19-inch front wheel helps both with ground clearance and with changes of direction. So it's quite fun on smooth runs, especially if you can keep your pace up a bit to avoid the bar tingling or settle back and cruise at 90 or so instead, making sinuous roads more up this bike's alley.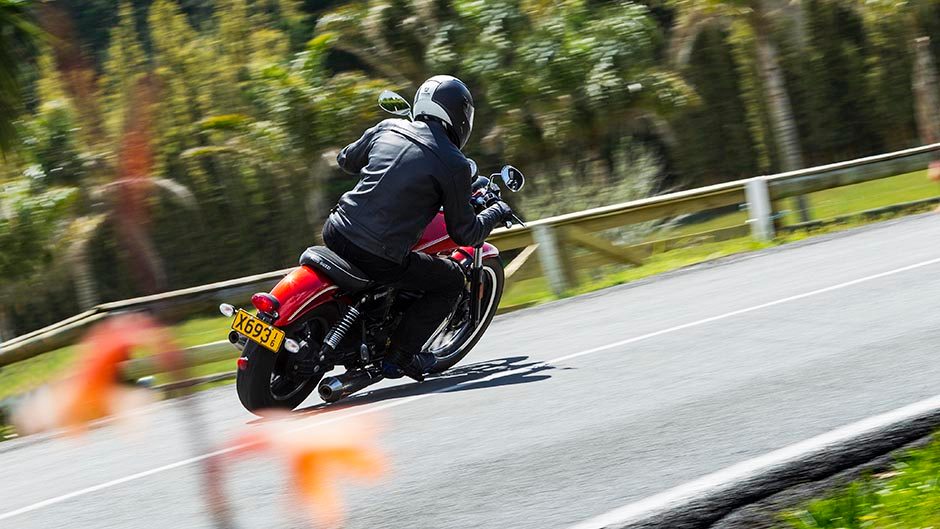 Is it better in town situations? Somewhat, though fourth gear is best at 50km/h, given its dislike of low engine revs. The riding position is better for commuting rather than open road going where you're more at the mercy of the wind.
Is this a great looker in a retro sense? The guys at the office weren't so convinced, but it grew on me and easily beats predecessors like Nevada on the aesthetics front. Big heads sticking up either side of the tank are characteristic Guzzi, as is shaft drive on the right hand side. At a roadside cafe with a gaggle of other mainly Japanese bikes, (older) folk only had eyes for the Italian. Perhaps they had memories of the Le Mans 850, not that capacity is writ large anywhere on the new bike.
Weighing 200kg, Moto Guzzi has seen fit to retain a single disc up front, with a four-piston caliper and it works well enough, more particularly when used in tandem with the rear brake; and then it stops in reassuringly quick fashion. I'd probably fit an adjustable brake lever were it mine. Even used alone, the front brake has plenty of bite. And not only is ABS part and parcel of the electronics set-up but there's also three-stage traction control.
So how does this compare with the similarly priced Triumph Street Twin? I'd forego the shaft drive happily. I not only prefer the look of the Trumpy but the engine has more torque, and vibrates less, the shift mechanism is easier, and it has more secure handling and ground clearance. It's largely similar to the Roamer for spec (no rev counter, but ABS and TC) while it manages to be a better ride for $1000 less. Not a cruiser in a strict sense, sure, but it's still a better machine.
| | | | |
| --- | --- | --- | --- |
| Model | Moto Guzzi V9 Roamer | Price | $16,990 |
| Engine | 853cc, air-cooled, fuel injected, V2, 41kW/62Nm | Drivetrain | 6-speed, shaft drive |
| 0-100km/h | n.a. sec | 100-0km/h | n.a. m |
| 80-120km/h | n.a. sec | Weight | 210kg |