From the tuning fork company comes another bike based on the hot ticket item MT-09, this time a bigger heritage sib to the XSR700. It may feature old school design cues but there's nothing yesteryear about how it performs.
"So why are you riding the XSR900 when you've just reviewed the 700 version? Aren't they virtually identical?" Good question Mr Editor, and while they might look similar, these twin machines from Yamaha are the proverbial chalk and cheese.
For starters, one's a learner-approved bike and the other most certainly is not. Secondly, one's a parallel twin while the other has a rollicking three-cylinder engine and thirdly, one goes well and the other goes mental. The two XSRs look alike and share a whole mess of components, which is presumably how Yamaha manages to sell one at $12,699 and the other at $14,499.
For $1800 extra, you do get a bigger more powerful engine, and a whopping jump in performance, but there's more. You're also getting adjustable USD forks, and better rubber in the Bridgestone Battlax Hypersports. Further, there's defeatable traction control, and three engine modes, A, B and Standard. Plus, you're getting better brakes. Really, the extra $1800 over the 700 marks this out as outrageous value.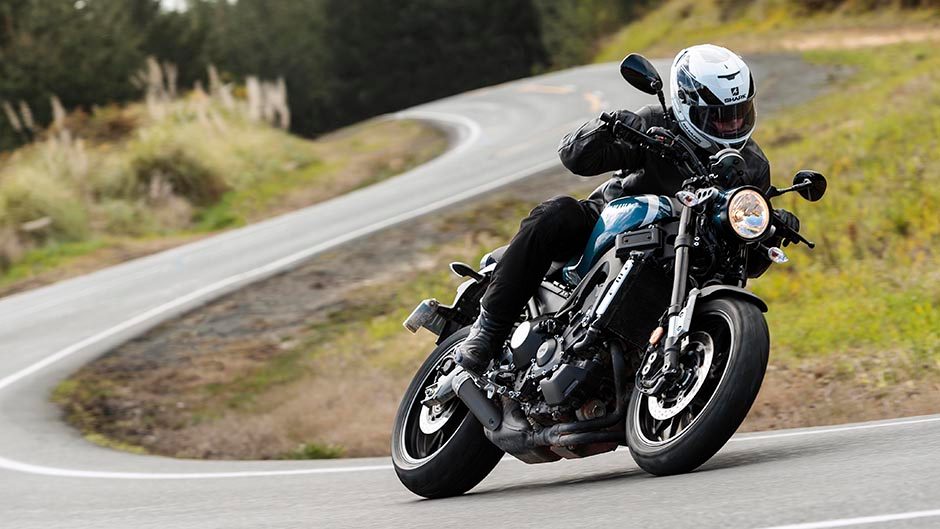 Anyhoo, how does the XSR900 compare with the 700? Apart from feeling similar in corners, and pulling well from basement revs, they're poles apart. Where the LAMS bike lugs solidly from down low, the big daddy is just un-freakin-believable. I've always had a bit of a soft spot for this engine, triples in general really. For they rev like a four but have the grunt of a twin, and sound a bit like a cross between the two.
The engine in the XSR has been refined slightly from the original MT-09's for A mode is nothing like as jerky as it used to be, even though it still delivers instantaneous response, making it track-ready. For sure you get the most out of the engine in this mode but we found Standard just about as appealing.
Where the performance of the XSR700 is right up there with the best of the LAMS offerings, the acceleration on offer from its bigger sib is just right up there, period. This should be considered a compact litre supernaked, rather than the middling 847cc it actually displaces. Despite its 50:50 weight split a short wheelbase means this wants to paw the sky when you get onto it in first gear. Even so with TC off we achieved a best sprint time of 3.36sec. That's a tenth quicker than the Speed Triple R, and it's identical for an 80-120 overtaking time, using second gear alone.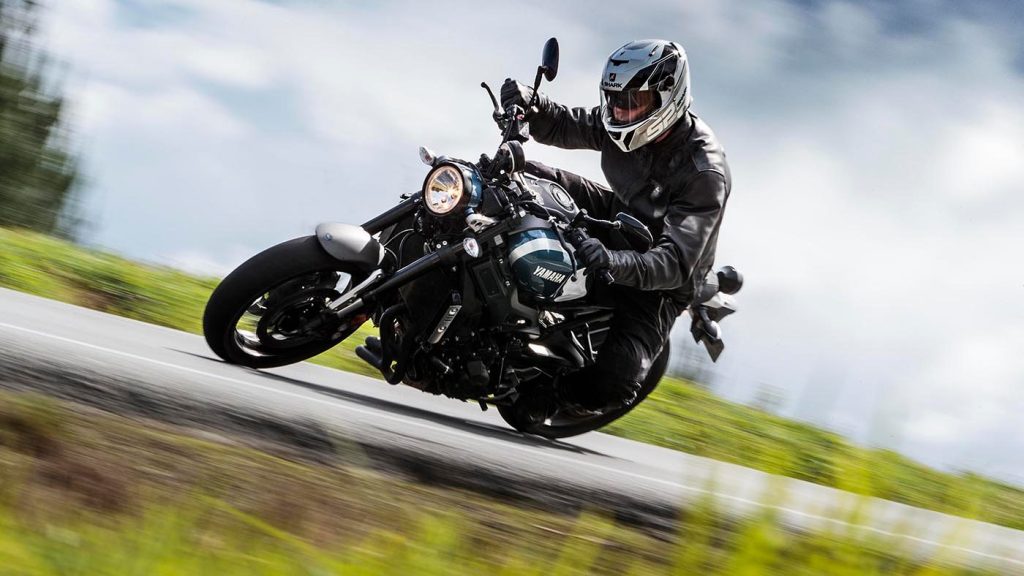 Bear in mind, the Trumpy displaces 1050cc. The XSR gets its lick of speed from its lightweight design. At just 195kg with 14L of gas aboard, it has roughly a 10kg advantage on most litre superbikes and over 20kg on the Speed Triple. No wonder it's as quick. Peak power and torque figures, by the by, are 84kW and 87Nm, at 10,500 and 8000rpm, respectively.
As we said, it's the engine that impresses on this machine, but we'd go further; it's actually the engine and transmission combination that's sorted. The MT-09 engine was a bit rough around the edges initially but brimmed with muscle from waaay down low. It still does, hauling meaningfully, smoothly and with vigour and brio from 2000rpm in top gear. That equates to under 50km/h so you can mooch around city streets on this in top, no issue. At that the fuel use meter reads in the twos. On the flat at 100, it reads 3.5L/100km, the rev counter hovering on an even 4000rpm.
Commitment. That's what you need to keep the bike at 100km/h. Actually, you can probably ride it at an indicated 110km/h, 4500rpm, and get away with it on the open road as our GPS data gatherer suggests 103km/h in reality. It almost doesn't matter what speed you dial in as far as the engine is concerned; without any air protection, it's more a case of how hard and how long you're prepared to act as a windsock, and how long your luck will hold out.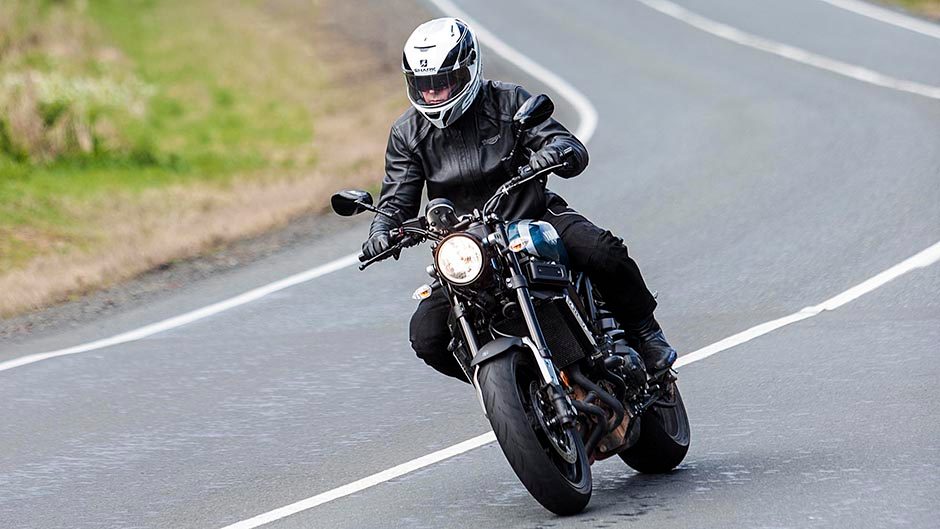 It doesn't matter what revs are showing either, as vibration through the bars and pegs is virtually non-existent. Not that the mirrors reflect that; a little buzzing blurs the images slightly.
We're not yet finished with the almighty engine though. As we said, it has the low-down pull of an ox. Our sixth-gear torque test this simply shrugged off, performing as well or better than the grunt machines, Suzuki's GSX-S1000 and Kawasaki's Versys 1000, both litre fours. You might think, from this, that the gearbox is superfluous to needs but it's a cracker in use, with a fast, fluid movement, and a lightweight clutch. Pop it down a cog or two for fun overtaking, though that's not really necessary, such is the pull in top from 100km/h.
But there's even more up the rev range, as the power aspect of the engine comes into play. From 6000rpm it screams through to the redline of 11,300rpm, just managing 100 in first gear, and hence the quick sprint time. Taming the performance are four-piston radial-mount calipers acting on dual 298mm discs, with a five-position adjustable lever. They're more than up for whatever, though more lever adjustability wouldn't hurt; even on position five it was still a bit of a stretch for my stumpy digits.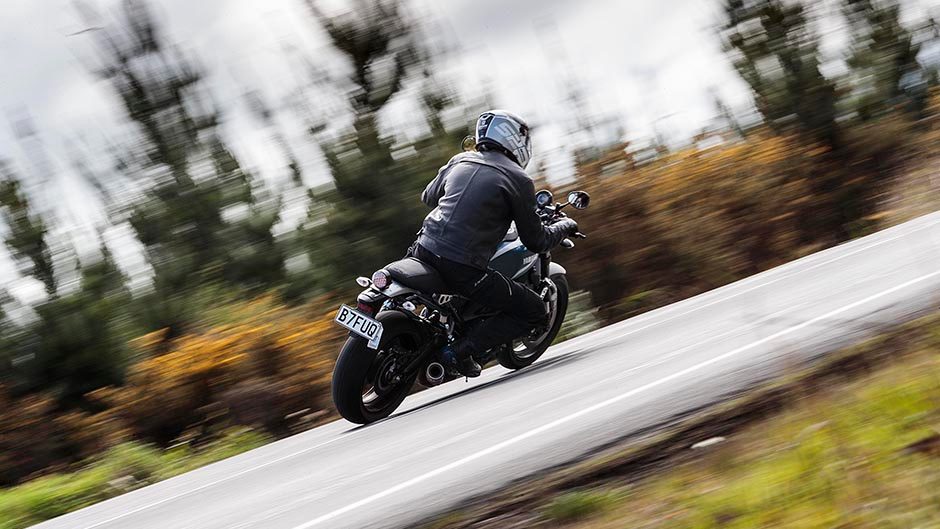 And while we're whinging, it's all very well producing a lightweight bike but if it means inadequate seat padding, sod that. We'd happily add another kilo of foam to keep from squirming around after half an hour in the saddle. It's the bike's weakest aspect, a pity because the natural upright riding position with stubby handlebars works both for commuting and touring around the countryside. We'd be severely tempted by the $447.90 aftermarket Ultrasuede Design seat that's available at Yamaha's accessory store.
There's also a flyscreen or bigger sports screen available for a couple of hundy each, a pair of performance exhausts by Akrapovic, and a host of other cool bits. We kind of like what's there already, but the seat we'd do for sure, and the screen too probably. The rear subframe unbolts if you'd rather customise the single-seat way.
As this features the same frame as the 700 you'd suspect it rides the same, but no, the suspension is much firmer for added control. We liked the comfort of the 700 but this was a bit too much the other way inclined. Backing off the compression up front helped, as did reducing the preload at the rear. There's none of the fork dive under braking of the smaller machine and it still turns almost as sweetly as the lighter 700 (turnarounds weren't quite as breezy) but we had to work an awful lot harder to get the footpegs to touch down, a fail in the end, and the better tyres allow for greater lean angles too.
Experienced riders will be drawn to the XSR900 and who could blame them for the paltry extra over its smaller sib? This is amongst the best bikes I rode in 2016, and at its price is stunning value. Moreover, it's a blank canvas ready for customising with what you've saved on not buying that litre supernaked.
| | | | |
| --- | --- | --- | --- |
| Model | Yamaha XSR900 | Price | $14,499 |
| Engine | 847cc, liquid-cooled, fuel injected, IL3, 84kW/87Nm | Drivetrain | 6-speed, chain final drive |
| 0-100km/h | 3.36sec | 100-0km/h | 42.8m |
| 80-120km/h | 1.58sec (44.90m) | Weight | 195kg |