It's easy to be cynical about Mitsubishi's back-from-the-dead performance division, Ralliart, particularly when their initial first return product is a dubious sticker and bumper package exclusive to a single far-away market. 
But, the sub-brand has now revealed its actual first new model. And it's a little more than a sticker pack.
Mitsubishi unveiled the new Vision Ralliart Concept overnight, a hotted up Outlander plug-in hybrid. In this case, Ralliart claims the model actually has seen some tuning and performance gains to go with its cosmetic changes.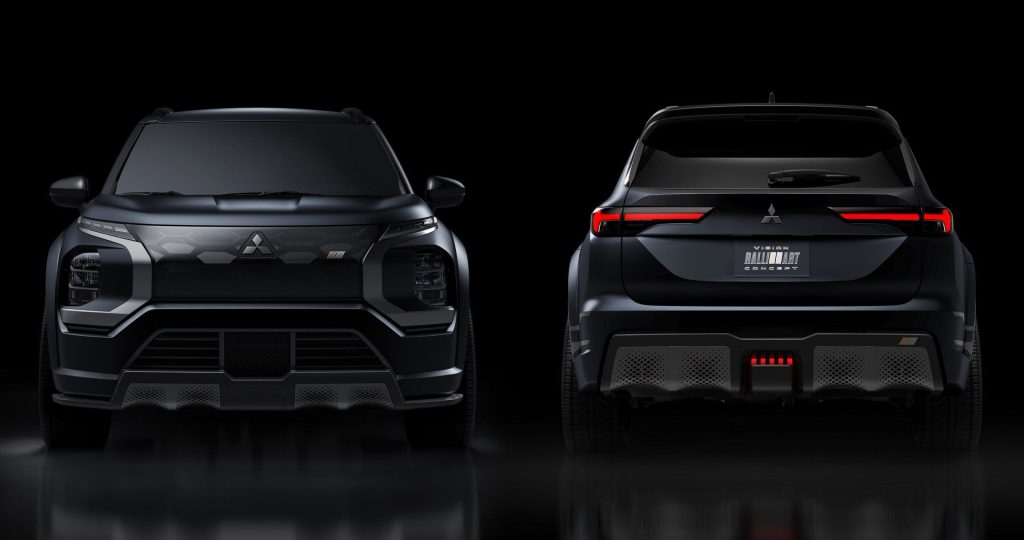 It comes wrapped with a huge bodykit, complete with a vast rear diffuser. The 22-inch wheels look like something 'Mad Mike' would slap on one of his drift cars. The grille gets a new honeycomb effect. It also has three Formula 1-style brake lights, mounted in the diffuser.
Anyone can chuck big bumpers on a car, obviously. But those with keen eyes will be able to see the clues that these changes aren't purely cosmetic. For one, the body kit includes wheel arch extensions that make the Outlander's track much wider.
I was hoping to spot some Michelin or perhaps Pirelli branding on those big tyres, but instead it proudly says 'Drive Your Ambition' in raised lettering. Sigh.
No matter, the important thing is that Mitsubishi has indeed confirmed that the Ralliart Outlander has boosted performance relative to the normal one. Although they haven't specified any of the model's details barring a few tantalising quotes.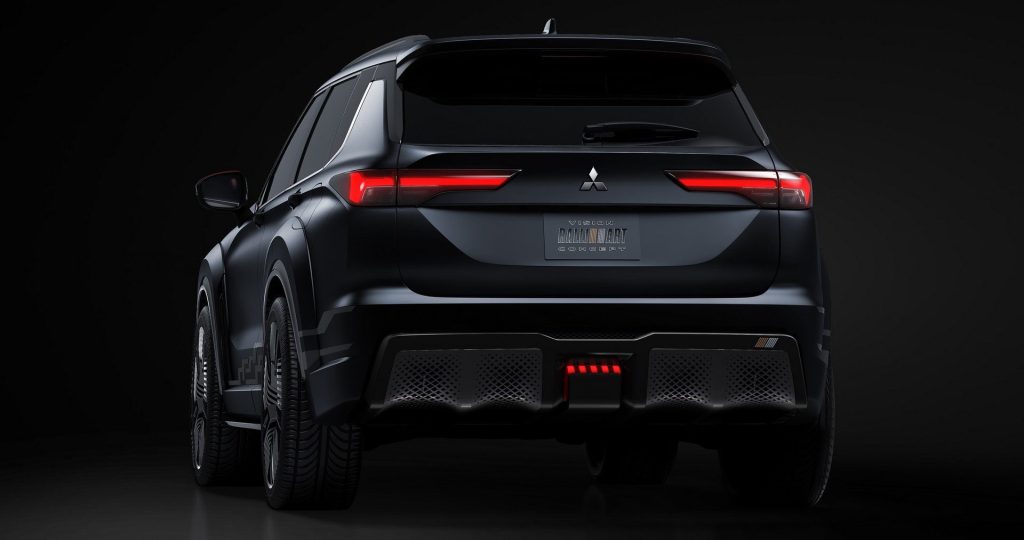 It says the Vision Ralliart has "higher motor output, sportier 4-wheel control tuning, and enhanced battery capacity", and "elevated acceleration, cornering, and braking in all road and weather conditions".
Along with a widened track, we suspect there's more power, more torque, stiffer suspension, larger brakes, and a more aggressive transmission tune present here. Although we're unlikely to find out if any of this is true unless the model makes it all the way to production.
And what are its chances of making it to production? Well, although Mitsubishi says the model is a mere concept study, it also acknowledges that "customer feedback will be used in future development of Mitsubishi vehicles". A positive reaction to the Vision could see it become a reality.